Introduction
It was mentioned that Warren Buffett uses a 10-year history of data when taking a first look at a new company. In keeping things simplistic, he looks at the first 3 years of that 10-year period vs. the last 3 years of that period. That gives cycles time to happen. That gives products time to grow. That gives management time to change. All things considered, one should see growth in all the important categories over those two time periods. As I am nowhere close to Buffett in terms of investing, I took a page from his book in defining the format that I use to review companies.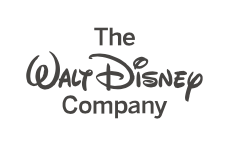 The company that has been in my sights lately is The Walt Disney Company (NYSE:DIS). Shares are down about 13% YTD and earnings continue to climb. That perks the ears of a value investor. Shares are now getting close to a fair value so I want to take a look and see if Disney has created shareholder value over the past 10 years. This is going to be a pure look at the data and not at the company. There have been a couple recent articles that cover the company if you need some background. Read the comment sections as there are some good pro and cons to DIS.
The data used here comes from Guru Focus. It represents the Fiscal Years (September End) 2006 to 2015.
Revenue, Net Income and Margin
Below are six charts that show two cuts of revenue, net income and margin. The charts on the left show the actual numbers. The charts on the right show the year over year change. Finally, I compare two periods of time. The first period is the average of the first three years and the second period is the average of the last 3 years. This allows you to look across the business cycle to see what has changed over a reasonable period of time. Disney results are interesting. Revenue was not up that great over a 10-year time frame. It is up 40%. This is worse than pretty much every company I have looked at in this format. What is more impressive and a bit more respectable is that net income went up 76% over that same time. That means for each incremental dollar in revenue, DIS was keeping almost twice as much. That is great as net margin increased to around 15%, which is respectable. It is almost necessary in some of the riskier / competitive business lines that it competes.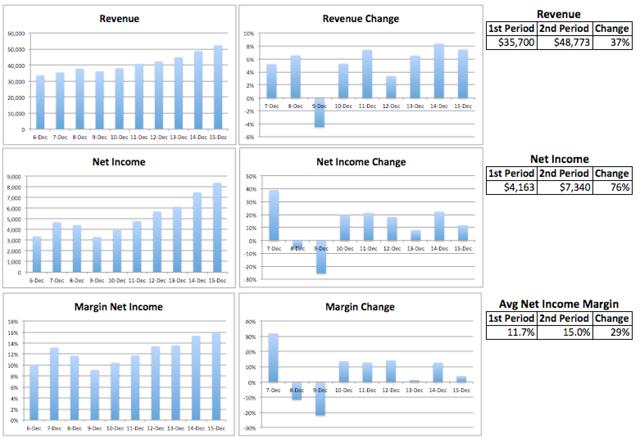 Click to enlarge
Free Cash Flow, Dividends and Debt
As a dividend investor, I love the free cash flow section. This is the actual cash the company generates and keeps to pay for things like dividends. As with net income, cash expanded as well. It really is just the last three years though when you look at the chart. Either way, the company is generating a good free cash flow that it can use to pay me more dividends! Look at the expansion of the dividend over the past 10 years. The divided is up over 250%, but the payout ratio is also up 100%. That means the company was paying out more and more each year to fund the growth in the dividend. Now that is not a bad thing. It just means that you should keep an eye out when forecasting forward potential returns with a lower dividend growth rate. The payout ratio for FCF is only 30%, which is pretty low giving me confidence that the dividend is safe.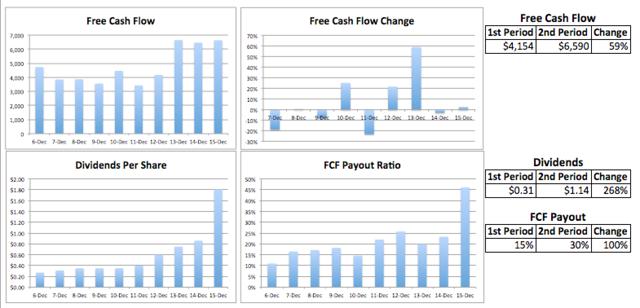 Click to enlarge
Another thing I like to check is the debt level of the organization. First, I look at the overall debt. As we all know, Disney made some purchases in the past 10 years that will help it grow for years. That really did not impact the overall debt the company has on its balance sheet. Long-term debt was only up 11%. As far as ratios are concerned, Debt to Cash and Debt to Income are going down. They are both high, but the company is managing it relatively well.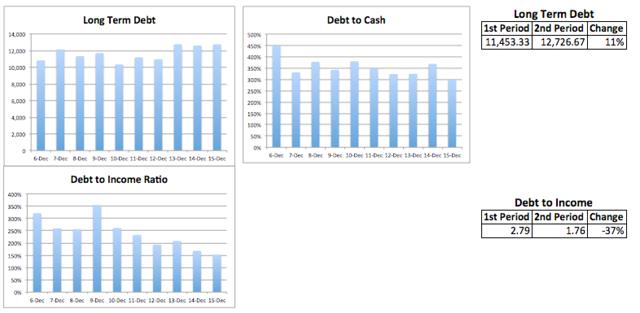 Click to enlarge
Cash, ROIC and Shares Outstanding
If you were looking at your personal finance situation where would you start? I would start with my bank account. I would like to know how much cash I have. I want to know the same about any company that I am considering investing in shares. The cash position of the company has not changed too much over the years. It is up which is good. It is not holding a ton of cash, which could be invested on behalf of shareholders. That is good. It appears to have enough to finance the organization. I would say that Disney is good on cash. I also want to make sure that Disney is investing its cash wisely and generating an outsized return. For this, I turn to the ROIC. This is one of the better metrics in the story of Disney. The company has done pretty well at investing cash. ROIC has expanded 33% to a respectable 13%.
Last, I like to note that share repurchases are an important part of returning value to shareholders. I do not love the valuation that DIS has been repurchasing at the past few years, but that being said, if the company continues to put money towards it and dollar cost averages over the next few years then it is fine. Share count is down 14% over the past 10 years.
Note, in the ROIC chart below, data is missing for 2011 in my data source. It is not zero.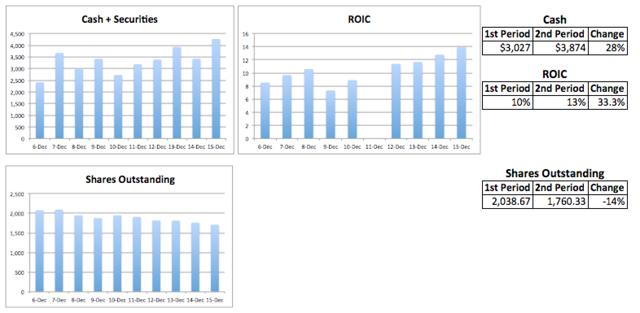 Click to enlarge
Future
All in, things are looking good for Disney. That being said, we do not invest in the past. Instead we look to the future earnings potential of the organization. The best method to take everything the market knows into account is to look at analyst estimates. Below is a Fast Graph for Disney. It shows the current valuation is under the 20 year historic PE. The PE of 15.8 is reasonable for anyone looking to get in today. Also, shares offer a 1.6% dividend. This is a little low, but as we saw above there is room to grow. Due to the quality, I believe a 16.5 P/E is more reasonable long term. Based on this and the estimate from S&P reporting analysts puts the total potential return at 10% CAGR over the next 3 years. That is a good return even if the dividend is a little low.
In pure speculation mode, the market is pretty negative on Disney right now. If I were a gambling individual, I would bet we see shares go a bit lower before things turn around. I would not rush into a full position at these prices. I would hold a little back and wait for a sub $90 entry point. I expect a little volatility before its Fiscal Full Year report on November 10 th. Buy now or wait and see. Either way, the current value is reasonable if you need a decent growth stock with a dividend kicker.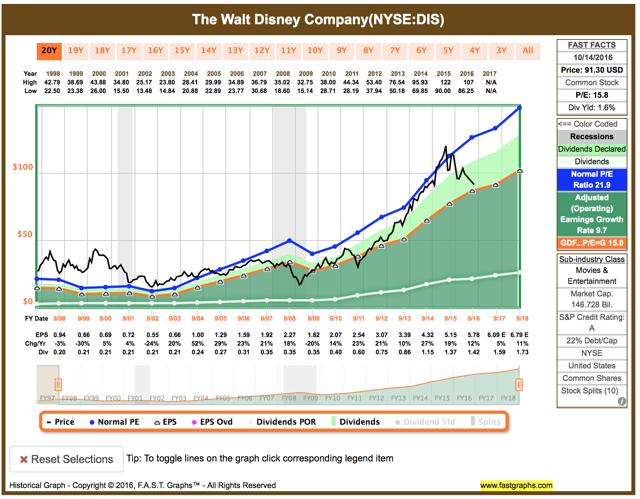 Click to enlarge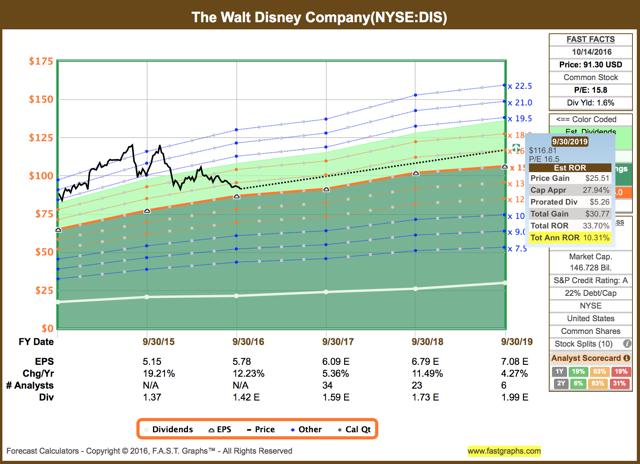 Click to enlarge
Conclusion
The Walt Disney Company has done pretty well over the past few years of managing shareholder's interest. While revenue has not grown aggressively, net income has nearly doubled it. In addition, Disney has made a few big acquisitions that should help contribute to its growth over the next few years. Analysts estimate about a 10 % return with a current 1.6% dividend yield.
The article title asks the question is Disney creating shareholder value? I believe it is creating value. Buybacks and the dividend are nice. The core story here is growth in share price. The company has shown its willingness to grow through meaningful acquisition. The company has shown its willingness to return the earned value to shareholders. The current valuation is not a steal, but it is decent relative to an expensive market overall. For those keeping an eye on relative value, there is an opportunity here for starting a long term position.
Last Note
The information above is completed based on the last full fiscal year (September 2015). We have obviously had quarterly reports since then. Below I present the same charts as above, but done on a quarter over quarter basis for your individual review.
Quarterly Revenue, Net Income and Margin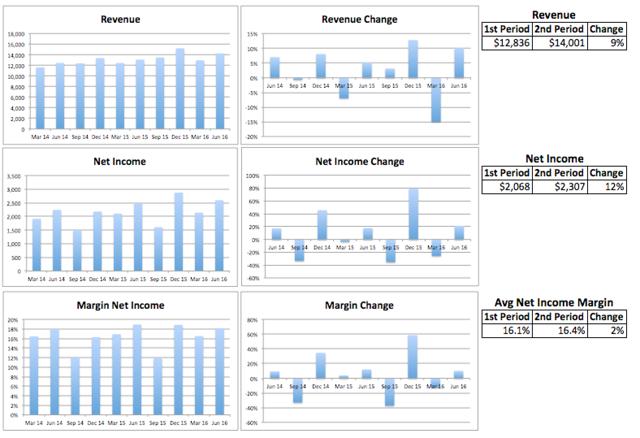 Click to enlarge
Quarterly Free Cash Flow and Dividends
Note - Disney pays its dividend 2x a year. This makes the dividend metrics below a bit of a mismatch comparison using the 3 period average analysis.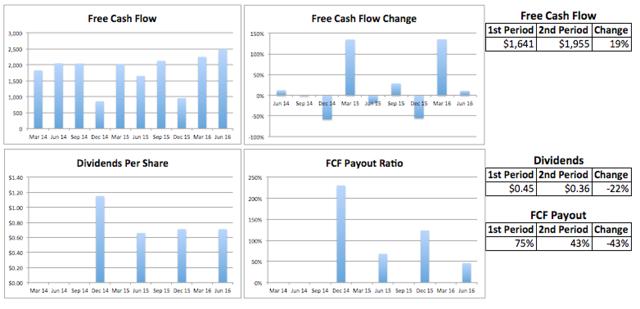 Click to enlarge
Quarterly Debt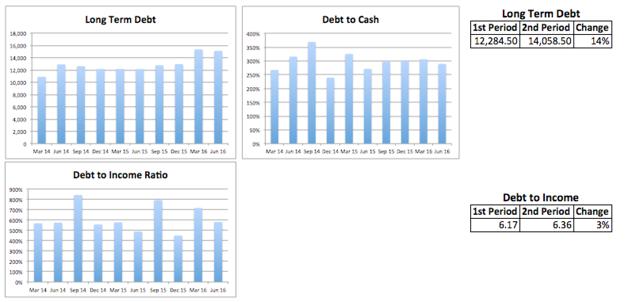 Click to enlarge
Quarterly Cash, ROIC and Shares Outstanding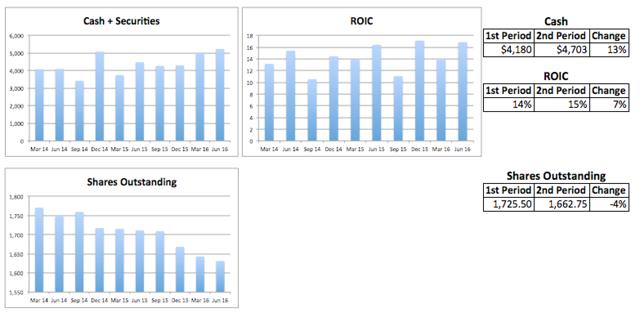 Click to enlarge
Disclosure: I am/we are long DIS.
I wrote this article myself, and it expresses my own opinions. I am not receiving compensation for it (other than from Seeking Alpha). I have no business relationship with any company whose stock is mentioned in this article.