Dominion Midstream (NYSE:DM) entered the market as an extremely attractive up-and-coming MLP, and appetite from institutional investors was ravenous. In the hot energy market of 2014, the company could do no wrong, and shares quickly doubled from their initial IPO valuations. The market had high expectations for Dominion Midstream, as the deep ties to the mammoth general partner and sponsor (Dominion Resources (NYSE:D)) all but ensured a healthy, continuous stream of dropdowns. The recent take-out of Questar (NYSE:STR), an integrated natural gas utility that operated in and around the Rocky Mountains, by Dominion only bolsters asset availability.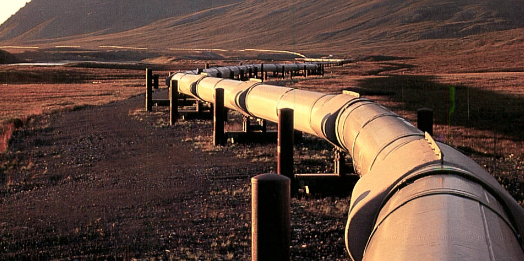 As many investors know, energy markets took quite the turn, and even structurally sound companies like Dominion Midstream got swept up in that sell-off. Shares now sit around all-time lows, despite what looks to be favorable long-term trends for the company. Is it time to pick up some equity interest in this beaten-down midstream player?
Overview
Dominion Midstream has a pretty cut-and-dry MLP relationship, with one exception. Dominion holds a 64.1% limited partnership interest and full general partner interest, and as expected, is entitled to receive incentive distribution rights (IDRs). Like with most IDRs, there is a sliding scale, with limited partners benefiting early on when it comes to quarterly distribution entitlement, with the scale eventually sliding to favor the general partner. With the current quarterly distribution at $0.2355/share, Dominion Midstream is currently nearing the final hurdle rate, after which the general partner is entitled to half of all operating surplus above that hurdle.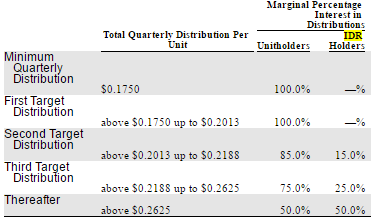 *Dominion Midstream, 2015 Form 10-K
This is par for the course, and should not be new to even mildly experienced MLP investors. However, what is rather unique about the Dominion Midstream ownership structure is Dominion Midstream's 100% preferred equity interest (and general partner interest) in Dominion Cove Point, held through one of its holding companies. This represents a flip of the partnership structure, as Dominion actually holds the common equity (lower tier) ownership interest in this asset, although it does indirectly control the asset through its majority stake in Dominion Midstream.
Cove Point's current operations consist of liquid natural gas (LNG) import and storage services, along with the transportation of domestic natural gas and re-gasified LNG to markets along the Eastern seaboard. The company has several counterparties that have agreements in place to liquefy natural gas to use during peak periods in the winter. These customers pay fixed monthly charges regardless of the underlying use, which generates a substantial portion of current revenue for Dominion Midstream. Many of these contracts expire from 2017-2023, but the company has a plan there: natural gas exports.
By shifting to exports, the company loses its prior customers. But as a result, once the liquefaction plant is fully operational, Dominion Midstream expects that project to generate cash flows substantially exceeding that of prior Cove Point operations. Progress has been steady. The company has already received authorization from the Department of Energy, and secured full contracts, to liquefy 660 million cubic feet/day of natural gas. These export customers have each entered into 20-year service agreements for transport on the Cove Point pipeline to transport their gas to the facility to be prepared for export. However, the liquefaction contracts are not ironclad, and any delays or failure to receive proper governmental approval could jeopardize those revenues.
This facility is expected to be completed late in 2017, and Dominion (the sponsor, not the MLP) has indicated that it will provide the remaining funding necessary to complete the liquefaction project.
The Problem
The problem is transparency. Dominion Midstream does not host its own conference calls, and it only gets a small mention in investor presentations. While SEC filings state the expectation for cash flows from the liquefaction plant to "substantially exceed" that of the current annual preferred equity interest payment of $50M from Cove Point, there has been no more granular information provided. Given the fact this represents more than 50% of expected net income in fiscal 2016, this is honestly a bit disappointing.
The company's other assets, a 25.93% non-controlling interest in Iroquois, a 416-mile FERC-regulated pipeline that runs along the U.S. and Canadian border, and DCG, a massive natural gas system with more than 1,500 miles of transmission pipelines throughout South Carolina and Georgia, are interesting, but not as interesting as the potential through liquefaction. While there are growth initiatives on these assets, and they are excellent producers of cash flow, at the end of the day, the valuation comes down to investor expectations on Cove Point.
Those expectations appear to be high. With Dominion Midstream trading at roughly 15x 2016 expected EV/EBITDA (ignore mainstream reported EV/EBITDA, which does not back out minority interest adjustments), investors are substantially backing the liquefaction projects future benefits. Dominion has thus far proven to be an excellent partner in the project, contributing $942M in 2015 to help fund the more than $1.2B in capital expenditure spending. This trend has continued into 2016.
At the end of the day, however, this ends up looking like a gamble no matter how I slice it. With little guidance from management to at least nudge my expectations one way or the other, this ends up looking like a high-risk play, despite the high-quality partner. There doesn't seem to be enough to tickle my fancy on digging into this further via in-depth conversations with investor relations management, and I think that there are better, higher quality plays within the MLP space for investors to consider currently.
For deep-dive research on asymmetric risk/reward plays in the Industrial and Basic Materials sectors (particularly small and mid-caps), consider investing alongside me and other subscribers within Industrial Insights. Get cutting-edge information with proven results.
This new offering doesn't mean I will be cutting down on quality or my allocated time towards my free offerings on Seeking Alpha. Follow me (by clicking the "Follow" button at the top of this article next to my name) to receive general stock market research and commentary, especially on under-followed small/mid-caps across a wide variety of sectors and industries.
Disclosure: I/we have no positions in any stocks mentioned, and no plans to initiate any positions within the next 72 hours.
I wrote this article myself, and it expresses my own opinions. I am not receiving compensation for it (other than from Seeking Alpha). I have no business relationship with any company whose stock is mentioned in this article.