Having written about a fair number of pipelines with cash flow challenges and others cutting back distributions to maintain capital projects or financial ratings, it is time to write about one that does not have those problems. Antero Midstream LP (NYSE:AM) is sponsored by Antero Resources (NYSE:AR) a company that has managed to grow significantly through the downturn. As a result, Antero Midstream has a rising distribution that appears to be well protected. Now the gas prices appear to have bottomed, this company appears to be in a position to benefit from any commodity price recovery.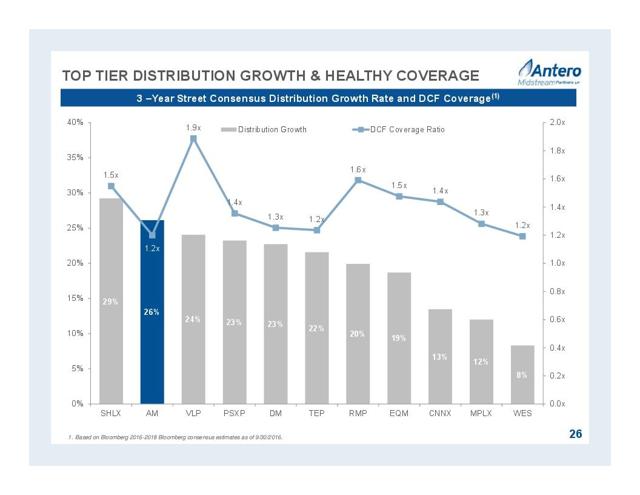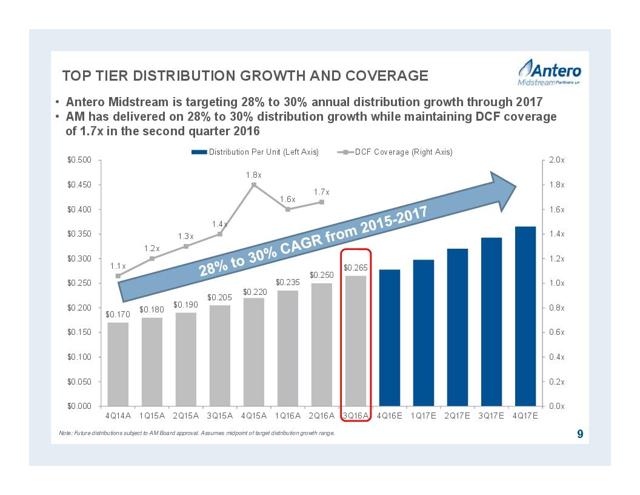 Click to enlarge
Source: Antero Midstream LP Presentation October, 2016
The pipeline may have one of the lower yield percentages in the industry, but that distribution is safe and growing quickly. The company has distributable cash flow coverage of 1.7 for the second quarter. That is far above the company's stated long term goal of 1.2. Recently, the company announced a new distribution rate of $.295 per share. The new rate is a 6% boost from the second quarter and the seventh consecutive increase as a public company. The rate is also 29% higher than the previous year third quarter rate. Cash flow is growing so quickly that the company can increase the distribution and still retain what is needed to fund the rapid growth.
Furthermore the company expects income to continue growing rapidly. The high earnings retention rate allows the company to fund the rapid growth rate internally. So while the partnership yield is roughly 3.5%, the fast distribution growth rate could yield a very generous distribution in excess of the typical pipeline yield in the future. A cash distribution that grows 20% will double about every four years. As shown above, this midstream company expects to do better for the time being.
Source: Antero Midstream LP Presentation October, 2016
The management claims that the organic growth model leads to far more profitable projects than purchasing or drop down projects. So not only is the growth rate attractive, but the proposed profits are also attractive. These projections will enable this partnership to avoid some of the financing problems that plague other partnerships. There is no need to "upgrade" project profitability. Even in the current lending environment, many of these projects are very attractive as they are.
The latest 10-Q shows partnership capital that is greater than long term debt. Very few partnerships can make that kind of claim. Partnership capital was $1.1 billion and long term debt was $.76 billion with another $.18 billion of long term acquisition liabilities. Net income of $47 million (for the limited partners only) for the second quarter represents an annualized return of approximately 17% on partnership capital. Since the latest distribution was raised, this return could well have increased.
Cash flow from operations for the six month period was an excellent $169 million. Cash used for investments was $224 million. This explains why the payout ratio is so low. Rapid growth has some very large capital requirements. In this case, since about $83 million was paid out, there was about $86 million left to fund the capital budget. So the company had enough cash to contribute roughly 38% of the capital requirements and had to borrow the rest.
Long term the balance sheet could deteriorate, but the company has the ability to regulate distribution increases as needed. All management needs to do is increase the distribution at a slower rate than cash flow growth to stop any balance sheet deterioration. This pipeline has the ability to grow without selling more partnership units. That is an industry rarity. In the meantime, management has a luxury that few partnerships have in being able to fund a significant amount of growth internally at a very reasonable five time EBITDA usually or eight times EBITDA at the most. That is definitely an above average profitability future for projects in the queue.
Source: Antero Midstream LP Presentation October, 2016
Since the sponser, Antero Resources owns more than half of the outstanding limited partnership units, the sponsor has more than enough incentive to make sure the partnership performs well. The partnership shares key officers with the sponsoring corporation and has a very close coordination with the sponsoring company as a result.
Antero Resources has industry leading low costs and has been growing steadily right through the industry downturn. The company also has an industry leading hedge program that protects above average profitability. Rapid and very profitable growth has been the norm these last few years and there is no reason to expect that the growth will not continue. So while the low payout rate of the units may not change for awhile, the payout can still be expected to increase rapidly.
Antero Resources has wells that were drilled with older and higher costs. Those older wells are definitely not as profitable now that commodity prices have dropped. So the hedging program was essential. That hedging program protects profits for years and is unusual for the comprehensiveness. It has taken great pains to maintain above average balance sheet strength. So the company cannot only survive the current downturn, it can also increase activity to take advantage of any commodity price or industry recovery.
Source: Antero Midstream LP Presentation October, 2016
Antero Resources, like much of the industry is pumping more sand and more water per well. So even though the number of wells completed per year has decreased, the water and sand used will increase. So the water segment future of the partnership is currently very bright. It will probably grow at an accelerated rate for a number of years. There appears to be no end in sight to well design improvements at the current time.
Also notice how low the EBITDA multiple is in the second slide. Major projects that are as profitable as this are not that common. Yet management has found ways to develop several of these for the future as well as current and is predicting more of these low multiple projects for the foreseeable future.
Source: Antero Midstream LP Presentation October, 2016
While these projections are dependent upon the growth of the sponsor, both the midstream company and its sponsor have adequate access to capital and debt markets. The risk of slower growth is sharply reduced by the sponsor's multi-year hedging program. But an acceleration is possible if market conditions were to improve markedly and Antero Resources could protect the anticipated profits by hedging several years out.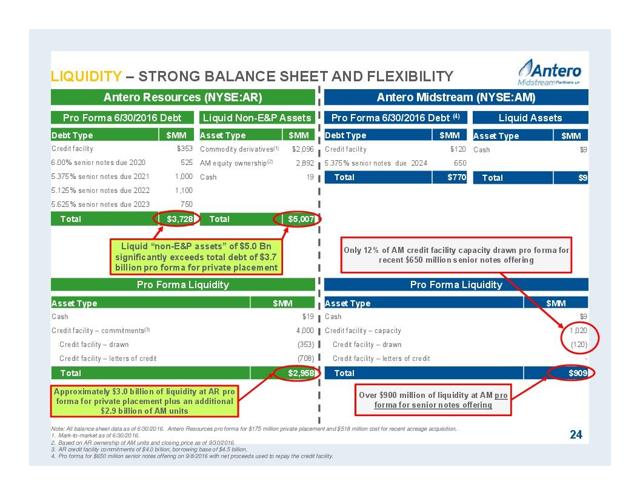 Click to enlarge
Source: Antero Midstream LP Presentation October, 2016
Both companies have more than enough unused credit to flexibly change activity levels. The company just offered some notes so the credit line will be mostly available as shown above. Debt maturities are not an issue as the company and the sponsor have the credit rating to handle debt maturities in a number of ways. But the key is that if the capital projects meet proposed profitability guidelines, then the partnership will have the money to raise the distribution as well as fund additional capital projects without having to dilute the current unit holders. That is rare for a partnership.
So while the units offer a below average yield at the current price, income investors may want to consider the units not only for their safety but also for the increasing income stream.
Cash flow could easily top $100 million in the current fourth quarter. That rate annualized would be a market cap-to-cash flow ratio of about 12:1. For a fast growing company such as this, that is a very cheap multiple. Similarly, from a trailing earnings perspective, the company may look expensive, but earnings are growing very rapidly, and the current price-earnings ratio using the soon to be announced third quarter earnings will probably provide a below market average multiple.
These units could easily prove to be a generous future source of distributions as well as capital gains for long term holders. Normally the rate of return (capital gains and dividend) offered by these units is accompanied by far more risk. But the sponsor management has been very careful to eliminate a lot of industry risk and therefore the growth of the sponsor is far more smooth than for many companies in the industry. The partnership has benefited from that careful strategy and will continue to benefit from that strategy. Note that both the partnership and the sponsor have raised their guidance for the year. Plus this distribution needs to increase to need the stated coverage goal. While that probably will not happen until growth slows substantially, this is another industry rarity.
Disclaimer: I am not an investment advisor and this is not a recommendation to buy or sell a security. Investors are recommended to read all of the company's filings and press releases as well as do their own research to determine if the company fits their own investment objectives and risk portfolios.
Disclosure: I/we have no positions in any stocks mentioned, and no plans to initiate any positions within the next 72 hours.
I wrote this article myself, and it expresses my own opinions. I am not receiving compensation for it (other than from Seeking Alpha). I have no business relationship with any company whose stock is mentioned in this article.