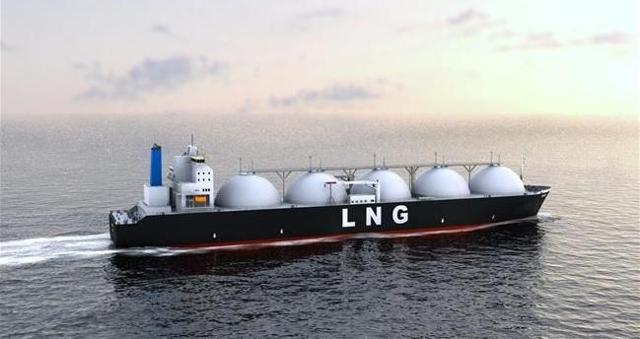 Important note: This article is not an investment recommendation and should not to be relied upon when making investment decisions - investors should conduct their own comprehensive research. Please read the disclaimer at the end of this article.
In my note last February ("U.S. Natural Gas: 100 Rigs May Be Just Enough To Meet Demand," Seeking Alpha, February 15, 2016), I argued that a decline in the Lower 48 natural gas-directed rig count was "business as usual" in the context of 2016 demand.
The prediction has proven to be on target. Since February, the U.S. Lower 48 natural gas-directed rig count remained below 100, for the first time crossing above that mark last week. Excluding vertical rigs, the combined horizontal plus directional rig count stands at just 92 rigs, using Baker Hughes data as of Friday, October 14, 2016.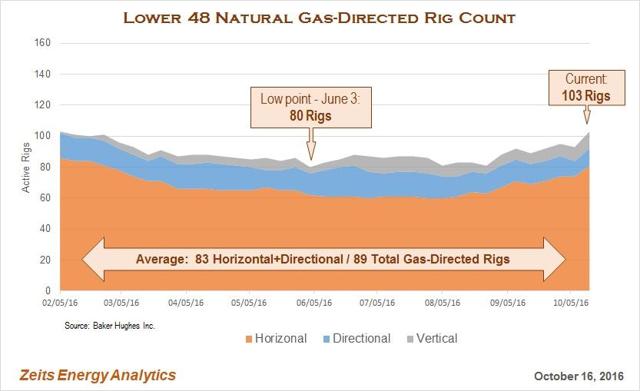 I wrote back in February:
I would argue that the current rig count, despite appearing extremely low, is nearly sufficient to serve demand at its current pace of growth. Going forward, the industry is unlikely to see the natural gas rig count anywhere close to the 350 rig level observed in 2014. Moreover, even the ~200 rig count that prevailed throughout most of 2015 may be an overkill, at least for the next few years.

While the rig count is currently running below sustainable level, based on my estimate, the shortfall is minimal. Assuming no change in the DUC inventory, I estimate that ~150 rigs would be sufficient to grow U.S. production volumes at a rate of 2-3 Bcf/d per year.
Those estimates still stand.
In February and March, weather surprised on the warm side. As a result, even 100 rigs proved to be an overkill in terms of meeting demand this year.
While averaging just 83 rigs since February, the horizontal plus directional gas-directed rig count was sufficient operationally: U.S. underground natural gas storage will again end the injection season very close to the "full" mark, with storage in select locations in the northern half of the U.S. essentially full already now.
I should note, however, that 2016 was the first year in a long while when natural gas production did not grow. Based on my estimate, average natural gas production during the 12-month period ending November 30, 2016 will see a decline of ~0.5%.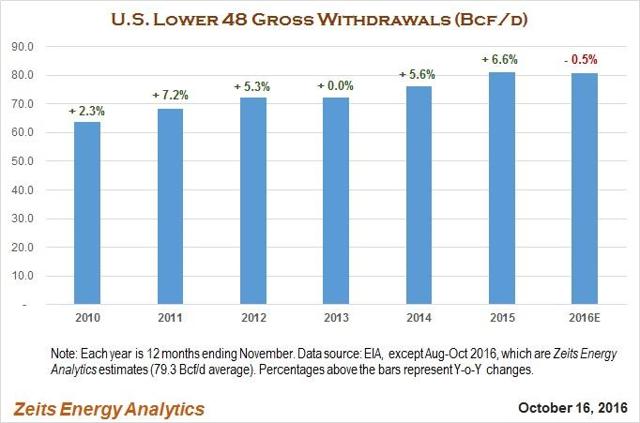 As a new natural gas year is about to begin, it is time to form a view on the direction of the industry's operating activity after the injection season is over in early November.
In my forecast, I currently assume the U.S. Lower 48 horizontal plus directional rig count to exceed the 150 mark before June 2017, with the vertical natural gas-directed rig count exceeding 25 rigs in addition to that.
A detailed discussion of natural gas fundamentals and outlook for 2017 is available to Zeits OIL ANALYTICS subscribers.
If you find my posts helpful, please consider following me on Seeking Alpha. You can do so by clicking on my name next to the orange logo at the top of the article and then pressing the "Follow" button on the next page. On the profile page, you can browse through my previous posts by article and, using the scroll bar on the left, by primary stock ticker.
ETFs: UNG, UGAZ, DGAZ, BOIL, GAZ, FCG, GASL, KOLD, UNL, MLPG, GASX,DCNG
Disclaimer: Opinions expressed herein by the author are not an investment recommendation and are not meant to be relied upon in investment decisions. The author is not acting in an investment, tax, legal or any other advisory capacity. This is not an investment research report. The author's opinions expressed herein address only select aspects of potential investment in securities of the companies mentioned and cannot be a substitute for comprehensive investment analysis. Any analysis presented herein is illustrative in nature, limited in scope, based on an incomplete set of information, and has limitations to its accuracy. The author recommends that potential and existing investors conduct thorough investment research of their own, including detailed review of the companies' SEC filings, and consult a qualified investment advisor. The information upon which this material is based was obtained from sources believed to be reliable, but has not been independently verified. Therefore, the author cannot guarantee its accuracy. Any opinions or estimates constitute the author's best judgment as of the date of publication, and are subject to change without notice. The author explicitly disclaims any liability that may arise from the use of this material.
Disclosure: I/we have no positions in any stocks mentioned, and no plans to initiate any positions within the next 72 hours.
I wrote this article myself, and it expresses my own opinions. I am not receiving compensation for it (other than from Seeking Alpha). I have no business relationship with any company whose stock is mentioned in this article.