On April 26, I wrote my first article on Agrium Inc. (NYSE: AGU; TSX: AGU), entitled, Agrium: Feeding The World, And Your Income. In that initial article, I stated that the investment thesis for Agrium was simple, solid and straightforward and could be summarized in the same four words the company uses in its own corporate marketing: "Feeding a growing world."
I look for thematic investment opportunities supported by positive secular trends. A secular trend is distinctly different from the cyclical trends that can influence financial markets in a much more transitory fashion. Secular trends are long-term in nature. They can run for years or even decades, triggering fundamental shifts that are important for investors to identify.
Unlike cyclical trends, they can operate independently of the financial markets and can be highly disruptive, dramatically changing the landscape of a particular industry. These characteristics can make them a powerful tailwind for companies that are positioned to benefit from them, particularly because they are typically less affected by shorter-term market or economic gyrations.
Continued global population growth, and in emerging markets, a growing middle-class with changing diets, is spurring the demand for increased food production. According to the United Nations Population Division, the current world population of 7.3 billion is expected to reach 8.5 billion by 2030, 9.7 billion by 2050 and 11.2 billion by 2100. To solve the current food crisis and meet the needs of the growing global population, with its changing diets, food production will have to double within the next 30 years.
Moreover, this increased food production will have to be achieved on less available arable land. This can only be accomplished by increasing crop production. Simply stated, the world will not be able to meet its food production goals without fertilizer. Today, commercial fertilizer is responsible for delivering 60% of the world's food production.
Agrium offers investors exposure to this global secular trend, which is driving the growing global demand for agricultural products.
Agrium - Company Profile
Agrium Inc. is a diversified, vertically integrated global leader in agricultural products and services, with revenue of $14.8 billion in 2015. The company is diversified geographically, as well as through its business model, as it operates through two complementary business units - Retail and Wholesale. This is a unique competitive advantage for Agrium. None of its fertilizer competitors has a retail business.
Agrium's Wholesale business unit owns 16 production facilities in North and South America, two mines, and a distribution and storage network throughout North America and internationally through Agrium Europe. Agrium Wholesale produces, markets and distributes nitrogen, phosphate and potash products for agricultural and industrial customers around the world.
The company is the world's fourth largest nitrogen producer and North America's third and fourth largest potash and phosphate producer, respectively. The primary end customer for Agrium's wholesale products is the agriculture market to enhance crop yields and quality.
Agrium's competitive advantages are anchored by its unique business model, combining primary fertilizer production and manufacturing with the world's largest direct-to-grower retail distribution network. This unique business combination enables the company to achieve higher plant operating rates, leverage its size and scale with suppliers, achieve significant logistics and distribution synergies and gather detailed market intelligence globally from all levels of the crop input chain. Because Agrium is the largest agricultural retailer in the world, its retail segment has significant purchasing power.
Mega Merger of Equals
On September 12, Agrium Inc. and Potash Corporation of Saskatchewan, or, more simply, Potash Corp. (NYSE: POT) announced a merger plan that would combine Potash Corp.'s crop nutrient production capacity, the world's largest, with Agrium's farm retail network, North America's largest. The two companies have described this combination as a "merger of equals" and said they expect to generate "up to $500M of annual operating synergies" and realize significant strategic benefits.
The companies began discussions in March 2015 on ways to combine phosphate fertilizer assets, but they eventually broadened discussions into a potential merger in February 2016, according to company filings.
The deal, if approved, would result in a new parent company that will be formed to own both companies and will be named prior to the transaction's closing. This new company would be the largest crop-nutrient supplier in the world, with close to 20,000 employees, operations and investments in 18 countries, a market capitalization of $26 billion and an enterprise value of $36 billion on a pro forma basis, based on the closing share prices of the two companies on the NYSE on August 29, 2016. On a 2015 pro forma basis, the new company would have had net revenue of approximately $20.6 billion and EBITDA of $4.7 billion before synergies.
Potash shareholders would own 52% of the combined company, while Agrium shareholders would hold 48%. The registered head office would be in Saskatoon, Saskatchewan, which is currently home to Potash Corp., and the company would have corporate offices in both Saskatchewan and Calgary, Alberta, where Agrium is currently headquartered.
The shareholder vote is scheduled for November 3, 2016 and the agreement, which the companies expect to close in mid-2017, would result in current Agrium president and CEO Chuck Magro becoming the new firm's CEO, with Potash Corp.'s current president and CEO Jochen Tilk serving as its executive chairman.
The merger requires regulatory approval in addition to shareholder approval. While I don't believe regulatory approval is a foregone conclusion, I believe it will occur, given the reasonably limited overlap and the clearly evident competitive challenges associated with operating in the global agricultural sector. I expect the process may be elongated, as the agriculture industry is witnessing increased scrutiny due to industry consolidation in what is considered a strategic sector. I believe concerns will be largely related to increased potash concentration.
Merits of the Merger
The merger offers strategic advantages for both companies that, in the long run, could prove to be more important than the highly-touted "operating synergies." Strategically, the mega-merger is a bold move to create a made-in-Canada agricultural giant with the size and clout to compete effectively in the current glutted global fertilizer market.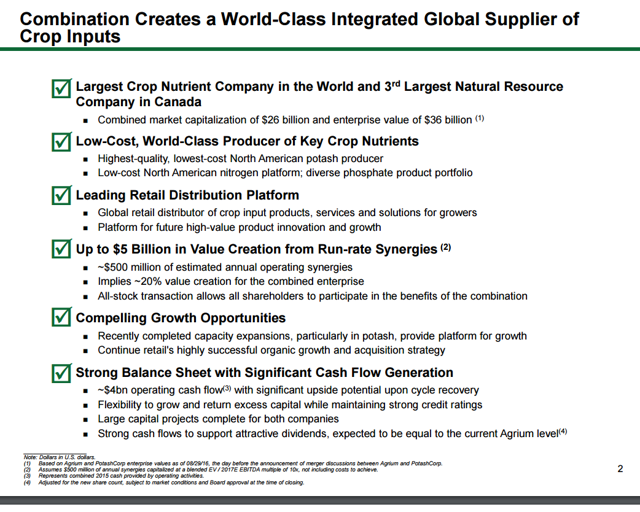 Click to enlarge
Source: www.worldclasscropinputsupplier.com/
"This company will be a Canadian champion that can provide leadership in the natural resource sector," Mr. Magro said on the September 12th conference call to announce the merger. "I would not be doing this deal if I did not think this was the right time, or the right deal. And I get there pretty easily: I look at the strategic fit and I look at combining the world's largest fertilizer producer with the world's largest ag retailer. That makes an awful lot of sense to me."
Mr. Magro also stated that "Agrium's retail arm buys about 10 million tonnes of fertilizer annually and we buy less than 200,000 tonnes from Potash Corp. today. So this is a massive integration opportunity."
The two CEOs also stated on the conference call that a merged company would have the financial muscle to execute more deals and would look to do so, once the businesses are integrated: Quoting Mr. Tilk from the conference call this time: "This model can be replicated around the world. We are creating a Canadian champion that can compete in the crop nutrient space around the world."
The proposed merger has the potential to...
Increase the footprint and diversification of the new combined company:
There are several benefits to pairing Agrium's large and well-positioned Retail business with Potash Corp.'s currently under-utilized potash assets, which could help unlock additional value as the Retail segment's distribution reach continues to grow.
These include the diversification of Potash Corp.'s mining business with Agrium's 1,400 retail outlets across seven countries and increase Potash Corp.'s market share and sales through Agrium's retail operation at a time when Potash Corp.'s leading rival, Russia-based Uralkali, is benefiting from a cheaper currency and opening lower-cost mines. Currently, Potash Corp. does not sell directly to farmers. It delivers mainly to wholesalers buying on the spot market.
The merger should also lead to increased potash sales volumes for the combined company, with a significant proportion of these incremental potash sales directed to the generally higher-margin North American business, in particular the United States. Currently, Agrium's Retail business sells about 1.6 million tonnes of potash annually in the United States. Of this total, less than 800,000 tonnes are supplied by Agrium and Potash Corp., so there is clearly headroom for substantial growth. In addition, any increase to the operating rate in the mining operations would lead to lower per-tonne costs.
Optimize assets and capital structure:
Agrium's management team has done a good job optimizing the company's asset base and capital structure, while selling off noncore assets, and I believe there are further opportunities to do so in the new combined company. For example, there is the opportunity to monetize Potash Corp.'s nonstrategic equity investments in specialty plant nutrient suppliers Sociedad Quimica y Minera (NYSE:SQM) of Chile and Israel Chemicals Limited (NYSE:ICL), for a potential $3 billion in unlocked value.
Potash Corp. owns only 14% of ICL and holds no board seats, and 32% of SQM under its dual class share structure, with the right to appoint three of the company's eight board seats. The combined market value of these investments is approximately $3 billion. The investments have been under strategic review for more than a year now, and I believe there is an opportunity to monetize them and focus on growth drivers for the combined company, including the Retail business M&A strategy.
In addition, Agrium is reportedly looking at the potential sale of its Australian retail business called Landmark, which makes sense, given the lack of obvious synergies with the company's core business.
Agrium also has joint venture interests in nitrogen facilities in Argentina and Egypt that provide production capacity for the company's international Retail business. Both facilities have experienced challenges and could readily be monetized, as Potash Corp.'s nitrogen business in Trinidad could provide the necessary international production capacity.
Accelerate retail acquisition strategy:
The larger combined company - with a more flexible balance sheet and lower leverage ratios, strong credit ratings, and incremental cash flows as the new company's synergies are realized - should be able to accelerate its Retail M&A strategy. And there is a good and growing selection of consolidation opportunities in the North American retail sector. As agriculture fundamentals remain challenging, there is opportunity to acquire retail assets at or near the bottom. And with the acquired businesses vertically integrated with the combined company's wholesale business, there is good potential to increase overall potash sales volumes.
Build stronger foundation for long-term growth:
The merger represents a way to address the challenges created by the deteriorating crop nutrient market. Potash Corp. is today the world's largest producer of fertilizer by capacity. The merger would strengthen the combined entity's global market share in crop nutrients, with a 62% share for potash and a 30% market share for each of nitrogen and phosphate.
Agrium's business profile is a mirror image, with three-quarters of its sales coming from its retail operation. Agrium recognizes the opportunity to acquire potash assets that are currently valued below replacement cost, with the long-term view that the combined company will benefit when the cycle turns and pricing improves.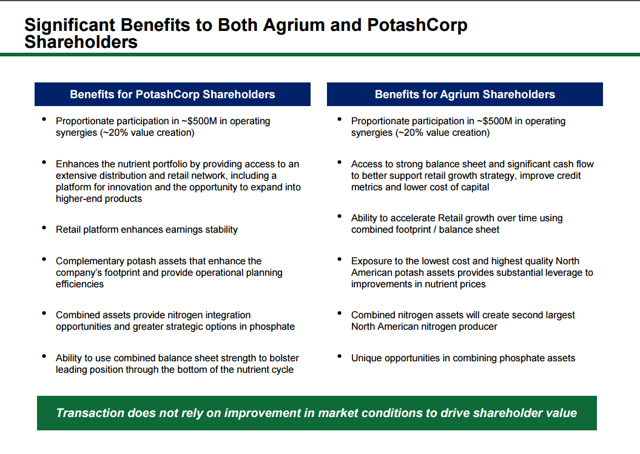 Click to enlarge
Source: www.worldclasscropinputsupplier.com/
Uncertainties Relating to the Merger
However, the merger will do little to reverse the 35% decline in potash prices over the past year. This is not the type of deal that will move potash prices overnight. I am a shareholder of Agrium and I remain uncertain at this time if Agrium will achieve the benefits it has outlined. To begin with, the deal does not offer a premium to Agrium, as was anticipated while discussions were still in the rumor stage and as one would expect, given the two companies' diverging stock prices and business performance, as illustrated in the respective graphs below: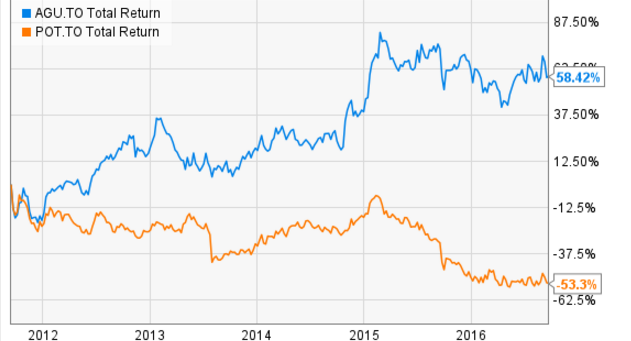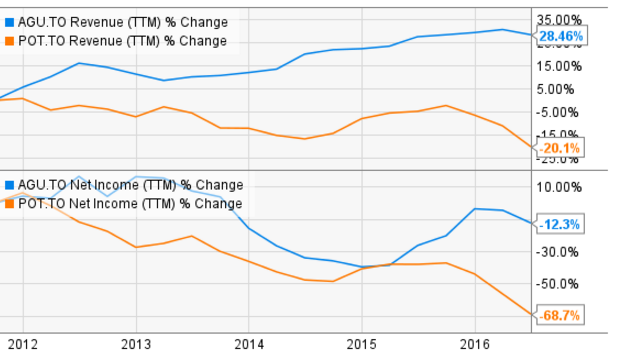 Merits of the merger rest heavily on the promise of cost savings and synergies. This is at a time when crop-nutrient companies are trying to cut costs with the depressed prices globally. Prices for potash and other fertilizers have been sliding for years now. Potash has fallen to decade-lows this year on oversupply and slumping crop prices. The all-stock deal is an attempt to generate value, despite the weak market for the companies' products.
The crop nutrient business currently accounts for 10% of Agrium's earnings before interest, taxes, depreciation and amortization (EBITDA), but would account for 35% of the merged company's EBITDA. Agrium's more stable retail business, which currently generates about 50% of the company's EBITDA, would account for under 20% in the new combined company.
This dilution of the less volatile retail business is a concern to many Agrium shareholders, including myself. However, Agrium would receive the benefit of significantly larger scale, which is an advantage in such a fiercely competitive global environment.
On another slightly positive note, potash shipments started to improve in the third quarter of this year because of contract settlements and stronger volumes into Brazil in anticipation of a strong planting season. I expect volume strength to continue through the fourth quarter as Canpotex (short for Canadian Potash Exporters) has announced it is "sold-out" until the end of 2016 and buyers are receptive at current prices. On the flip side, recent efforts by producers to raise prices are being met with resistance, and I suspect there is limited price upside through 2017.
As mentioned previously in the article, the two companies have emphasized they can slash expenses by $500 million a year through synergies, efficiency gains and expense reductions. With potash prices expected to remain low for the foreseeable future, the savings are critical to the future success.
I believe the $500-million synergy/cost-savings objectives are aggressive. From my experience, the long history of corporate mergers has demonstrated that such lofty "synergy and savings" objectives, declared with fervor when the deal is first announced, are elusive to achieve in practice. And it is important to note that the companies' $500-million figure is nearly double the $250 million to $350 million projected by most analysts who cover the sector.
Shares in each company fell about 6% after the merger was announced, indicating market skepticism. However, they have stabilized since then, as both companies' executive teams have been actively promoting the deal to both sides of the Street.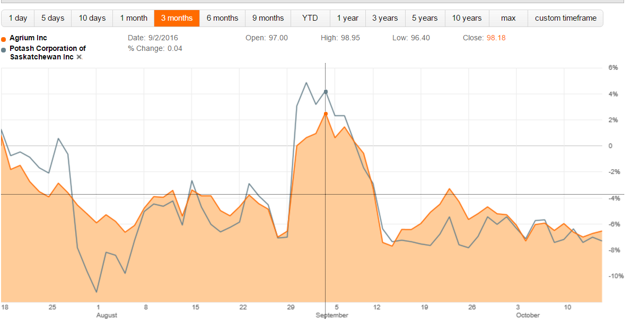 Click to enlarge
As an Agrium shareholder with a long investment horizon, I support the merger. However, I do have concerns that the deal exposes Agrium more heavily to the more volatile market for crop nutrients. I believe we will need to see the potash market recover to fully benefit.
Understandably, shareholders on both sides have voiced concerns - Agrium shareholders see increased potash downside risk, while Potash Corp. shareholders see reduced leverage to an eventual potash recovery.
When the merger was first announced more than a month ago, I thought it possible the deal might not receive the required two-thirds vote from Agrium's shareholders; however, with the aggressive full-court press by both companies' executive teams since that time, I believe the Agrium vote may now sneak through. I don't expect there will be an issue with approval by Potash Corp. shareholders.
I believe the potential risks are outweighed by the potential value creation. On a standalone basis, Agrium has built the most diverse, vertically integrated agricultural-input business. The company has been steadily growing its Retail business through tuck-in and bolt-on acquisitions and I expect it will continue to do so. Analysts are currently forecasting upwards of $50M EBITDA growth annually from ongoing inorganic growth opportunities in Agrium's Retail business.
The company has a clear path to earnings growth from both its Retail and Wholesale businesses that should translate into strong cash flow performance. I expect Agrium's free cash flow on a standalone basis to improve through 2017 and believe the company will continue to return cash to shareholders through a combination of share repurchase and dividend growth.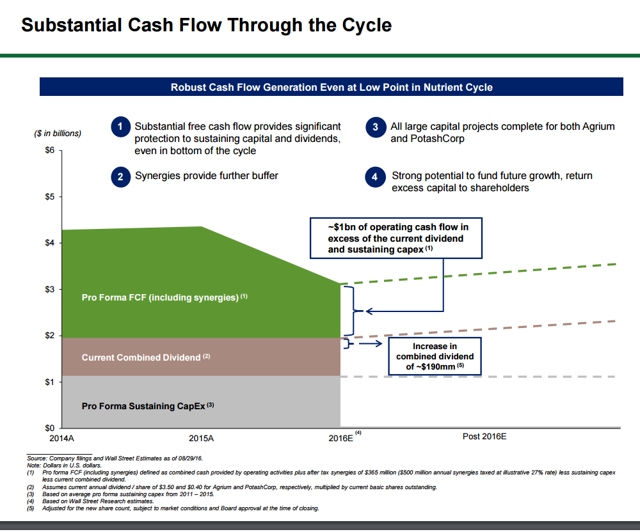 Click to enlarge
Source: www.worldclasscropinputsupplier.com/
At the same time, Potash Corp. has invested heavily to grow its potash capacity and is well positioned to meet the eventual growth in potash demand as the market gradually recovers. I expect to see growing free cash flow for Potash Corp. as the market recovers, as the company's major capital investments are now completed.
The term "transformational" is used too often in company press releases, but I believe it is appropriate to describe this transaction. This "merger of equals" between Agrium and Potash Corp represents a bold strategic action by both companies to create a stronger business to address the current market challenges and capitalize on future strategic opportunities. While I believe the $500-million synergy/cost-savings objectives are aggressive, I do believe there are meaningful opportunities on this front.
More importantly, in the long run, I believe there are significant potential strategic benefits. As Agrium President and CEO Chuck Magro said, "Combining our complementary assets will enable us to serve our customers more efficiently, deliver significant operating synergies and improve our cash flows to provide capital returns and invest in growth."
Potential Risks
As stated previously in the article, the size of the proposed merged companies will draw scrutiny from regulators. There is some risk the merger will not proceed as initially proposed.
Demand and prices for agricultural inputs can be volatile as the impacts of weather and global economic factors are hard to predict. These factors can result in lower than expected demand, resulting in a negative impact on earnings.
There is also the potential that new potash capacity projects continue, despite low potash prices. This would result in a greater oversupply situation and add further downward pressure on prices.
There is also execution risk, particularly given the size and scope of the transaction, resulting in the combined company not being able to realize its targeted synergies, capital-cost objectives, market-share objectives, operating-cost and performance objectives, which would result in lower margins.
Other risks include the health of global agricultural markets; continued weak fertilizer demand and pricing; forecast, technical and political risks; changes to tax, import and export regulations, subsidies or tariffs and legislative regimes; foreign exchange rates; financing, shipping, and transportation constraints; resources and reserves; operating parameters; permitting; environmental; and staffing and key personnel retention.
Agrium's shares may not be for every investor, as each individual investor has their own unique investment and cash flow objectives. To understand why I continue to recommend Agrium as a long-term hold, it is helpful to have some knowledge of my investment approach, which can be summarized in four compound words: long-term, large-cap, value-oriented, dividend-growth. For additional details, please refer to my recent interview with The Globe and Mail newspaper, entitled "A Long-Term Outlook Helps This Investor Weather Market Volatility."
I focus on companies that fit this four-phrase portraiture. Agrium fits this mold, and I will continue to hold my full position in the company, ideally forever.
The focus of my articles for Seeking Alpha is on attractively valued, large-cap dividend growth stocks with sound business models, strong management teams, and wide economic moats - "Forever Stocks." I strive to provide an in-depth analysis of the companies I research. I wrote this article from the perspective of a long-term investor who follows a straightforward, four-part strategy:
Identify a company with strong competitive advantages.
Satisfy myself its competitive advantages are enduring.
Invest in this company when it is trading at a fair price.
Hold the stock forever unless there is a significant change to the fundamental investment thesis associated with the company.
If you found this article helpful, please "Follow" me on Seeking Alpha to receive notification whenever I publish a new article.
You may also be interested in recent articles I have written for Seeking Alpha that focus on stocks aligned with my investment strategy.
Disclosure: I am/we are long AGU.
I wrote this article myself, and it expresses my own opinions. I am not receiving compensation for it (other than from Seeking Alpha). I have no business relationship with any company whose stock is mentioned in this article.