On October 6th, the Energy Information Administration (EIA) reported in its Weekly Natural Gas Storage Report that "working gas in underground storage" for the week ending September 30th was at 3,680 billion cubic feet (bcf).
On October 12th, the EIA reported in its Short-Term Energy Outlook (STEO) that natural gas ended September at 3,712 bcf, an increase of 32 bcf. This difference did not shake the natural gas market, did not appear in any market news (that I saw), and is probably not even known by many market participants.
I think this underscores an important observation to keep in mind: unless you are a futures market floor trader, betting on whether EIA's noisy weekly number will come in above or below analysts' expectations (in hopes of scoring a 15-second profit), the exact number does not matter. It is not an accurate figure and may even distract investors from focusing on key fundamentals. This is especially true for investors in natural gas equities, which is not a very efficient way to take a position in the commodity because it involves taking another risk on the management of the companies.
Production Issues
I recently wrote an article outlining why I think the EIA's production outlook, to miraculously increase 7 bcf/day over the next 15 months, is far-fetched, given current futures prices. In fact, given the time lags in production increases resulting from higher prices, there is no time available for higher production to impact end-of season (March 2017) storage levels. Rigs respond to higher prices with a five-month time lag, and it takes another month to get new production.
Demand Issues
Marketed natural gas production averaged 76.53 bcf/day in July, 2.36 bcf/day than the EIA had predicted. In addition, hot weather this past summer caused cooling degree days (CDDs) to mount, eliminating the gas glut, as measured on a days of supply basis. As I have discussed, there is a need for much higher storage levels due to the upward trend in consumption.
According to the National Oceanic and Atmospheric Administration (NOAA), population-weighted CDDs have been 17% higher than normal this cooling season (which begins each year on January 1st).
I weight each state by its use of natural gas as feedstock to utilities to get a better estimate of natural gas used to power air conditioning. I estimate that CDDs have totaled 13% higher-than-normal in 2016.
The driver of demand for natural gas is shifting to heating degree days (HDDs). NOAA reports that HDDs for this heating season (beginning July 1st each year) have been 55% lower-than-normal on a population-weighted basis and 56% lower on a gas home heating customer-weighted basis through October 15th.
I also weight HDDs by their heating use by state. (The weights are of course different for CDDs and HDDs, see chart below). My estimate is that HDDs for this heating season are 40% below normal. This week ending October 22nd is another mild week in which HDDs are expected to be 25% below normal, based on my weights.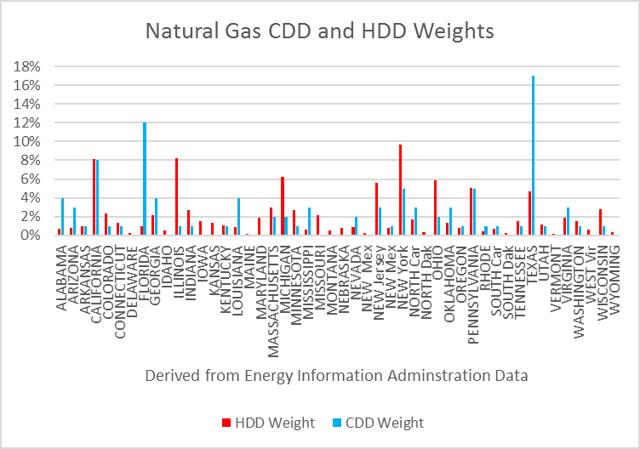 The volatility of natural gas futures prices can become extraordinarily high. Therefore, I manage risk using my algorithmic approach, as described in this article. (Contact me for more information about this signal service.)
Conclusions
The EIA weekly storage data and projections contain large errors. Furthermore, it is important to focus on the major drivers of prices vs. the minutia of the weekly numbers to position in this market. Finally, positioning in natural gas without a risk management capability is a recipe for disaster in this market.
Disclosure: I/we have no positions in any stocks mentioned, and no plans to initiate any positions within the next 72 hours.
I wrote this article myself, and it expresses my own opinions. I am not receiving compensation for it (other than from Seeking Alpha). I have no business relationship with any company whose stock is mentioned in this article.