There is always a risk reward trade available in a commodity industry. Antero Resources Corporation (NYSE:AR) has usually opted to trade away price exposure to commodity price gains for price certainty by using a very comprehensive multi-year hedging program. Currently that program is paying big dividends, as it has for several years. Plus management has demonstrated several times that they still have some exposure to price increases (see presentation link below) and they can increase production past the hedging program if conditions warrant that.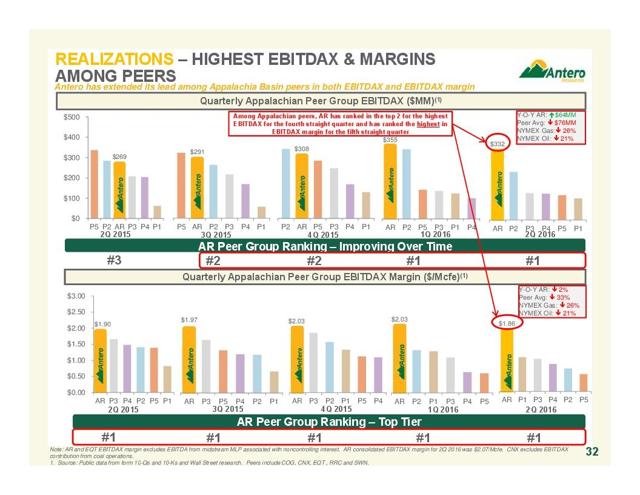 Click to enlarge Source: Antero Resources October, 2016, Corporate Presentation
These margins are definitely industry leading, both in amount and as a percentage of sales. A significant amount of the profits comes from a very substantial hedging program that has more than doubled the sales price. As discussed in the second quarter conference call, the commodity price for natural gas dipped under $2 MCF. However, the company hedging program has raised that price to more than $4 MCF. So this company has a lot more money to spend than the rest of the gas industry for each unit of gas sold.
The market, however, views the commodity gains as non-recurring and is not inclined to value commodity gains much. But a comprehensive program such as this one, should be viewed as a certain sales price for years to come. The company trades the ability to participate in significant price increases for projected certain profits years into the future. In the current industry environment the trade has worked wonders for the company profits.
Source: Antero Resources October, 2016, Corporate Presentation
But management also watches costs very closely to have industry leading margins. Those costs shown on the first slide are also industry leading low costs. Plus the company tries hard to get its gas to more favorable markets so that the realized price is higher. As noted above, an acquisition of a pipeline interest was made by the Antero Midstream LP (NYSE:AM) to facilitate transportation to more favorable markets. The company often reports a gain of a few cents per MCF by "beating the spread assumptions". The hedge assumes a realized price for the gas, but if the company finds a better market as it often does, then it reaps the benefits of the higher selling price when the hedges are cashed in. In short this company carefully monitors all aspects of the business to produce very robust profits and cash flow.
There is always a future risk of being unable to favorably hedge, or being unable to take advantage of market inefficiencies. But this company has a remarkable record of selling gas at a premium (including hedging and all the other things management has noted) one way or another. Investors should expect that track record to continue.
Source: Antero Resources October, 2016, Corporate Presentation
So the company has a very different strategy to add to profits. Unusual strategies are usually hard for the market to stomach and this company is no exception to that rule. It has been unusually profitable during the downturn and will probably continue to be unusually profitable in the future. Should the current profit opportunities change, expect this above average management to continue to take advantage of the extra profit opportunities offered in other ways in the future. With above average management, unusually generous profitability is the rule whatever the source of the extra profits. The market likes certainty but there is usually considerable uncertainty as to how this company will make its above average margins. Still management has come through time and again.
Source: Antero Resources October, 2016, Corporate Presentation
This company is having as much success on the cost reduction side as it is having on the protecting sales price part of the business. So the total cash costs shown in the previous slide set can be expected to decline in the future as well results improve. The new wells shown in the first slide have much lower breakeven costs than wells that were already drilled. Production rates are also improving. But it will take some time for the new wells to predominate in the cost structure as Antero is a fairly large company with significant production already. Fortunately the hedging program has the waiting time for that transition already covered.
Source: Antero Resources October, 2016, Corporate Presentation
This company has a lot of excess cash flow. Recently there was an acquisition of some leases, and other acquisitions plus accretive growth projects are under review. This company can fund its growth without reliance on the debt markets, although it has some debt. Plus the close coordination with Antero Midstream Partners is saving the company some serious operational expenses.
Plus the midstream partnership also is another source of growing cash flow as well as financing the necessary midstream operational support. Antero Resources has a majority ownership and operates the midstream partnership. Recently that partnership raised its distributions for the seventh time in seven quarters. That is seven consecutive quarterly distribution increases for a very fast growing midstream operation. This partnership represents about one-third of the value of the company's common stock. That value may well understate the high growth of the partnership which would lead to a higher valuation quickly. So this company can look forward to increasing cash flow from this investment as well as future lower costs production.
Source: Antero Resources October, 2016, Corporate Presentation
Both companies have updated their guidance. As expected costs are dropping as operations improve. Antero Resources has about $3.7 billion in debt. But it also has a decent credit rating and a bank line that provides very generous liquidity of about $4 billion. The commodity derivatives portfolio and the holdings in the midstream company have more liquid value than the long term debt. So this company has a number of ways to finance any opportunity that appears.
Increasing activity is not a problem. Nor is maintaining the current growth rate. The company's hedging program already has a certain amount of growth planned. The only decision that management needs to make is whether or not they want to increase production in excess of the hedging program. Management has indicated they will do so if extreme bullish conditions exist. Right now, operational costs are dropping so significantly, that management may decide to increase production growth more. In that case, prices will not need to increase, just maintain their current levels.
Source: Antero Resources October, 2016, Corporate Presentation
This company is one of the few companies to increase reserves during the industry downturn. The hedging program enabled the company to grow right through the industry downturn. The company has since replaced many of the expired hedges at suitable prices. So this company has unusual selling price clarity well into the future. That is not something that the market usually values. But in this case, the price stability makes this company much more valuable than many in the industry.
The midstream operation has provided additional processing capacity. That has enabled an increase in the recovery of liquids from the gas produced. This new processing will also increase future profitability. The midstream operations will enhance the flexibility to produce products the market needs.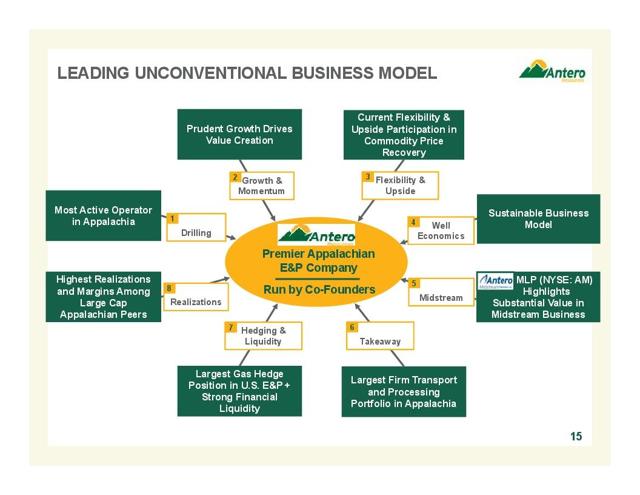 Click to enlarge
Source: Antero Resources October, 2016, Corporate Presentation
This company is trading at less than ten times its expected earnings target. That is dirt cheap for a company with considerable sales price visibility into the future, and very significant production growth. The company achieves its profitability in the usual and other unusual ways. As with the rest of the industry, there have been some writeoffs for older capital costs that are now too high. But this company has a history of a low cost producer. There is a risk of it losing that status. But a much more reasonable bet would be that management at least keeps pace with industry cost reductions to stay a low cost producer.
Even in a worst case scenario this stock should more than double over the five year period. But investors should expect a company such as this one to have significant earnings in the future from derivative settlements. With this company commodity earnings are recurring. More more importantly, selling prices are fixed far into the future. The company still has some commodity price participation. But management has demonstrated that the company strategy eliminates most of the price decline risk. That should reassure most investors that above average profits are here to stay for this company.
Disclaimer: I am not an investment advisor and this is not a recommendation to buy or sell a security. Investors are recommended to read all of the company's filings and press releases as well as do their own research to determine if the company fits their own investment objectives and risk portfolios.
Disclosure: I/we have no positions in any stocks mentioned, and no plans to initiate any positions within the next 72 hours.
I wrote this article myself, and it expresses my own opinions. I am not receiving compensation for it (other than from Seeking Alpha). I have no business relationship with any company whose stock is mentioned in this article.