A very recent Piper Jaffray survey of over 10,000 teens across 46 US states shows that Facebook (NASDAQ:FB) is losing teenage users to Snapchat (Private:CHAT). Between fall and spring, there was an 8% decline in Facebook engagement, defined as the percentage of teens who check Facebook at least once a month.
In a similar survey of about 7,000 teenagers in the 16-18 age bracket, Snapchat had 28% of total votes as the most important social networking platform. See the graphics.

Click to enlarge
In these graphics, I juxtaposed results from the Piper Jaffray semi-annual "Taking Stock With Teens" survey for the last three sessions. The results are dramatic. Snapchat has risen dramatically across the three surveys, going from being below Facebook at the start in Spring 2015 to being way above it this season. In Fall 2015, Snapchat stood at 13%, and Facebook 14%, while Instagram led the group at 32%. In Spring 2016, Facebook remained stagnant at 15%, but Snapchat rose 6 percentage points to 19%. Now, in Spring of 2016, the numbers are: Facebook still more or less stagnant at 17%, while Snapchat up another 9% to reach 28% of overall population surveyed. In one year, it went up 15% while FB only managed 3%.
Obviously, a larger number of 7,000 upper-income kids surveyed in 46 US states prefer Snapchat over Facebook. These kids also prefer Nike as their main footwear and clothing brand, are partial to Michael Kors handbags, and consider Amazon (NASDAQ:AMZN) the best shopping haven. And before I forget, Starbucks is their preferred "restaurant" destination according to the same survey.
Should Facebook be worried?
Well, there are a very large number of factors here. For one, is this survey even representative of the sentiment of broad-spectrum Facebook users? See the chart below for Facebook's age demographics this year.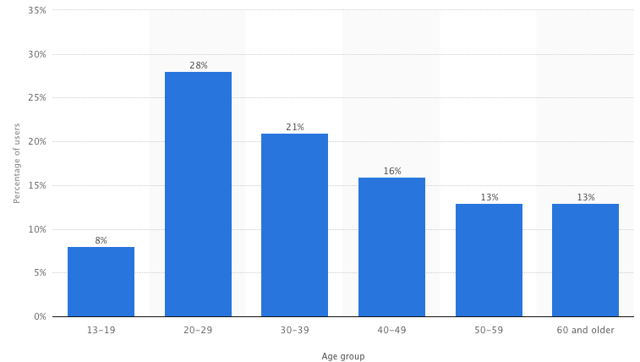 Click to enlarge
As you can see, teenagers constitute just 8% of Facebook's 1.2 billion users. The largest percentage of FB users is from the age group 20-29, at 28%, followed by 30-39, at 21%.
Secondly, the 8% teenage users in the US constitute about 16 million teenagers of the 190 million total US Facebook users. Surveying 7000 among them is about .0004%. That might sound like nice footage on the TV shows, but there's no statistical rigor in such a survey. Such a survey is hardly representative. However, it is probably more representational of the upper-income teenagers, that is, those with a household income of over $65,000. That constitutes about 43% of total US household income.
Thirdly, teenagers are not the most important demographic for ad customers, which is where the bottomline is for Facebook and the rest of these social companies. According to a Nielsen survey, Millennials (age 21-34) constitute the largest market for online ads. More than 50% of all Millennials surveyed said they would make a purchase online, while the number stood at 28% for people in the 35-49, and 10% for baby boomers (age 50-64). The youngest group, Gen Z, those below 20 years of age, make only 7% of the numbers of those who intend to make a purchase online. This is the group that was surveyed by Piper Jaffray, those that said they prefer Snapchat to Facebook.
However, those are just the three non-problematic factors, things that make you think Facebook doesn't have a problem.
From what I understand of the teenager mindset, privacy is a big factor in their decision to prefer Snapchat over Facebook. As this 2013 Mashable article's title says it, "I'm 13 and none of my friends have Facebook." And the reason - Facebook just isn't as private as Snapchat. Another NY Times article makes a psychological study of this generation shift from Facebook to Snapchat, and comes up with a group of reasons - privacy, anonymity, multiculturalism, a lower threshold to security and bullying risks at school, and the like. The key differentiating factor here between Facebook and Snapchat is that messages on Snapchat go away instantly and do not create an online trail which can hound you for a lifetime, as has often happened to many Millennials in the last decade or so. Like a comparison article says here, "You time how long they can see the post. While this is obviously helpful for less than Christian-like behavior, it's also nice that your Wednesday work rant is history by Thursday morning when you forgot why you were mad in the first place."

Click to enlarge
Source - NY Times
What should start worrying Mark Zuckerberg, the posterboy of the Millennials, is that, assuming the Piper Jaffray survey correctly represents the bigger picture, that he hasn't been able to get more traction with the generation that followed the one immediately after his. This group, born in the immediate surrounding of the Sept 11 years and the Internet, has never known a time when there was no social media or online ads. The digital age comes naturally to them, and if such a demographic prefers Snapchat to Facebook, that just tells me Facebook is becoming a passing phenomenon. As this age group grows, starts earnings, making more buying decisions, they will start making more online purchases - and the ads that get them to those purchases will be delivered on a Snapchat platform, not on a Facebook platform. The Gen Z age group is limited in its online purchases not by a lack of intent, but by a lack of purchasing power.
Therein lies the crux of Facebook's problem. Like all things technology, social media platforms also have a short shelf life counted in half-decades, and the next big bad boy in the box is Snapchat, with its astounding $25-billion IPO this coming March. I am long FB, have been for a while and have made profits on the stock, but with the upcoming Snapchat IPO, I am seriously considering selling out of FB, perhaps entirely, and going into the brave new world of Snapchat. The reason is that Facebook, while a strong and solid company right now, is part of the social media technology that keeps changing with each generation, and Snapchat is the next thing to attract the social people out there.
As the demographic that prefers Snapchat over Facebook grows into their 20s, which starts between one and two years from now, they will begin to get more attention from advertisers, because they will start earning and make more purchases online. Snapchat, if it can retain its lead two years down the line, will have positioned itself better for this group of "upwardly mobile" people. Once it gets through its IPO, Snapchat will have more financial prowess to build its platform, making it a better platform for advertisers than it is now.
Facebook should be very worried.
Note - I recognize there can be countless counters to my argument as presented in the last couple paragraphs. One could say, for example, that as folks grow older, they grow up out of Snapchat and its peculiar format of texting, and they begin to get more interested in Facebook-type networking with family and friends. I look forward to seeing such counter arguments presented in the comments section below.
Disclosure: I am/we are long FB.
I wrote this article myself, and it expresses my own opinions. I am not receiving compensation for it (other than from Seeking Alpha). I have no business relationship with any company whose stock is mentioned in this article.