Facebook (NASDAQ:FB) has had a strong run, and many investors believe the company has more growth in the future. Under Mark Zuckerberg's leadership, Facebook has expanded to serve 1.7 billion people, almost 25% of the global population.
The social media platform has a reach of over 90% in many of the regions where it operates. However, there are headwinds to Facebook's growth and when monthly active user (MAU) growth slows - or even declines - there will probably be a correction in the stock price.
Competition is the most significant threat Facebook faces. While the firm has managed to beat back its early rivals, Twitter (NYSE:TWTR) and MySpace, without much trouble, the current competition is fierce and holds several competitive advantages that the legendary platform will be hard pressed to match.
International Competition.
Facebook faces competition from several international social media platforms. The two most influential are China-based WeChat, owned by Tencent (OTCPK:TCEHY), and the privately held VK, which is based in St. Petersburg, Russia.
Both of these platforms have some competitive advantages over Facebook and will hinder the company's expansion in the European and Asian markets.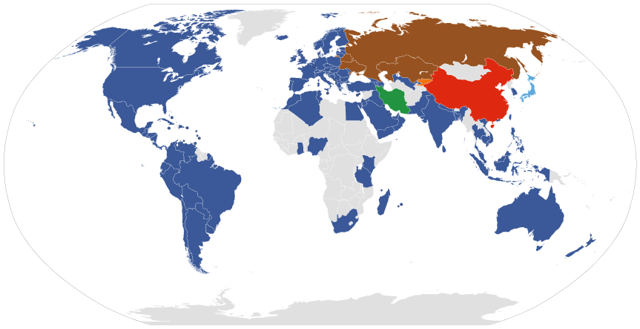 Click to enlarge
Source: Wikipedia.com
1. WeChat & QQ (Red)
Facebook is banned in China, and it does not usually compete directly with Tencent in the social media market. Nevertheless, Tencent's social media platforms WeChat and QQ pose a significant threat to Facebook.
While Tencent's social media platforms currently have a small international footprint, this may not always be the case. The firm is pushing its global expansion hard via acquisitions and partnerships with companies in nations where it wants to expand its footprint.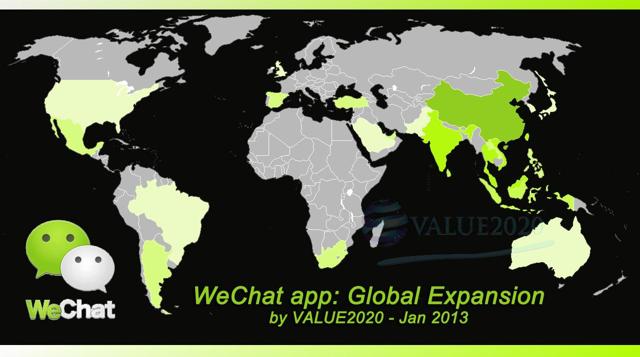 Click to enlarge
Source: Forbes.com
Tencent acquired 13.5% of the South Korean app developer Kakao Talk in 2015, and it has plans to beat Facebook in the African market via its partnership with Naspers, the largest media firm in the continent.
Tencent also pays celebrities, like Lionel Messi of Argentina, to use the platform as part of its advertising campaigns.
WeChat has some significant advantages over Facebook; primarily in versatility. The platform is used for everything from shopping to phone calls; it drives high user engagement and monetization prospects.
2. VKontakta (VK) (Brown)
The social media platform VK is often referred to as the 'Russian Facebook'. There is a good reason for this nickname, as VK has copied everything from its layout to its functionality from the American company.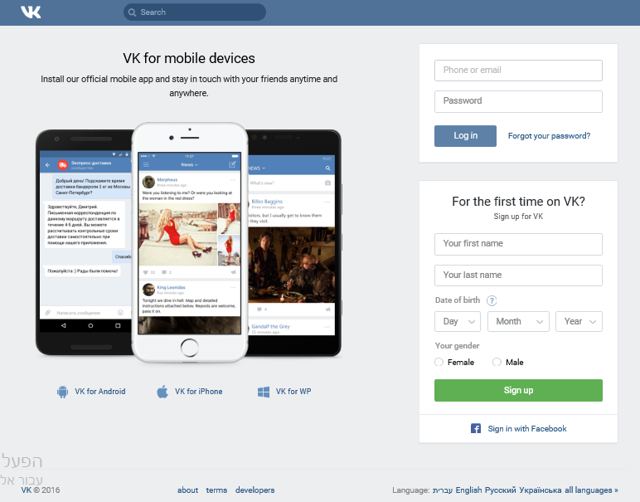 Click to enlarge
Source: Wikipedia.com
VK helps keep Facebook's penetration low in Eastern Europe because it offers everything Facebook offers and more. VK's competitive advantage for this market includes pirated entertainment media and adult entertainment.
Despite being relatively unknown in the west, VK is a hugely popular website. It is the most popular site in Russia and Belarus, and in the top ten in Ukraine Kazakhstan, Lithuania, and even Israel - where it is second only to Facebook.
3. Small Regional Competition (Green & Blue)
Line is a small Japanese/Korean social media platform created by Naver (OTC:NHNCF). It only has 218 million monthly active users, but it poses some competition to Facebook in the East Asian and southeast Asian markets.
Almost 70% of the platform's MAUs are in Taiwan, Japan, Thailand and Indonesia. Despite the firm's small size, it will pressure Facebook's penetrations into those regions.
Russia has another large social media platform: Odenoklassniki (classmates) that is still popular in many eastern European nations. The site has an Alexa rank of 56 and serves 45 million daily visitors.
Odenoklassniki and Facenama (in Iran) are examples of the small regional social media platforms competing with Facebook for fringe markets.
Conclusion
Facebook is a reliable company, but its valuations assume unrealistic future growth. While the platform may be able to increase its revenue per customer, there is a limit to how far this can go before slowing MAU growth leads to a correction in the stock price.
International competition from platforms like WeChat, QQ and VK are a significant threat to Facebook, especially because these foreign firms have several competitive advantages.
Follow International Perspective by clicking on the icon next to my moniker.
Disclosure: I/we have no positions in any stocks mentioned, and no plans to initiate any positions within the next 72 hours.
I wrote this article myself, and it expresses my own opinions. I am not receiving compensation for it (other than from Seeking Alpha). I have no business relationship with any company whose stock is mentioned in this article.
Editor's Note: This article discusses one or more securities that do not trade on a major U.S. exchange. Please be aware of the risks associated with these stocks.