I've been bullish on this market for a long time. Even at the start of the year I maintained the correction was part of a larger cycle going higher.
For the record, I still think this; the S&P500 (SPY) has not topped. But evidence has been mounting up on the bearish side. I've tried to ignore it and stay bullish and it's worked up till now, but I don't want to push my luck; there's fine line between a stubborn bull (who makes money) and a stupid one (who doesn't).
What has kept me bullish for so long is the technical picture and my belief that cycles and trends can de-couple from fundamentals over the short to medium term. Prices can still go higher with the backdrop of stretched valuations and a variety of bearish fundamentals. Short term speculators thrive on taking the market to places no-one expects.
However, the technical picture has been slowly and subtly changing. When the technicals turn bearish and confirm market participants are acting on bearish fundamentals, then it's not a good time to put your head in the sand.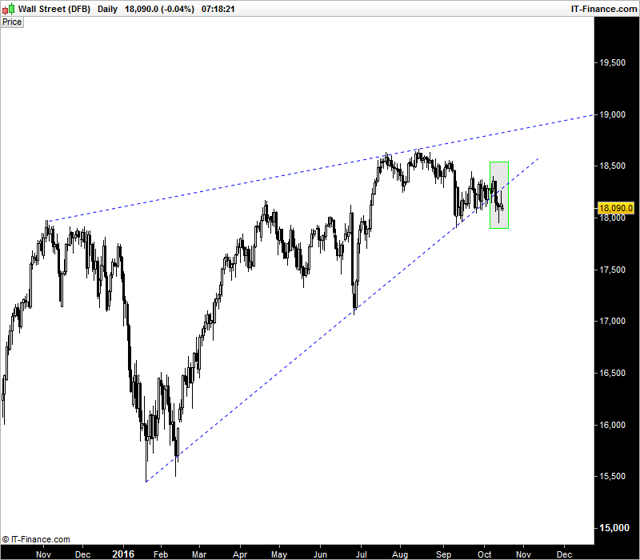 Click to enlarge
The Dow Jones (DIA) (pictured) and the S&P500 have both broken trendlines and re-tested. This in itself isn't massively bearish, but look how many times the line was protected over the last month or so. The eventual break is telling us something.
Also note this pattern is still in play: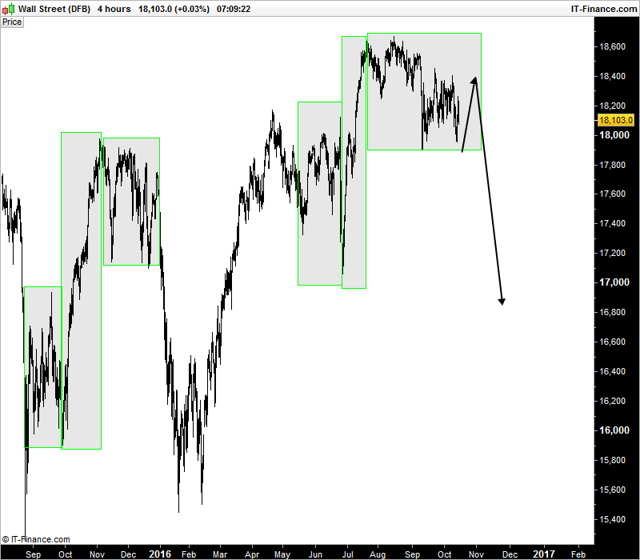 Click to enlarge
I first highlighted this chart in my September article 'Watch These Patterns Going Into The Fed'. It appears the ramp and topping pattern is very similar to the one before the last rate hike in December 2015. Granted, the topping pattern is taking longer, but nothing has happened to decisively break the link; it still appears market participants have the same fears and are preparing in the same way.
This leads me to gold (GLD) -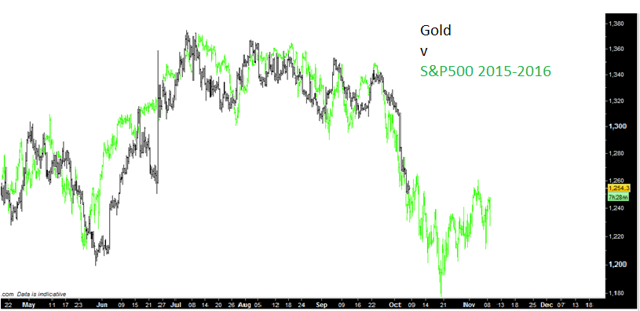 Click to enlarge
Gold is also tracking the same pattern of the equity top and sell off in 2015-2016, and is slightly advanced. Rate hike fears seem to affect gold and bonds first.
This was explained in more detail in last week's article where I introduced the concept of gold having a one month lead on the moves of the S&P500.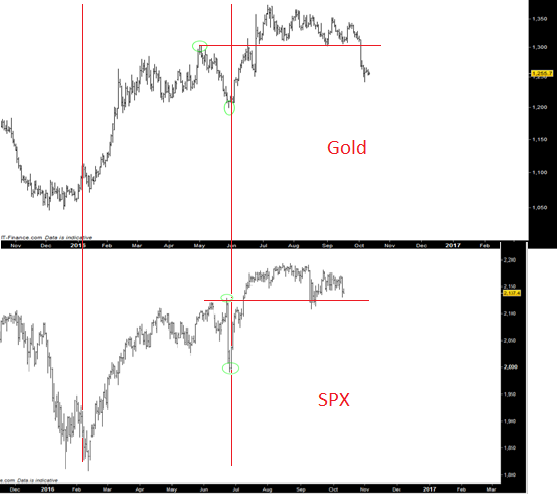 It should be quite clear what this is suggesting.
Taking Action
Short term the gold lead suggests a path like this for the S&P500: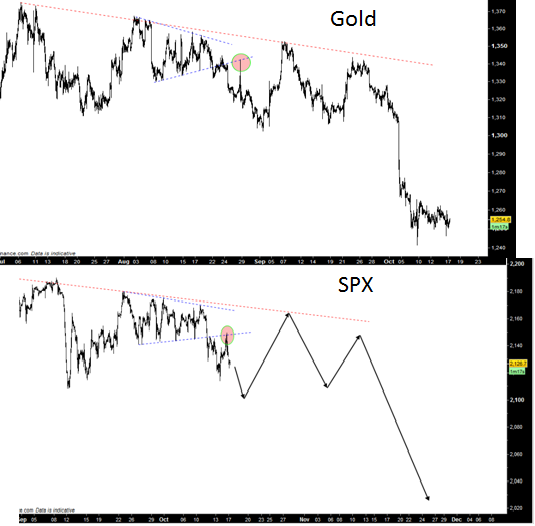 Gold broke down in early October so there should still be time for minor rallies and some sideways in action in the S&P500 leading into the election. Please don't expect an identical repeat; zooming into charts and expecting perfection usually leads to more good than bad. I'm using the above to try and lighten up positions and hedge with a short in the S&P500 futures if it reaches the 2160s.
Dax (NYSEARCA:EWG) is another long I recommended from the trendline re-test: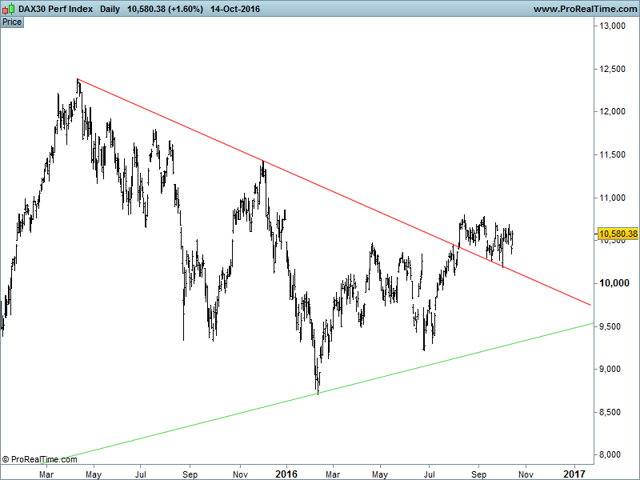 Click to enlarge
Dax has re-tested three times now and hasn't been able to make a new high. When something doesn't happen, it is just as important as something that does. Failure to rally here is a bad sign.
If you went long on the re-test this is a trade you should really make money on, as is the long in the SPY recommended at the September lows. Manage the positions as you see fit, but I have already closed half my Dax long and will sell into strength.
The Bigger Picture
If the S&P500 were to sell off aggressively past the June 2016 lows, would the trend be broken?
Or to put in another way, has the market topped?
To answer this question I use Elliott Wave (more on this technique here) to study the stages of the trend, and trend channels.
Regular readers will know I have been looking for a last rally - a wave 5 - up to about 2370-2400 on the S&P500.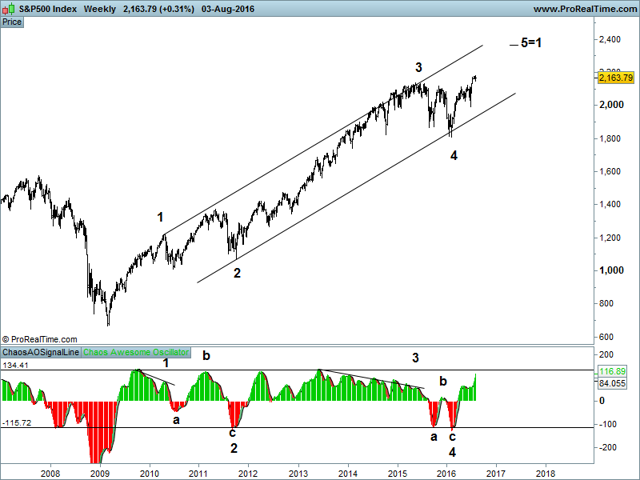 Click to enlarge
Rather than conclude this wave 5 ended early and we have topped, I think it is more likely we are still inside wave 4.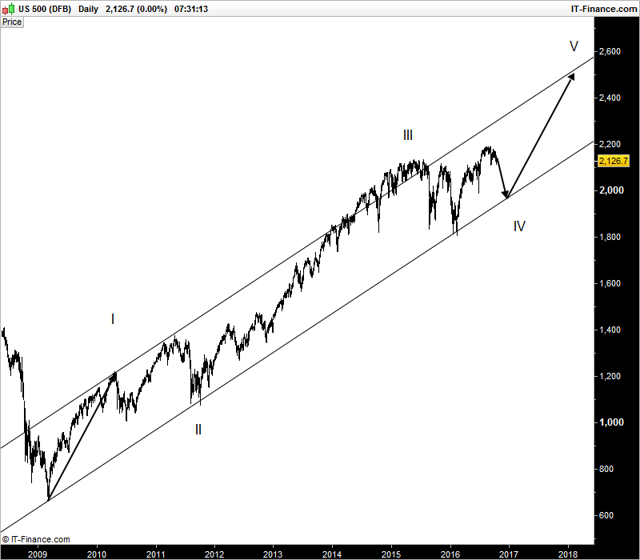 Click to enlarge
The main reason for this is the obvious 3 wave move from the February 2016 lows to the current highs. Wave 5 must have 5 waves.
There are other possibilities for the count, but the high probability ones are bullish. Only if we break the channel shown above I will consider one of the low probability bearish counts.
More information is provided by the Dow. It has a slightly different structure and count -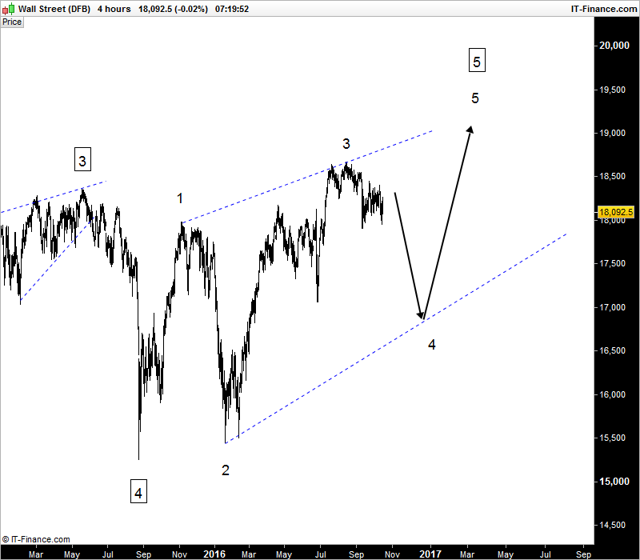 Click to enlarge
This 'ending diagonal' pattern is a very common pattern for the DJI. Every wave over the last few years has ended this way: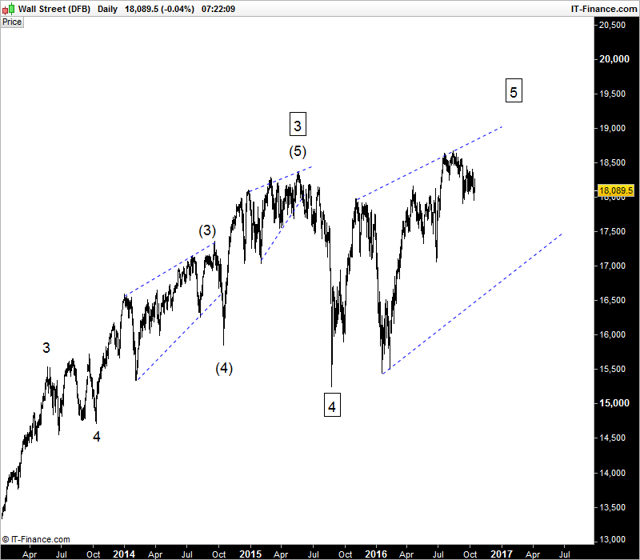 Click to enlarge
Both patterns in S&P500 and DJI suggest the top is not in. But we may have to go down to go up again.
Update 10/18/2016, 12:57 a.m.:
An Inflection Point
There are always a number of possible scenarios for every market. Our job is to search for the ones which seem most likely given the context and all the evidence. As I have shown, I think the most likely path is now down.
However, there is a possibility the sell off can end here -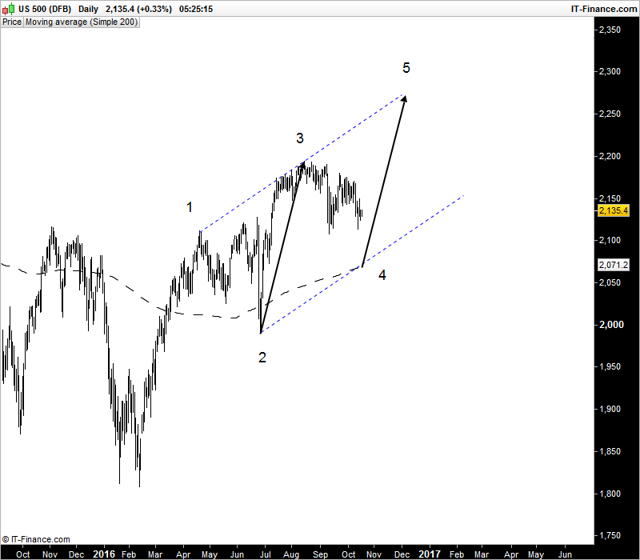 Click to enlarge
The 200dma and the channel currently sit together in the 2070s.
A look on the weekly chart shows more confluence -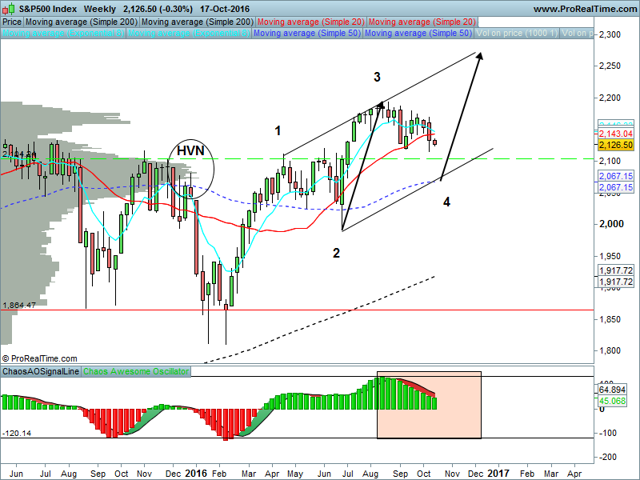 Click to enlarge
The weekly 50ma and an area of high volume (which often acts as support) are also around 2070.
This chart also shows the divergence setting up on the oscillators. If we were to get one more high in price, there would likely be lower high on the oscillator. This will give us a complete wave 5 and a likely top.
Watch the reaction in the 2070s closely, and also watch gold for a guide. So far gold has fallen to just below a pivot in the June rally. A corresponding pivot in the S&P500 is the July 6th low. I'll post the chart again so it is clear -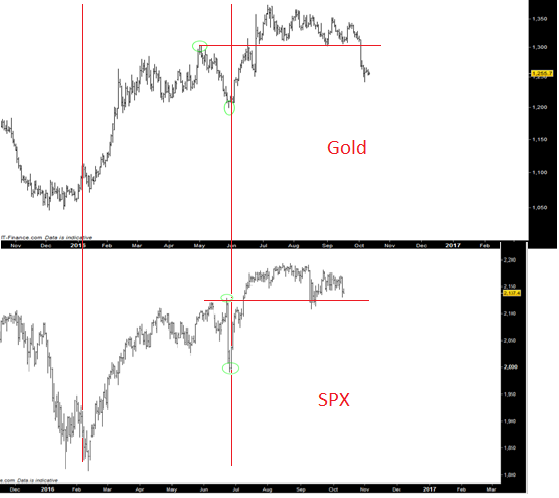 It depends on where gold goes from here, but the chart above does suggest the first destination for the S&P500 is 2070. If gold falls further, or reverses and rallies will act as a guide on whether 2070 could be the bottom for equities.
If 2070 breaks, I think it opens the door for a dip below 2000 and the June lows.
End of Update
Conclusions
I have been trying stay bullish equities despite the bullish Dollar and bearish bonds. I thought somehow equities could find one last burst of energy and rally against the tide.
This last rally has not materialized as expected. It's disappointing, but I have still made a profit on longs and I won't be stubborn.
Given the evidence, I think a sharp correction is coming. Risk v reward is not favourable here and I plan to re-buy around the June lows. Follow me for updates.
Click "follow" by my name at the top of the article to receive updates and other trade ideas.
Follow me on Twitter - @elroytrader - for shorter term ideas and trade entries etc...
Disclosure: I am/we are long EWG.
I wrote this article myself, and it expresses my own opinions. I am not receiving compensation for it (other than from Seeking Alpha). I have no business relationship with any company whose stock is mentioned in this article.
Additional disclosure: I am long Dax futures and various U.S. stocks.