That Apple Inc. (NASDAQ:AAPL) has been fervently trying to get OLED (organic light-emitting diode) displays for its next generation of devices is nothing new. But there has been no substantive evidence which confirm as to when the next iPhones will sport these displays. While earlier it was believed that the next year's iPhone 8 will have a curved OLED display but even that hope has been put to rest now.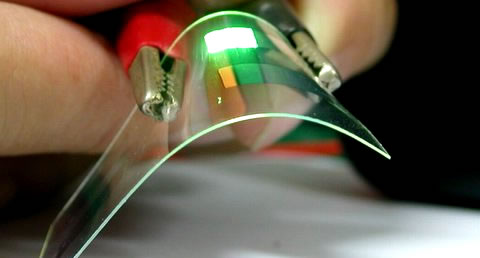 Demonstration of a flexible OLED
According to the latest report from Nikkei, Taiwan's Foxconn and its Japanese subsidiary Sharp might start the production of OLED panels in China but not before 2019. While earlier it was believed that the alliance would begin production of OLEDs in Japan, it has now switched to China as it assumes that the Chinese government might help in lowering the debt burden.
The Foxconn-Sharp alliance has committed to investing approximately 200 billion yen ($1.92 billion) to become a mass producer of OLED displays as Foxconn aims to become the go-to OLED display supplier for Apple. Bloomberg recently reported that Apple is in talks with Japanese manufacturer Sharp for organic LEDs for its future devices. Given that Apple is one of the biggest smartphone sellers, any OLED supply agreement will be hinged on Sharp's ability to timely meet huge demand pressures.
Samsung Electronics (OTC:SSNLF) is aggressively investing in OLED technology in anticipation of an OLED iPhone in 2018. However, with the recent fiasco of Samsung's Galaxy Note 7 devices catching fire, and with reasons still unknown, Apple would not risk procuring OLED displays from Samsung.
Samsung introduced curved displays with the Galaxy Note Edge and Galaxy 6 Edge last year, and continued with them this year with Galaxy 7 Edge and Note 7. Galaxy Note 7 has been discontinued permanently.
Apple is an aggressive player in the smartphone business. If it realizes that 2019 is too distant in the future, it may also consider LG as the major OLED supplier.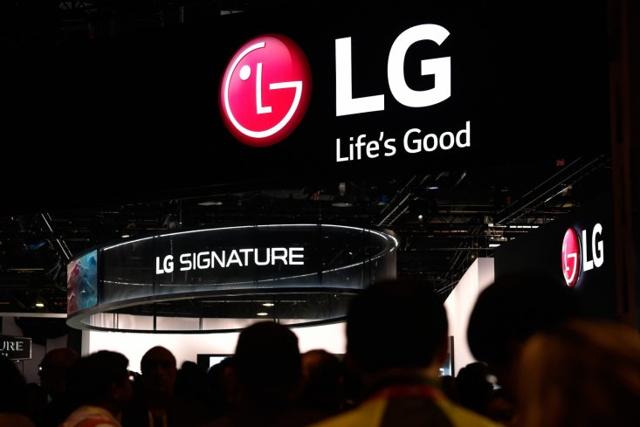 Click to enlarge
According to data compiled by Bloomberg, LG Display Co. (NYSE:LPL) receives more than 30 percent of its revenue from Apple, its biggest customer. Hoping to grab a bigger share in Apple's supply chain, LG had committed 1.05 trillion won for building its fourth OLED factory in July 2015. In November, the South Korean firm said that it will invest more than 10 trillion won (approx. $8.71 billion) to build a large plant to make OLED panels. In June this year, the company announced it would invest $1.75 billion to produce flexible OLEDs for use in mobile phones.
OLED displays take advantage of the natural luminescence of certain organic substances in response to electric current. OLED displays are thinner, lighter, use less battery power and provide higher contrast for high-quality images. These screens can also be flexibly curved which adds to design value, similar to what we see in Samsung Galaxy S7 Edge devices.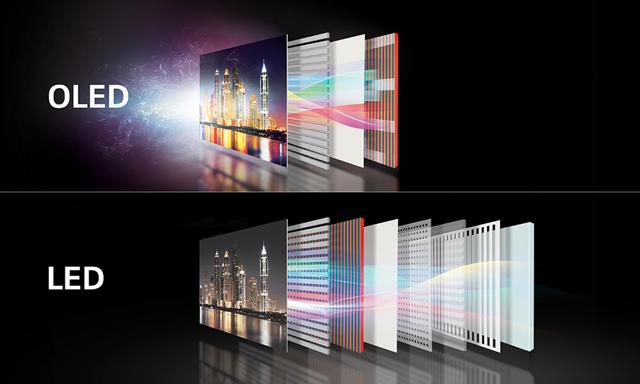 Click to enlarge
Source: LG
Apple has been contemplating reducing the battery drain in its phones, which are regarded highly for their high-definition images and video recording. With OLED displays, Apple sees this dual opportunity, and is therefore willing to give up on the current liquid crystal displays or LCDs.
Conclusion
If Apple is really to go with Sharp for the OLED displays, it will have to wait longer. But it is hard to imagine that Apple will wait until 2019 for its first OLED device. It may also go for a partial adoption of the OLED technology if the wait seems longer.
LG is positioning itself to become the key OLED supplier to Apple. It has been investing heavily in the technology, and with its rich and successful experience in flat and curved OLED TVs it may just grab this chance.
Samsung will eventually rebound from the Note 7 trauma but is unlikely to get a chance from Apple. There are reports that Samsung has already clinched the deal, but there have been no comments from either party.
The delay in OLED screens is unlikely to affect the stock price going forward since there was no timeline dedicated at all, and investors know that Apple would never compromise on quality and supply just because it should launch an OLED iPhone sooner.
As I finish this analysis, Apple's stock was trading down 0.43% at $117.11 as the broader market is weak and investors begin to digest the scale down in company's automotive strategy. Therefore, I believe that the investors have shrugged off the news of an OLED-iPhone delay.
Rumors have also been doing rounds that Apple could initially go for a partial adoption of OLED before moving to extensive use in iPhones. A partial adoption of the technology in a basic or specialized iPhone could help in garnering consumers' feedback and accelerate the adoption of full-scale OLEDs.
The adoption of OLED screens also will be cost effective for Apple. According to a research earlier this year, the production cost of an OLED screen is now lower than LCD. Production costs in the first quarter of the year for a 5" 1080p display amounted to $14.30 for an AMOLED panel compared to $14.60 for an LCD one.
LCDs really have no future given that OLEDs provide much better image quality at lesser battery usage. The money is rapidly shifting to the latter technology, and with time, the production cost of OLEDs should go even lower. The drop in display costs will likely add to the company's earnings, which can then be used to award the patient shareholders.
I recommend a hold on Apple with a time horizon of at least three years.
Disclosure: I/we have no positions in any stocks mentioned, and no plans to initiate any positions within the next 72 hours.
I wrote this article myself, and it expresses my own opinions. I am not receiving compensation for it (other than from Seeking Alpha). I have no business relationship with any company whose stock is mentioned in this article.
Editor's Note: This article discusses one or more securities that do not trade on a major U.S. exchange. Please be aware of the risks associated with these stocks.