The Natural Gas Supply Association (NGSA) publishes a quarterly report listing the "Top-40" domestic natural gas producers. Exxon Mobil (NYSE:XOM) has been at the top since its purchase of XTO Energy in 2010. So it should come as no surprise that in Q2 of this year, Exxon remains the #1 domestic natural gas producer at 3.13 Bcf/d: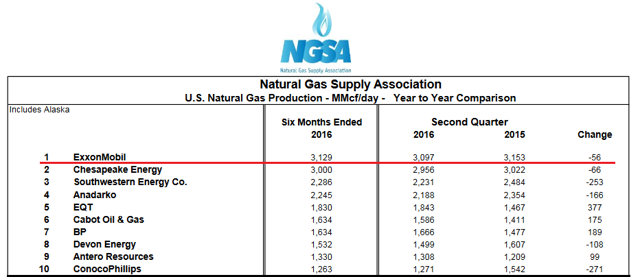 Click to enlarge
As a result, no company stands to gain more from the recent resurgence in price of the NYMEX and Henry Hub natural gas benchmarks than does Exxon. Of course Exxon does consume natural gas at its refineries and chemical plants, but most of that is likely sourced from its own production.
The big win for Exxon is that while it took the hit of the natural gas price decline directly on the chin, since the company does not believe in hedging - it will also directly reap the rewards of a higher price. This is a major distinction between Exxon and the smaller natural gas producers that have had to hedge during the recent down-cycle simply to insure cash flow. For instance, #2 domestic producer Chesapeake Energy (NYSE:CHK) has hedges - including swaps significantly below the current price - covering nearly three quarters of expected 2016 dry-gas production volumes: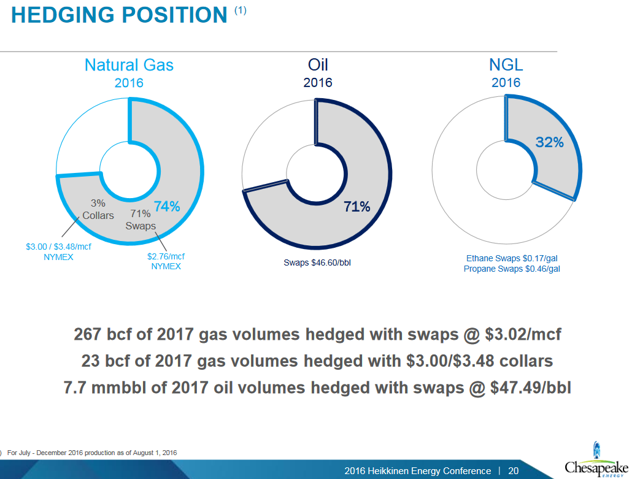 Click to enlarge
Source: Chesapeake Presentation
While these hedges protect against the down-side, they are an expense and should natural gas rise appreciably this winter could expire worthless.
Another firm that does not believe in hedging natural gas production is ConocoPhillips (NYSE:COP). COP is also a top-10 domestic natural gas producer and will see stronger results in Q3 (due out October 27th). COP's dry-gas production is roughly equivalent to 200,000 boe/d - or roughly 40% of COP's lower-48 total production and ~13% of total global production. So COP is highly levered to the price of natural gas See my Seeking Alpha article: COP: A Stronger Nat Gas Price Will Certainly Help This Big Producer.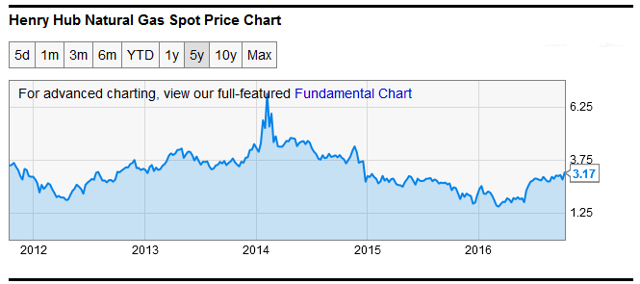 Click to enlarge
Henry Hub closed Friday at $3.27/MMBtu. While that is nothing to crow about by historical standards, it certainly beats the sub $2 price seen in the Spring and Summer of this year.
With 1 MMBtu roughly equivalent to 1 Mcf, a $1 move up in the HH natural gas price equates to a quarterly revenue increase of ~$281 million for Exxon's 3.13 Bcf/d of dry gas production. And while some investors might think $281 million isn't a big deal for Exxon - a company with $57.7 billion in Q2 revenue - think again. I say this because Exxon posted a $514 million loss in U.S. Upstream earnings in Q2. So look for Exxon's Upstream earnings to be significantly better when the company announces Q3 results on October 28.
Going forward, the HH futures strip price heading into winter looks encouraging too - prices are generally up another +$0.25/MMBtu through March of next year: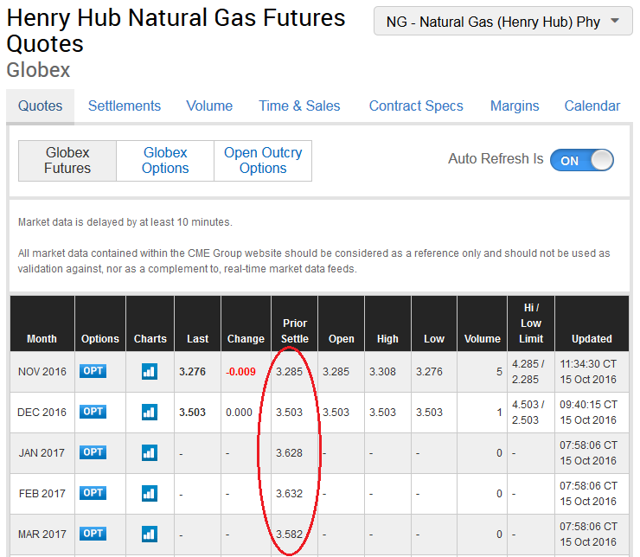 Click to enlarge
Source: CME Group
But as we all know, a cold winter could cause the natural gas price to shoot higher in a hurry. Or lower. However, one mitigating factor in favor of higher prices is additional demand coming from natural gas exports to Mexico via pipeline - which continue to trend higher:

Click to enlarge
Source: EIA
According to the latest export data, the EIA reports exports to Mexico via pipeline were 112,050 MMcf in July 2016. That is a roughly 10% increase yoy.
LNG exports are ramping up too. Cheniere Energy (NYSEMKT:LNG), in its Q2 EPS report, said it expects all 5 trains at Sabine Pass to be operational by 2019.

Click to enlarge
As most of you know, Train 1 is already operational and Cheniere said it had LNG exports of 63 Bcf YTD as of the end-of-Q2 (see Q2 presentation available here). That is up from zero last winter. Bloomberg reports that incremental demand from Sabine Pass has had a direct influence on the domestic price of natural gas: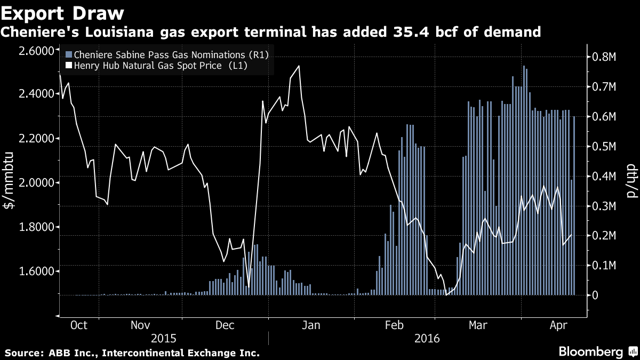 Click to enlarge
So while the price of domestic natural gas is still quite low by historical standards, it would appear the bottom was put in this summer and the price outlook going forward is brightening. That is good news for the US's #1 producer of dry gas: Exxon Mobil.
Exxon yields 3.5% and has an AA+ credit rating. As a result, XOM is a company investors should consider for both income and as a safe harbor during an increasingly volatile election season.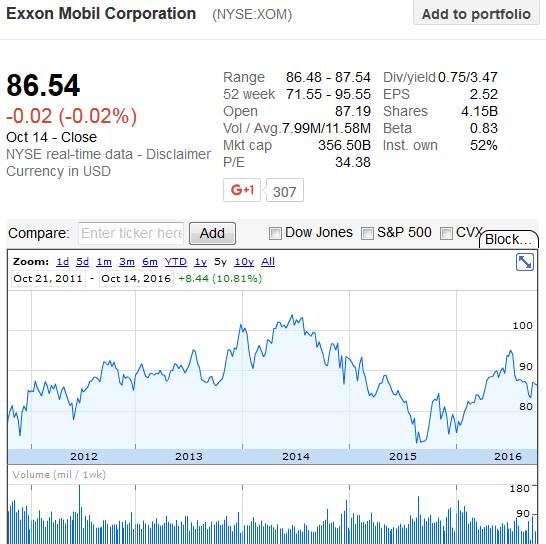 Disclaimer: I am an engineer, not a CFA. The information and data presented in this article were obtained from company documents and/or sources believed to be reliable, but have not been independently verified. Therefore, the author cannot guarantee their accuracy. Please do your own research and contact a qualified investment advisor. I am not responsible for investment decisions you make.
Disclosure: I am/we are long COP, XOM.
I wrote this article myself, and it expresses my own opinions. I am not receiving compensation for it (other than from Seeking Alpha). I have no business relationship with any company whose stock is mentioned in this article.