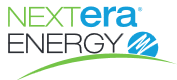 As you all know, natural gas exports to Mexico are growing rapidly. This is due to a multitude of factors, including:
Falling natural gas production in Mexico
Increasing demand in Mexico
Rising U.S. natural gas production from shale
A historically cheap U.S. gas price
Add to that list increasing pipeline capacity to transport gas across the southern border. One player in this market that is in a perfect position to capitalize on growing natural gas exports to Mexico is NextEra Energy Partners (NYSEMKT:NEP), or for those of you who prefer to own the MLP's general partners, NextEra Energy (NYSE:NEE). That's because due to the low price of domestic natural gas, the majority of the profit may well be from growing demand to transport it via pipeline to Mexico, where margins are higher. And NextEra has an excellent large-scale pipeline system to do just that.
To understand the demand-pull dynamics for exports to Mexico, a good reference is RBN Energy's recent article on the subject (see Supplying Mexico's Natural Gas Demand). The following graphic from that article illustrates the fundamental dynamics quite nicely: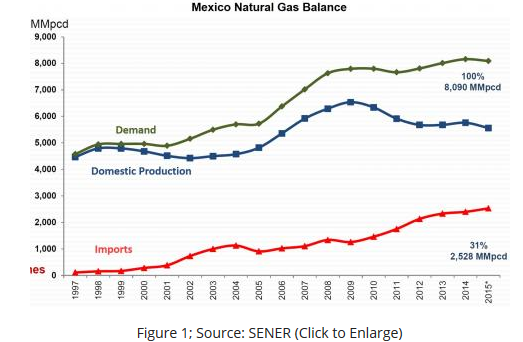 As can be seen above, rising natural gas demand in Mexico has been met by rising imports because domestic production in Mexico has not only flattened out, it starting falling in 2009. The US has been a big beneficiary of these fundamentals due to the geographic proximity to Mexico as well as the low cost of US shale gas. As a result, US natural gas exports are rising rapidly: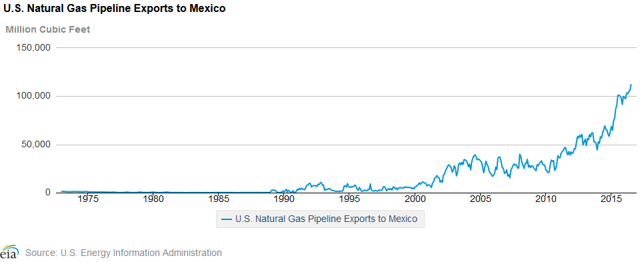 (Source: EIA)
According to the latest export data, the EIA reports exports to Mexico via pipeline were 112,050 MMcf in July 2016 (~3.7 Bcf/d). That is a roughly 10% increase yoy.
In 2015, NextEra Energy Partners closed on the acquisition of NET Midstream. NET was a private company with a portfolio of seven long-term contracted natural gas pipeline assets located in Texas: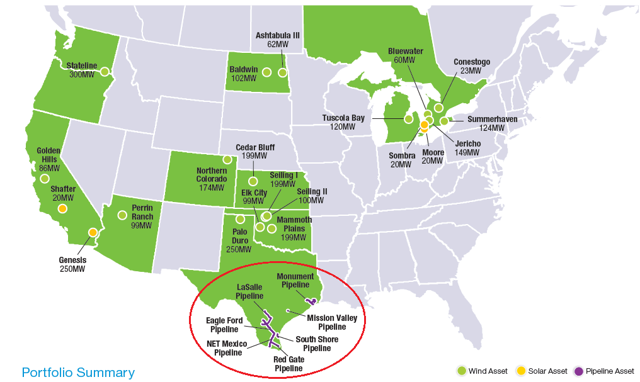 (Source: NextEra Profile (available here))
When it comes to exporting gas to Mexico, these assets included two key pipeline systems:
The Eagle Ford Pipeline. This 158-mile, large-diameter natural gas pipeline located in the Eagle Ford Shale allows for access to multiple pipeline interconnects as well as Mexican markets. The pipeline capacity is 1.1 Bcf/d, of which only half is currently contracted.
The NET Mexico Pipeline. This 120-mile, 42" diameter pipeline delivers low-cost natural gas from the Eagle Ford Shale to the Mexico border. It is strategically positioned to provide low-cost, U.S.-sourced shale gas to meet the increasing demand of Mexico load centers and growing natural gas markets. This large-scale pipeline has a capacity of 2.3 Bcf/d, almost all of which is currently contracted.
NextEra Energy Partners paid up for the NET Midstream acquisition: $2.1 billion for adjusted EBITDA annual run rate of an estimated $150 million equates to a multiple of 14x. However, planned expansion projects are expected to raise adjusted EBITDA to an annual run rate of ~$200 million by end of year 2017. In addition, of the total $2.1 billion price tag, roughly $500 million will be deferred, with $200 million payable 18 months after closing contingent upon no breach of representations and warranties by NET, and up to $200 million payable for certain expansion projects contingent upon satisfaction of certain financial performance and cap-ex thresholds. And, if successful, up to ~$100 million of cap-ex for the expansion projects. With the successful completion of the expansion projects considered, the deal carries a 10.5x multiple - still on the high side of typical midstream transactions (normally 8-10x), but considering such a valuable long-term asset, likely well worth the price NEP paid.
The NET Mexico Pipeline, often referred to as the Agua Dulce pipeline, is a very strategic asset. From the figures given earlier in the article, the 2.3 Bcf/d capacity of Agua Dulce is the dominant deliverer of the roughly 3.7 Bcf/d of total US natural gas exports to Mexico. That is because Agua Dulce has emerged as a key point for delivering gas south to Brownsville, TX, and on to Pemex Gas and Petroquimica Basica (Mexico's state-owned gas company) and others.
In June of this year, the value of the NET Mexico pipeline was validated by Spectra Energy's (NYSE:SE) announcement that its Valley Crossing subsidiary had been awarded an 168-mile intrastate natural gas pipeline project by the Comisión Federal de Electricidad (CFE) - Mexico's state-owned utility - to provide natural gas transportation services beginning in 2018 to meet Mexico's growing electric generation needs. Spectra will construct and operate a header system of more than 5 Bcf/d near the Agua Dulce Hub in Nueces County, Texas, as well as a 2.6 Bcf/d pipeline originating at that header and extending to Brownsville, Texas. There, the pipeline will connect with the Sur de Texas-Tuxpan underwater pipeline, which will extend on down into Mexico and serve CFE's 37 million customers.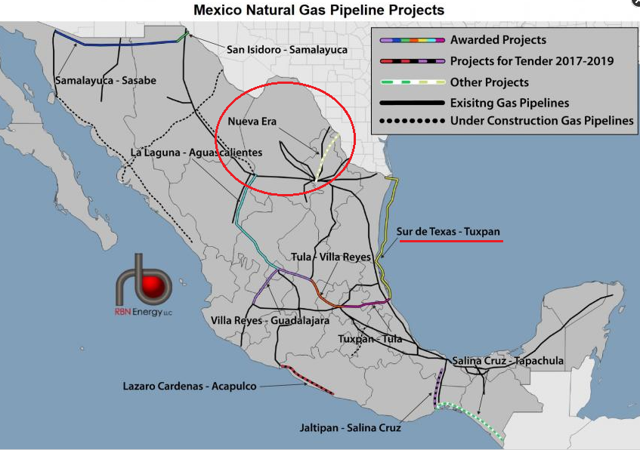 (Source: RBN Energy)
Investors know that I believe Spectra Energy and Spectra Energy Partners (NYSE:SEP) are still very attractive despite the takeover bid from Enbridge (NYSE:ENB). Large natural gas transportation projects - like this one to supply Mexico - are one reason why.
Summary and Conclusion
For investors wanting to cash in on long-term fundamental demand-pull for US natural gas exports to Mexico, NextEra Energy is an excellent way to participate. For not only is NextEra the world's No. 1 generator of wind and solar energy, it also derives 27% of its generation via natural gas, and owns - through NextEra Energy Partners - some strategic natural gas pipeline assets in South Texas. The stock currently yields 2.8%, and since 2012, has a solid record of delivering stock price appreciation. That said, rising interest rates are a risk for all utilities. However, as I have said many times over the past couple years in Seeking Alpha articles, I'm very doubtful the Federal Reserve can significantly raise interest rates for many years to come.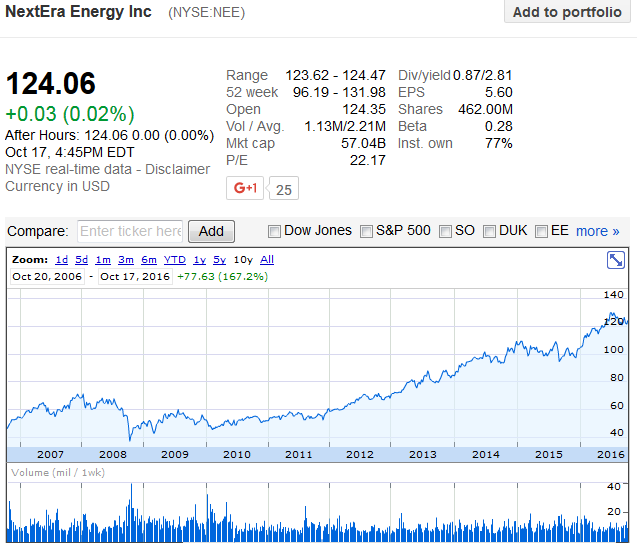 For MLP-oriented investors looking for tax-advantaged distribution growth, NextEra Energy Partners should be considered (see NEP: Excellent Growth Through 2020). NEP currently yields 4.9%.
Disclosure: I am/we are long SE.
I wrote this article myself, and it expresses my own opinions. I am not receiving compensation for it (other than from Seeking Alpha). I have no business relationship with any company whose stock is mentioned in this article.
Additional disclosure: I am an engineer, not a CFA. The information and data presented in this article were obtained from company documents and/or sources believed to be reliable, but have not been independently verified. Therefore, the author cannot guarantee their accuracy. Please do your own research and contact a qualified investment advisor. I am not responsible for investment decisions you make. Thanks for reading and good luck!