Advanced Micro Devices (NYSE:AMD) is scheduled to report third quarter earnings on Thursday, October 20, after the market closes. Consensus estimates vary, but not by a wide margin. Much of the momentum propelling AMD's stock in the summer is due to AMD's prospects, not its short-term results. If the company reports another quarterly loss, markets are not likely to react harshly. The company is relying on graphics card revenue this year. By early next year, Zen, AMD's next-generation architecture, will add more meaningfully to sales.
There are five considerations ahead of AMD's quarterly report.
Consensus outlook
The 20 analysts covering AMD forecast the company growing sales by 14.3 percent year-over year on average:
| | |
| --- | --- |
| Revenue Estimate | Current Qtr. |
| No. of Analysts | 20 |
| Avg. Estimate | 1.21B |
| Low Estimate | 1.2B |
| High Estimate | 1.24B |
| Year Ago Sales | 1.06B |
| Sales Growth (year/est) | 14.30% |
Source: Yahoo Finance
Bearishness increased since AMD topped $8.00 in August. "Buy" calls fell in the last four months: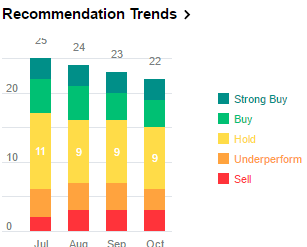 Source: Yahoo Finance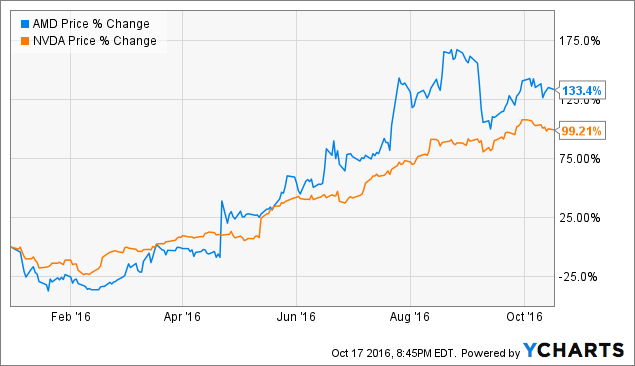 AMD data by YCharts
AMD reported non-GAAP operating profits in the second quarter. Sales for the Radeon RX GPU helped the company meet a major milestone in its turnaround. The seventh generation A-Series APUs will likely keep its loyal customers. Investors should not expect meaningful market share gain for the chip market until later this year.
Graphics card sales
Average selling prices fell year-over-year for graphics cards ("GPUs") in the second quarter. In the third quarter, expect ASPs jumping sharply thanks to the Radeon card refresh. AMD will announce even cheaper mainstream graphics cards, a move that will help it gain market share. By 2017, a Radeon"Vega" will make AMD compete with Nvidia (NASDAQ:NVDA) head-to-head in the high-end GPU market.
Virtual reality
AMD is positioned strategically to benefit from consumers buying systems ready for virtual reality. Facebook (NASDAQ:FB) added to its efforts in VR by building another headset. Unlike Oculus Rift, this headset will not need cables. On October 12, Microsoft (NASDAQ:MSFT) announced HoloLens is available in more countries, including Australia, France, Germany and the United Kingdom. As game developers release more VR titles, AMD's Radeon division will benefit from consumers buy VR-ready computer systems.
Alibaba collaboration
AMD may report higher revenue from Enterprise, Embedded and Semi-Custom segment revenue. Second quarter revenue grew 5 percent Y/Y to $592 million. On October 14, the company announced a collaboration with Alibaba (NYSE:BABA). Alibaba's cloud datacenters will use AMD's Radeon Pro GPU technology. Radeon FirePro S7150 x2 retails for $3,999. The strategy to find growth in the data center market mirrors that of Nvidia, but with one significant difference. AMD is building its moat in China first, thanks to the Alibaba deal.
Alibaba will help AMD get more commercial exposure, which will translate to higher sales for the Radeon Pro.
Zen qualification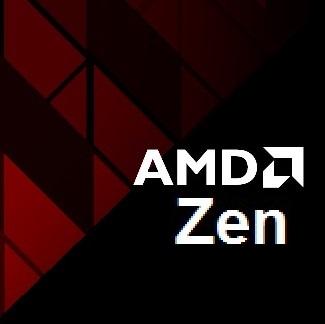 Investors should not underestimate Zen's importance for AMD and for the computing market. AMD started the design of Zen x86 CPU from scratch four years ago. The company claims it will have a 40 percent performance increase from the existing architecture. During its last conference call, AMD said it delivered Zen to some of its partners for qualification. CEO Lisa Su said:
I think enterprise is also again very much a target area for Zen. What we're looking for, again, is ensuring that we have a very high-quality launch, and so we're working very closely with customers to make sure that we run their workloads and demonstrate the performance improvements that we expect.
In the third quarter, Su may give more details on the Zen release schedule. Expect the chip released for desktops first, followed by servers and then the notebook market.
Winning data center and enterprise customers is key to Zen's success. The chip has multiple cores and has simultaneous multithreading. High single-threaded clock speeds will support demands from intensive computational loads.
Takeaway
Investors are understandably nervous holding AMD ahead of quarterly results. Bears should feel more nervous. The short float of 10.85 percent may create a squeeze this week if GPU sales exceed expectations. If AMD does pull back, its fundamentals are getting stronger. By next year, Zen's release and growing sales of VR headsets will support AMD's remarkable turnaround story.
Please [+]follow me for continued coverage on AMD. Click on my name next to my avatar at the top of the article. Thank you for reading.
Disclosure: I am/we are long AMD.
I wrote this article myself, and it expresses my own opinions. I am not receiving compensation for it (other than from Seeking Alpha). I have no business relationship with any company whose stock is mentioned in this article.