The S&P-500 (NYSEARCA:SPY) has had a difficult 2 years, bouncing between the 1800-2100 range before finally making new all-time highs this summer. For investors in Stratasys (NASDAQ:SSYS), the market would have been a much better place to be since 2014. While the S&P-500 has gained 15% over the past two and a half years, Stratasys' shares have fallen over 80% from their all-time high at $138.10. Despite the clear downtrend in the stock, some analysts and writers have tried to be heroes. One writer called Stratasys a buy on May 21st of last year, and the shares are down over 40% since. In addition, Stratasys currently has 4 buy recommendations, 13 hold recommendations, and only 1 sell. This is despite the stock having no support below, and no bottom in sight. Fortunately, most of the recommendations on Seeking Alpha over the past year have been to avoid or short the stock. I do not believe the worst is over for Stratasys and expect the trend to continue going forward. While many would say it's too late to short a stock down 80%, I would politely disagree. It is never too late to short a stock that is broken both technically and fundamentally. Stratasys has shown no reason it will be able to show positive earnings, and its share price is not showing signs of a recovery. Linn Energy (NASDAQ:LINEQ) was down 80% from its highs last year, and sat at $10.00 a share. If one took the same advice and avoiding shorting line, they would have missed out on an incredible shorting opportunity. The stock now sits at $0.20 cents a share and one would have made over 95% shorting the stock in less than a year.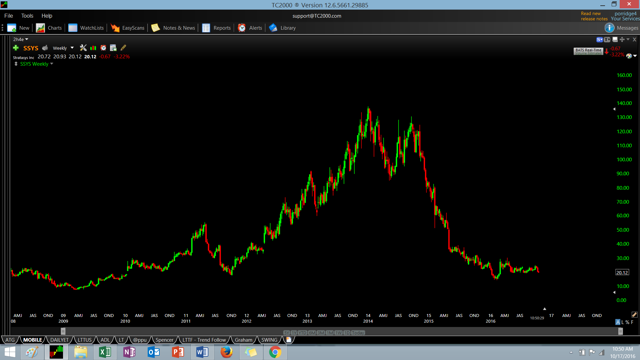 Click to enlarge
Source: TC2000.com
Financials
There is nothing encouraging about Stratasys' financials to make us believe there's light at the end of the tunnel. The company started off by seeing strong earnings from 2006 through 2011, but this came to a screeching halt in 2012. The stock saw diluted EPS drop from $0.95 in 2011, to $0.36 in 2012. This was the first red flag that the trend of reporting positive earnings might be over for the stock. Since 2012, things have gotten much worse and investors have paid the price. The company went from losing $0.68 cents per share in 2013 to losing $2.39 per share in 2014, over a 300% increase in losses per share. Unfortunately for investors, 2015 was the real wake up call to get out before it's too late. The company lost over $26.00 a share, squashing any hopes of a recovery in the stock.
Despite the company seeing annual revenue growth for nearly a decade, this finally tapered off in 2014. 2015 saw revenues decline by over 7% and acted as a nail in the coffin for the stock. Investors that were staying long on the hopes that the 2 years of negative earnings were a hiccup, were forced to take notice when revenues slipped in 2015. One of the most concerning stats comes from looking at the company's expenses. Research and development expenses grew at nearly 50% last year, and the company still was not able to keep up with revenue. In addition to this, sales and general and administrative expenses also grew at over 23% for the year.
Thus far this year, there is no signs of a light at the end of the tunnel. The company has reported diluted EPS of negative 80 cents per share, and I have no question we'll see another negative year of earnings for 2016. The only thing going for the company is that it has a cash balance of roughly $250 million against its $1 billion market capitalization. Unfortunately for investors, the stock does not pay a dividend so this does not deter short sellers as the dividend grows to high to carry the shares.

Click to enlarge
Source: YCharts.com

Click to enlarge
Source: YCharts.com
When looking for short candidates, this is exactly what I'm looking for. Weak financials with no signs of a turn around for the stock. I see no reason Stratasys will move to cash flow positive and believe the stock should see a slow bleed going forward.
Technicals
It's not easy these days to find a stock as ugly as that of SSYS. Excluding for oil and gas companies over the past 2 years, there aren't many companies down over 80% over the same period. Fortunately for oil and gas companies their declines were a result of the commodity they sell moving into a bear market, Stratasys managed to do this on its own.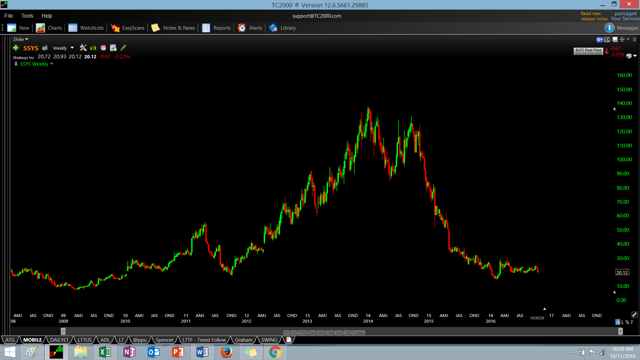 Click to enlarge
Source: TC2000.com
Looking at the weekly chart above, we can see that there is no real support below until around the $10 level. Support at $18.50 from 2011 was broken earlier this year, and it looks like the stock is headed back down to test it. The next support level for the stock does not come in until the $8.00 level. The stock is in a clear downtrend, and this would not be negated unless the stock closed above the $40 level.
Moving to the daily chart, we can begin to look at a trade plan for shorting the stock. My short signals are generated when a stock makes new 20-day lows below a declining 200-day moving average. Before entering any trade, I must assess my maximum pain on the trade and find a stop level that invalidates my thesis. Once I have done this, I must make sure that the stop level is not more than 25% from my entry on the stock. I entered my short trade on Stratasys this morning on the open after finding the trade idea this weekend. My short entry was at the opening price of $20.72, and my stop on this trade is above $25.21 on a closing basis. This means that if the stock manages to close above the $25.21 level, I have no interest in being short the stock and will cover my shares. This stop level represents a risk of $4.49 on the trade, or a risk of 21.69% on the position. This is just within my parameters of 25% maximum position risk on each trade. My risk profile for my investment accounts only allows me to risk 1.0 - 1.25% of my account on any one trade. Due to this rule, I am using 5% of my account to short Stratasys. This portfolio size of 5% with a position risk of 21.69% equals out to a total portfolio risk of 1.08%.
My stop is above the $25.21 level for two reasons.
A) If the stock closes above $25.21 it is now above its 200-day moving average, and the thesis it is in a bear market comes under question (for my time frame).
B) The stock found resistance at this level last month, and I do not want to be short a stock making new 55-day highs, if it takes out the $25.21 level on a close.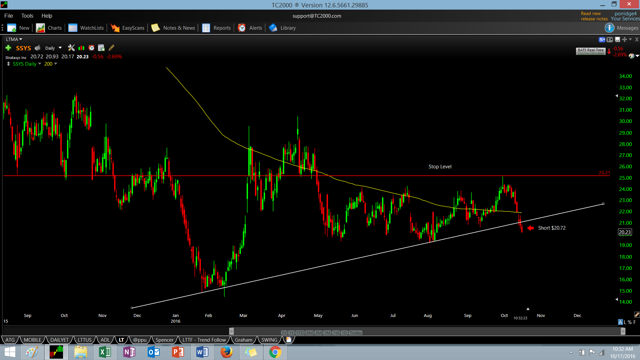 Click to enlarge
Source: TC2000.com
Looking at Stratasys in the above chart, we can see that there was a trendline from the lows of this year, that has now been broken. The support for this trendline came in at the $21.00 level and is no longer valid as of today's decline. We can also see that the stock is trapped underneath a declining 200-day moving average. The 200-day moving average is my line in the sand for bull and bear markets. As long as a stock remains under a declining 200-day moving average, I see no reason to be long the stock. Currently Stratasys is below its 200-day moving average, which comes in at the $21.92 level.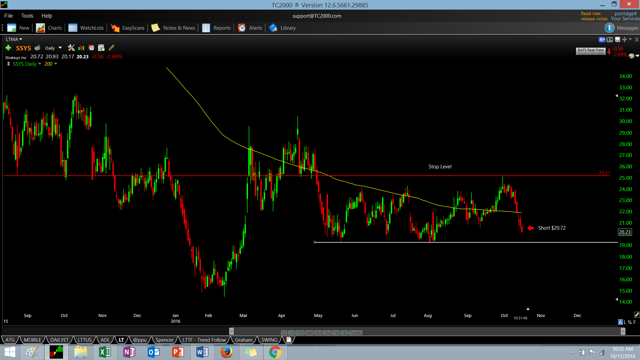 Click to enlarge
Source: TC2000.com
Looking at another view of the chart above, we can see that the lows in May and August of this year are in jeopardy of being tested. I believe the third time will be the charm for shorts in this name, and do not expect the $19.40 level to hold.
Stratasys remains in a downtrend on all time frames, and it has paid to follow the trend on this stock. Being a trend follower, I only wish I had found this stock sooner as I'd already be short. Regardless of this I believe the stock still has much further to fall, and even with a 6% dividend would have no interest being long this stock. The company has shown no signs of turning around its negative trends in earnings, and the technicals are pointing to lower prices. I am short Stratasys from today's open, and will remain short unless the price closes above $25.21. I will update those who are interested in the comments section of this article if my stop changes for any reason on this position. I believe investors in Stratasys would be wise to take a good look at their holdings, and trim if the risk is too much for their portfolio. There is nothing encouraging about this company, and marrying any stock can be a painful lesson.
Disclosure: I am/we are short SSYS.
I wrote this article myself, and it expresses my own opinions. I am not receiving compensation for it (other than from Seeking Alpha). I have no business relationship with any company whose stock is mentioned in this article.
Additional disclosure: If you liked this article and found it useful, please feel free to follow me by clicking on my name next to my avatar at the top of this article. I also invite you to check my performance at TipRanks.com where I am ranked in the Top 100 Contributors for performance with an average return this year of 65% on new long positions.