It seems too good to be true. Every time I look into a certain aspect of Smith & Wesson Holding Corp. (NASDAQ:SWHC), I end up questioning the current valuation of the stock. It is just too low. It seems like the market has yet to realize the reality of the situation, and while they lag behind others who see the potential can gain off of it by entering into SWHC right away.
The fall of fall '16
It started with the FBI's Background Checks data for firearms for the month of August 2016. Numbers showed that the growth rate had suddenly dipped to single digits from strong and steady double-digit growth for more than a year, sending Smith & Wesson stock on a gradual downward trend. However, the sharp eyes of fellow SA contributor Fund Manager proved otherwise as he pointed out in his excellent article that the FBI's data was distorted due to abnormal recordings in the state of Kentucky, which was virtually responsible for the entire deceleration.
The interesting thing is how the "Kentucky Anomaly" did not clear up till after the first week of September, since the severe variance in recordings was a result of a software upgrade by the FBI in their NICS system which resulted in the Kentucky state police department choosing to only record new permit applications, unlike their usual method of checking each and every concealed carry permit holder. This information, courtesy of Rich Duprey of Motley Fool, also revealed how the Kentucky State Police's systems did not go fully online till a whole week after September started. In other words, the FBI's September data was also insignificant.
Let the bad news continue
Late in September, SWHC also took a dip for losing out on the M9 Contract with the army, news which sent the stock tumbling a good 7% in one day. Initially investors were concerned that the company missing out on the lucrative contract would eventually see its income statement suffer, but once investors realized that Smith & Wesson had not considered the army contract in their guidance, the stock price eventually stabilized for a bit, but failed to recover to its initial levels.
On a side note, it should be noted that the company has a very limited impact from sporting news activities. Smith & Wesson intends on making itself a strong player in the hunting market having already acquired the likes of Battenfeld Technologies back in December 2014, and lately taking over knife maker Taylor Brands. Unfortunately, the takeovers have not been as smooth as they could have been, as the company struggles to figure out the optimum marketing dynamics for its latest business units. Only time can tell if the company actually makes any meaningful changes to its marketing strategy to better incorporate these new acquisitions or will it let them weigh down the company even further to the point where they become toxic to its financials.
Conclusion
Despite all the facts mentioned above, I believe the stock is trading a good deal below its fair value. When you look at its core business and revenue generating stream along with its profitability margins, you end up with very healthy figures which show no sign of slowing down. Including 2015, which was a bad year for the gun industry due to a series of unfortunate high profile events, in the last four annual statements, the company's revenue grew at an average pace of 17% per annum while net income grew at an average pace of more than 100%. The steady stream of revenues will continue to bolster the company's free cash flows which have now ballooned to more than $150 million.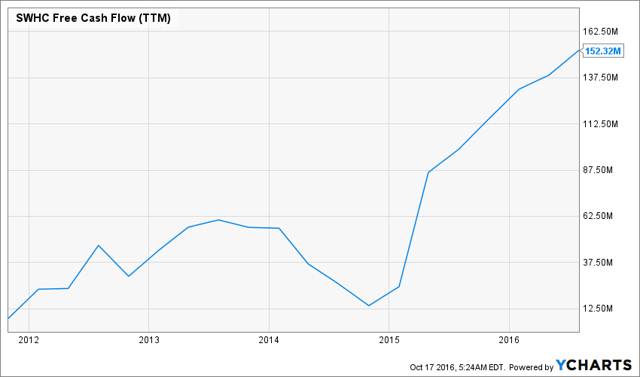 (Source: YChart)
As stated above, gun demand is not slowing down. If anything it is steadily increasing due to a number of curious events. A particularly interesting scenario revolves around the last two terms of President Obama, which have led many gun buyers to resort to stockpiling more guns amidst fears of impending stricter regulations. Now as his presidency comes to an end, these fears might be renewed by the inevitable election of another Democrat to the White House, further strengthening sales. Eventually, if we do see gun regulations get tighter, we might see a shift in firearms sales trends from protection to sporting uses, and if SWHC wants to capitalize on such a scenario, then it needs to fix the marketing strategies of its latest acquisitions.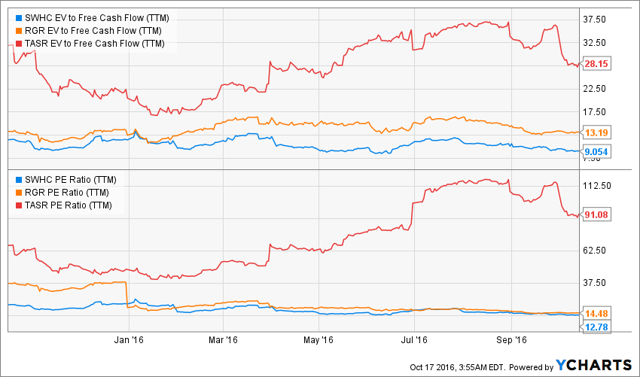 (Source: YChart)
Further support for the stock's currently undervalue position can easily be seen from its financial metrics. The basic P/E ratio, especially in comparison to Sturm, Ruger & Co (NYSE:RGR) and Taser International (NASDAQ:TASR) shows that SWHC is cheaper than the other two stocks. Even the EV/FCF ratio for the stock has gone down over the past year to its current position of 9.054.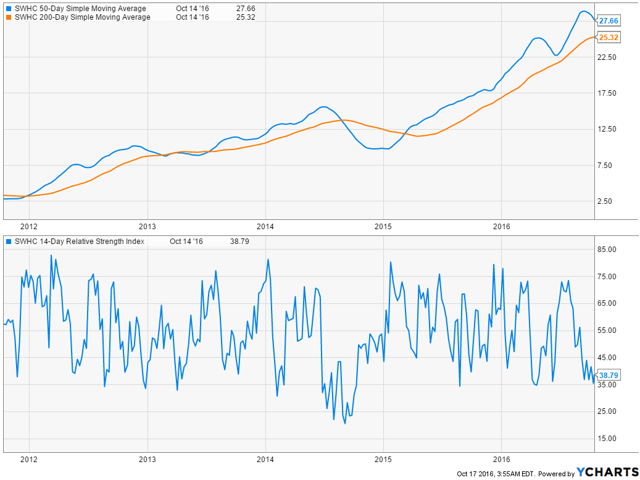 (Source: YChart)
The stock's 50-day moving average has been trading above its 200-day moving average since early 2015, indicating that the stock is well into bullish territory despite having dipped in recent weeks. Moreover, its relative strength index (RSI) is trading close to its lower margin, another sign that the stock is oversold and will probably soon correct itself. According to my analysis, I believe Smith & Wesson stock to have a conservative price target of approximately $32 per share and an optimistic target of $35 per share. Despite the prevailing market sentiment, I believe it is the right time to invest in SWHC, as you can use this very market sentiment to your own favor and exploit it for some healthy capital gains via SHWC.
Disclosure: I/we have no positions in any stocks mentioned, and no plans to initiate any positions within the next 72 hours.
I wrote this article myself, and it expresses my own opinions. I am not receiving compensation for it (other than from Seeking Alpha). I have no business relationship with any company whose stock is mentioned in this article.