If you can stomach the volatility, owning shares in Lodging REITs may produce outsized results.
Lodging REITs have underperformed most other sectors year to date as investors remain concerned over decelerating fundamentals and the length of the lodging cycle.
Because of the more opportunistic hotel platforms in which rooms rent by the day, we are underweight in the Lodging sector. We maintain modest exposure in our Durable Income Portfolio, and we recommend limited allocation.
However, that does not mean we shouldn't fish for bargains. Some investors are more risk-averse and are looking for opportunities to dip in and out of the REIT sector. Keep in mind, there considerable higher risks as it relates to Lodging, and more recently, the sector has been hit hard post the Brexit vote and the end of the second quarter.
Nonetheless, we are not giving up on Lodging, and today we are highlighting a REIT that could be poised to generate above-average returns.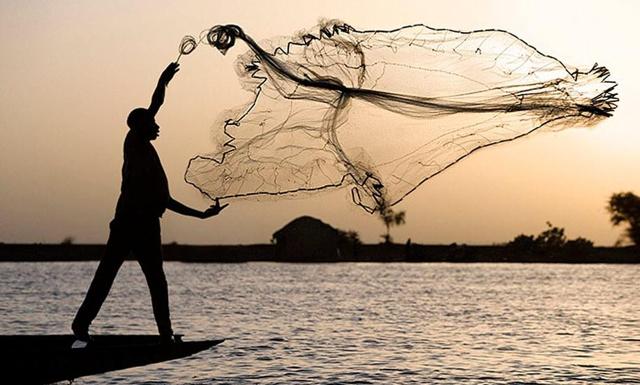 Click to enlarge
Casting a Net for Hersha Hospitality?
Hersha Hospitality (NYSE:HT) was once a private REIT that listed in a small $13 million IPO in 1999. Since that time, the company has transformed itself into a leading "transient-oriented" Lodging REIT where it has "clustered" its portfolio around several key gateway markets. Today, the portfolio today stands at 55 properties with a total capitalization of around $2.144 billion.

Click to enlarge
Like most lodging REITs, HT was forced to cut its dividend during the last recession to preserve capital. The company slashed the distribution from $.72 per share to $.20 per share (in 2010).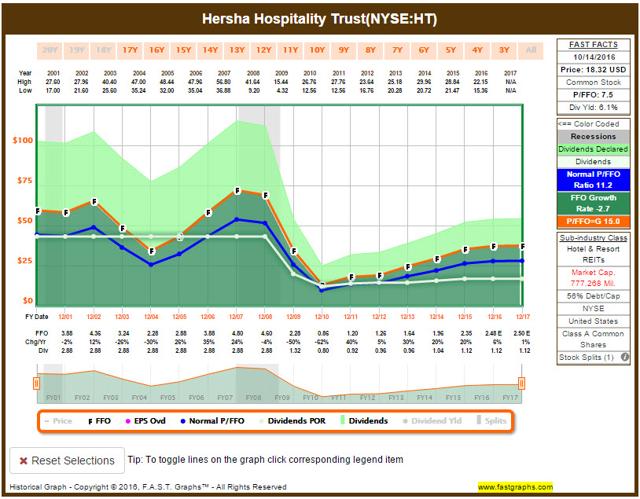 Click to enlarge
Much of HT's transformation has revolved around its recycling initiatives, as the company has been selling off its suburban hotels to focus in CBD markets such as Miami and Southern California. Over the last 17 years, the REIT has grown RevPAR (revenue per room) for around $40 (in 1999) to around $170 today (averaging around 9% RevPAR growth per year over the last 17 years).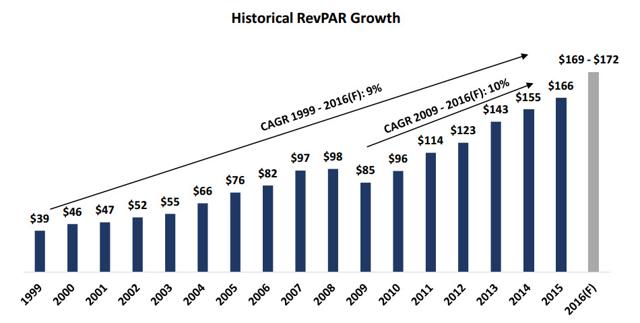 Click to enlarge
HT has transformed much of its portfolio into higher-margin properties where the "transient-oriented" assets generate much higher margins. By clustering these assets in core markets, the company can leverage its management resources and "deal flow advantages" (they know the local developers).
What I find most compelling about HT is the relatively new portfolio (76% of assets are 1-5 years old) as well as its focus on upscale and independent lifestyle hotels (the highest-growth sectors in hospitality).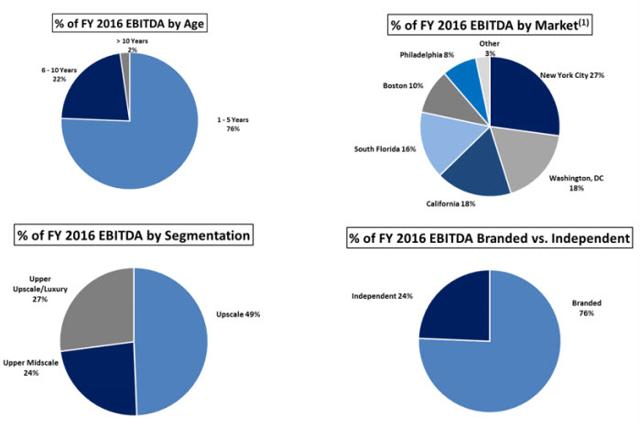 Click to enlarge
The company has been actively selling hotels, refinancing mortgages, and repurchasing stock.
HT recently closed on its joint venture with Cindat Capital Management Limited for 7 of the company's hotels in Manhattan for a total purchase price of $571.4 million, or $526,000 per key. The joint venture is structured with Cindat as the preferred joint venture partner holding a 70.0% ownership stake, while HT retains a 30.0% equity interest. The sale reduces HT's consolidated EBITDA exposure in New York City from approximately 43.0% in 2015 to 28.0% in 2016.
The purchase price, including closing costs, represented a trailing 5.4% economic capitalization rate and an EBITDA multiple of 16.8x based on 2015 results for these assets. HT sold the 7 hotels at an 81.0% premium to the company's blended purchase price of $316.1 million, or $291,000 per key.
HT received $375 million in net proceeds from the sale, and it maintained a $43.2 million preferred equity investment in the JV, earning a 9.0% cumulative return, with the potential to sell this tranche to an unaffiliated third-party investor.
In addition to the Cindat sale and disposition of the Hyatt Place King of Prussia, HT has sold or is under contract to sell 8 suburban hotels for $240.9 million, or $223,000 per key.
The sales price for the 8 hotels reflect a blended economic capitalization rate of 8.0% based on TTM net operating income as of July 2016, and a blended hotel EBITDA multiple of 11.3x. The sales are expected to generate $155-165 million in net proceeds after debt repayment of approximately $75 million.
The REIT is selling the 8 hotels at a 45.4% premium to its blended purchase price of $165.7 million, or $154,000 per key. The 8 hotels reported TTM RevPAR of $123.57 as of July 2016 versus $177.51 for the remainder of the portfolio.
HT's NY transaction and suburban hotel dispositions provide flexibility for accretive investments in Northern California, Washington, DC, and Boston. In addition, this reduces exposure to Manhattan, which will remain a challenging market over the next 12-24 months. Also, this upgrades the company's portfolio quality with young, higher-RevPAR-and-EBITDA-per-key hotels.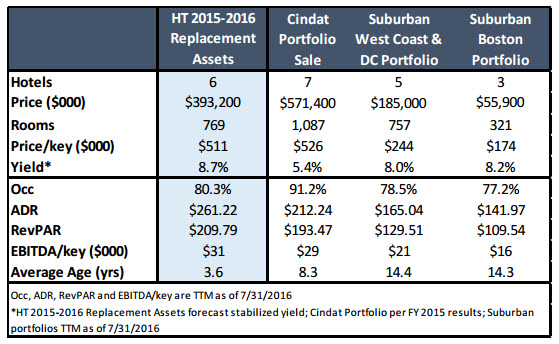 Here's a snapshot of HT's clustered portfolio in high-barrier markets: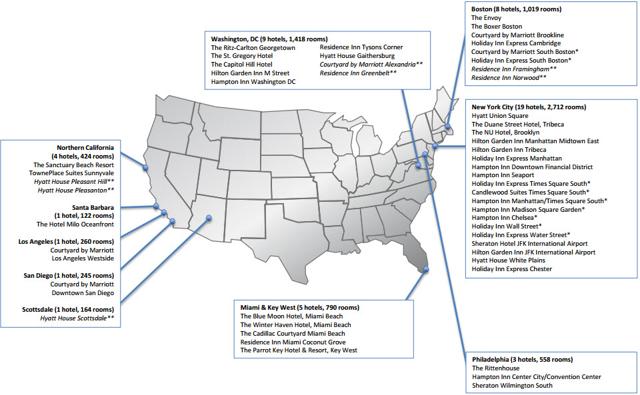 Click to enlarge
California
HT's California cluster delivered 7.4% RevPAR growth and 110 basis points of EBITDA margin expansion in Q2 2016. In FY 2016, the California market is expected to contribute 18.0% of consolidated EBITDA, with fundamentals supported by strong demand growth and new hotel supply constrained by the high cost of land and the lengthy entitlement process. The San Francisco, Los Angeles, and San Diego markets are forecast to increase RevPAR by 7.9%, 7.6%, and 8.1%, respectively, in 2016.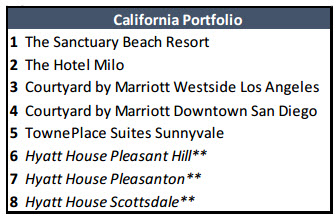 Washington, DC
HT's Washington, DC, cluster delivered 6.1% RevPAR growth and EBITDA margins of 42.8% in Q2 2016. In FY 2016, the Washington, DC, market is expected to contribute 18.0% of consolidated EBITDA. The market is forecast to increase RevPAR by 4.2% in 2016.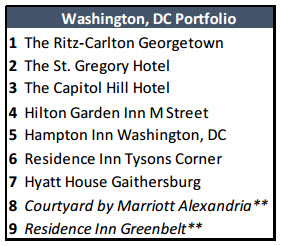 Manhattan
HT's Manhattan cluster reported a 5.5% RevPAR decline in Q2 2016, negatively impacted by the delivery of new supply. In FY 2016, the market is expected to contribute 27.0% of consolidated EBITDA. Post-Cindat closing, the REIT continues to fully own 10 high-quality, well-located hotels in diverse submarkets that are preferred by corporate and leisure transient travelers. The market is forecasting a 1.3% RevPAR decline in 2016.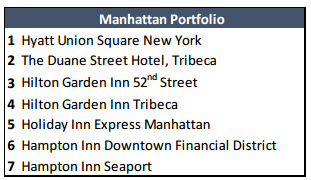 Boston
HT's Boston cluster reported RevPAR growth of 0.4% in Q2 2016 and EBITDA margins of 50.4%. In FY 2016, the Boston market is expected to contribute 10.0% of consolidated EBITDA. The market is forecast to increase RevPAR by 3.0% in 2016.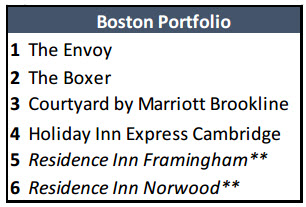 In July, HT acquired the fee simple 136-room Envoy Hotel in Boston for $112.5 million, or approximately $827,000 per key. The company forecasts a stabilized economic capitalization rate and EBITDA multiple of 8.0% and 12.0x, respectively. The Envoy opened in June 2015, quickly establishing itself as one of the best new hotels in Boston.
USA Today named The Envoy the "Best New Hotel in America", Forbes selected it as the "Best New Hotel in Boston", while AAA gave the hotel its 4-Diamond designation. At a 6.3% forward economic capitalization rate, the acquisition is accretive compared to the Cindat transaction's 5.4% economic capitalization rate. The Envoy acquisition fulfilled $59.0 million of deferred taxable gains from the Cindat transaction.

Click to enlarge
South Florida
HT's South Florida reported 1.4% RevPAR growth in Q2 2016 and 70 bps of margin improvement. In FY 2016, the market is expected to contribute 16.0% of consolidated EBITDA. It is forecast to decrease RevPAR by 2.9% in 2016.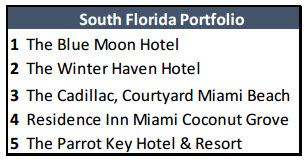 Philadelphia
HT's Philadelphia cluster delivered 8.8% RevPAR growth in Q2 2016. In FY 2016, the Philadelphia market is expected to contribute 8.0% of consolidated EBITDA. The market is forecast to increase RevPAR by 1.1% in 2016.

The Balance Sheet
In Q2-16, the REIT utilized approximately $231 million of net proceeds (from dispositions) to pay down all of the outstanding revolver balance and approximately $40 million to pay down one outstanding term loan.
To optimize the balance sheet, HT tapped the best preferred market in years, redeeming $115 million of 8% Series B preferred and raising $192.5 million through the issuance of 6.5% Series B preferred shares, the lowest preferred cost of capital in company history.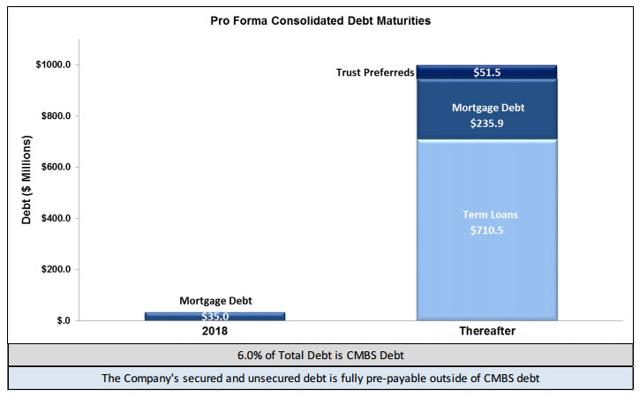 Click to enlarge
This low-cost perpetual capital, in addition to a new $200 million term, addresses all 2016 and 2017 debt maturities and positions HT to benefit from opportunities created by ongoing volatility, should buying opportunities emerge for high-quality assets in high-growth markets. The company has significant financial flexibility with approximately $236 million of cash and cash equivalent as of Q2-16.
HT has full capacity on its senior and secured credit facility with 54% of consolidated debt, fixed, or hedged through swaps in cap, while the company's total consolidated debt had a weighted average interest rate of approximately 3.7% and a weighted average like the maturity of approximately 3.6 years.
Its fixed charge coverage ratio is ~3x, and the company targets a debt-to-EBITDA ratio below 5x by year end (with the completion of pending sales). During the last year, HT has undertaken significant efforts to refinance its 2006 and 2007 vintage 10-year CMBS loan, and it is currently forecasted that less than 10% of all debt outstanding will consist of CMBS loans by year end.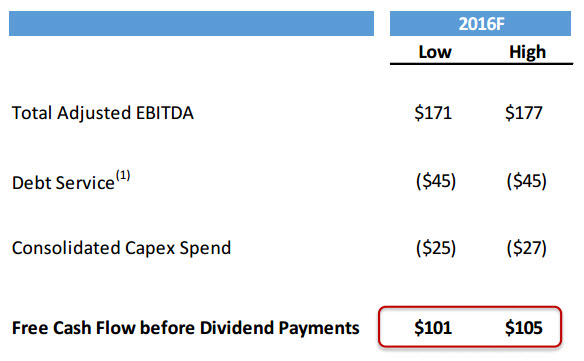 HT's capital recycling efforts in balance sheet engineering affords the opportunity to maintain the lowest dividend payout ratio in history and provides a significant cushion to maintain the current dividend if industry trends continue to decline.
The Latest Earnings
During the second quarter, the REIT's comparable portfolio reported 2.6% RevPAR growth to $187 as ADR rose 1.8% to $213.22 and occupancy increased 66 basis points to 87.7%, representing record Q2 occupancy for the comparable portfolio. When excluding the Manhattan Hotels, HT reported 5% RevPAR growth.
Its updated forecast for 2016 anticipates comparable RevPAR growth to be in the range of 2.5-3.5%, with 40-60 basis points of margin growth. The Adjusted EBITDA outlook is now in the range of $171-177 million, with FFO per diluted share between $2.38 and $2.51 per share. Here's our FFO forecast:

Click to enlarge
As you can see, we are modeling modest FFO growth for 2017; however, we are tempered by the macroeconomic forces and HT's remaining exposure in Manhattan. We don't have much confidence in corporate travel, and we are going to remain pessimistic until we see how the election unfolds. Now let's take a look at the company's dividend history:

Click to enlarge
As you can see, dividend growth has been muted, but we are attracted to the low payout ratio:

Click to enlarge
What Shall We Do?
As I warned at the outset, we consider Lodging choppy, and if you have a weak stomach, I suggest you stay on safer dirt. However, for investors with higher risk appetite, HT may be their cup of tea. Let's examine the REIT's 1-year performance:

Click to enlarge
Note: I highlighted PEB and CLDT, since I own them now. Let's examine the YTD performance:

Click to enlarge
Now let's examine HT's 90-day performance, along with that of its peers:

Click to enlarge
Finally, let's examine the 30-day performance:

Click to enlarge
Now let's examine HT's dividend yield compared with that of its peer group:

Click to enlarge
Let's examine the P/FFO multiple compared with that of the peer group:

Click to enlarge
The Sum of the Parts
HT is an attractive REIT, based on the above-named valuation metrics. The company has tactically assembled, pruned, and polished the portfolio over the last 5 years and is now positioned to generate significant cash flow growth. The balance sheet is in great shape and the dividend is well covered. We are recommending HT at the current price.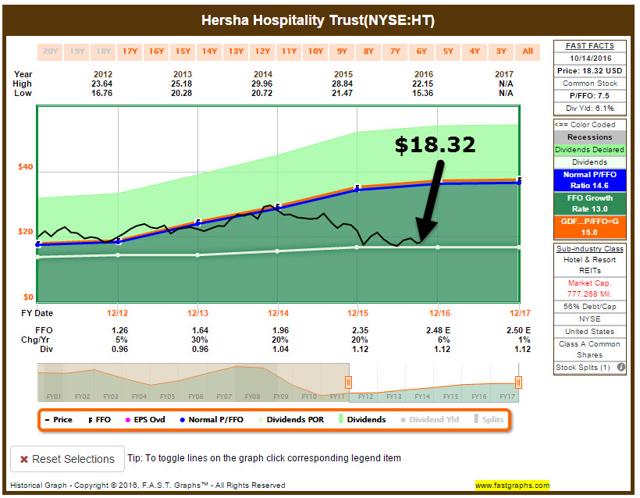 Click to enlarge
It's much more difficult to forecast HT's future performance, since the primary catalyst is a thriving economy. Nonetheless, we believe the company will shine as a result of the expertise and capabilities of its best-in-class management team (insiders owns around 8%) and high-quality (newer) portfolio. Quite simply, HT is poised to profit, but this REIT is not for everyone, so we rated it PG (parental guidance).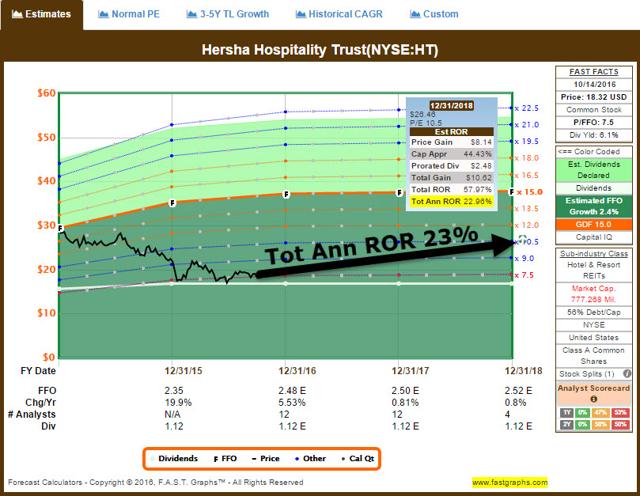 Click to enlarge
Author's Note: Brad Thomas is a Wall Street writer, and that means that he is not always right with his predictions or recommendations. That also applies to his grammar. Please excuse any typos, and I assure you that he will do his best to correct any errors if they are overlooked.
Finally, this article is free, and the sole purpose for writing it is to assist with research (Thomas is the editor of a newsletter, Forbes Real Estate Investor), while also providing a forum for second-level thinking. If you have not followed him, please take five seconds and click his name above (top of the page).
Sources: S&P Global Market Intelligence, F.A.S.T. Graphs and HT Filings.
REITs mentioned: Apple Hospitality REIT (NYSE:APLE), Ashford Hospitality Prime (NYSE:AHP), Ashford Hospitality Trust (NYSE:AHT), Chatham Lodging Trust (NYSE:CLDT), DiamondRock Hospitality Compant (NYSE:DRH), FelCor Lodging Trust (NYSE:FCH), Hospitality Properties Trust (NYSE:HPT), Host Hotels & Resorts (NYSE:HST), LeSalle Hotel Properties (NYSE:LHO), Pebblebrook Hotel Trust (NYSE:PEB), RLJ Lodging Trust (NYSE:RLJ), Summit Hotel Properties (NYSE:INN), Sunstone Hotel Investors (NYSE:SHO), Xenia Hotels & Resorts (NYSE:XHR), Condor Hospitality Trust (NASDAQ:CDOR), and Ryman Hospitality Properties (NYSE:RHP).
Disclaimer: This article is intended to provide information to interested parties. As I have no knowledge of individual investor circumstances, goals, and/or portfolio concentration or diversification, readers are expected to complete their own due diligence before purchasing any stocks mentioned or recommended.
Disclosure: I am/we are long O, DLR, VTR, HTA , STAG, GPT, ROIC, HCN, OHI, LXP, KIM, WPC, DOC, EXR, MYCC, TCO, SKT, UBA, STWD, CONE, BRX, CLDT, HST, APTS, FPI, CORR, NHI, CCP, CTRE, WPG, KRG, SNR, LADR, PEB, BXMT, IRM, CIO, LTC, DEA, NSA, HASI, LTC.
I wrote this article myself, and it expresses my own opinions. I am not receiving compensation for it (other than from Seeking Alpha). I have no business relationship with any company whose stock is mentioned in this article.