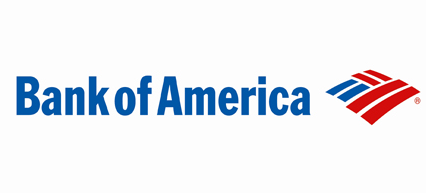 This earnings season is shaping up to get really good, at least as far as banks are concerned. Last week Citigroup (NYSE:C) and Wells Fargo (NYSE:WFC) reported 3rd quarter results that beat the top and bottom line consensus estimates. Beating expectations is important to entice investors to buy bank stocks, which, for the most part, are still priced at a steep discount to accounting book value (with the exception of Wells Fargo).
Read also: "Citigroup: Should You Still Buy At $49?"
And: "Wells Fargo: Clearance Sale, But Should You Buy?"
Bank of America (NYSE:BAC) was the next bank to report results for the 3rd quarter on Monday, and the bank did not disappoint.
Bank of America said that its revenues in the 3rd quarter hit $21.6 billion which compares favorably against revenues of $21.0 billion in the 3rd quarter of last year. The bank's net income also got a boost, rising from $4.6 billion in Q3-15 to $5.0 billion in the last quarter. On a per share basis, Bank of America earned $0.41, a $0.03/share increase over the 3rd quarter of 2015.
Importantly, just like its banking peers on Wall Street, Bank of America managed to beat consensus earnings estimates, and it did so by a wide margin. While Bank of America earned $0.41/share, analysts set their expectations for a $0.34/share profit. Since bank analysts are quite good at forecasting bank earnings, the earnings beat is a big deal for Bank of America.
2 Takeaways From Earnings
There are two things that are important to mention when it comes to Bank of America's earnings picture.
1. Bank of America's Global Markets division, which consolidates trading and sales revenues, had a particularly good quarter.
Sales and trading revenues hit $3.6 billion in the last quarter, an improvement of ~14 percent ($442 million) over the same quarter a year ago. Fixed Income sales and trading had a particularly successful last quarter with Bank of America growing revenues by a whopping 32 percent. Q3-16 FICC revenues hit $2.6 billion. On the other hand, gains made in FICC were offset by lower equity trading revenues which slumped 17 percent Y/Y to $1.0 billion.
2. The second takeaway from BofA's earnings release relates to the company's accounting book value, or ABV: Book value keeps growing.
As soon as banks report earnings, I tend to jump into the ABV section to see if the bank grew accounting book value in the last quarter, which Bank of America did. The bank's ABV has risen 2 percent in the last quarter to $24.19/share. ABV per share has also risen ~8 percent (!) in the last year.
Compelling Reward-To-Risk Ratio
Bank of America's book value is growing, indicating a healthy bank. Based on the bank's latest accounting book value of $24.19/share, Bank of America's shares effectively change hands for 66 cents on the dollar, implying a highly favorable reward-to-risk ratio.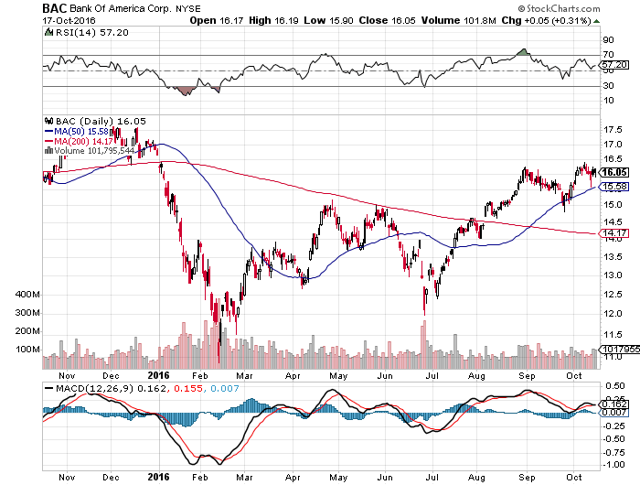 Click to enlarge
Source: StockCharts.com
Your Takeaway
Earnings season is going the right way for banks, and Bank of America hasn't been an exception. The bank beat the consensus estimates, aided by a surge in trading revenues. Further, the bank's book value keeps growing at a good clip, which continues to imply a highly favorable reward-to-risk equation at today's $16 price point. Buy for long-term capital appreciation.
If you like to read more of my articles, and like to be kept up to date with the companies I cover, I kindly ask you that you scroll to the top of this page and click 'follow'. I am largely investing in dividend paying stocks, but also venture out occasionally and cover special situations that offer appealing reward-to-risk ratios and have potential for significant capital appreciation. Above all, my immediate investment goal is to achieve financial independence.
Disclosure: I am/we are long BAC.
I wrote this article myself, and it expresses my own opinions. I am not receiving compensation for it (other than from Seeking Alpha). I have no business relationship with any company whose stock is mentioned in this article.