In spring 2015, I created the Dugan Stock Scoring System (DSSS) to be applied to David Fish's All-CCC stocks. David's all-CCC list contains almost 700 long-term dividend-paying stocks (not including REITs and MLPs) with histories of raising dividends for a minimum of 5 years to over 50 continuous years). You can find David's October CCC list here. Click on the "Excel Spreadsheet" link in the U.S. Dividend Champions section. Alternatively, you can type in David's name in the "search by" box in the upper right corner of any SA page and "follow" David and you will then receive a notice each month when he publishes the CCC list.
I introduced the stock scoring system in a Seeking Alpha article on 8/21/2015. Toward the end of 2015, I made some formula changes, most of which were suggestions that came from SA readers.
The Dugan Stock Scoring System is a tool to identify the overall quality of CCC companies. Those companies' stocks earning high Dugan Scores are high quality stocks which should produce better investing results than otherwise would be attained by simply filtering for desired characteristics. In this context, highest quality means companies which have:
STRONG CURRENT CONDITIONS, as exemplified by: great value as measured by relative Graham number, low payout ratio, low debt/equity ratio and high Most Recent dividend increase % EXCELLENT FUTURE PROSPECTS, as exemplified by: high EPS growth forecasts for This Year, Next Year and 5 years out; and excellent dividend growth histories.
DSSS isn't a popularity contest. It is a disciplined, systematic and dispassionate approach that evaluates each CCC stock on the basis of a wide variety of investment criteria from four broad categories: Risk, Value, Past Performance and Future Performance Expectations. So, the purpose of the Scoring System is to determine the all-around quality of a stock for buying, holding or selling purposes. No stocks, like no people, are perfect. Therefore, even high quality and high scoring stocks have weaknesses. So, a Dugan Score is a balanced, holistic picture of a stock, which includes its strengths and weaknesses.
You can see from the above explanations, the Dugan Stock Scoring System calculates a score based on the current state, and expected future performance, of a company's stock; not necessarily the company itself. And, it doesn't matter how well a company's stock had performed for its owners in the past. What only matters are the current condition and expected future performance of the stock.
The table below is a summary of the metrics used in the Dugan Stock Scoring System, along with each metric's relative weighting in the overall formula. The weightings are my assessment of each metric's relative importance in calculating the company's overall quality.

To gain an understanding of how the system applies the formula for each metric in the system, please see this article.
In addition to the base scoring system there can be a small bonus, or penalty, applied to the earned score for each CCC stock. It is based on a few brokers' recommendations for sector weightings. The base bonus or penalty calculation is simple: market weight for a sector earns zero points, overweight earns 1 point, underweight earns minus 1 point.
Examples: IT earns 3 bonus points because each of Ned Davis, S&P Capital IQ and Fidelity recommend overweighting IT; utilities earns minus 2 points because of 2 underweights and 1 market weight; and CS earns 0 points because of 3 market weight recommendations. You can find the Fidelity article wherein the weightings recommendations are presented here.
They are summarized in the following table:
Weighting Recommendations

Sector

Fidelity Market Weight

05/13/2016

S&P Capital IQ

05/13/2016

Research (PDF)

05/16/2016

19.78%

15.94%

14.59%

12.94%

10.47%

10.11%

7.12%

3.43%

2.91%

2.71%
Every month I apply the scoring system to David's "All CCC" spreadsheet. After scoring all 750 or so companies, I eliminate REITs and MLPs, then throw out the bottom-scoring 50%, leaving 350+ companies which are the best-of-the-best. I then filter those 350 companies by characteristics which I believe align well with SA readers' needs.
The filters might include something like:
Minimum 8 years on the CCC list
Minimum $5 to $10B market cap
Maximum relative Graham number of 80
Maximum payout ratio of 70
Minimum most-recent dividend increase of 6%
Minimum estimated EPS growth next year of 6%
Minimum estimated EPS growth for the next 5 years of 6%/year.
Minimum yield of 2.3%
The result of filtering those best-of-the-best CCC stocks is a list of +/- 15 companies that have strong current conditions, excellent future prospects and have been filtered for characteristics which I, and I believe SA readers, value. The difference between my system and a usual filtering process is that I only filter companies which meet the test for being high quality and whose strengths far outweigh their weaknesses. I believe this difference will produce better investing results, while still meeting my individual requirements.
I present those 15+ stocks to SA readers for consideration as possible due diligence/purchase candidates. The articles which present those lists usually carry titles like "October's top 15 CCC companies" or "September's top large-cap CCC companies." They can be found by searching for my name in the search box in the upper right corner of the SA site.
This process, and my Retirement Investing Plan, found here, are what I use to guide my own investing buying and selling.
Believing in the efficacy of the DSSS to identify excellent companies to purchase, in January and early February of 2016, I bought significant dollar amounts of 9 stocks. All 9, except AbbVie (NYSE: ABBV), are stocks which came from then-recent "top 15 stocks" lists in my "Best of …" series of articles, mostly in December. Those 9 stocks are the only ones I've purchased in 2016, except for a recent purchase of Valero (NYSE: VLO).
Since March, I have been reporting the relative performance of this actual 9-stock portfolio to the S&P 500. Below is the information for the October 2016 period: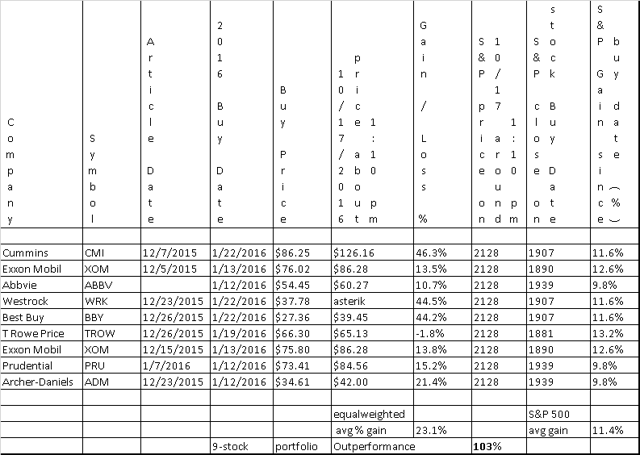 Click to enlarge
Asterisk from WestRock (NYSE:WRK), above. Earlier this year, WRK spun off part of itself into a separate publicly-traded company called Ingevity Corporation (NYSE: NGVT). To calculate the 44.5% gain, I added the current market value of my positions in WRK and NGVT, and divided by my original cost of WRK.
The outperformance historical numbers are: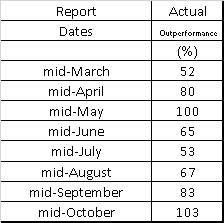 As said many times in the last few months, I realize that 9-stock purchases is too small a sample set and that 9 months of relative performance is too short a time to draw firm and final conclusions. But, I'm very happy with the significant outperformance so far. And, I'll again report progress on these 9 purchases later in 2016.
I hope you enjoyed this journey. Comments are encouraged. Happy investing.
Disclaimer: The opinions in this document are for informational and educational purposes only and should not be construed as a recommendation to buy or sell the stocks mentioned or to solicit transactions or clients. Past performance of the companies discussed may not continue and the companies may not achieve the earnings growth as predicted. The information in this document is believed to be accurate, but under no circumstances should a person act upon the information contained within. We do not recommend that anyone act upon any investment information without first consulting an investment advisor as to the suitability of such investments for his specific situation. (Borrowed from Chuck Carnevale.)
Disclosure: I am/we are long ABBV, ADM, CMI, XOM, PRU, BBY, TROW, WRK.
I wrote this article myself, and it expresses my own opinions. I am not receiving compensation for it (other than from Seeking Alpha). I have no business relationship with any company whose stock is mentioned in this article.