Hopefully this article will help you grow your assets.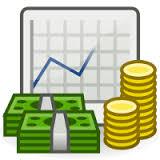 Two Harbors Investment Corp. (NYSE:TWO) is a mortgage REIT. Its objective is to provide long term, attractive, risk-adjusted returns to stockholders primarily through dividends and secondarily through capital appreciation. It invests in Agency RMBS, non-Agency RMBS, prime nonconforming residential mortgage loans, credit-sensitive mortgage loans, mortgage servicing rights, and other financial assets. It is externally managed and advised by PRCM Advisers LLC, a wholly-owned subsidiary of Pine River Capital Management L.P., which is a global, multi-strategy asset management firm with expertise in fixed income securities such as RMBS.
TWO has an equity market capitalization of approximately $3.0B and an investment portfolio of $16.1B. TWO pays an 11.3% dividend. TWO is trading as of the close on October 14, 2016 at approximately a -16% discount to its June 30, 2016 book value of $9.83 per common share. AGNC Investment Corp. was able to grow its book value in the first two months of Q3 2016 by $0.49 per common share.
If TWO was able to grow its book value in Q3 2016, it may have reached a book value of $10.00+ by the end of the quarter. Such a book value would make TWO's current discount to book value even greater (about -17.7%) than the -16% cited - a bigger bargain. TWO has a history of outperforming other mREITs. Since TWO's inception on October 29, 2009, TWO has outperformed the Bloomberg REIT Mortgage Index by almost 50%.
For Q2 2016, TWO reported a total return on book value of 3.7% (about 14.8% annualized). This was comprised of a $0.13 per common share gain in book value and a $0.23 per common share quarterly dividend. Comprehensive Income was $122.3 million. Core Earnings were $76.2 million (or $0.22 per weighted average common share). TWO added $5.7B in unpaid principal balance of MSRs ("Mortgage Servicing Rights").
It closed on additional senior commercial real estate assets in Q2 2016. This raised TWO's CRE carrying value to $926.4 million at Q2E 2016 from $744.3 million at Q1E 2016. TWO has also announced it plans to discontinue its mortgage loan conduit and securitization business due to excessive competition in the space. TWO believes this will eventually allow a saving of $10 million per year in operating expenses. TWO believes it can reduce other operating expenses by about 40 bps in 2017.
The chart and table below describe TWO's Q2E 2016 portfolio.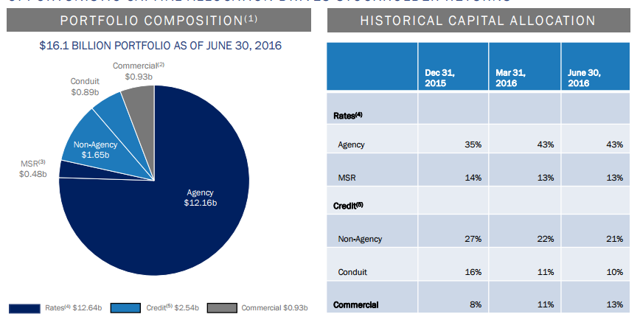 Click to enlarge
It is important to note that the debt to equity ratio increased from approximately 3 times to approximately 4 times from Q1E 2016 to Q2E 2016. The extra income was largely offset by increased financing borrowing costs (repo costs) on Agency RMBS. A sale of Agate Bay Senior AAA bonds resulted in higher collateralized borrowing costs.
The MSR investments had a lower yield in Q2 2016 due to increased CPRs ("Constant Prepayment Rates") due to the lower interest rate environment (and seasonal factors). The amortization costs of previously issued restricted stock orders were higher due to the TWO share price appreciation of about 8% during Q2 2016.
I don't have the exact figures for the costs of repos for TWO. However, the chart below should provide an approximation of how much such costs have already gone up in Q3 2016.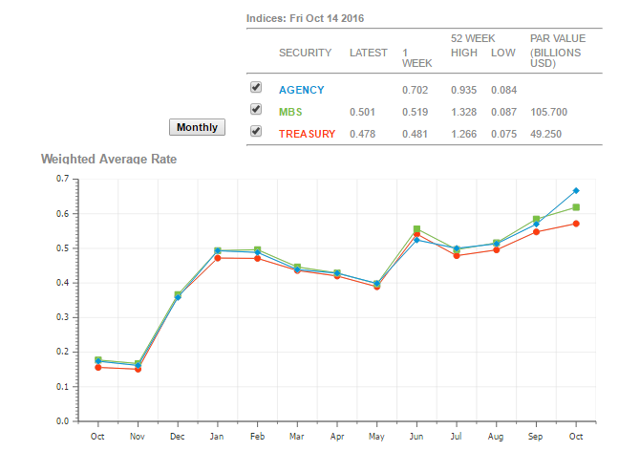 Click to enlarge
The above uptrend is worrisome. It is likely to cut TWO's profits from its Agency business in Q3 2016 and perhaps beyond. Investors may want to pay attention to this. It could translate into a dividend cut in the future.
TWO's Credit Strategy (investments) appears to be doing okay with respect to the non-Agency RMBS. I have already mentioned that TWO is planning to discontinue its conduit business due to excessive competition. In its Credit Strategy, the low interest rate environment and middling economic growth are a positive for residential credit. Further the October 4, 2016 CoreLogic Report shows August 2016 home prices were up by 6.2% year over year. The current one-year forecast is for growth of 5.3% by August 2017.
TWO also cites the following favorable factors for its Credit Portfolio:
TWO's non-Agency holdings have an average market price of $74.32 as of June 30, 2016. That allows for a lot of appreciation over their lifetime.
TWO's Legacy non-Agency holdings have a relatively long weighted average lifetime of 8.2 years.
TWO believes there is significant upside from faster than expected prepays, improving home price appreciation, and better borrower performance.
Of course, if there is a recession in 2017, TWO's credit metrics will undoubtedly be negatively affected. Investors will have to watch for this. An increasing number of economists seem to think that a recession may start in 2017.
TWO cites favorable fundamentals for its $926.4 million Commercial Real Estate Portfolio:
There is a limited new supply of properties, since there has been only slow building since the Great Recession.
TWO has seen a continued improvement in rents and occupancies.
Lending is largely tied to rents rather than capital appreciation.
The spread between CRE capitalization rates and US Treasuries remains above the historical average.
Long-term commercial real estate valuations compare favorably to historical valuations.
In addition, floating rate assets should provide upside growth with higher rates. Hence, they provide effective hedging for TWO's overall portfolio against higher interest rates. Investment returns also look attractive. TWO expects to get low-to-mid single-digit returns on equity for its CRE portfolio. The charts below give a good overview of TWO's $926.4 million CRE portfolio as of June 30, 2016.

Click to enlarge
Investors should note that 85.0% of TWO's CRE portfolio is Senior Debt (less risky).
The charts below show that TWO outperforms its peers on many metrics.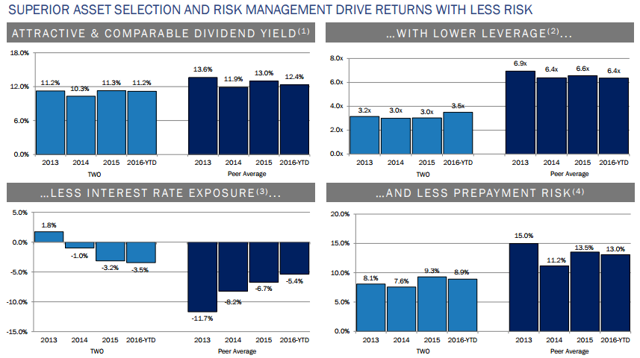 Click to enlarge
The above charts show that TWO has a lower, but comparable dividend than many of its peers. However, it produces its dividend with significantly lower leverage, less interest rate exposure, and less prepayment risk. These kinds of metrics should allow TWO to outperform its peers in troubled times.
The one-year chart of TWO provides some technical direction for a trade/investment.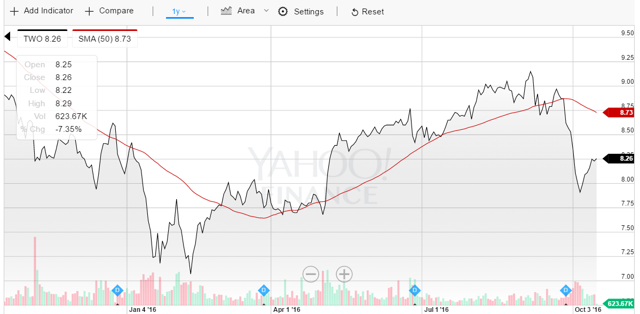 Click to enlarge
During the "Taper Tantrum" and the general rising both US Treasuries and of the 3-month USD LIBOR rate (over several months), TWO's stock price fell considerably (see chart above). There does not appear to be a strong rational behind this fall. TWO's book price as of June 30, 2016 was $9.83 per common share. The stock price as of the close on Friday October 14, 2016 was $8.23 per share.
This represents a -16.2% discount of the stock price to the book value. For mortgage REITs, this discount rarely exceeds -20%. That means that TWO is likely a relative bargain, especially when so many other stocks are overpriced. It pays an 11.3% annual dividend. The above chart and the discount to book value indicate that a continued bounce upward is likely. I would rate TWO a buy on that basis. However, there is a likelihood of a US recession in 2017; and repo rates have been rising. Therefore, I will rate TWO only a low buy.
NOTE: Some of the fundamental information above is from Yahoo Finance.
Good Luck Trading/Investing.
Disclosure: I/we have no positions in any stocks mentioned, but may initiate a long position in TWO over the next 72 hours.
I wrote this article myself, and it expresses my own opinions. I am not receiving compensation for it (other than from Seeking Alpha). I have no business relationship with any company whose stock is mentioned in this article.