Valeant - Salix Deal
In my previous article, I explained why I consider Valeant Pharmaceuticals (NYSE:VRX) to be an excessively risky stock. In this article, I will further explain why I believe Valeant Pharmaceuticals' acquisition of Salix Pharmaceuticals may not be a strong growth driver for the company at least in 2016.
The Valeant - Salix Deal, announced on February 22, 2015, and completed at fair value consideration of about $13.1 billion, made complete sense in early 2015. This was the time when Valeant's share price was trading in the range of $70-$80, almost 3.3 times more than the company's current share price which is hovering between $22 and $25. At the end of March 31, 2015, the company held cash and cash equivalents worth $1.8 billion. Cash is an asset required by pharmaceutical companies to develop and commercialize new investigational drugs.
The cash and cash equivalents on the company's balance sheet on June 30, 2016, was $852.4 million, around $1 billion lower than that held by the company when the deal was decided upon. The transaction value itself exceeds the total market capitalization of Valeant, which was $8.05 billion on October 08, 2016. Also, since March 2015, long-term debt on Valeant's balance sheet has increased from around $25 billion to $31 billion, a significant portion used to finance the acquisition of Salix. However, this has limited the ability of the company to borrow additional funds at attractive rates. These statistics may help in making sense of the difficulty in realizing synergies as projected during the inception of the Valeant - Salix deal.
Valeant is confident of the commercial success of its existing and investigational products acquired from Salix such as Xifaxan, Apriso, Uceris, Relistor and other prescription drugs as well as medical devices targeted at treating gastro-intestinal disorders. However, limited resources and competitive pressures may prove an impediment in realizing the deal potential. In this context, I will try to explain why the Valeant - Salix deal may not add to the company's profit margins in 2016.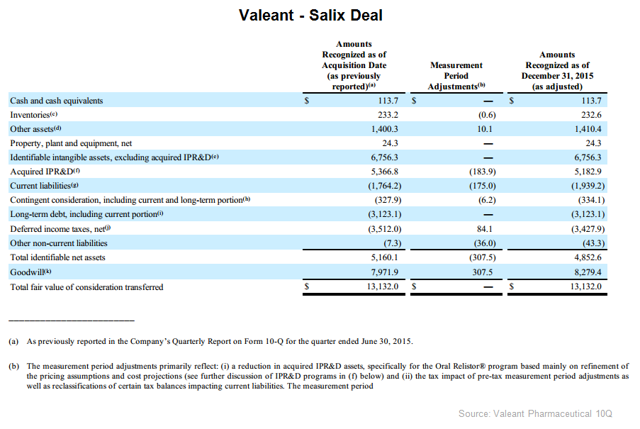 Click to enlargeXifaxan's IBS-D opportunity
In the financial statements, Valeant - Salix transaction has been reported as business combination using the acquisition method of accounting. In this method, all the assets and liabilities are reported at fair value. Approximately $5.4 billion was allocated to in-process research and development or IPR&D. Out of this value, approximately $4.8 billion were estimated to be related to growth prospects for Xifaxan 550mg in the irritable bowel syndrome with diarrhea or IBS-D. Post FDA approval of Xifaxan 550 mg for IBS-D on May 27, 2015, that portion of IPR&D has been reclassified as an intangible asset, to be amortized in a period of 10 years.
However, in the Morgan Stanley Global Health Care Conference, Valeant's CEO Joseph Papa said that while Xifaxan 550 mg continued to perform well on the specialist side of the IBS-D, the primary care side is proving to be a challenge.
Let me try to give you a perspective of the IBS-D opportunity at stake.
According to Medscape, about 12% of all the patients that visit primary care practitioners and 28% of all patients visiting gastroenterologists suffer from IBS. National Ambulatory Medical Care Survey: 2012 Summary Tables has estimated the total number of primary care visits in the USA in 2012 to be approximately 506.6 million. They are further categorized as 451 million established patients and 55 million new patients. CHRISMED Journal of Health and Research notes that based on experimental data, it was seen that the IBS version with predominant diarrhea is witnessed in around 67.6% of IBS patients. Based on all these statistics, we can conclude that IBS-D opportunity on the primary-care side has large market potential and hence cannot be ignored.
Hence, it can be inferred that this market potential was considered when Valeant paid $4.8 billion for Xifaxan 550mg IPR&D related to IBS-D.
Valeant's relatively small sales force for primary-care is not able to manage the reach and frequency of interactions required to promote Xifaxan 550 mg for IBS-D to the primary-care practitioners. To solve this problem, Joseph Papa has claimed that the company will either add to its sales team or partner with some other company for increased promotion.
Limited resources
Both the solutions may prove to be more difficult than what the company anticipates. Let us assume that the company plans to ramp up its sales team for Xifaxan 550 mg. This will directly translate into increased selling, general, and administrative or SG&A expenses. Valeant has recently changed its business model from one based on inorganic growth to that focusing on research and development or R&D operations. To control its operating expenses and hence maintain profit margins, an absolute must for arresting the company's declining share prices, Valeant has planned to optimize its cost structure and reduce SG&A costs.
The company is facing multiple investigations and litigations related to price gouging and its connection with the specialty pharmacy, Philidor. However, Valeant has not reserved any amount as probable litigation charges. An increase in R&D expenses and possibility of significant legal expenses can result in the company not increasing its SG&A expenses. And if Valeant increases its sales force, it will negatively affect the company's profit margins in the latter half of 2016.
Partnering with another company to promote Xifaxan 550 mg on the primary care side for IBS-D is also a challenge, as it involves increased fixed costs in the form of fees or sharing of the drug's revenues with the other company.
Hence, it seems to be a unique conundrum where Valeant has to either sacrifice Xifaxan's growth opportunity in the IBS-D space or seriously compromise its profit margins due to increased expenses.
Competitive pressures
On May 27, 2015, FDA also approved Allergan's (NYSE:AGN) Viberzi as therapy for IBS-D. While FDA has recommended Viberzi to be a controlled substance due to the possibility of abuse, it is definitely a strong competition for Xifaxan.
While Valeant is suffering from resource crunch to boost its performance in the IBS-D space, Allergan already has a strong presence in that segment due to irritable bowel syndrome with constipation or IBS-C drug, Linzess. On August 15, 2015, Allergan announced its agreement with Ironwood Pharmaceuticals (NASDAQ:IRWD) for co-promotion of Viberzi in the USA market, both to primary care practitioners as well as gastro-enterologists. Both the companies have already partnered successfully for the promotion of Linzess. Hence, Allergan does not expect any additional investment for promoting Viberzi, as it is synergistic with the company's promotional efforts for Linzess.
In its 2Q16 earnings call, Allergan also noted that post launch in U.S. in December 2015, Viberzi has witnessed robust growth due to increased prescribing by both gastroenterologists as well as primary care physicians. Allergan also claimed that in 2Q16, the number of practitioners prescribing Viberzi has doubled from those in 1Q16.
The presence of competing drug owned by a strong peer with deep pockets further aggravates Valeant's need to aggressively promote Xifaxan 550mg to primary care practitioners.
Can oral Relistor save the day for Valeant Pharmaceuticals?
After Xifaxan, let us analyze if oral Relistor can boost Valeant's profit margins in 2016.
On July 19, 2016, FDA approved the oral version of Relistor, peripherally-acting mu-opioid receptor antagonist or PAMORA therapy, for treating opioid - induced constipation or OIC in patients suffering from chronic non-cancer pain. Progenics Pharmaceuticals (NASDAQ:PGNX) has granted development and commercialization rights of Relistor to Valeant. According to Valeant's Investor presentation, with the prevalence of about 3.7 million patients in the USA, OIC is a huge market with significant unmet demand. In this context, the company believes that the drug has the potential to become a blockbuster therapy. On September 06, 2016, oral Relistor was launched in the USA market.
Being an oral therapy, Valeant also expects Relistor to grab market share from the over-the-counter or OTC constipation drugs, which are generally preferred by physicians. However, capitalizing on OIC opportunity may prove a bigger challenge than what Valeant expects.
On September 16, 2014, FDA approved AstraZeneca's (NYSE:AZN) Movantik, a PAMORA class drug, as an oral therapy for OIC patients with chronic non-cancer pain. The drug has been witnessing a slow launch, earning about $29 million in 2015 and $40 million in 2016. Since Relistor has not demonstrated significant benefit in terms of efficacy or safety over Movantik in its clinical trials, it may also face resistance from physicians who have been prescribing OTC drugs to patients.
In such a scenario, it again boils down to extensive marketing efforts. AstraZeneca has already partnered with Daiichi Sankyo (OTCPK:DSNKY) for commercializing Movantik in the USA. Daiichi Sankyo is a Japanese pharmaceutical company with significant experience in OTC space.
On April 23, 2013, FDA had approved Takeda Pharmaceutical's (OTCPK:TKPYY) AMITIZA as first oral drug for OIC patients with chronic non-cancer pain. The drug is also approved for IBS-C and chronic idiopathic constipation or CIC. With a strong commercialization infrastructure in place in the gastro-intestinal space, AMITIZA can also be a strong competition to oral Relistor.
On the other hand, already embroiled in multiple litigations, Valeant may not have the financial power or the management focus to market Relistor on a large scale. This can limit growth prospects of oral Relistor in 2016.
So what can go wrong?
In this tough environment, Valeant may be forced to report impairment to its intangible assets. The impairment loss may affect the company's profit margins.
And this scenario may be far more imminent than that expected by investors. In 2Q16, Valeant has recognized impairment charges of about $215 million, of which $199 million was for intangible assets related to the orphan drug, Ruconest, added to Valeant's portfolio through Salix acquisition. Hence, it will not be improbable if the company bears similar investment charges for Xifaxan or Relistor.
The short-term limited growth prospects for Xifaxan 550mg and oral Relistor, the two key assets from the Salix deal, may further affect investor confidence in Valeant.
Hence I believe that the Valeant - Salix deal may not be enough to boost Valeant's profit margins in 2016.
Disclosure: I/we have no positions in any stocks mentioned, and no plans to initiate any positions within the next 72 hours.
I wrote this article myself, and it expresses my own opinions. I am not receiving compensation for it (other than from Seeking Alpha). I have no business relationship with any company whose stock is mentioned in this article.