This is the second in a series of articles on Canadian banks. To read the first article on Bank of Nova Scotia (NYSE: BNS), click here.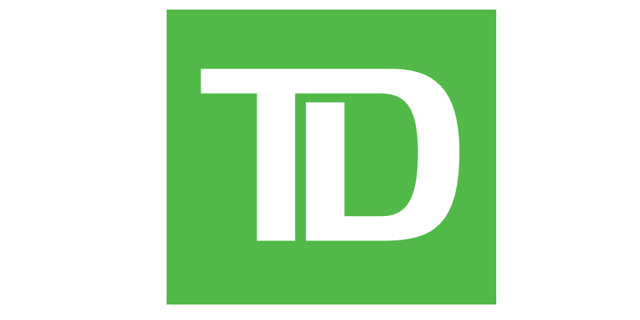 Click to enlargeToronto-Dominion Bank (NYSE: TD) is the second-largest bank in Canada and the sixth largest in North America. They operate in both Canada and the U.S., and currently carry a market capitalization of ~$82B. Their dividend growth record, high yield, and relative safety merit research for investment.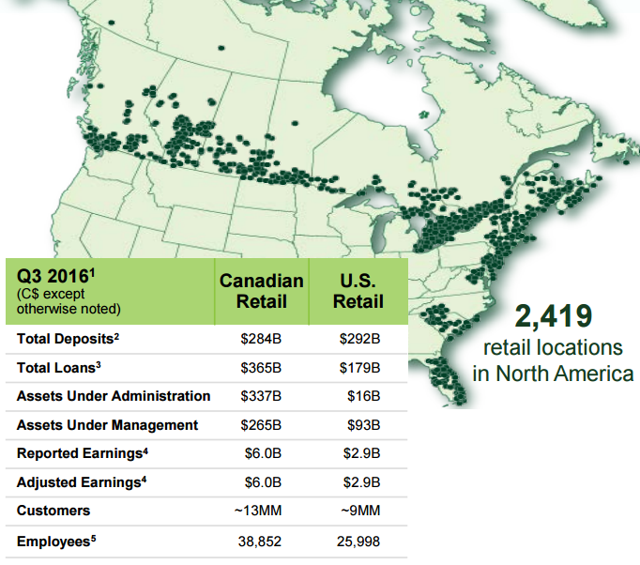 Click to enlarge
TD is headquartered in Toronto, and employs >80,000 people. They offer their services to ~25 million customers through their Canadian Retail, U.S. Retail, and Wholesale banking segments. This includes a ~42% stake in TD Ameritrade (NYSE: AMTD), the American brokerage house. TD had C$1.2 trillion in assets on July 31, 2016. TD also ranks among the world's leading online financial services firms, with approximately 10.8 million active online and mobile customers.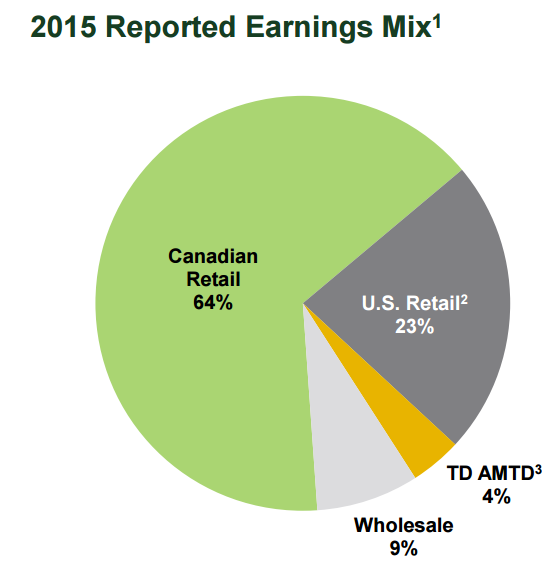 Source: Q3 Investor Presentation
As shown above, TD bank has been focused on retail banking, focusing on individual consumers over business clients. They currently carry a Tier 1 capital ratio of 10.4%, well above the Basel III requirement of 6%. This compares well with their 2 largest Canadian competitors, Bank of Nova Scotia and Royal Bank of Canada (NYSE: RY). BNS carries a ratio of 10.5% as of their most recent quarter, and RY has a ratio of 10.3%.
Loan Portfolio

In the chart above are detailed the loans/assets and loans/deposits ratios of the 3 largest Canadian banks and Wells Fargo (NYSE: WFC), the favorite bank of Warren Buffett. These are important safety ratios related to a bank's liquidity, as deposits drive the bank's ability to make loans, and loans to assets gives a different look at the overall liquidity of a bank. TD falls right in the middle of the loans/assets ratio and is the highest loans/deposits. This isn't troubling, however, since many believe an optimal ratio is 80-90%. The current low interest rate environment has likely led to increasing loans for all banks.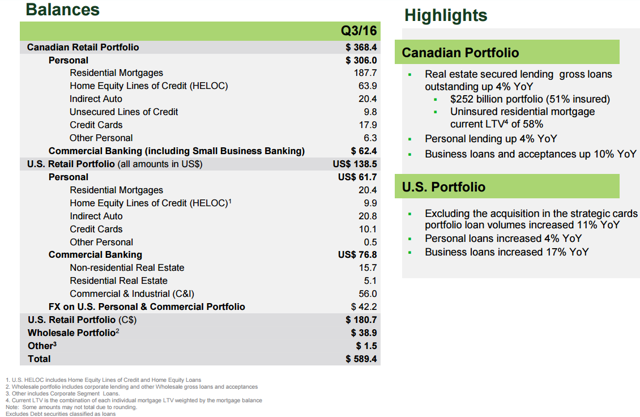 Click to enlarge
TD's loan portfolio has a considerable amount in real estate. Their real estate portfolio is up to C$252B this year. In contrast to the analysis of BNS, TD has very little energy exposure. They stated that oil and gas now represents <1% of their overall loan portfolio, which should provide some comfort for prospective investors.
However, with their large real estate exposure, some have warned that Canadian real estate is in a bubble. Housing prices in Toronto and Vancouver, specifically, have reached levels that have begun to price people out of the market. Caiman Valores has a good breakdown of whether investors should be worried about Canadian housing here.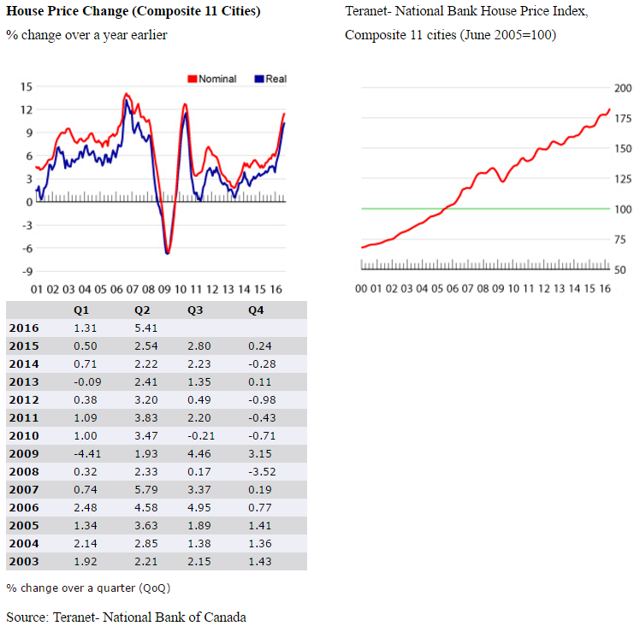 Click to enlarge
Source: Global Property Guide
This is not meant to scare investors. TD and the other Canadian banks are known as safe investments due to their resiliency through the Great Recession. I have no doubt they will be fine, regardless of a housing downturn in Canada, but it should definitely be on investors' radar as prospective TD buyers. Inflating house prices don't necessarily mean a bubble is forming, and there are a myriad of reasons the prices could be increasing at high rates.
Growth
Deposits increased 9% YOY in their most recent quarter, which is impressive and allows for the bank to take on more risk. TD plans on pursuing organic growth opportunities in Canada and America by taking market share. Their retail banking segment hopes to grow through targeted acquisitions in the credit card segment, as well. They have acquired the Target (NYSE:TGT) and Nordstrom (NYSE:JWN) credit card portfolio over the years, and have stated they are always looking for acquisitions in the U.S. to expand share.
TD has grown EPS at an 8.3% CAGR over the last 5 years, and are targeting 7-10% over the next 5. Analysts target ~5%, likely due to the possibility of a softening housing market in Canada. Management has done an outstanding job of growing organically and taking market share, driving excellent EPS growth in the past. I expect that to continue, and believe that they could hit their targets.
Financials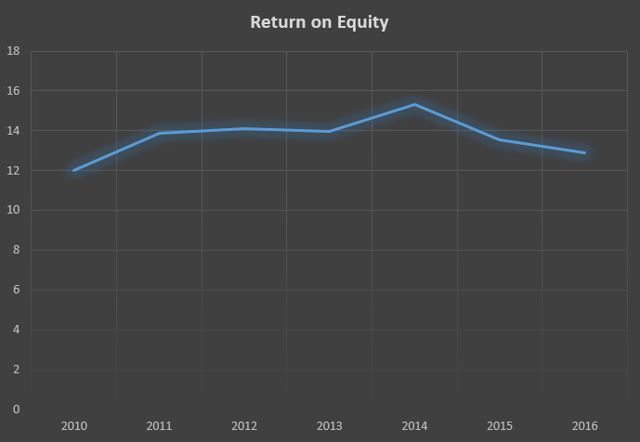 Click to enlarge
TD has the lowest return on equity of the big 3 in Canada, and a slightly higher one than WFC. It has been very stable over time, but it doesn't really stack up against the robust 16.7% of RY. However, being within 1% of both BNS and WFC puts them in good company.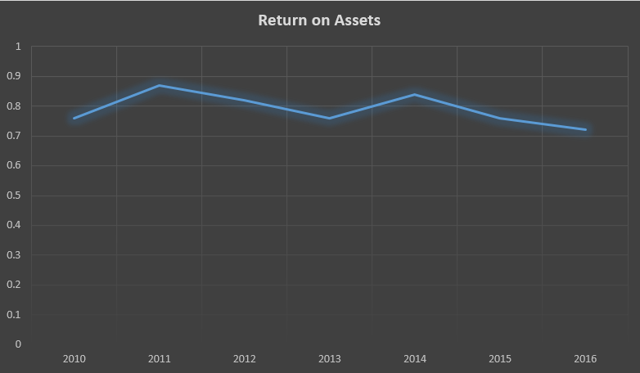 Click to enlarge
TD carries the lowest ROA of all the banks discussed in this article. WFC leads the pack with 1.16%, followed by RY and then BNS at .77%, not significantly better than TD. Return on assets measures the ability of a company to leverage its assets to drive earnings. It is a key profitability metric, along with ROE, to show the efficacy of management, especially when compared within an industry.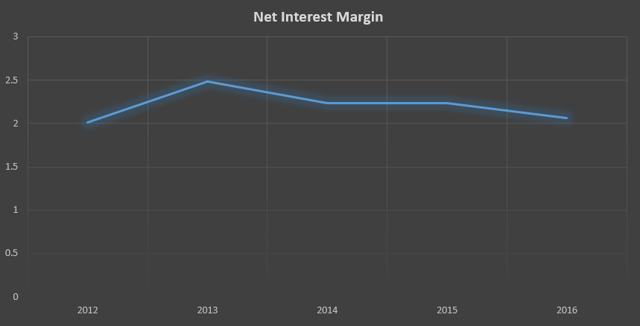 Click to enlarge
TD has consistently maintained their net interest margin above 2%. This beats out both RY and BNS, and is very stable YOY. Net interest margins for all banks will increase with a rise in interest rates, which many predict will happen in the short term.
(click to enlarge)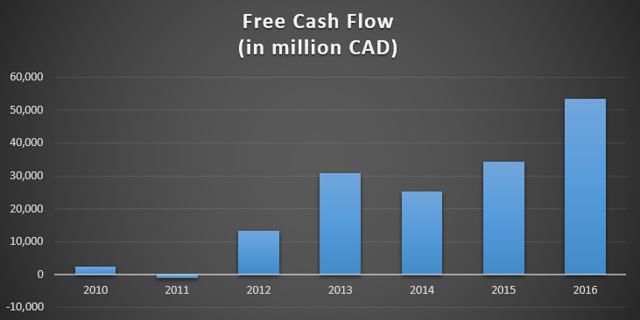 Click to enlarge
TD has massively increased their FCF over the years. They now yield more FCF than either of the other Canadian banks and WFC. TD froze their dividend in 2010, and have increased it every year since then, at a solid pace. They have recently updated their target payout ratio to 40-50%, which they are sitting in the middle of at the moment at ~47%. With that in mind, expect the dividend to increase close to the earnings growth rate going forward, which management has projected to be 7-10%. With their long-term debt load of ~C$8.6B, there should be no reason they won't be able to hike their dividend for years to come, considering their C$53.4B in FCF.

Click to enlarge
The final thing I want to discuss looking at their financials is the fact that they have been a net share issuer in the last 10 years. Similarly to BNS, investors holding TD over the last 10 years have watched their equity be diluted, even though these companies generate enough FCF to buy back shares. I don't think buying back shares should be the #1 go-to for management, but at a low valuation when shares have been issued in the past, it would be good to see. Realistically, their share count has not materially increased since 2012, but this is something for investors to keep their eye on going forward with an investment in either of these banks.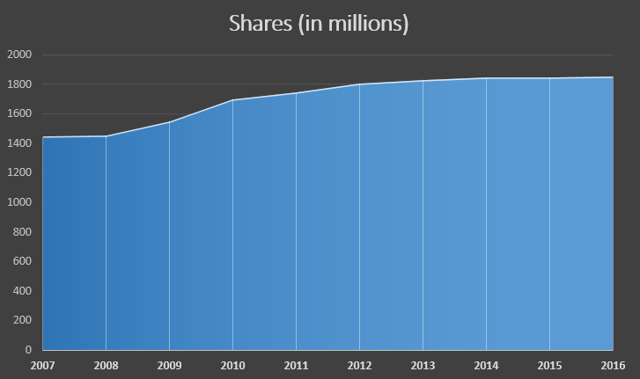 Click to enlarge
Valuation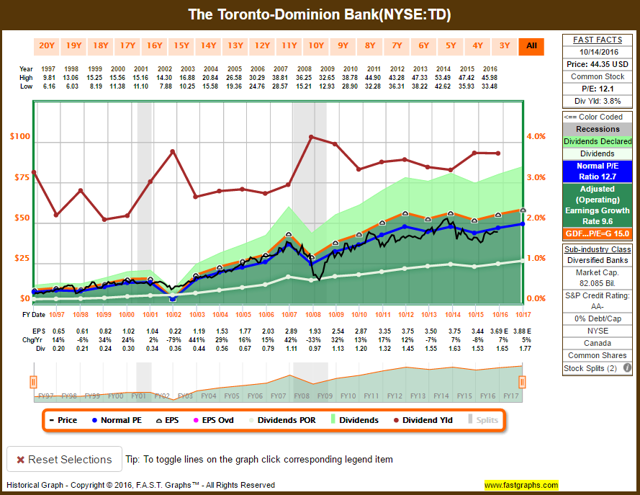 Click to enlarge
Source: FASTGraphs
TD has followed the trend line of their normal 12.7X P/E ratio pretty closely over the years. There was a notable crash in 2009 during the financial crisis, and a period of undervaluation in 2012-2013. It seems that they rarely stray too far and revert to the mean relatively quickly.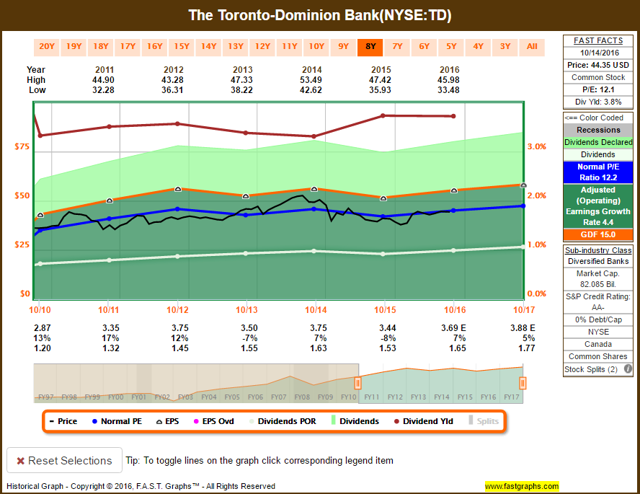 Click to enlarge
Notice they are trading below the long-term average P/E (including that massive dip in 2009) with an average P/E of 12.2 over the last 8 years. With their dividend yield of 3.8% near the high end of their historical yield, and the company trading at or beneath historical P/E ratios, I believe they are undervalued here. This is cemented by their massive FCF generation and the likelihood of higher profits when interest rates rise.
Conclusion
Toronto-Dominion Bank is an excellent candidate for high yield and safety. Their track record is excellent, they have a wide moat, and they offer an above-average yield. Investors should be somewhat wary of the real-estate climate in Canada, as well as the company's proclivity for share issuance. TD is a more pure-play on Canada and America, and BNS is more of a play on the emerging markets, specifically Central and South America.
If you liked this article, and would like to read more like it, please click the "Follow" button next to my picture at the top and select Real-time alerts. Thanks for reading.
Elsewhere on Seeking Alpha
Financial statistics were sourced from Morningstar, with the charts and tables created by the author, unless otherwise stated. This article is for informational purposes only and represents the author's own opinions. It is not a formal recommendation to buy or sell any stock. Please do your own due diligence and/or consult a financial professional prior to making investment decisions.
Disclosure: I/we have no positions in any stocks mentioned, but may initiate a long position in TD, BNS, RY over the next 72 hours.
I wrote this article myself, and it expresses my own opinions. I am not receiving compensation for it (other than from Seeking Alpha). I have no business relationship with any company whose stock is mentioned in this article.