Devon Energy (NYSE:DVN) experienced a rocky last thirty days, but is currently trading just south of the $45 resistance level. Since I covered the stock last month, the stock has posted minimal gains of about 2%, but I expect these gains to be amplified come the end of the year and through the winter given positive natural gas fundamentals. The company is currently in a favorable operating environment and while cash flow has been suppressed over the past couple of quarters, this new environment will allow Devon to achieve much needed support as it can increase production materially. This, in turn, will allow the stock to outperform and fund greater expansion projects over the long term.
Performance Update
DVN's performance this year has been exceptional. Sitting above its three primary moving averages, the company has sustained a slow, but steady uptrend. That being said, the capital gains have been massive. DVN is up close to 80% in the last seven months, something very few equities ever manage to do. Additionally, I'm inclined to believe that the gains will continue as the pricing environment is favorable in terms of Devon being able to increase production. This, in turn, will allow DVN to outperform on earnings announcements when the top-line beats expectations.
Earlier in the year, Devon was a miserable stock to own, as was any stock in the O&G space. However, now that DVN's primary trend has produced triple-digit returns and the YTD return is nearly 33%, it's tough to say that the company is a sell-off candidate come tax loss season in December. Additionally, the dip down to the $41 level gives investors an opportunity to buy on the dip and get in at a favorable level for the long-term.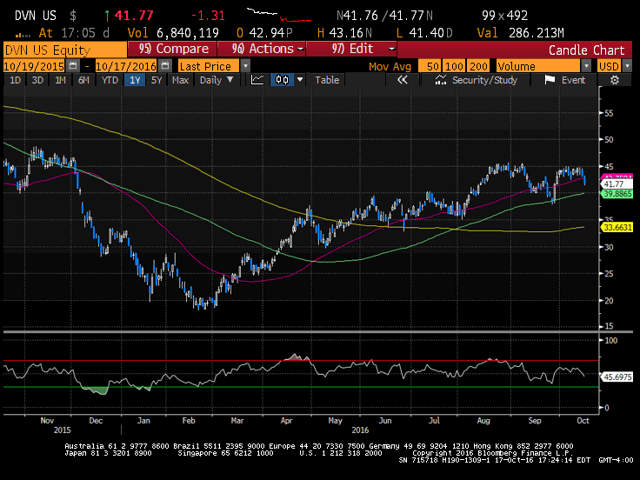 Click to enlarge
Source: Bloomberg
The improvement in DVN's stock price makes complete sense given the sharp run up in natural gas pricing. At last check, natural gas prices have breached the $3.20/MMBtu level clearly and is even approaching the $3.30/MMBtu mark. This is one of the sharpest runs I've seen in quite sometime, and while Devon Energy is the positive beneficiary, there is always the potential for a short-term pullback.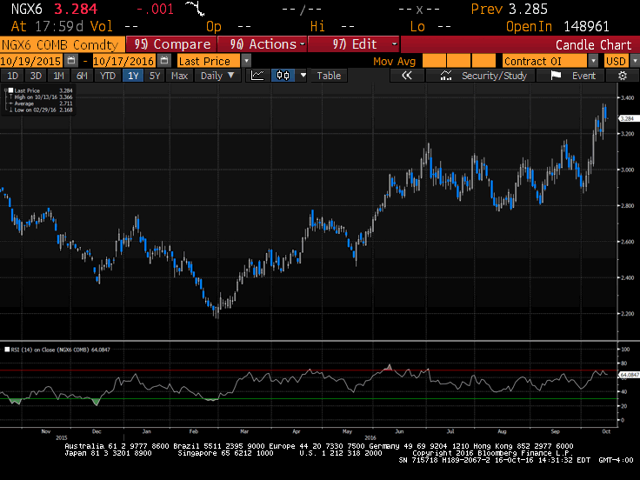 Click to enlarge
Source: Bloomberg
I will say that investors need to understand that the company does have a strong exposure to crude oil. Currently 44% of retained asset production is derived from crude oil, while the remaining 56% comes from natural gas and natural gas liquids (NGLs). Thus, investors do need to keep a close eye on crude oil fundamentals.
Fortunately, with oil hanging tough around the $50/level, producers like Devon can increase production because it is finally economical to due so. During the downturn, companies like Devon substantially lowered their breakeven and cash costs per barrel, which will help create greater accretion for shareholders. Well costs alone have decreased 40% since their peak in early 2014.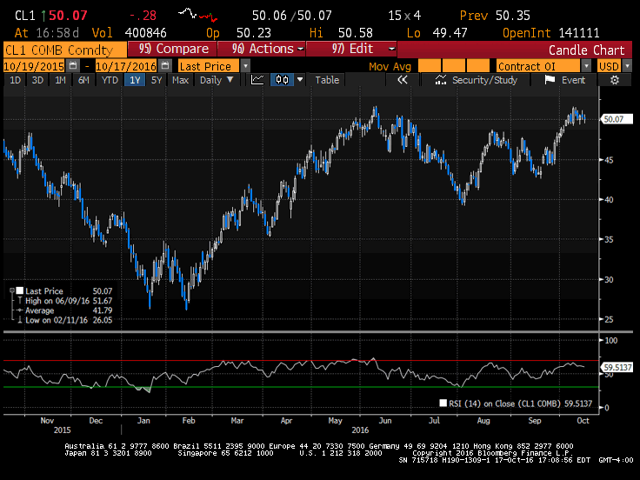 Click to enlarge
Source: Bloomberg
Natural Gas Fundamentals
Thus, we must turn to the fundamental picture on natural gas to determine what DVN's next couple of months will look like. The most positive development right now is that inventories are subsiding towards the 5-year average. Previously, natural gas inventory levels have been well above the 5-year average, and while withdrawals still have to occur, producers have taken enough production offline to allow volume fundamentals to be just above balance. Currently, natural gas inventories are about 192 Bcf above the 5-year average, an amount that may take under a month to clear out should withdrawals continue their pacing.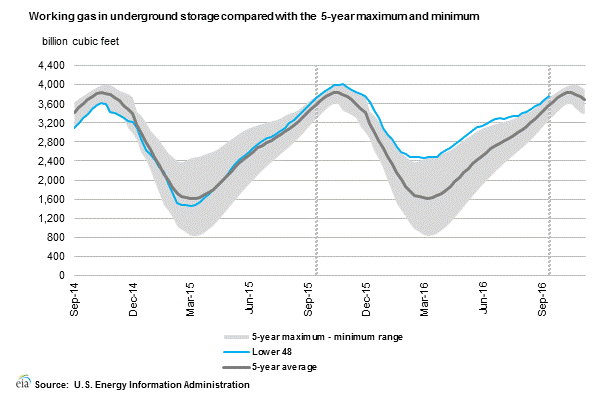 Source: EIA
Additionally, what a lot of traders are trying to figure out is just how cold this winter will be. The current consensus is the east coast will see a significant cold front linger over the season's duration, but the fate of the central U.S. is speculative. Should La Nina occur, then below is what the weather effects could look like. A headwind, naturally, is if El Nino sticks around and causes the northern United States and much of Canada to be slightly warmer.
Source: USA Today
An interesting point to make with these weather predictions is that they're not put into perspective. The reference that traders and investors alike need is that last year's winter was one of the driest and warmest winters in the past few decades, so expectations for a precipitous winter this year are low. Natural gas pricing stands to be the positive beneficiary should La Nina occur as it has incredibly easy expectations to beat.
Cash Flow Improvements Likely
I've been monitoring Devon's cash flow levels for quite some time now and I've seen deterioration really take a grip on this company. Just one year ago, the company was doing $1.55 billion in OCF, but that shrunk to just $335 million in Q2 and will likely only be slightly higher when the Q3 announcement is made.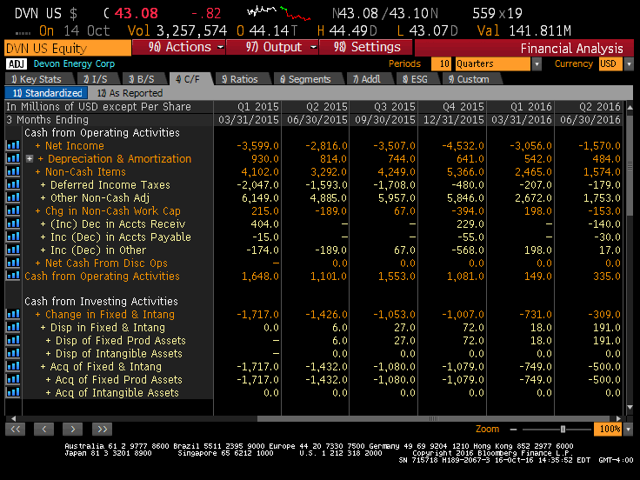 Click to enlarge
Source: Bloomberg
The best part about Devon Energy is that the company isn't burdened by debt. Sure, it has a few maturities in the next five years, but nothing out of the realm of repayment. By not being overleveraged, DVN has the opportunity to outperform as investors won't have fears over the company having to preserve liquidity. Additionally, the company has reduced net debt this year by 45%. With the current cash balance sitting at $1.72 billion and a $3 billion undrawn credit facility, the company is well positioned to sustain any sort of commodity pricing troubles in the short to medium-term.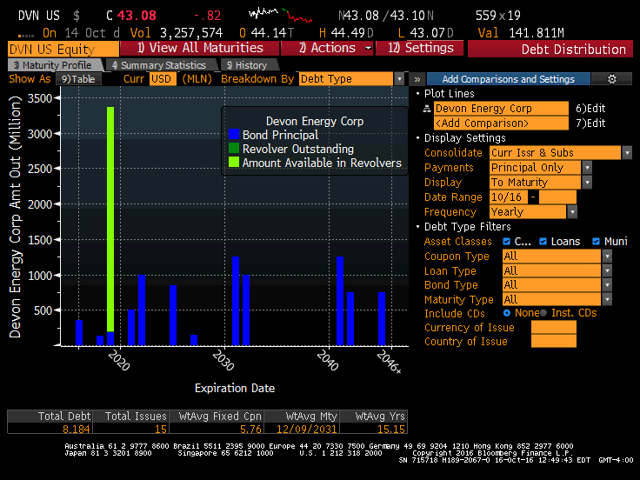 Click to enlarge
Source: Bloomberg
Also in reference to cash flow improvement is the close of the divestment of the Access Pipeline. Recall that Devon divested this earlier in the year and closed it during Q3. That's $1.1 billion of additional liquidity for the company, adding to $2.1 billion in divestment funds that the company has already received this year.
These funds are going towards debt repayment, which helps the company reduce its quarterly interest burden and reduce its overall leverage. If anything, the remaining leverage provides an ample amount of gearing for the stock to outperform the energy sector and broader equity market. Especially considering that free cash flow levels have been all over the board in the last year, higher prices in the operating environment will allow the company to boost this level out of the red all the while keeping capex at its current level.
Conclusion
Devon Energy is expected to report earnings on November 1st, along with a slew of other O&G companies, so the day is bound to be volatile. The outlook for natural gas is mostly positive, with La Nina still remaining a wild card; but, if it does occur, stocks like DVN will see material gains. The main point is that this company is going to be able to substantially increase production in the next couple of months because pricing support is finally there. That is going to help Devon build up its cash flow profile and provide meaningful returns to shareholders.
Disclosure: I am/we are long DVN.
I wrote this article myself, and it expresses my own opinions. I am not receiving compensation for it (other than from Seeking Alpha). I have no business relationship with any company whose stock is mentioned in this article.