While the pound had seen a bit of a consolidation after Brexit, we now see the pound plunging to lows that had not even been seen in the aftermath of the United Kingdom voting to leave the European Union.
The realities of a hard Brexit are finally starting to hit home, with Donald Tusk proclaiming that a hard Brexit is pretty much the only option for the UK, since the country does not want to compromise on border controls.
However, this has reportedly even caused rifts within the Conservative government, with Chancellor Phillip Hammond said to disagree with the Prime Minister on the issue of Britain leaving the EU single market.
In this regard, the pound has continued to fall and will likely continue to fall.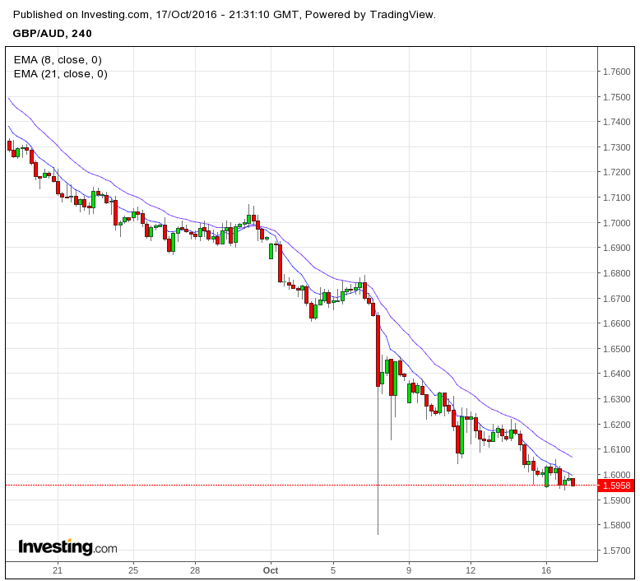 Click to enlarge
However, here is why I am now going long the Aussie dollar. Firstly, the AUD has consistently been one of the strongest currencies among the majors this month. The reasons underpinning this have been that on the one hand, an uptick in commodity prices have allowed for significant upside in the currency, while limited strength forecast for the USD given anticipation of prolonged delays in rate hikes by the Federal Reserve. As a result, further quantitative easing has not been necessary as evidenced by the Reserve Bank of Australia's decision to hold the cash rate at 1.5 percent.
In this regard, I see the Aussie dollar as continuing to be a strong player among the major currencies - even against currencies such as the yen which appear to have "peaked" in appreciation for the meantime, a currency I had previously planned on going long, but ruled out doing so for this reason..
Specifically, here is how I am shorting GBP/AUD:
Stop Loss: 1.60725
Entry: 1.59724
Take Profit: 1.56725
Ultimately, I see the pound as having further to fall as political tensions regarding the specifics of Brexit do not appear to be abating. As mentioned, given overall rising oil prices, along with expectation that a ceasing of quantitative easing in the United States will take a little longer, I expect that the Aussie dollar is an ideal long play against the pound.
Disclosure: I am/we are short GBPAUD.
I wrote this article myself, and it expresses my own opinions. I am not receiving compensation for it (other than from Seeking Alpha). I have no business relationship with any company whose stock is mentioned in this article.
Additional disclosure: Please note that foreign exchange is a rapidly moving market, and the above analysis reflects the author's opinion at the time of writing only. The author's stated views/positions should not be taken as any form of investment advice, and the author may subsequently modify his views/positions on the basis of new information.