A year ago shares of Concert Pharmaceuticals (NASDAQ:CNCE) were soaring above $25- since then despite positive analyst reports and articles on the company's prospects, the stock just can't seem to find a bottom.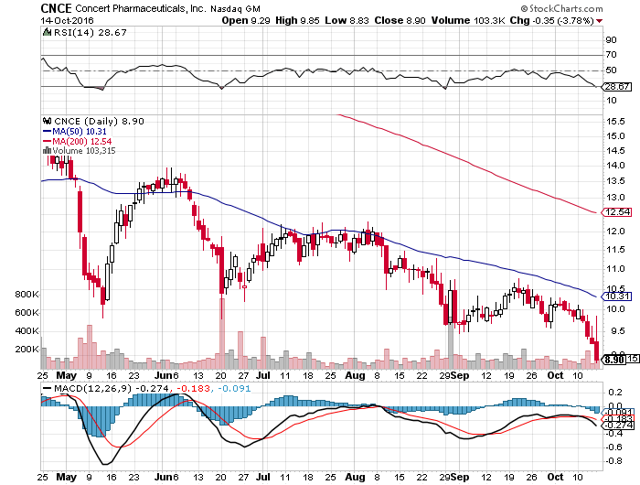 Click to enlarge
Figure 1: Stock Chart (source: stockcharts.com)
Near 52 week lows and sporting a market capitalization of around $200 million, this small biotechnology has a few catalysts that I believe could get it some much needed attention from Wall Street.
Overview
Concert Pharmaceuticals utilizes its DCE platform, based on its expertise in deuterium chemistry, to create new drug treatments based on well-known compounds whose activity is established. Deuterated compounds take longer to break down in the body, and this increased systemic exposure could translate to improved safety, efficacy and tolerability.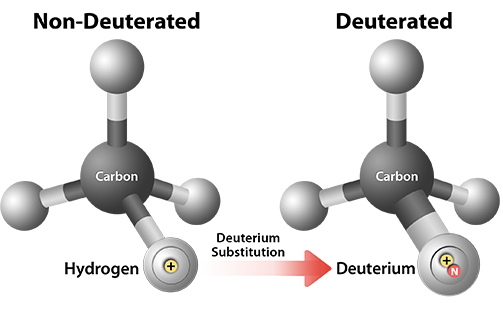 Figure 2: Deuterium substitution (source: company website)
As the company´s technology is building on known compounds, it theoretically decreases development risk to a significant degree.
A look Concert´s pipeline shows several partnered candidates at various stages of development.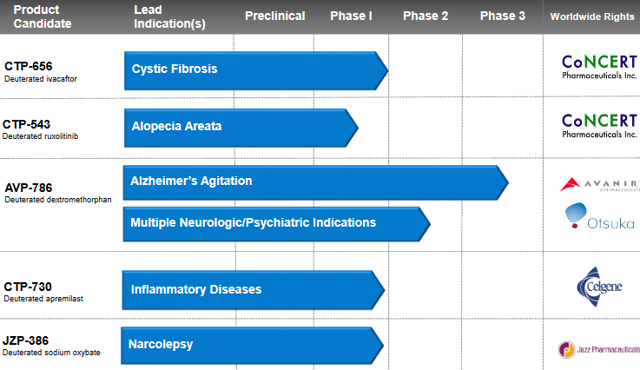 Click to enlarge
Figure 3: Pipeline (source: corporate presentation)
For the present I will only touch on the first three.
CTP-656: A Threat to Vertex Pharmaceuticals´ Cystic Fibrosis Franchise
CTP-656 is being developed for cystic fibrosis and is wholly owned by the company. Management believes CTP-656 has shown properties that make it superior to the current standard of care. Phase 1 results presented in June at the European Cystic Fibrosis Conference demonstrated the pharmacokinetic profile of the drug candidate was superior to Vertex´s (NASDAQ:VRTX) Kalydeco.
In Kalydeco´s phase 3 pivotal study a 10% improvement in ppFEV1 (measurement to determine improvement in lung function) was shown, while the post-approval CF Registry study reported an improvement of only 5%.

Click to enlarge
Figure 4: Metabolic profile versus Kalydeco (source: corporate presentation)
Concert´s team believes with CTP-656 they can one up Kalydeco by providing a simplified therapy with the potential for enhanced efficacy. In figure 4, readers can see the highest exposure of patients was to the parent drug with CTP-656, while with Kalydeco highest exposure was to M1 (a less active metabolite). Also, Kalydeco must be taken with fat containing foods, as its exposure increased 2.5 to 4 fold when taken with them. However, CTP-656 has shown similar drug absorption with both high fat and low fat meals, which could lead to increased patient compliance and therefore better efficacy.
Armed with these initial results, a phase 2 trial is planned to begin shortly and investors can expect topline data in the second half of 2017. Interestingly enough, the study is designed to support 505 (NYSE:B)(2) registration, resulting in a potentially much faster route to approval.
To give an idea of the opportunity here, for the second quarter of 2016 Vertex reported revenues of $426 million for its cystic fibrosis business and guided for revenue of $1.685 billion to $1.805 billion (combined Orkambi and Kalydeco guidance).
CTP-543 in Alopecia Areata
According to the company Alopecia Areata affects up to 650,000 patients in the US alone. 7-8% of these patients lose all of their body hair or scalp. As there are no FDA approved treatment options, the regulatory agency selected the condition as an area of focus for 2016-2017.
Incyte´s Ruxolitinib (Jakafi), the compound on which CTP-543 is based, has already demonstrated proof of efficacy. 75% of patients (9/12) in an open label trial showed greater than 50% hair regrowth at the end of 3 to 6 months with an absence of serious adverse events. For the second quarter of 2016 Incyte reported Jakafi sales of $208 million, growing at 46% year over year.
Phase 1 data for CTP-543 is expected in the fourth quarter of 2016 and has the opportunity to be first to market in the indication, according to the company.
AVP-786: Hints of Value in Alzheimer's
In 2012 Concert signed a $200 million licensing deal with Avanir to create a deuterated form of its lead candidate. According to CEO Roger Tung, a decent chunk of those funds are earmarked for pre-commercial activities. They are also eligible to receive mid single to low double digit royalties.
A phase 3 trial is ongoing for agitation in Alzheimer´s disease with an expected readout in the second half of 2018.
Per the company presentation, 5.3 million Americans live with Alzheimer's disease and roughly half of them experience agitation. Jefferies analyst Thomas Wei predicted potential sales of in the indication at $1 billion to $1.5 billion. Investors would do well to remember that Otsuka acquired Avanir for $3.5 billion in cash. In a randomized phase 2 double blind placebo-controlled trial patients who received Avanir´s dextromethorphan-quinidine showed significantly reduced NPI agitation/aggression scores, a result that was highly statistically significant.
Other Information
As of June 30th, cash and equivalents were $118.4 million, down from $127.7 million in the previous quarter. Management believes cash on hand will be enough to fund operations through 2018.
Net loss for the quarter was$13.4 million, contrasting sharply with a net income of $41 million from the same quarter last year. The company received a $50.2 million payment from Auspex Pharmaceuticals after the bigger firm was acquired by Teva.
Thesis and Conclusion
If cash is backed out (including assumed current quarter cash burn of $15 million), the value of Concert´s technology and pipeline is being valued at around only $100 million. That stands in stark contrast to the company´s differentiated drug platform and the de-risked nature of its drug development efforts.
Data in alopecia areata should be forthcoming before year end, and a phase 2 trial is expected to begin in the first half of 2017. Investors can expect data in cystic fibrosis by year end 2017 assuming management´s timetable is to be trusted.
In my opinion the biggest catalyst of all could be the approval of Teva´s (NASDAQ:TEVA) deuterated compound SD-809 in Huntington disease . After receiving a complete response letter (NYSE:CRL), the company addressed the FDA´s concerns and is targeting approval by the end of March 2017. The compound is also being studied in patients with Tardive Dyskinesia, for which the company has showed positive results in two phase III pivotal trials and received breakthrough therapy designation. FDA approval would provide substantial validation of deuterated compounds in not just Teva's pipeline, as it could also provide an even bigger boost to Concert's valuation.
Well known institutional investors, including Baker Brothers and Point 72 Asset Management, have established positions in the company. The average analyst price target is $24, providing substantial upside from present levels.
Risks to the investment are inherent in most small biotechnology companies. Drug candidates in development might never make it to approval. Assuming a $15 million per quarter cash burn, I would expect the company to seek funding by year end 2017, which could substantially dilute shareholders. Also, there's no guarantee that even if approved deuterated compounds would take enough market share from existing competition to cover operating losses, much less provide the company an ongoing profit.
I consider the company a core buy in biotech, as its pipeline provides multiple ways to win and has several material catalysts coming in the following year. I would be looking for the share price to run up substantially in the next three to six months in anticipation of SD-809 approval in HD. If it does so, I would take partial profits in order to take some risk off the table.
Disclosure: I/we have no positions in any stocks mentioned, and no plans to initiate any positions within the next 72 hours.
I wrote this article myself, and it expresses my own opinions. I am not receiving compensation for it (other than from Seeking Alpha). I have no business relationship with any company whose stock is mentioned in this article.