We've been saying, pretty much all year now, that the dollar is the fulcrum of the current global macro regime; where the dollar goes the rest of the world's markets will follow.
And the reason why markets have felt like they've been spinning wheels (moving a lot while going nowhere) the last 12-18 months is because the dollar has been coiling into a tighter and tighter range during that time.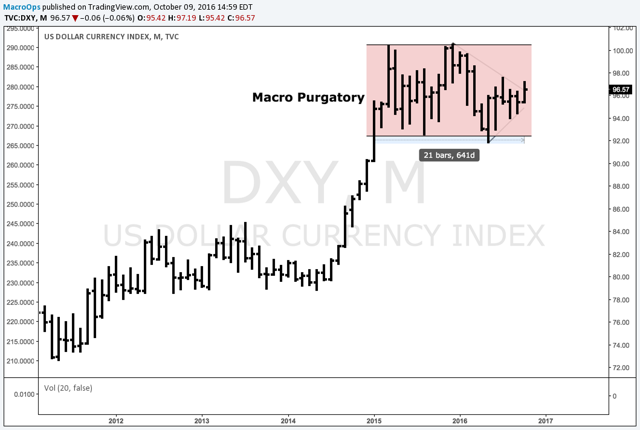 Click to enlarge
The above monthly chart of the DXY (NYSEARCA:UUP) is what macro traders purgatory looks like… not a pretty site.
That's one of the reasons why you've been reading about macro funds shuttering their doors in the papers, nearly every day. We've been in a macro holding pattern for 641 days.
Until there's a clean break in one direction or the other, it's nearly impossible to have much conviction on the near and intermediate term direction of the market. Without a dollar break it's likely markets keep churning and burning in their present random walk range.
There are multiple hypotheses for which direction the dollar breaks that are convincing. And it will ultimately be decided by a number of factors, such as:
Central bank moves: Do we see increasing wage inflation in the U.S. and improving economic data that pushes the Fed to hike in December (dollar bullish)? Or do we see continued mixed data, that keeps the Fed talking like hawks but pushing the hike back while their credibility is questioned by markets (dollar bearish)? Does increasing inflation expectations in Europe combined with the need to raise the long end of rates for banks, pension and insurance companies push the ECB to play a balancing act? To tighten the long end while keeping rates negative on the short, similar to Japan (dollar bearish)?
Presidential Election: Is a Trump Presidency, or the perception that he could/will win, dollar bearish because of what he's said in the past about reneging on U.S. debt? Along with his proposed tax cuts combined with his enormous stimulus spending plans? And would a Clinton Presidency be dollar bullish because she's perceived by the market as a steadier hand? Will we see some type of bullish relief rally in the dollar because of how tight the race is at the moment?
China's yuan: The yuan is near its lowest level in over six years against the dollar and doesn't seem to be slowing down. Accelerating devaluation of the yuan is definitely dollar bullish but it's hard to believe the CCP would risk setting off a currency storm before the U.S. election (the Chinese government does not want a Trump Presidency). But maybe they're near their tipping point. Or is the lag time between their large credit injections into the economy finally surfacing and they'll continue to enjoy a temporary relief rally (dollar bearish to neutral)?
Simply put, we're at a macro crossroads.
I'm trying to remain agnostic over which way the dollar moves in the shorter term. My bias is that we see it puke lower, forming a large bear-trap before exploding higher into the final leg of its larger bull market. Our strategy will be to short the dollar during the bear trap and then ride it higher.
If this happens, we'll see:
Emerging markets (NYSEARCA:EEM) will rally in-line with commodities and easier credit conditions
In this scenario it makes sense to go long commodities like oil along with emerging markets that have their economies primarily tied to oil production.
A weak dollar also means stronger gold. The current dip in gold should reverse, and it when it does, investors can hop in and ride the trend higher.
Any short-term bond holdings should be exited during the dollar correction. But if the dollar is weaker, risk should be back on and equities will rally. The current congestion should be broken to the upside.
Of course higher commodity prices (specifically oil) will translate into higher inflation and thus eventually force the Fed's hand to tighten. This would throw all that market action into reverse. So many of the above actions would be short-term at best.
And if we see the dollar move higher from here, then you can kiss the global bull market good bye. Something like this will happen:
Commodities fall through the floor (oil in the teens)
Lower commodities + tighter credit conditions squeeze emerging markets, causing bank (NYSEARCA:XLF) and currency crises
New wave of defaults within the U.S. among energy companies, which has contagion effects
China (NYSEARCA:FXI), Saudi Arabia and a host of other developing countries lose control of their currencies which creates the stronger dollar feedback loop and deflation engulfs the world
Shorting oil will be a profitable play in this scenario. You can expect it to head back to its lows. You can expect the same for emerging markets.
There's also the hyper-inflation scenario where the Fed stays easy while the new President enacts expansionary fiscal policies right out the gate. We would see a secular bond market top resulting in higher volatility in equities, while stocks mostly rise on a nominal basis.
And, then there's the worse option of all, which would be more time in macro purgatory. In this case, it would be best for investors to avoid new investments.
I have a feeling we'll see a bit of every scenario over the next few years.
Disclosure: I/we have no positions in any stocks mentioned, and no plans to initiate any positions within the next 72 hours.
I wrote this article myself, and it expresses my own opinions. I am not receiving compensation for it (other than from Seeking Alpha). I have no business relationship with any company whose stock is mentioned in this article.