Note: This article was originally published October 14th, on Value Investor's Edge, a Seeking Alpha subscription service.
Overview
With the removal of export restrictions on US crude, it is now possible for overseas refineries to source this very light and sweet feedstock.
Increasing exports out of the USA could have a significant impact on the crude tanker market. Companies engaged in the ownership of crude tankers include DHT Holdings (NYSE:DHT), Nordic American Tankers (NYSE:NAT), Euronav (NYSE:EURN), Frontline (NYSE:FRO), Gener8 Maritime Inc. (NYSE:GNRT), Navios Maritime Midstream Partners LP (NYSE:NAP), Ship Finance International Limited (NYSE:SFL), Teekay Tankers Ltd (NYSE:TNK), Tsakos Energy Navigation Limited (NYSE:TNP) and Navios Maritime Acquisition Corporation (NYSE:NNA).
Sourcing WTI for overseas use, especially in Europe and Asia, requires a significantly longer voyage for these vessels which would contribute to increasing ton mile demand.
Ton mile demand is just a fancy way of saying how far a ship must travel to deliver a specific cargo. The longer a ship is out to sea for a given cargo, the longer it is removed from the supply side. In short, less supply given a constant demand will produce higher prices, which in this case is charter rates.
Obviously, the longer distance means more time on the water which translates into higher transportation costs. This has been one of the main drawbacks to adopting WTI for overseas refineries, particularly in Europe and Asia.
Therefore, one major component for more widespread adoption can be found in the price between WTI and its European counterpart Brent crude, otherwise known as the WTI/Brent spread.
Here we will examine trends, discuss different vessels suited for such a voyage, and finally look at the overall price difference needed to begin seeing WTI substituted in place of Brent for refining operations across Europe and Asia.
Brent
Brent was originally named for the Brent oilfield located in the East Shetland Basin of the North Sea. The North Sea contains western Europe's largest oil and natural gas reserves and is one of the world's key non-OPEC producing regions. The quality of the oil, the political stability of the region and the proximity of important markets in western Europe have made the North Sea an important oil producing region.
Most of the oil output from the Middle East, Europe, and North Africa is pegged to Brent benchmark pricing. Recent trends out of these three regions may be pointing to higher prices. If OPEC has its way these higher prices will be sustained as long as possible.
Bloomberg reported on October 7th that the "number of rigs drilling for oil and gas in the North Sea, home of the Brent crude benchmark, plunged in September to the lowest in nearly 35 years as companies cut spending to weather low prices."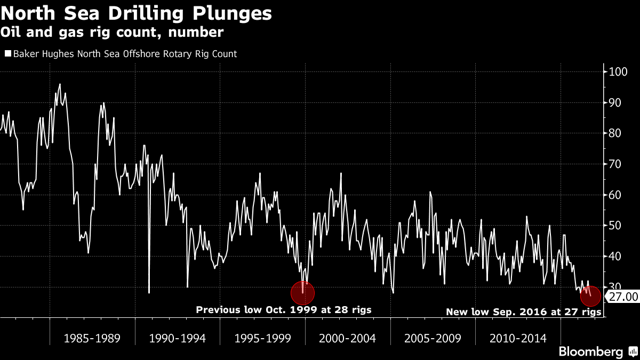 Click to enlarge
Source: Bloomberg
Though production has been increasing lately with July posting a four-year high, this was thanks in large part to legacy projects started during the $100 oil era. Future production of this magnitude appears to be in jeopardy.
The British oil and gas industry is projected to slash 120,000 jobs by the year's end with Norway and the Netherlands also announcing a yet unspecified number of job cuts.
West Africa, another contributor to supply tied to the Brent benchmark, has also been experiencing some trouble. Several key production areas have fallen victim to political turmoil. In addition, sustained Brent pricing below $50/bbl will curtail CAPEX as breakeven rates for that region can be well above that number.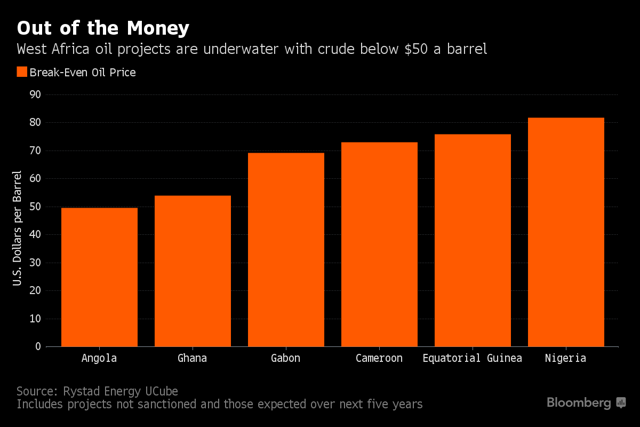 Click to enlarge
Source: Bloomberg
Nigeria, one of the region's largest producers, has been hampered by attacks on infrastructure and also maintains the highest breakeven price. Obviously, this does not bode well for promoting future projects.
Finally, the recent OPEC agreement threatens to reduce available supply in an effort to raise prices.
Of course, all of these factors highlight potential supply disruptions going forward which could raise the price of Brent to the global market.
USA WTI
These overseas disruptions could mean a door is opening for WTI to enter markets if price can justify the longer journey. But what exactly will that take?
VLCCs can carry up to 2 million barrels of oil and routinely sail out of the Middle East and West Africa. But the USA does not have that capacity.
The USA has only one port that can accommodate VLCC vessels, the LOOP or Louisiana Offshore Oil Port. The LOOP is utilized for unloading crude which means that VLCC exports are unlikely out of the USA without some adjustment to infrastructure.
So we must first take into consideration the fact that port restrictions will play a major role.
Suezmax vessels, the next size down, followed by Aframax vessels are far more likely to be the vessels of choice for overseas shipments due to these port restrictions.
In fact, this past August the USA saw a total of nine cargoes for export, seven were on Suezmax vessels while two were loaded on Aframaxes.
South America was the destination for two of these cargoes while the remaining seven went to the East (three alone headed to Singapore).
Cost
With the majority headed to the East, let's take a quick look at the cost difference between the USA and the Middle East to transport the cargoes given the different vessels required.
At this point I want to give credit to Mcquilling Services, LLC. As I was researching this issue I stumbled across a research paper that basically gave me the exact answer I was seeking. It saved me lots of hours of number crunching on which I was about to embark.
Published on September 27th of 2016, the research paper entitled The US Makes An Easter Entrance summarized the difference in costs.
Mcquilling reports: "In August, the freight rate for a VLCC on the West Africa/Singapore trade averaged US $1.14/bbl while the rate for a Suezmax on the US Gulf/Singapore trade averaged US $2.47/bbl, representing a US $1.33/bbl cost variance."
However, one factor I was not able to accurately quantify was the price difference between the different feedstocks for a refining operation in that area. As noted earlier, Brent is less light and sweet than the WTI. So there could be some additional variability there in terms of efficiency in achieving an end product. But, nevertheless, we have a figure to move off with regard to transport costs.
The $1.33 represents the spread between WTI and Brent, which would make this substitution appealing for refiners in the region given the difference in transport costs.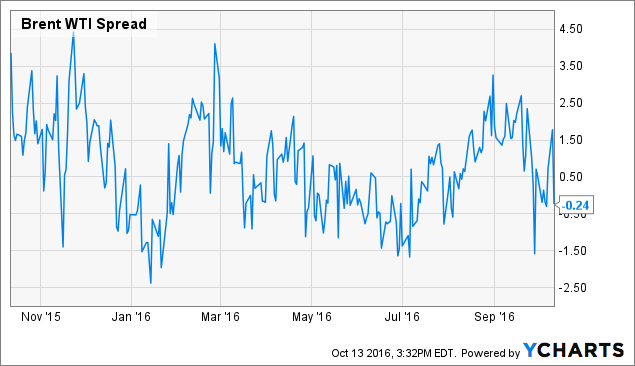 Source: Ycharts
There seems to be some correlation between the spread and fixtures out of the US Gulf. In July, when the spread recorded one of the most unfavorable metrics for WTI exports, fixtures only numbered two vessels. Coincidentally, the same number was seen during January when the spread was at a similar point. As noted earlier, August witnessed 9 fixtures which was at a time when the spread appeared to be more favorable for WTI exports. It is noteworthy that March, April and May were also strong months for fixtures which again was at a time of a more favorable spread.
Conclusion
Though today's spread would seem prohibitive for this substitution, that hasn't been the case in the past and it isn't entirely out of the question that things could change in the future.
Especially given the supply constraints listed in the beginning of the article for areas that have their crude production tied to the Brent benchmark.
On top of that the US is again seeing rig counts rise (for the fourth consecutive month) which would imply a greater supply coming in the future.
As prices adjust to the Brent and WTI's respective supply side scenarios, we could see the potential for greater spreads and thus higher rates of substitution.
This could be a benefit for US crude but also a much-needed boost for the crude tanker segment, especially the Suezmax segment which based on projected supply side dynamics has the least favorable prospects through the next year due to a thick order book set to hit the water. Owners are likely pulling for more US exports to Europe and Asia as it will increasingly occupy some of the (oversupplied) tonnage through long haul voyages.
Thank you for reading and I welcome all questions/comments.
If you would like to stay up to date on my latest analysis I invite you to follow me on Seeking Alpha (click the "Follow" button next to my profile picture at the top) as I continue to cover all aspects of maritime trade.
Value Investor's Edge subscribers receive a 72-hour advantage on all macro reports and trade ideas from James Catlin as well as exclusive research by J. Mintzmyer.
Disclosure: I am/we are long STNG, TNP-D.
I wrote this article myself, and it expresses my own opinions. I am not receiving compensation for it (other than from Seeking Alpha). I have no business relationship with any company whose stock is mentioned in this article.