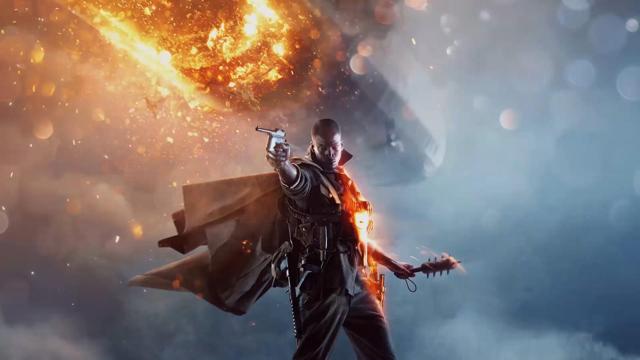 Introduction
The two marquee shooter franchises of Activision Blizzard(NASDAQ:ATVI) and Electronic Arts(NASDAQ:EA) will go head to head this holiday season for the first time since 2013. In terms of setting, this is the largest gulf between the two games ever with the replacement of the typical "modern military shooter" setting with a stylized and gritty WW1 for Battlefield 1 and a sci-fi space theme for Call of Duty: Infinite Warfare.
The initial reception by the community of the new Call of Duty setting was incredibly negative with over 3.2M dislikes on Youtube at the time of publishing this article. (Hilariously enough, Justin Bieber's video for the song "Baby" is the current front runner in dislikes with 6.8M) The negativity around the trailer prompted a damage-control response from Activision seeking to spin the negativity as "gamer passion". The source of the negativity judging by the Youtube comments stream appears to be that the typical Call of Duty fan wants a "traditional" shooter with modern military weapons and setting and not a sci-fi/space ship mashup.
Activision has decided to bundle the original Call of Duty: Modern Warfare as a remaster with Infinite Warfare, but it is unclear whether that strategy will work out-- will gamers pay AAA game price for a new game they have no interest in to gain access to a game they already played in 2007?
Franchise Performance
Historically, the Battlefield franchise has played second fiddle to the vastly more popular Call of Duty. The below three tables show the performance of the previous two CoD games vs. the performance of the last main-line franchise for Battlefield. (BF4)
(click to enlarge) - SOURCE

(click to enlarge) - SOURCE

(click to enlarge) - SOURCE

As you can see, CoD games sell through, on average, around 23.5M units against Battlefield 4's 14M units.
If we go back even further to the USA pre-order chart from October, 2013 (the last time the two franchises were head-to-head) we see that Call of Duty: Ghosts had a total of ~1.7M pre-orders as compared to Battlefield 4's ~1.2M(SOURCE). In October 2015, Call of Duty: Black Ops 3 released uncontested against Battlefield and had ~1.4M pre-orders. (SOURCE)
The current pre-order chart as of 1st October, 2016 has CoD:IW at ~224k vs BF1 at ~176k. I believe the massive drop off in pre-order numbers can partially be attributed to the broader range of options available as well as an overall reduction in the number of pre-orders that gamers are making more generally.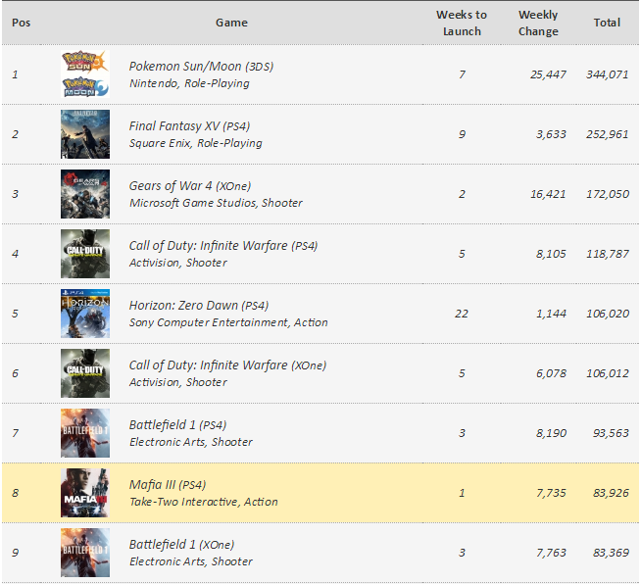 Taking into account the systemically lower pre-order numbers on all games, we can see that Battlefield 1 has crept up to within ~25% of CoD's numbers whereas in 2013 the spread was around ~40%.
Obviously this is not a "scientific" analysis, but it does show us where the trend is heading. It is a pretty safe bet/assumption to make at this point that during this product cycle, barring some major changes or issues with release, Battlefield 1 will either outperform or perform much more closely to CoD than we have seen historically with previous releases.
Early Indications/Actionable Trade Intelligence
Since BF1 releases before CoD:IW, we get a brief window of time to place our bets on the performance of the games before the holiday season hits in full and before the general media picks up on the trend.
Additionally, Early Indications for Battlefield 1 are very positive with glowing reviews about the multiplayer and the brutal and unusually strong single player campaign. If most "one shooter franchise" gamers prefer the Battlefield 1 setting and purchase before Call of Duty releases, expect an even larger gap between the two games overall performance results captured in the Q1, 2017 earnings of the publishers.
I believe that EA will take a big bite out of ATVI market share this time around. To give you an idea of the overall size of the "pie" the entire Call of Duty franchise has produced +$10B in revenues since 2003, with the most recent release, Black Ops 3, generating $550M in just the first three days after launch. For some perspective, the Black Ops 3 launch made more than Jurassic World +The Avenger's opening weekend combined.(Source) Black Ops 2 made $500M in its first 24 hours, and Black Ops 1 made $1B.
This article is by no means a glowing recommendation of the entire EA company/brand, however if you were on the fence between the two companies or are looking for a short term trading opportunity through the holiday season, I think EA makes for a compelling speculative play. Longer term, this cycle may be a turning point in the shooter franchise dynamics that puts EA in the lead against ATVI.
In either case, I'll see you out on the Battlefield.
Disclosure: I/we have no positions in any stocks mentioned, but may initiate a long position in EA over the next 72 hours.
I wrote this article myself, and it expresses my own opinions. I am not receiving compensation for it (other than from Seeking Alpha). I have no business relationship with any company whose stock is mentioned in this article.