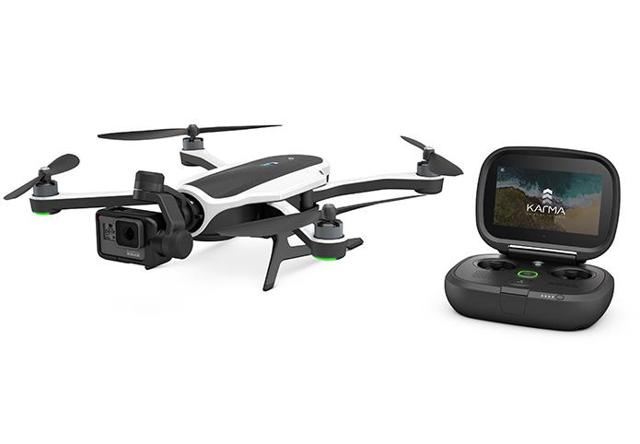 Click to enlarge
GoPro (NASDAQ:GPRO) is quickly on its way back to profitability. In Q2 2016, GoPro's revenues rose to $221 million, beating analyst expectations. Even more impressive is the rise in Gross Margins which went from less than 30% in Q4 2015, up to 42.4%. With the recent release of the Hero5 and the upcoming release of it's first drone, Nicholas Woodman expects GoPro to return to profitability in Q4. Q3 earnings will be reported on November 3rd.
While not everyone may be a fan, the drone revolution is coming. Drones will have a significant impact on many industries with expectations of 6,000 percent growth by 2020. In this time period, PricewaterhouseCoopers expects this $2 billion industry to balloon to as much as $127 billion. This estimate has significantly risen from AUVSI's 2013 economic report which estimated an $82 billion impact by 2025. While this growth is spread over many different industries, there is still a lot of room for a company like GoPro, with a market cap of less than $2 billion, to skyrocket revenues. Among these industries, photo and video drone use constituted the largest segment of commercial exemptions granted by the FAA as of mid 2015.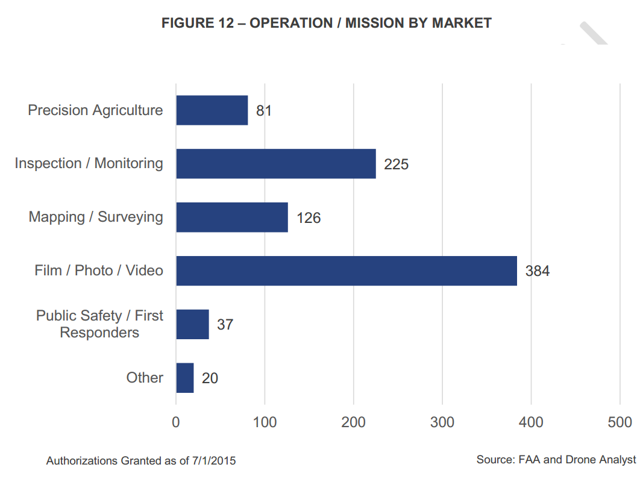 Click to enlarge
GoPro's first drone, Karma, will be released later this weekend. Karma will come with a controller, detachable gimbal, and a carrying backpack, all for the relatively low price of $799. Purchasers will be able to use their Hero4s or purchase a new Hero5 to use with Karma. This will be the first and only foldable drone on the market until the release of DJI's (Private:DJI) Mavic three weeks later. The idea to offer the drone without a camera should greatly increase sales of the Hero line and make Karma more affordable to those who already have a Hero.
DJI is the current industry leader with the vast majority of the market share. Based on the number of commercial exemptions filed with the FAA, by the end of 2015, 9 out of the top 10 most common drones were made by DJI.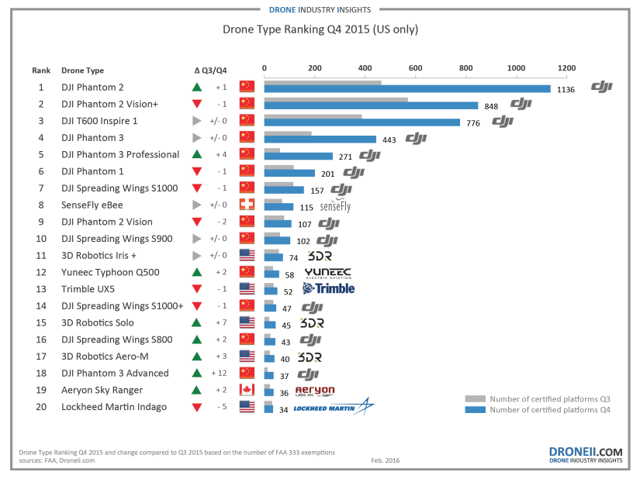 Click to enlarge
DJI's revenues either trippled or quadroopled every year from 2009 through 2014. In 2015, it is estimated that DJI's revenue doubled to more than $1 billion. Given this track record it will be hard for GoPro to compete. However, there is room for more than one company in this rapidly expanding industry as shown by the level of growth DJI has been able to sustain. While many consider DJI's soon to be released Mavic as superior to GoPro's Karma, there are several reasons why Karma can still compete and succeed.
One reason why GoPro will likely be successful is it's brand strength. While DJI is well known to the seasoned drone enthusiasts, GoPro is more of a household name in an industry that is exponentially increasing in user base. GoPro's management is doing everything right by heavily spending on R&D and marketing, which increased by 55% and 34% respectively. These marketing efforts will likely capture many novice drone enthusiasts in addition to GoPro's current extreme sport enthusiast base.
Another major factor in Karma's favor is price. DJI's Mavic will cost you between $1300-$1400 if you would like a remote control and carrying case, while Karma will come with both for only $799. For those who do not already have a GoPro, the Karma bundle will be $1100 with the Hero5 or $1000 with the Hero5 Session.
At a glance, it appears that Mavic's features are clearly superior, helping justify it's price.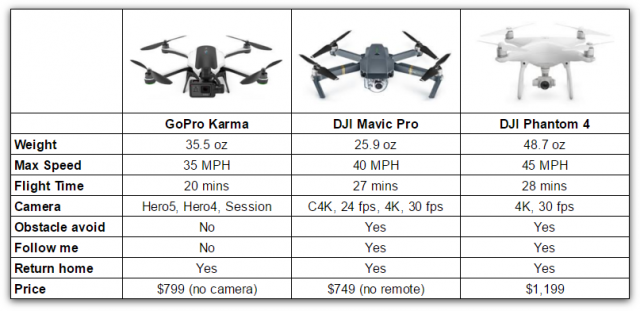 The Mavic is lighter, faster, can fly longer, has obstacle avoidance, and follow-me capabilities. However, the Karma does have some clear advantages other than price. The main advantage is the superior camera with detachable gimbal. This allows users much more versatility while filming on the go. GoPro has also recently purchased several apps to help users easily edit their footage. Additionally, there are also concerns that Mavic's obstacle avoidance and follow-me technology is not yet advanced enough to operate efficiently on the consumer level. This could lead to choppy footage among other problems which, according to Nick Woodman, is why the Karma did not include these features.
Regardless of which drone is right for you, both models should sell very well due to the current growth of the industry, unique features, and brand recognition of the two companies. Karma will be a great catalyst to boost GoPro's stock, but it is not the only reason to be hopeful.
The Hero5 was just released and the reviews are good. The Hero5 has significantly improved features over the Hero4 in addition to a $100 cheaper retail price. These features include voice control, durability, fully waterproof design, advanced video stabilization, improved camera, stereo audio, a GPS, and a touch screen display. The Hero5 is poised to also be a significant catalyst in growing revenues. In addition to the Hero5, GoPro has released virtual reality products, improved it's social media outreach, and is growing it's array of apps to improve the user experience.
Finally, regardless of whether GoPro succeeds with it's current endeavors, there is always a buyout chance to net a nice premium. Admittedly, this chance is low due to Nick Woodman's ambition. However, with the current low share price, strong following, and extreme growth opportunities available in the drone and virtual reality fields, GoPro could be a prime acquisition target. Apple (NASDAQ:AAPL), Google (NASDAQ:GOOG) (NASDAQ:GOOGL) and Amazon (NASDAQ:AMZN) are always likely candidates or possibly even DJI one day to eliminate competition.
Many investors are understandably a little too jaded to give GoPro a second chance. This stock has been on a roller coaster ride over the last two years ranging from all time highs of $98.47 down to lows of $8.62. Investors view GoPro as just a fad that isn't coming back. This sentiment, mixed with the lack of widespread knowledge and fear of the drone industry, is exactly why GoPro is undervalued right now creating the perfect buying opportunity.
Conclusion:
So, will GoPro take over the drone industry? Probably not, but they certainly will be able to grab some of the market share and return to profitability. All signs are pointing up for GoPro. Margins are rising, innovation is at an all time high, management has tapped into one of the fastest growing industries, and the company is rapidly expanding overseas in markets such as India, China, and Japan. Q3 should lead to more positive news with the big jump up coming in Q4. Due to GoPro's history of volatility, big numbers in Q4 will send the stock skyrocketing. With current low prices, the downside risk is heavily outweighed by the potential upside.
Disclosure: I/we have no positions in any stocks mentioned, and no plans to initiate any positions within the next 72 hours.
I wrote this article myself, and it expresses my own opinions. I am not receiving compensation for it (other than from Seeking Alpha). I have no business relationship with any company whose stock is mentioned in this article.