CRISPR Therapeutics (CRSP) filed its S-1/A with the Securities and Exchange Commission on Oct. 7 for its upcoming initial public offering. The company is offering 4.7 million shares of its common stock at an expected price range of $15 to $17. The company has offered an additional 705,000 shares to its underwriters as an over-allotment option. Including this option, and assuming pricing at the midpoint of $16, CRSP will have a market capitalization of $647.3M when it goes public.
The underwriters for the offering are Citigroup, Piper Jaffray, Barclays and Guggenheim Securities.
Business overview
Domiciled in Basel, Switzerland, CRISPR Therapeutics AG is a gene-editing company that is focused on developing therapies based on the CRISPR/Cas-9 defense mechanism. The company uses this technology, which was discovered by one of its co-founders, to treat both common and rare diseases by regulating, correcting or disrupting the genes that are related to the diseases.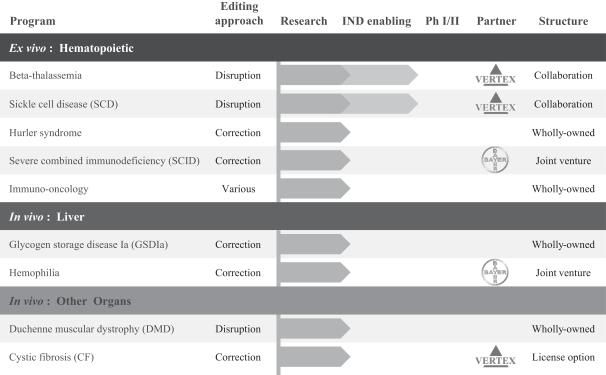 (Source: SEC Filings - Summary)
The company has partnered with Bayer AG to establish a joint venture in which CRISPR holds a 50 percent interest as well as with Vertex Pharmaceuticals, Inc. Its partnerships will provide it with $400 million to use for the development of gene candidates.
Executive management team
Rodger Novak, M.D., is a co-founder, chief executive officer and director of CRISPR Therapeutics, A.G. He has served in those roles since co-founding the company in Nov. 2013. Before CRISPR, Novak worked at Sanofi as the head of anti-infectives research and development. Prior to that, he co-founded Nabriva Therapeutics, serving as its chief operating officer from 2006 until 2012. Novak served as the deputy head of research at the Antibiotic Research Institute at Sandoz GmbH from March 2003 until Jan. 2006. Novak earned his medical degree at Philipps University in Marburg, Germany. He completed his post-doctoral work at Rockefeller University, St. Jude Children's Research Hospital and the NYU Langone Medical Center in New York. He holds five co-patents and has authored numerous works.
Marc Becker serves as the chief financial officer of CRISPR and has had that role since Feb. 2016. Previously, he served as the CFO and senior vice president at rEVO Biologics, Inc. from June 2012 until Feb. 2016. He previously served in several roles at Genzyme Corporation from 2001 to 2011. He has an MBA from Babson College and a Bachelor of Science in business administration from the University of Massachusetts.
Financial highlights and risks
The company reports that nearly all of its revenues have been derived from its collaboration agreements. The company raised $293.4 million from its founding through June 30, 2016. It reports it had $246.8 million in cash as of June 30, 2016, and that it had a deficit of $59 million as of that date.
The company plans to use the proceeds from its IPO for further research and development. If any remains, it plans to use it for general corporate purposes, manufacturing and working capital.
There are a number of risks for CRISPR. Its co-founder, Emmanuelle Charpentier, who serves as an advisor to CRISPR's board, developed the technology along with Jennifer Doudna, who applied for a patent for the CRISPR/Cas-9 technology in May 2012. In 2013, Feng Zhang submitted a patent application for the same technology, but he did so with the fast-track application process. He received the patent in April 2014 and founded Editas. The patent is the subject of litigation, and the outcome of that litigation could impact the viability of both companies.
The company has had a history of net losses and reports that its losses could continue into the foreseeable future. It reports that it had a net loss of $25.8 million for 2015 and $25.6 million for the six months that ended on June 30, 2016.
Industry peers: Editas and Intelia
Editas (NASDAQ:EDIT) is a primary competitor of CRISPR as is Intellia (NASDAQ:NTLA). Both are gene-editing companies that went public in 2016, and both have struggled since going public. Editas was the first IPO of the year in Feb. 2016, and its share price has ranged from $12.57 up to a high of $43.99 before crashing. It was trading at $13.17 in morning trading on Oct. 17, and it has a market cap of $470 million. Intellia has had a similar story since going public. It has had a range of $12.27 to $30.40 before crashing, and it was trading at $12.63 in morning trading on Oct. 17, 2016.
Conclusion: Avoid
The gene-editing technology has promise, but it is not known whether it will work in humans or not.
CRISPR has a history of net losses and has not been profitable. The technology it uses is the subject of patent litigation, and the company's future may depend on the outcome.
We recommend that investors avoid this IPO.
Disclosure: I/we have no positions in any stocks mentioned, and no plans to initiate any positions within the next 72 hours.
I wrote this article myself, and it expresses my own opinions. I am not receiving compensation for it (other than from Seeking Alpha). I have no business relationship with any company whose stock is mentioned in this article.