Much has been made about gold's (NYSEARCA:GLD) recent correction lately. Several strategies who had only recently turned bullish have already begun writing obituaries about gold. However, let me highlight to you three things as to why gold is merely correcting in a structural bull market.
1) A combination of strong dollar and rising rates would have doomed gold but..
Both the U.S Dollar and the 5 yr and 10 yr rates have been creeping higher. Since most people view gold in dollar terms, a stronger dollar translates to a weaker gold. Sorry to state the obvious here but bear with me.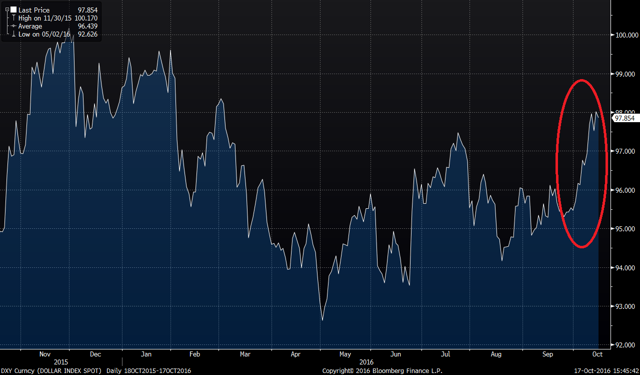 Click to enlarge
Secondly, the opportunity cost of holding gold has been a Treasury.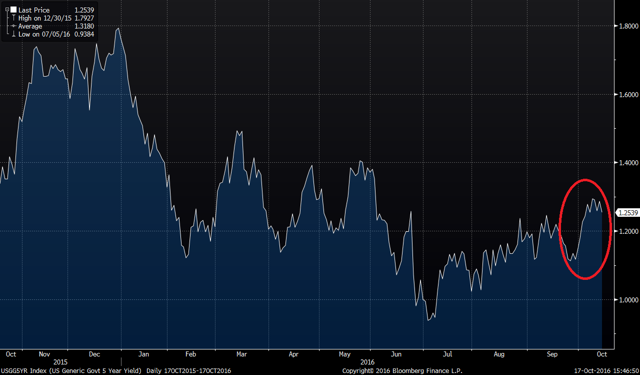 Click to enlarge
Some people look at things on a 5 year yield basis, others do so on a 10 year yield basis. Whichever basis you look at, a higher yield is gold negative. We have just had the dollar strengthen and Treasuries move higher at the same time. Gold is down only 8.3% off its peak and up 18% for the year! In a bear market we just came out of, gold would have easily given back all its gains and settled into losses on the back of the dollar and rates.
2) Physical demand continues unabated
Gold ETF holdings have continued to pick up even after the sell-off in gold. This is investors using lower prices as an opportunity to increase their gold positions.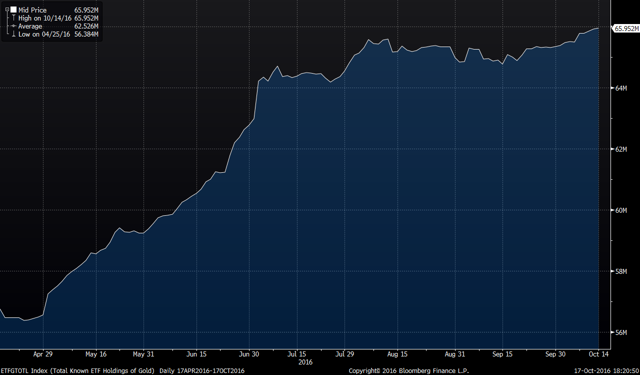 Click to enlarge
Gold forward swap rates is another proxy for measuring tightness of supply. When the gold forward swap rates are high, availability of gold is plentiful and similarly when the rates move lower, the availability of gold is tighter. As you can see in the GOFO graph below, the GOFO rates have been moving lower - a sign of lower physical supply.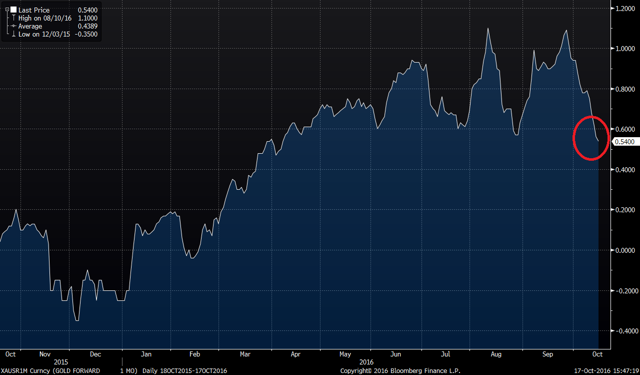 Click to enlarge
3) The Fed has hinted at an accommodative stance:
Inflation is not necessarily gold's friend, but negative real rates are. In a scenario where a 10 year rate is at 2% but inflation is running at 2.5%, we have a real rate of -0.5%.
An real rates as calculated by the nomimal 10 year minus the 10 year breakeven rates are hovering right around zero. Put differently, it is still attractive to own gold.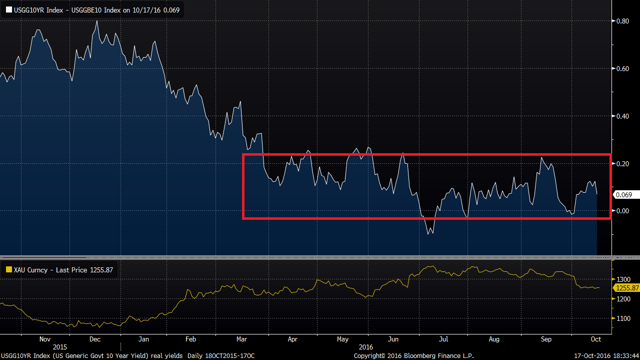 Click to enlarge
Disclosure: I am/we are long SLV, GDX.
I wrote this article myself, and it expresses my own opinions. I am not receiving compensation for it (other than from Seeking Alpha). I have no business relationship with any company whose stock is mentioned in this article.