Nvidia (NASDAQ:NVDA) and AMD (NYSE:AMD) are 2016's big winners. Both have posted triple-digit gains in the last year. Head to head, I wanted to see which one was truly outperforming and what I can expect their valuation profiles to look like over the course of the next 12 months. Right now, both of these companies have minimal risk/reward scenarios, but AMD is clearly overvalued relative to AMD. Additionally, Nvidia has significantly outpaced its broader comparable universe while AMD has lagged it. In the long-term, I'd much rather prefer to be a NVDA shareholder than an AMD shareholder.


Click to enlarge
Source: Wikimedia Commons
Foreword
It should be noted that AMD and Nvidia are due to report Q3 earnings shortly. AMD reports during Thursday's session, and Nvidia reports on November 3. When these numbers are reconciled and audited, I will update my models accordingly and share my findings with the Seeking Alpha Community. For now, let's see how the two companies stack up.

Source: Derived From Capital IQ
Here, it can be seen that Nvidia is about 6x larger on a market cap basis and about 4.5x larger on an enterprise value basis. Additionally, Nvidia has a positive BV/share, indicating that the company's returns are backed by some sort of tangible value. The same cannot be said for AMD.
Unfortunately, it doesn't do the analysis much good if I don't look at these two stocks relative to some sort of benchmark. In that regard, I'll be taking a look at a broader comparable universe comprised of Intel (NASDAQ:INTC), Maxim (NASDAQ:MXIM), Xilinx (NASDAQ:XLNX), Texas Instruments (NYSE:TXN), Microchip (NASDAQ:MCHP), Analog Devices (NYSE:ADI), ON Semiconductor (NASDAQ:ON), and Qualcomm (NASDAQ:QCOM). Here, a strong majority of companies have a positive BV/share and similar net debt profiles to Nvidia and AMD. However, the market cap average is significantly weighted up by some of the more mature companies, so take the results with a grain of salt.

Source: Derived From Capital IQ
Margins
I'll start the comparable discussion with a margin analysis so we can see how efficient each company is and how well management is able to take their rapidly growing top-lines and turn them into accretive EPS for shareholders. Right off the ba we can see that Nvidia's margins are significantly better than AMD. In fact, it isn't even close. The gross margin of Nvidia is nearly double that of AMD's. The difficulty with AMD is that as we trend further below the line, the margins get more and more negative. This is poor expense management on AMD's part and certainly Nvidia gets the positive recognition here.

Source: Derived From CapitalIQ
In a wider comparable universe, most gross margins are in the 58%-60% range while EBITDA is hanging around 33%, EBIT at 25% and net income in the range of 15-18%. Nvidia largely comes close to the average and median margins of the comparable group and can be considered a fairly valued competitor in that regard. However, AMD's miserable margins put it at the absolute bottom of the comparable universe, indicating that this company is overvalued.

Source: Derived From CapitalIQ
As a caveat, the company did post positive Q2 financial results. When we get a full year's worth of positive data, this comparison will likely look drastically different. For now, it is unwise to speculate and the notion that AMD lags its comparable universe in terms of margins holds true.
Trading Multiples
Trading multiples are a key portion of the comparable analysis for which we can see a continuation of the trend that AMD is overvalued relative to Nvidia. AMD's lack of margin strength causes nearly all of the commonly used trading multiples to be not available. That negative bottom line means we can't evaluate Nvidia either. For the one present multiple, EV/LTM sales, we can see that actually AMD is undervalued relative to Nvidia, which comes as a surprise. However, positive earnings, EBITDA and EBIT from Nvidia substantially trump AMD's trading multiple profile.
Click to enlarge
Source: Derived From CapitalIQ
Again, taking a look at the broader comparable universe to provide more perspective, we see that Nvidia is overvalued in terms of its trading multiples. It's slightly above the average EV/sales, but well above the averages in EV/EBIT and EV/EBITDA. Their P/E is more in with the average, which is great considering that this is often the first metric that analysts and investors point to, but it is not enough by itself to say that the company is fairly valued or even undervalued. Additionally, their P/B is two turns higher than the comparable group's average.

Click to enlarge
Source: Derived From CapitalIQ
Performance And Risk/Reward
Below is the table of returns for these two stocks. These returns were updated before Monday's session. These returns are absolutely staggering for the time periods that they are in. Just over the course of Q3, we are looking at 20%+ returns for both stocks, with the YTD returns breaching the triple-digit threshold. One-year returns paint an even more positive picture, with AMD putting up an incredible 234% return. Yet, there's a large difference that should be noted with the five-year return. Nvidia has consistently outperformed while AMD's return has actually been trailing the broader equity market's return.

Source: Derived From CapitalIQ
This lack of long-term quality return has to be a key factor affecting future investment. AMD's stock has crashed and bounced in the past and that kind of volatility is rarely the staple of a favorable long-term investment. The stock takes a significant amount of timing in order for profitability to be a reasonable prospect. However, NVDA steadily rose until late 2015 when the slope of its uptrend drastically increased. There were no busts to deal with, just quality long-term gains.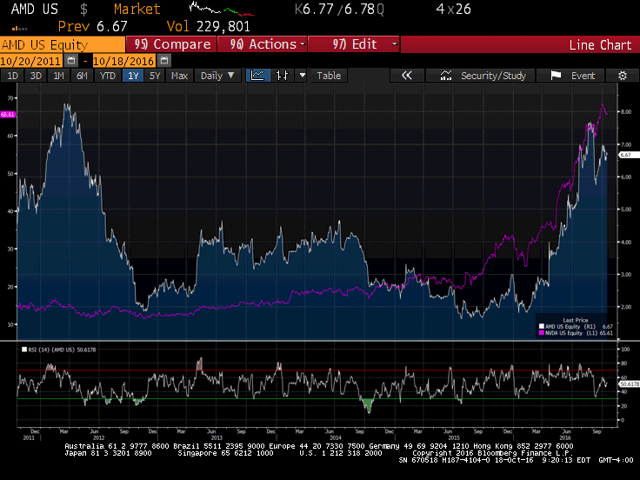 Click to enlarge
Source: Bloomberg
For both of these stocks, however, the risk/reward scenarios are minimal. Both are just off of their 52-week highs and, more accurately, are just off of their five-year highs. This leaves little bread on the table for long-term investors. However, if we listen to Graham and Dodd at all, we'd know that we have to wait for this market to retract, let a margin of safety form and then buy when that window is reasonable and lucrative. Right now, despite the RSI showing that these stocks aren't overbought, the risk/reward does not look favorable.
Again, if we try to provide a greater perspective, we look to the broader comparison universe and look at their five-year performance.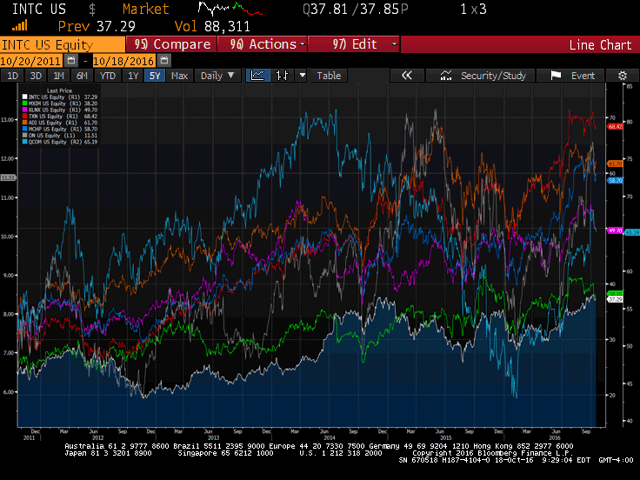 Click to enlarge
Source: Bloomberg
This 5Y chart may be difficult to see, so I've taken the liberty of detailing their returns over different time frames. Of importance is the average 5Y return at 70.98% and the median 5Y return at 71.49%, both of which Nvidia surpasses. Unfortunately, AMD falls short of the mark by nearly half. In the examination of different time frames, both AMD and Nvidia heavily surpass their peer group and were clearly the better picks over the varied time frames. TXN, MCHP, ADI and ON were the best performers out of the broader comparable universe, with TXN being the frontrunner.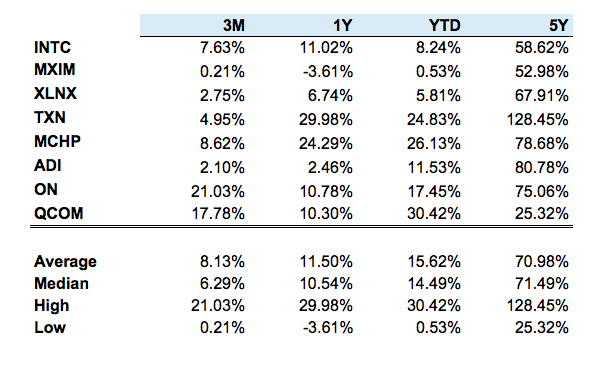 Source: Derived From Bloomberg
From a risk/reward perspective, it could be said that this broader comparable universe has increased a significant amount, thereby leaving investors with a minimal margin of safety. Thus, waiting for a material pullback is advised. Yet, it does depend what perspective you look at as AMD looks like an attractive opportunity as their five-year return relative to the broader comparable pool is significantly lower, indicating that the there is a gap to be closed.
Investor Takeaway
Clearly, Nvidia has substantially more value than AMD as AMD's financial success has been highly negative until this past Q2. Nvidia's margins are of a higher quality, the trading multiples are at least tangible, and the company has a better performance track record. While the risk/reward scenarios of these companies, on a technical basis, is not great, fundamentals could trump this and allow both of these stocks to run higher. When set against a broader comparable universe, however, Nvidia looks overvalued.
Disclosure: I/we have no positions in any stocks mentioned, and no plans to initiate any positions within the next 72 hours.
I wrote this article myself, and it expresses my own opinions. I am not receiving compensation for it (other than from Seeking Alpha). I have no business relationship with any company whose stock is mentioned in this article.