(To receive timely trade ideas from us, take a free trial to our newsletter - click here to get started.)
PVH - Good News, Bad Price
This week's Barron's touts shares of PVH Corp. (NYSE:PVH), the old Phillips Van-Heusen, as a candidate to rise more than 20% from last week's close of $110.34. They may be making the classic mistake of hopping on the bandwagon way too late.

The stock certainly has momentum, having recovered 72% from near $64 last January. Barron's makes the case for buying with PVH selling for 16.6x FY 2016's estimate of $6.66 (FY ends Jan. 29, 2017) and around 14.7x FY 2017's projection. Note: The chart below erroneously labels those years as FY 2017 & 2018.
To reach $135, PVH would need to command almost 18 times next year's earnings.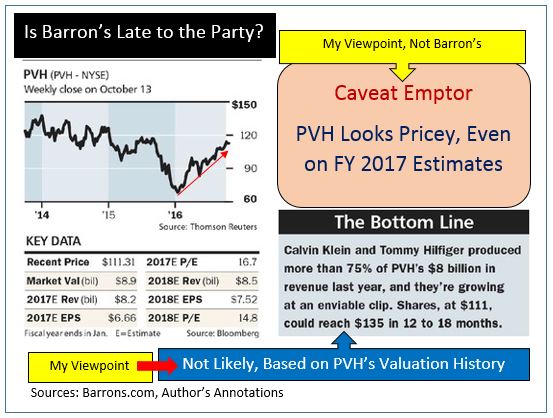 That proposition is not impossible, but history says it is a low percentage bet.
PVH only surpassed an 18 multiple on three occasions since the start of 2007 (red-starred below). Buyers at 2007's pinnacle watched in horror as the stock plunged from $62.20 to south of $15. It took more than four years for buy-and-hold types to get even.
Momentum chasers who took positions late in 2013, as EPS were hitting new all-time highs, are still down more than $35 per share almost three years later. Traders who didn't exit near $129 early in 2015 are still suffering paper losses as well.
Smart shoppers had some great chances to buy PVH (green-starred) at P/Es ranging from 5x to 11x, including as recently as near the start of 2016.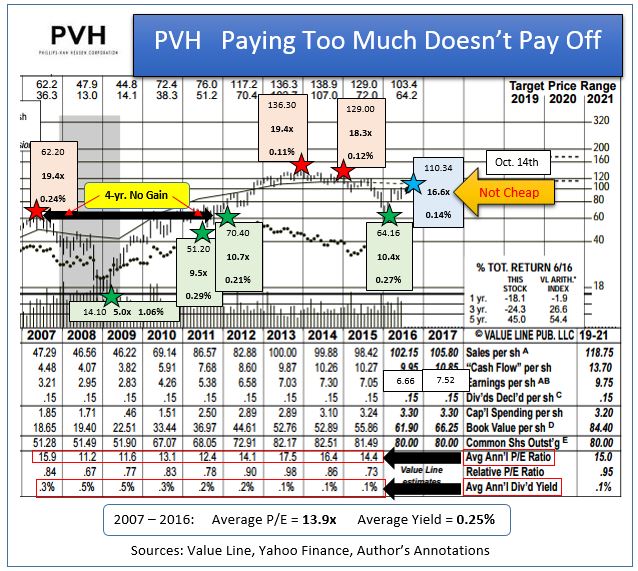 PVH's valuation during the past decade averaged just 13.9x, accompanied with about a 0.25% yield. The current quote compares unfavorably, at 16.6x and 0.14%.
Hopes are running high for future profit gains but the reality is that PVH will show lower EPS in FY 2016, than it did three years ago. Management is not especially shareholder friendly. The number of shares outstanding is 56% higher than they were in 2007. The tiny quarterly dividend (3.75-cents) hasn't been increased in more than 16 years.
Today's investors in PVH are paying in advance for growth that might not take place.
Allowing for a ZIRP premium and applying a 15x multiple to next year's projection would only support an 18-month target price of $113 or so.
Don't simply trust me on this. Independent research outfit Morningstar used different logic in evaluating PVH but reached a very similar conclusion. They rate the stock as a "hold" while calling fair value as $115.
The current price to fair value relationship is a bit worse than average relative to its normalized level since 2008. Last winter provided the best buying opportunity in years, but that was $46 a share ago.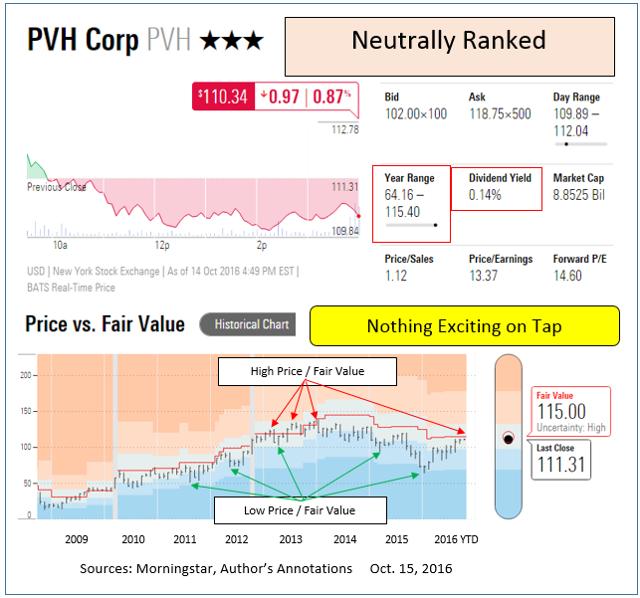 PVH Corp. is not insanely high yet its valuation suggests risk outweighs potential rewards. Barron's failed to spotlight the stock when it was cheap. Why buy now, near the highest price of the year?
Disclosure: No positions in PVH shares or options.
Disclosure: I/we have no positions in any stocks mentioned, and no plans to initiate any positions within the next 72 hours.
I wrote this article myself, and it expresses my own opinions. I am not receiving compensation for it (other than from Seeking Alpha). I have no business relationship with any company whose stock is mentioned in this article.