After being asked repeatedly if there is a Canadian cannabis exchange-traded fund (ETF) and answering there is not, it occurred to me that Canopy Growth Corporation (OTCPK:TWMJF) might be an acceptable surrogate.
An ETF is a listed and traded security that emulates the performance of an index, a commodity or a basket of assets. Typically, the ETF owns the underlying asset. For example, a gold ETF will own bullion and/or securities convertible into gold. The ETF holder is entitled to their proportion of the value of profits, often in the form of interest or dividends on shares owned as well as the residual value of assets in the event of liquidation.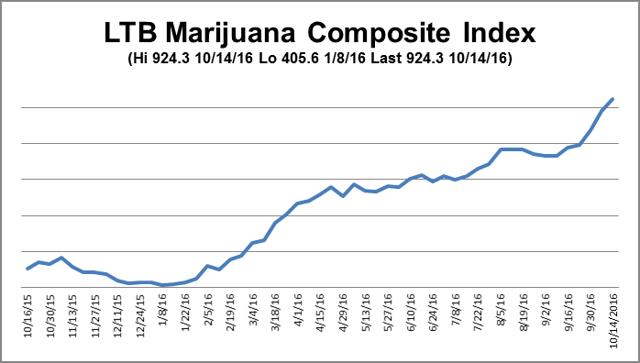 Click to enlarge
A Canadian cannabis ETF would be set up to track a marijuana index, such as the Let's Toke Business Marijuana Composite Index, by owning a representative portfolio of Canadian cannabis company shares and/or assets. In some cases, an ETF might try to create a portfolio that exactly replicates the holdings in the index in precisely the same proportion. The shares of the ETF would be listed and shareholders would able to buy, sell or transfer their ownership as if they owned shares of stock. The ability of the ETF to track its target will be measured over time.
How well does TWMJF replicate these factors?
Canopy Growth has interests in many aspects of the Canadian cannabis industry and, as in an ETF, a TWMJF shareholder owns a proportionate share of all of the assets. For historical information, Tweed, Inc. was one of the early licensed producers in Canada as was Bedrocan (OTC:BNRDF). In August 2015, Tweed and Bedrocan agreed to merge and formed the dominant marijuana company in Canada. The company then changed its name to Canopy Growth Corp. subsequently becoming the first cannabis company anywhere to be listed on a recognized major exchange. (TSX: CGC)
Tweed owns the original license and facilities in the Hershey Chocolate facility in Ontario. It is comprised on 40 acres with over 500,000 sq. ft. of available space. Tweed has 168,000 sq. ft. of licensed production space, plus head office space, an R&D facility, oil extraction facility and in-house lab. Tweed is focused on TWMJF's non-medical marijuana applications.
Bedrocan has roots linking back to many years of operation in the Netherlands. It has two facilities: one has over 50,000 square feet of grow space; a second is a "sale-only" location, distributing products imported from the Netherlands into Canadian. Bedrocan is focused on TWMJF's medical marijuana applications. Bedrocan, with Brazilian partners, have created a new company to import proprietary varieties of cannabis into Brazil from Canada or the Netherlands. Eventually, they will establish cultivation facilities in Brazil using Bedrocan's genetic material and cultivation technology.
Canopy Growth has received an export license to sell dried cannabis in pharmacies across Germany. Plans include building a new facility in Germany.
Tweed Farms, with over 350,000 square feet, is the largest, legal marijuana-producing greenhouse in the world. The output has a competitive cost per gram.
Canopy Growth has a number of business relationships it refers to as "partners" including:
DNA Genetics has partnered with Tweed to breed new, proprietary strains and to offer existing DNA strains to Tweed customers.
Tweed and Tweed Farms will work with AusCann, a leader in Australia's emerging medical cannabis industry to develop production standards and top-quality facilities.
Tweed has partnered with Snoop Dogg in many aspects of the marijuana business. Recently, they announced three strains under "Leafs By Snoop" that will be sold in Canada.
Indoor Harvest (OTCQB:INQD) is developing aeroponic agriculture solutions for cannabis. Tweed and INQD are developing intellectual properties that both can market throughout the world.
Tweed and Delivra will offer a suite of topical cannabis products and will also conduct studies on the value of transdermal applications of cannabinoids.
Canopy Growth has a 33% interest in CannScience, an R&D biopharmaceutical company to conduct research and development of therapeutic products based on the extracts from medical cannabis.
I am listing all of these activities to provide evidence of the broad base of cannabis activities that a shareholder of TWMJF gains exposure to. In my opinion, this list is extensive enough to qualify Canopy Growth as an ETF replica.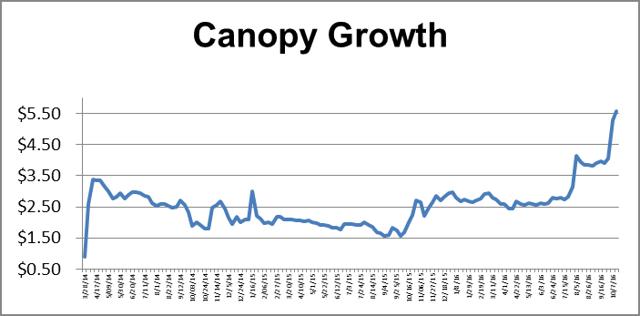 Click to enlarge
This chart shows the price history of Tweed/Bedrocan/Canopy Growth since the company started trading in March 2014. The company went public as a reverse takeover that is the route used by most of the early licensed producers. The company quickly established itself as the leader in the Canadian cannabis group.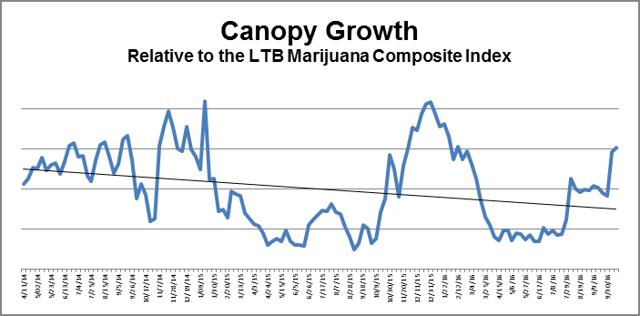 Click to enlarge
If Canopy Growth was an ETF and perfectly replicated the return from the Let's Toke Business Marijuana Composite Index, it would be a straight, flat line from left to right over time. But as one stock trying to duplicate an index comprised of a varying number of the shares of many companies (as many as over 100 at one time) it does a pretty good job. Not perfect but not bad, in my opinion.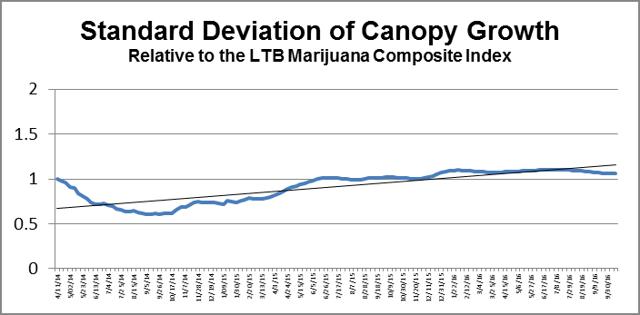 Click to enlarge
The next chart shows the risk of TWMJF compared to the LTB Index. For this purpose, I use the standard deviation (SD) of Canopy Growth relative to the index. Again, if Canopy Growth was a perfect ETF tracking the LTB Index, the SD would be a flat line with a value of 1.0. So, Canopy Growth is quite a good measure of the average risk of the Canadian cannabis stocks at this time.
I believe if you want to own one stock that will reflect your optimistic belief in the long-term outlook for the cannabis industry, Canopy Growth fits the bill. As I have shown, TWMJF provides very broad exposure to the cannabis industry and, I believe, will continue to do so. Canopy Growth is an excellent candidate to put in a safety deposit box for your children or grandchildren to discover to their surprise and financial benefit may years in the future.
Disclosure: I/we have no positions in any stocks mentioned, and no plans to initiate any positions within the next 72 hours.
I wrote this article myself, and it expresses my own opinions. I am not receiving compensation for it (other than from Seeking Alpha). I have no business relationship with any company whose stock is mentioned in this article.