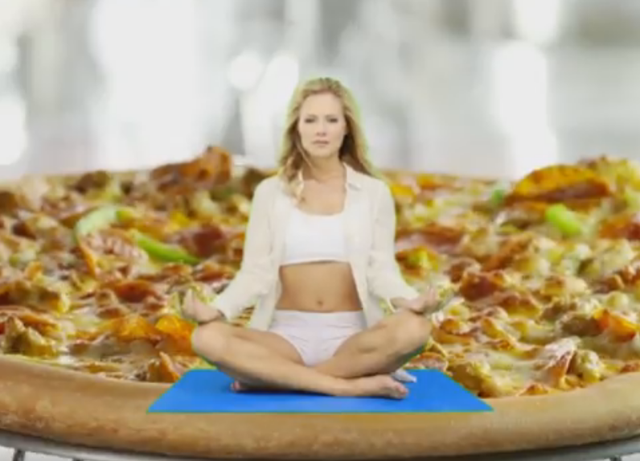 Click to enlarge
Papa John's Versus Yum! Brands
In an article on Yum! Brands (NYSE:YUM) earlier this month (Yum! Brands And American Decline), we mentioned that the CEOs of Yum! Brands, Starbucks (NASDAQ:SBUX), and Dunkin' Brands (NASDAQ:DNKN) had all warned about weakness among consumers, blaming it variously on concerns about American decline by millenials, and fears of terrorism and racial unrest. Their warnings proved prescient: as SA News Editor Clark Schultz reported on Monday, same-store U.S. restaurant sales were negative in September for the fourth consecutive month.
In our YUM! article, we mentioned Papa John's (NASDAQ:PZZA) as an alternative stock to consider:
If you're in the market for a restaurant chain stock and aren't happy with YUM, the top-ranked restaurant name (and 4th highest-ranked name overall) in Portfolio Armor's universe on Monday was Papa John's (PZZA). One component of that daily ranking is the most recent 6-month performance, and you can see how PZZA has outpaced YUM and the other two restaurant stocks we've mentioned over that time frame.

Perhaps, given the concerns Schultz raised, Americans see pizza delivery as a safer option.
Papa John's was still our site's top-ranked restaurant stock on Monday, though it had fallen to #19 (for an in-depth explanation of our ranking process, see last month's article on MercadoLibre (NASDAQ:MELI)), but there's always a chance that our site's bullishness will end up being wrong. We like to think of things "from the viewpoint of calamity," to re-borrow the expression Benjamin Graham borrowed from the rationalist philosopher Baruch Spinoza. So we'll post a hedge below that will position an investor to capture the possible upside our site estimates Papa John's has over the next 6 months while strictly limiting his downside in the event of a calamity.
Insurance Against Being Wrong About Papa John's
What sort of loss counts as a calamity varies by investor; for the purposes of this example, we'll assume anything greater than a 14% loss would be calamitous. So using the Portolio Armor iOS app, we entered 14% as our threshold. Since our website estimated a potential return of 21% for Papa John's over the next 6 months, we used 21% as our cap.
As of Monday's close, this was the optimal collar to hedge 1,000 shares of Papa John's against a greater-than-14% decline over the next 6 months while not capping an investor's possible upside at less than 21% by the end of that time frame: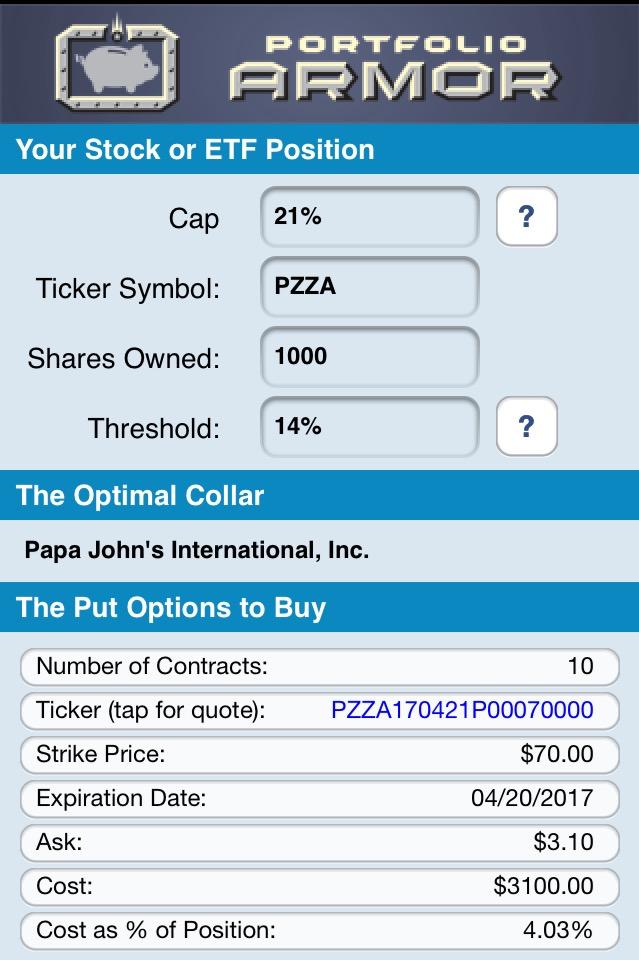 As you can see above, the cost of the put leg of this collar was $3,100, or 4.03% of position value. But as you can see below, the income generated by selling the call leg was $1,800, or 2.34% of position value.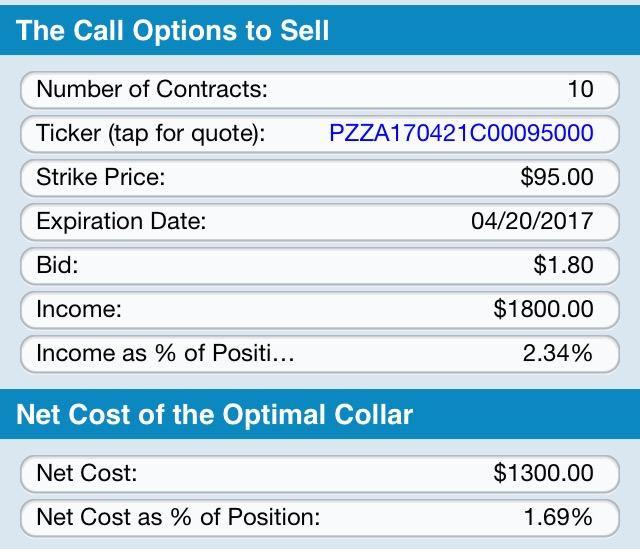 So the net cost of this optimal collar was $1,300, or 1.69% of position value. Note that this cost was calculated conservatively, using the ask price of the puts and the bid price of the calls. Since you can often buy and sell options within the spread, the actual net cost of this collar would likely have been less.
Disclosure: I/we have no positions in any stocks mentioned, and no plans to initiate any positions within the next 72 hours.
I wrote this article myself, and it expresses my own opinions. I am not receiving compensation for it (other than from Seeking Alpha). I have no business relationship with any company whose stock is mentioned in this article.