As you probably figured out from the title, our REIT forecast is for declining NAV but faster FFO/share growth. This article will illustrate how we reached this conclusion and what implications it has for REIT investors.
Why lower NAV and better growth
Essentially, this forecast can be boiled down to higher cap rates. Both NAV and growth are driven by cap rates with higher cap rates adversely influencing NAV yet improving growth.
There is already plenty of discussion out there on the Fed and interest rates which has obvious implications to cap rates. However, due to the prevalence of this discourse, I think it is more helpful to readers to eliminate this factor. So in this forecast for higher cap rates, I am suggesting cap rates will increase 50 to 150 basis points ceteris paribus. For those who wish to include a change in interest rates into this forecast, it could be modeled as a parallel shift, or mathematically:
Cap rates will increase 0.5%-1.5% +/- the change in interest rates.
To understand why we believe cap rates will rise, it is helpful to first understand why they have gotten so low. Non-traded REITs account for only a small portion of the REIT universe, but their fund flows can cause them to be a much larger portion of the transaction volume. In recent years, non-traded REITs have been a primary force of compressed cap rates.
These funds take in capital with an assigned category of where to invest it and a very short time frame in which to get the money invested. Most begin paying dividends immediately upon raising capital, so the longer they wait to invest the money, the deeper the hole from which they have to dig out.
Therefore, the capital is spent indiscriminately at the going market rate and when enough purchases are made in this fashion, the market rate adapts opportunistically to the seller's advantage. This has compressed cap rates across the major sectors in which non-traded REITs invest, which are primarily office, retail, industrial, hotel and apartments.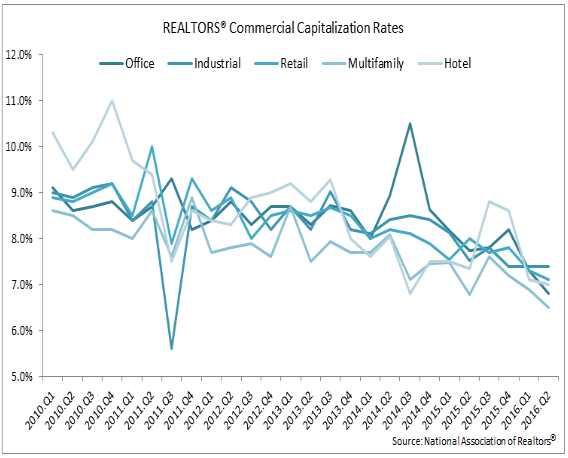 Fundamentally, a change in cap rates could be caused by a reversal in the trend of too many dollars chasing too few properties and it so happens that the flow of non-traded REITs has been nearly cut off.
Back in 2013, non-traded REITs raised $19.6B of equity and a few more billion in debt which all flowed into quick property acquisitions. Since then, Nick Schorsch, the head of American Realty Capital which was the leading capital raiser, allegedly committed fraud at ARCP now known as VEREIT (NYSE:VER). This put a damper on the public trust of non-traded REITs and began to stem the flow of capital. In 2015 and early 2016, new regulations came into effect that made the sale of high commission products substantially harder and this has reduced the flow to a trickle.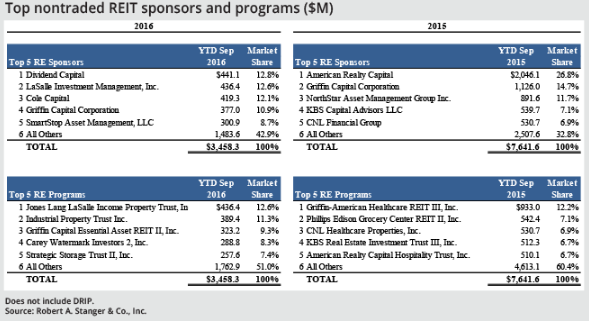 Shown above, we can see that in the first 3 quarters of 2016, non-traded REITs raised a mere $3.45B, which is less than half the pace of 2015 and quite pathetic compared to 2013.
With the indiscriminate capital cut off, the property transactions market will once again be dominated by public REITs whose purchases must hold up to the scrutiny of investors. When a public REIT makes a dilutive purchase, its share price will often suffer and a pattern of such purchases can lead to management being replaced. By sheer economic self-interest, public REITs are forced to restrict acquisitions to those which are accretive on a risk-adjusted basis, which means those with favorable cap rates.
Price elasticity is returning, and with it, a return to more historically normal transaction cap rates.
Implications for REIT investors
In my opinion, rising cap rates will be neutral in the near term, but positive in the long run. While the reduced NAV resultant from higher cap rates would normally make value sensitive investors hesitate, there is a fairly large cushion here as REITs on average trade at an 8% discount to NAV.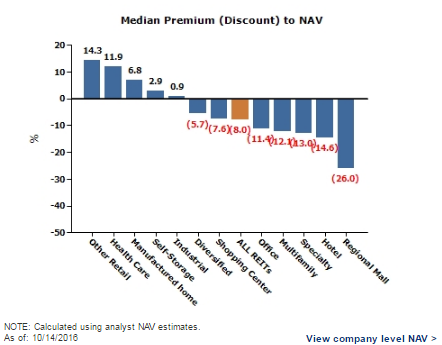 Therefore, I do not think slightly lower NAVs will deter too many investors. It seems more likely that higher cap rates will encourage investors as it enhances prospects for external growth.
Historically, REIT FFO growth rates have been solid with a CAGR of about 8% since 2000. Of course, this has been choppy as seen in the annual breakdown below, but it is enough to have caused REITs to greatly outperform the broader markets.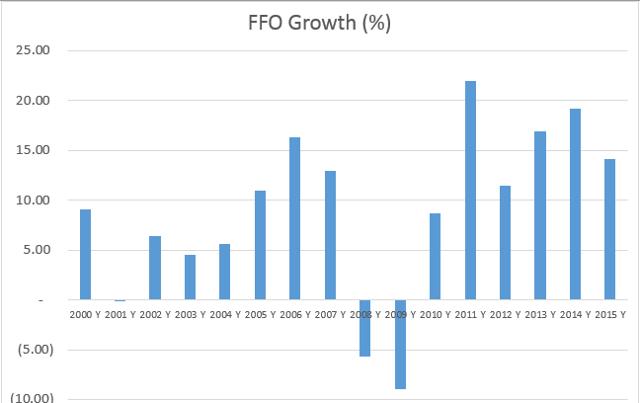 Click to enlarge
Data from SNL Financial
Much of this growth has come from external acquisitions as REIT portfolios tend to be rather steady leaving reduced exposure to large gains or losses on existing holdings.
There exists fear that going forward, REIT FFO/share growth will be slower and this is reflected in consensus estimates, which are generally calling for growth well below 8%. My guess would be that the analysts are looking at where cap rates stand today and recognize that such cap rates cannot reasonably generate 8% growth across the REIT index.
If my assumptions are correct about cap rates increasing 0.5% to 1.5%, a continuation of REIT's strong historical growth looks much more plausible.
The takeaway
We remain bullish on the long-term prospects of REITs, but recognize that a volatile macro environment could cause near-term uncertainty.
Disclosure: This article is for informational purposes only. It is not a recommendation to buy or sell any security and is strictly the opinion of the writer.
Disclosure: I/we have no positions in any stocks mentioned, and no plans to initiate any positions within the next 72 hours.
I wrote this article myself, and it expresses my own opinions. I am not receiving compensation for it (other than from Seeking Alpha). I have no business relationship with any company whose stock is mentioned in this article.