Following the stunning third quarter from Hasbro (NASDAQ:HAS), you'd expect us to be reasonably bullish on Mattel (NASDAQ:MAT). Well, we are a big fan of the company, but not on the price of the stock. At the current price the toymaker is going to have to pull something special out of the proverbial hat when it reports its own third quarter results tomorrow. We're not sure this is going to happen. So on valuation grounds we have decided to lock in our gains and will now look to reinvest elsewhere.

Click to enlarge
Thanks partly to the strong performance of the Disney (NYSE:DIS) brands it stole away from Mattel, Hasbro's third quarter results absolutely smashed expectations. Revenue came in 14.3% higher year on year at $1.68 billion and earnings per share came in 23.8% higher at $2.03. This was a beat on both the top and bottom lines by $120 million and 29 cents, respectively. Clearly Mattel's loss has been Hasbro's gain.
Hasbro may have the Disney Princess, Frozen, and Star Wars brand, but it is worth remembering that Mattel is no slouch. It has some of the best and most iconic toys in the industry within its arsenal. For example, the ever-popular Barbie, Monster High, Hot Wheels, WWE (NYSE:WWE), and Matchbox brands are just a few within its wide product range that continue to see strong demand from consumers.
Because of this we are hopeful that the toymaker will at least achieve the consensus analyst estimate of third quarter earnings per share of 71 cents on revenue of $1.77 billion. This will mean flat earnings and a slight drop in revenue. For the full year analysts are expecting earnings per share of $1.34 on revenue of $5.56 billion, which will equate to a 6.3% increase in earnings year on year, but disappointingly a 2.5% drop in revenue.
And therein lies the problem. We are finding it increasingly difficult to justify paying upwards of 23 times forward earnings for Mattel's stock when its growth rate is at this level. Hasbro is expected to pull in earnings per share of $4.04 this year, meaning even after yesterday's strong gain it's shares are changing hands at just over 20 times forward earnings.
Hasbro is forecast to grow earnings by 15% this year and yet is trading on a lower multiple than Mattel which is expected to grow its earnings by 6.3%. Either Hasbro is severely undervalued or Mattel is severely overvalued right now.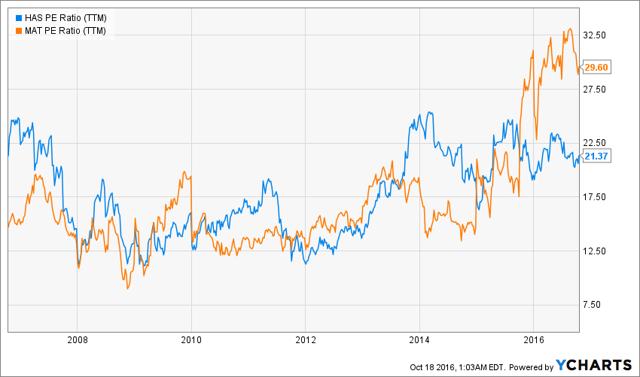 Click to enlarge
Looking at a ten-year chart of their respective price-to-earnings ratios would hint that it is in fact Mattel which is overvalued right now. This is of course based on trailing earnings, but even when using a forward price-to-earnings ratio it is still a similar story. Because of this we are concerned that there could be a sell-off in Mattel's stock should either its earnings underwhelm or its forward guidance disappoint.
But will it disappoint? Ultimately a lot will depend on the performance of its Barbie range. Playing a key role in Hasbro's strong quarter was its toys aimed at girls. Sales in the segment rocketed higher by 57% to $462 million during the quarter. The Disney Princess and Frozen licenses can take a fair bit of credit for this. Incidentally, toys aimed at boys only increased by 2%.
The question we have been pondering is whether Hasbro has stolen market share from Mattel, or whether this 57% surge in toys aimed at girls has come from elsewhere. Because if these sales have come at the expense of Barbie sales, Mattel could have had a weak quarter. After all, Barbie sales accounted for approximately 14.4% of total company sales last year for Mattel.
All in all, we feel the safest place to be right now is on the sidelines. If Mattel's stock came down to a more appropriate level then we would certainly look to reinvest. Right now we estimate the fair value for Mattel's stock to be approximately $23.45, roughly 22% lower than where it trades now.
Disclosure: I/we have no positions in any stocks mentioned, and no plans to initiate any positions within the next 72 hours.
I wrote this article myself, and it expresses my own opinions. I am not receiving compensation for it (other than from Seeking Alpha). I have no business relationship with any company whose stock is mentioned in this article.