As Mark Twain famously quoted: "The reports of my death are greatly exaggerated."
The earnings are in! International Business Machines (NYSE:IBM) has finally reported better-than-expected earnings! Excluding charges, IBM reported $3.29 vs. expectations of $3.23 per share. Cloud revenue grew 2.4% to $8.75 billion during the quarter.
"We'll continue to run the business of consulting as we always do, but the consultants will help train and put the wisdom and knowledge of that understanding into Watson," said Bridget van Kralingen, senior vice president of IBM Global Industry Platforms in an October 18 interview. This is the company's strategy, and it is starting to work. IBM reiterated its annual forecast of $13.50 a share.
IBM has bought 12 companies in 2016 by spending over $5 billion. This is impressive!!! Compare it to last year - less than $1 billion. Those purchases will not improve the earnings immediately, but based on the list below, they will in 2017 and 2018. Here is the list:
| | | |
| --- | --- | --- |
| November 3, 2015 | Gravitant, Inc | Cloud brokerage software and cloud management |
| November 6, 2015 | Cleversafe | Object-based storage software |
| December 8, 2015 | Clearleap | Cloud-based video management |
| January 15, 2016 | Iris Analytics | Real time transaction fraud detection |
| January 21, 2016 | Ustream | Streaming video |
| January 28, 2016 | Resource/Ammirati | Digital marketing and creative agency |
| February 2, 2016 | Aperto AG | Digital marketing and creative agency |
| February 3, 2016 | ecx.io AG | Digital marketing and creative agency |
| February 18, 2016 | Truven Health Analytics | Provider of cloud-based healthcare data, analytics and insights |
| February 29, 2016 | Resilient Systems | Cyber security, incident response platform |
| March 18, 2016 | Optevia | Specialist provider of Microsoft Dynamics CRM based solutions and associated services to the public sector |
| March 31, 2016 | Blue Wolf Group LLC | Salesforce systems integrator and professional services |
The most important purchase, in my opinion, is Truven Health Analytics. Let's call it "right place right time."
IBM is not the most exciting stock, but it's beginning to look like this century-old company is becoming a turnaround story. By the way, its P/E ratio is 12.50. Considering that the worst is in the past, the company's P/E relative to the average P/E of S&P 500 looks rather attractive. In other words, the risk / reward scenario is shifting towards reward. I think the stock belongs to the long portfolio.
Let's shift gears to charting. IBM is currently trading above two important support levels:
146 represents 200-day moving average
141 represents triple bottom.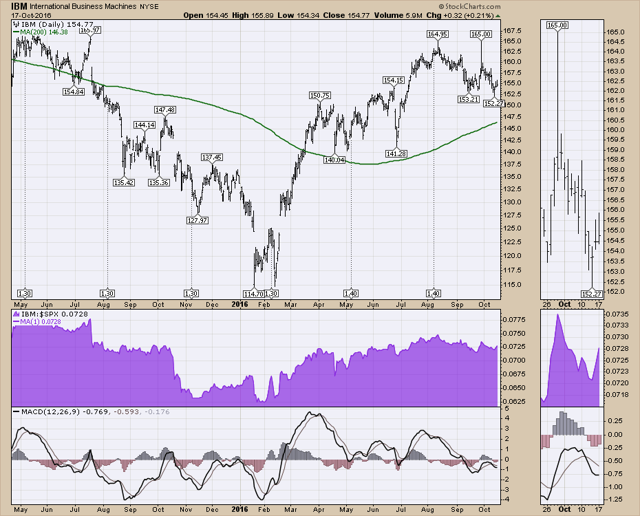 Click to enlarge
No, it is not a bargain at 120 anymore. Oh well. It is a solid stock at 150, which I would like to have in my portfolio. Notice the ratio of IBM vs. SPY. It is stable. This tells me that the stock will go down only if the market corrects.
I noticed the stock was down to 150 after hours. I believe this is a good entry point, or, as a minimum, a point where one would start to scale in.
Disclosure: I/we have no positions in any stocks mentioned, but may initiate a long position in IBM over the next 72 hours.
I wrote this article myself, and it expresses my own opinions. I am not receiving compensation for it (other than from Seeking Alpha). I have no business relationship with any company whose stock is mentioned in this article.