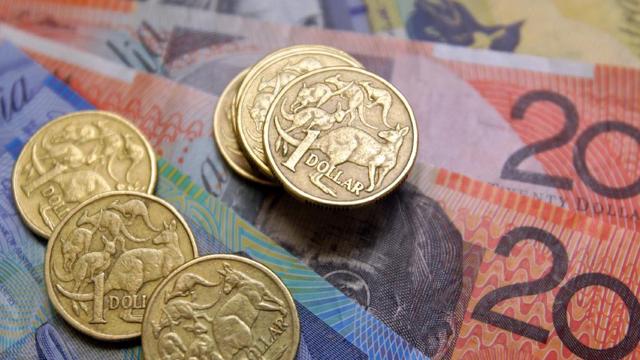 Click to enlarge
Due to the Federal Reserve's reluctance to raise rates this year and a surging iron ore price, the Australian dollar (NYSEARCA:FXA) has been very resistant to falling in value against the U.S. dollar (NYSEARCA:UUP). Despite this we still feel confident that it will continue its slide and expect it to break through the U.S. 70 cents level within the next six months. This therefore makes it a good short candidate for traders today.
Iron ore and the Australian dollar.
As Australia is one of the biggest producers of iron ore, the commodity and the currency have a close relationship. On the chart below you can see how iron ore's bounce this year has been a major factor in driving the Australian dollar back from its lows.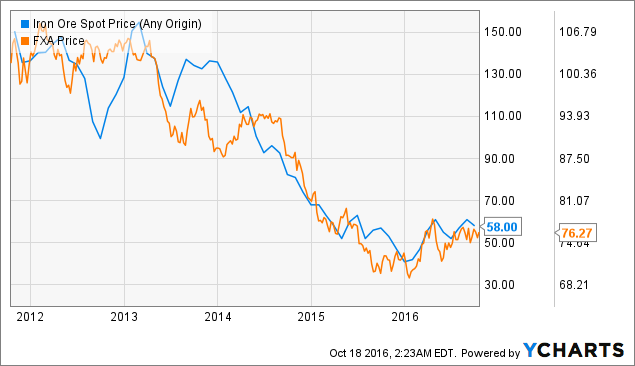 But with many, ourselves included, believing that iron ore's rally is coming to an end, we envisage significant pressure being placed on the Australian dollar in the near future. Much to the relief of traders shorting the AUD/USD pair.
According to analysts at Citibank, increasing supply from Australian and Brazilian producers is expected to put significant pressure on prices. The two largest iron ore exporters in the world are both expected to add around 100 million tonnes of additional supply over the next three and a half years. As a result Citi's analysts have forecast for iron ore prices to drop to an average of US$55 a tonne for the second half of this year, with prices expected to average US$45 a tonne in 2017.
If iron ore prices do indeed drop to US$45 a tonne, ceteris paribus we envisage the CurrencyShares Australian Dollar Trust ETF dropping to below $70.00. This would be a drop of 8.2 percent from the current trade price.
Federal Reserve could send the Australian dollar even lower.
Despite the Reserve Bank of Australia's best efforts, it has struggled to control its currency this year. Even though the central bank has lowered interest rates to record low levels, the Australian dollar has remained at a level it deems to be expensive. But rather than take rates even lower, the Reserve Bank appears to be playing the waiting game now.
Let's be honest, at this point in time there's nothing the bank can do. Unless iron ore drops or Janet Yellen and the Federal Reserve raise interest rates, the Australian dollar isn't going anywhere.
But thankfully a rate rise in the United States before the end of the year now seems inevitable. Although few expect there to be a rise in November, December is looking very likely. According to CME Group, there is an 8.3 percent chance of a rate rise in November, but a 64 percent chance of a rate rise in December.
We expect that more rate rises will come periodically throughout 2017, with rates going beyond 1 percent by the middle of the year. This will undoubtedly have a negative impact on the Australian dollar and a positive impact on the U.S. dollar.
We expect a rate rise in December is likely to start the Australian dollar on a downward path to U.S. 70 cents. It won't happen immediately, rather we see it happening in stages. By the end of the year we expect it will have fallen to U.S. 73 cents. Which is approximately 4.9 percent lower than where it trades now.
The uber bearish case.
Should both the iron ore price decline substantially and the Federal Reserve raise rates then we think the two events combined would have a massively negative impact on the Australian dollar. Our estimate is for the Australian dollar to drop as low as 65 U.S. cents if this were to occur. If the Australian dollar dropped to this level it would provide traders with an incredible return of approximately 15.3 percent.
Overall we feel very confident that Australian dollar's days in or around 76 U.S. cents are numbered. As far as we are concerned there is little upside potential, but a whole lot of downside ahead for the currency. For this reason it is our favorite long-term short right now.
Best of luck with your trades!
Disclosure: I am/we are short FXA.
I wrote this article myself, and it expresses my own opinions. I am not receiving compensation for it (other than from Seeking Alpha). I have no business relationship with any company whose stock is mentioned in this article.
Additional disclosure: Long UUP