For its Q3 earnings report, Netflix (NASDAQ:NFLX) turned in very impressive results. Total subscribers was up 25% y/y, while consolidated revenue was up 31% to $2.29 billion. Net income grew explosively by 75% to $51.5 million. Is Netflix still overvalued? Perhaps, but it probably won't matter in the near term. As long as Netflix continues growing, investors will continue to push the stock higher, roughly maintaining its current P/E.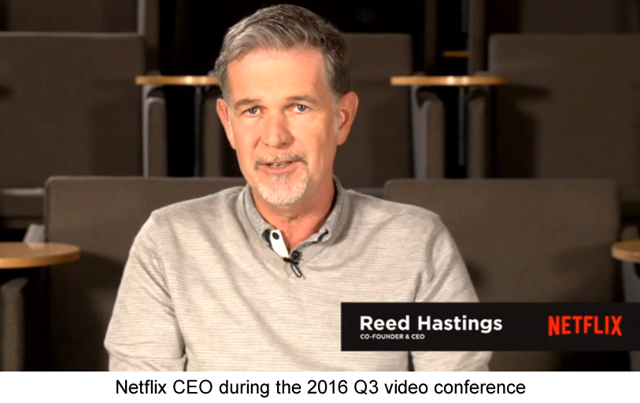 Click to enlarge
Source: YouTube
More Upside Ahead
At the end of 2015, it appeared that Netflix had lost the ability to grow income, even as it continued to grow revenue and subscribers. However, this began to turn around in Q2, and income growth accelerated in Q3, as the chart below illustrates.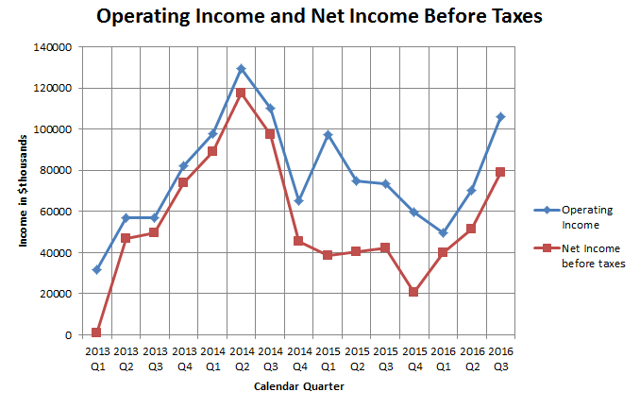 Click to enlarge
This was despite the fact that domestic streaming memberships continued to level off. The process of "un-grandfathering" many domestic streaming users (I was one of those), resulted in more churn and less growth. Total domestic streaming membership grew only 0.8% sequentially to 47.5 million, 10% y/y. However, total streaming memberships continued to grow substantially due to international growth.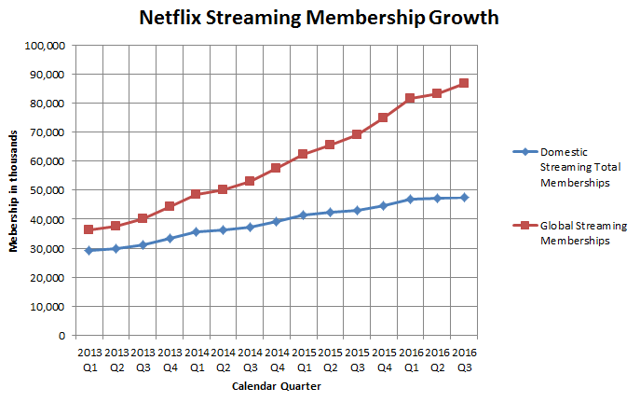 Click to enlarge
While international streaming grew revenue substantially by 65% y/y to $853.5 million, it didn't help income at all. The contribution loss from international streaming actually increased slightly to $68.58 million from a year ago when it was $67.65 million.
Consolidated contribution profit grew by $119 million or 33% y/y to $475.3 million. Domestic streaming contribution profit grew by $130 million. Raising rates on domestic subscribers is what generated the large income growth for the quarter.
The fact that Netflix could raise rates on domestic subscribers without suffering a net decline in subscribers illustrates the stickiness of the service. It also illustrates that Netflix has a path forward to continue to grow profitability in the near term.
This was pointed out by Scott Devitt of Stifel during the earnings video Q&A hosted by Netflix:
Reed you mentioned no plans for pricing increasing in the near term, now that you've gone through the un-grandfathering which has created a level of consistency and pricing across the customer base, I'm wondering how you think about pricing increases in the future. It seems like with where the product is priced in the U.S. and internationally today that there's still quite a bit of room and just wondering philosophically how you think about acting on that over time?
Netflix management indicated that they have no near term plans for price increases, but CFO David Wells did point to reducing the international streaming contribution loss as a means of enhancing profitability going forward:
Well, we added some numbers in Q3 and in our guide for Q4, so you're starting to see that operating margin grow and the operating profit and we're growing both revenue and operating margin. . .

So I think as we are able to reduce our international losses, we don't have another set of territories that we're launching next year. And as we're able to grow both margin and revenue in the U.S., you're seeing that lift out . . .
Management didn't go into details about how the international streaming contribution losses were going to be reduced, and obviously, there are multiple knobs to turn for this. Not adding new territories will certainly help. But ultimately, Netflix will raise subscription fees once it is firmly established and demand less elastic.
Netflix offered fairly bullish guidance for Q4 with 5.2 million global net subscription adds, with 1.45 million in the US and 3.75 million internationally. Although Netflix didn't offer much financial guidance, the domestic net adds will probably continue to fuel income growth in Q4. The subscription adds represent 23% y/y subscription growth.
Investor Takeaway
As of the 2015 Q4 earnings call, I was quite pessimistic about Netflix, as I wrote "Have We Already Seen Peak Netflix?" Netflix was taking on more debt to finance content creation, and income was on the decline. Even now, I don't doubt that the bears are right that Netflix is overvalued with a TTM P/E of 311. Although CEO Reed Hastings continues to maintain that growth prospects are virtually unlimited, I don't believe that Netflix will ever grow into its valuation.
I think the leveling off of subscriber growth in the US could be a harbinger of things to come. The US is a mature market with considerable competition for the attention of the Netflix subscriber from other streaming services from Amazon (NASDAQ:AMZN), Hulu, and Google's (NASDAQ:GOOG) (NASDAQ:GOOGL) YouTube.
But the leveling off of subscriber growth in the US probably was an after-effect of un-grandfathering, and not indicative of near term growth prospects for Netflix. If it is a harbinger of things to come, it's still some years in the future.
I'm sure there will be a "day of reckoning" (actually many days) in which there is deflation of the price of Netflix to reflect its actual growth potential. But the jump in the price of Netflix today indicates that there is still considerable enthusiasm for the stock among retail investors.
And Netflix is a great company with a great service that, despite the presumption of Netflix bears, has not proved so easy to duplicate. As long as Netflix demonstrates income growth, combined with service leadership, it will attract continuing support. I expect income growth to continue to push up the price of the stock, even as valuation remains roughly constant.
So Netflix has regained its luster as a momentum stock, which makes it dangerous to short in the near term. Netflix is a buy for momentum players, and a fairly high confidence hold for medium term longs (the next year or two).
Disclosure: I/we have no positions in any stocks mentioned, and no plans to initiate any positions within the next 72 hours.
I wrote this article myself, and it expresses my own opinions. I am not receiving compensation for it (other than from Seeking Alpha). I have no business relationship with any company whose stock is mentioned in this article.