If you follow my profile, you know that the majority of my articles cover companies from the entertainment and media industries. I already wrote articles about major gaming publishers like Electronic Arts (NASDAQ:EA), UbiSoft (OTCPK:UBSFY) and Take-Two (NASDAQ:TTWO). However, if I were to pick only one gaming company for my portfolio, then without a doubt I would pick Activision Blizzard (NASDAQ:ATVI).
Unlike its competitors, Activision Blizzard became an independent company only in 2013, after it bought the controlling stake from French conglomerate Vivendi (OTCPK:VIVEF). Since that time, the US-based publisher has begun expanding its operations into different fields of entertainment. This has translated into the growth of Activision Blizzard's stock, which had a CAGR of ~50% from 2013 to 2016: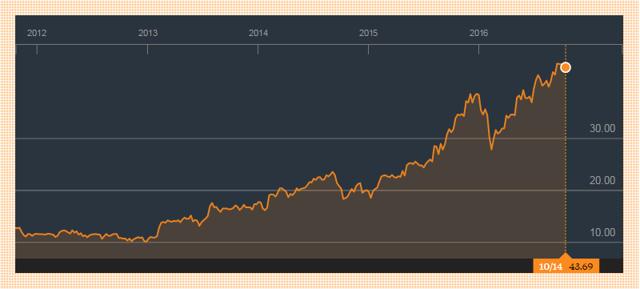 Source: Bloomberg
In the last few quarters, Activision Blizzard proved to be a safe and successful investment and here are three reasons why I believe that the company will continue to grow:
1. Wide portfolio of successful IPs
Over the years, Activision Blizzard launched a number of successful video games in different genres that are highly rated in popular entertainment magazines. For example, its Call of Duty series sold more than 250 million units worldwide and despite the decline in the franchise's sales in the recent quarters, the company will continue to make a substantial profit from the upcoming titles.
The publisher is also very successful in the MMORPG and MOBA genre. Its latest online game Overwatch received an astonishing rating of 91 out of 100 on metacritic and over a short span of time, attracted more than 20 million players in just five months since its release and became one of the best-selling games of this summer.
At the same time, Activision Blizzard continues to surprise its fans and has a number of popular AAA projects scheduled to be released in the next few months that will improve the company's existing ecosystem and bring more profits to its investors.
2. Expansion beyond video gaming
Last year, Activision Blizzard shook the entertainment industry when the news came out that it'll buy the mobile gaming developer King Digital for a whopping (at that time) $5.9 billion. While a lot of people were skeptical at first about this acquisition, the opportunities that King and its games present will play a major role in the publisher's attempt to tackle the mobile audience, which rises constantly year after year. At the moment, besides its hit series Candy Crush, King, under the new management, plans to release a number of new titles for mobile users and start to expand Activision Blizzard's user base in the mobile field.
Another direction, where Activision Blizzard became interested is the movie production business. This summer, the publisher released its first movie called Warcraft, which takes place in a universe based on a game with the same name. The movie has a rating of 7.1 out of 10 on IMDb and it cost $160 million to make. And while the movie failed to become successful in North America and earned only ~$37 million in the domestic market, it managed to attract worldwide audience and earned around $339 million outside of the U.S. This means that besides failing on its own home turf, Activision Blizzard still made a successful box office movie on its first try and will likely to continue to expand in this direction.
And last but not least, Activision Blizzard has started to become very active in the eSports field. Last year, the publisher acquired MLG, which is a professional gaming platform for players all around the globe. The major asset of MLG is MLG.tv, a video streaming service that helps professional gamers stream their gaming process to their fans. According to Newzoo, competitive gaming is already more popular amongst millennials than ice hockey and is as famous as baseball: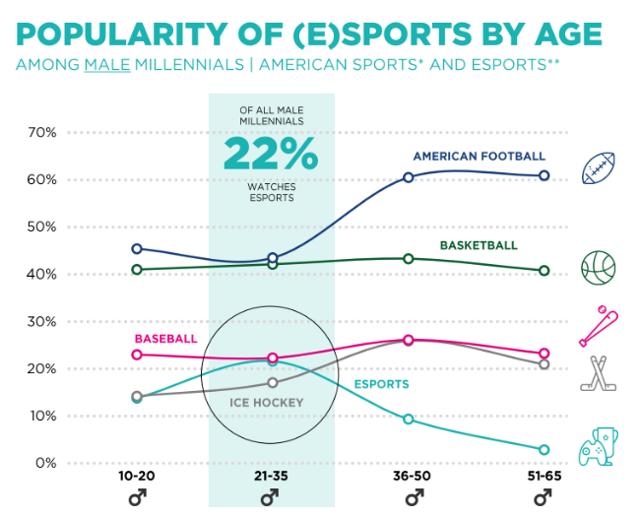 Source: Newzoo
If Activision Blizzard continues to use its resources wisely in this field, then it'll have leverage against the competition in this soon to be $2 billion market.
3. Great financial shape
Thanks to the improvements that Activision Blizzard made in the last few years after the spin-off from Vivendi, the company now has a sustainable amount of available resources that it can use in order to achieve its major goals and reward its shareholders in the long term. As we can see from the activities that I described above, Activision Blizzard plans to tackle new markets like movie production, mobile gaming and eSports and at the same time improve its existing lineup of titles for major consoles and PC that will continue to be the major source of income for the company in the coming years.
If we look at Activision Blizzard's balance sheet, we will see that the publisher substantially increased its operational cash flow and improved its free cash flow. At the same time, in the last fiscal year, the company slightly failed to increase its net income Y/Y:

Source: gurufocus
If we look at the operating metrics, we will see that Activision Blizzard's operating and net margins are 21.20% and 13.96%, respectively, which are better than the average of the electronic gaming and multimedia industry. At the same time, Activision Blizzard is rated highly among major advisory firms, which are very bullish about the company's future:

Source: NASDAQ
If we add all three reasons that I describe in this article, we will come to a conclusion that Activision Blizzard has a lot going on. Its expansion policy along with the bet on the quality product will help the company to stay afloat for a long period of time and reward its investors along the way. That's why I believe that Activision Blizzard is the one gaming company that you should really own and I advise you to take a deeper look at it.
Disclosure: I am/we are long ATVI.
I wrote this article myself, and it expresses my own opinions. I am not receiving compensation for it (other than from Seeking Alpha). I have no business relationship with any company whose stock is mentioned in this article.