We think it's +77 Bcf for this week's storage report.
We lowered our estimate by 1 Bcf from last week. Power burn was slightly better than we had expected, thus explaining our decrease. If storage injections come in around our figure, the year-over-year surplus will decrease by 5 Bcf. Looking at our updated injection figures, we expect the year-over-year storage to be in deficit by Nov. 18.
US natural gas production averaged just slightly below 70 Bcf/d last week. Canadian gas imports averaged high 5 Bcf/d, so overall supplies were down relative to the week before. Power burn demand saw some pickup as heat returned back in the South and through most of the East side. Mexico gas exports remained around 3.5 Bcf/d. Overall demand was up from the week before.
Cheniere's Sabine Pass is starting to see some gas flows albeit it's only a trickle. Currently, expectations are for gas flows to return to normal by next week, so that will add an additional 1.2 Bcf/d to demand.
Looking at our injection forecasts, we saw a move lower for the next several weeks as cold weather starts to hit the East coast while the South remains quite warm. Total injection adjustments amount to 15 Bcf, and we will be updating our injection estimates to premium subscribers today.
Overall, we expect to see another below five-year average injection figure this week. Natural gas (NYSEARCA:UNG) prices are currently hovering around $3.26/MMBtu, and as we said to our premium subscribers, traders are still not positioned properly for this upcoming Winter, so all dips should see buying interest.
If you are interested in getting our injection forecasts for the next four weeks, please consider signing up here. Thank you for reading Natural Gas Daily.
8-14-Day Outlook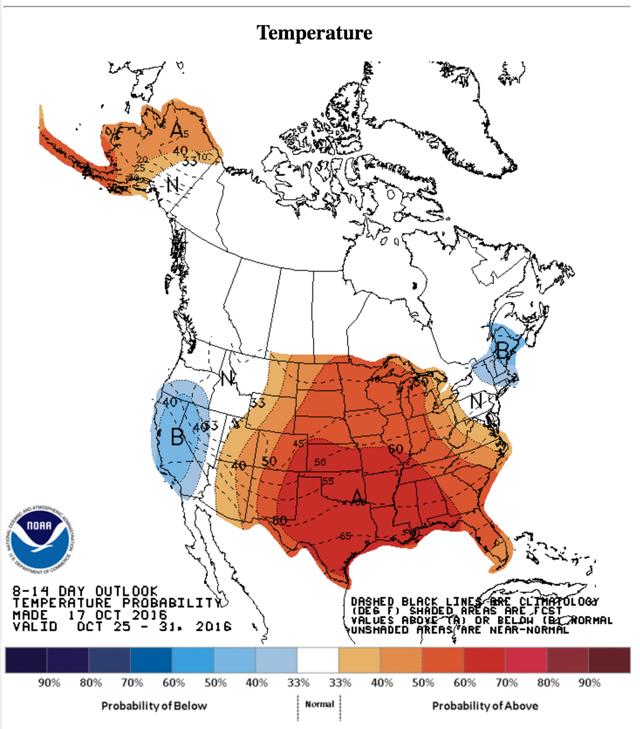 Click to enlarge
Disclosure: I/we have no positions in any stocks mentioned, and no plans to initiate any positions within the next 72 hours.
I wrote this article myself, and it expresses my own opinions. I am not receiving compensation for it (other than from Seeking Alpha). I have no business relationship with any company whose stock is mentioned in this article.