Background
Dimension Therapeutics (NASDAQ:DMTX) was founded in 2013 and has since become the leading gene therapy company focused on rare disease where the liver is the primary organ. Both the Company's preclinical and clinical programs have originated from the collaboration agreement signed with REGENXBIO (NASDAQ:RGNX), initially in 2013, and later expanded in 2015. In turn, REGENXBIO licensed its NAV Technology Platform from the University of Pennsylvania in 2009, more specifically, from Dr. Wilson's lab - an important detail.
Dr. Wilson is no stranger to the gene therapy field. In fact, James M. Wilson was the medical geneticist who headed Penn's Institute for Human Gene Therapy, where the gene-therapy trial that killed an 18 year-old boy took place. The euphoria that surrounded the field at the time led to a lack of caution and over-eagerness by the study investigators, which was clearly reflected in several shortcomings in the study's protocol. Dr. Wilson was actually banned from running clinical trials for five years, although he didn't admit to allegations and stressed that his conduct was lawful.
Almost 20 years have passed, and it seems we've gone full circle. Yet again, gene therapy is exploding across the biotech scene. There are, however, key differences that, in this author's opinion, will create the conditions for a very different outcome. As an example of the progress achieved in these 17 years, one can mention the more than 100 novel AAV serotypes that came out of Dr. Wilson's lab in recent years (which are licensed to REGENXBIO, and some of which, sub-licensed to Dimension).
The path to success is not without, but necessarily through failure. Therefore, the unfortunate events of 1999, although tragic, are not worrisome in my perspective - they show only that this is bleeding edge science with potential to significantly impact patient's lives.
Wilson's association with Dimension is consequentially encouraging, especially since he serves as the chairman of the Scientific Advisory Council. Given Dr. Wilson's prominence and expertise, I deem it appropriate to have an in-depth look at Dimension Therapeutics.
Vision and Management
All of Dimension's preclinical and clinical programs are focused on liver disease. Although the most advanced program is in hemophilia B (proof of concept), the real promise resides in its inherited metabolic disease (IMD) portfolio, which will see its first program enter the clinic by the end of 2016. This focused approach to drug development puts Dimension in a rather unique position, as is demonstrated in the following slide, taken from the Company's corporate presentation.
(click to enlarge)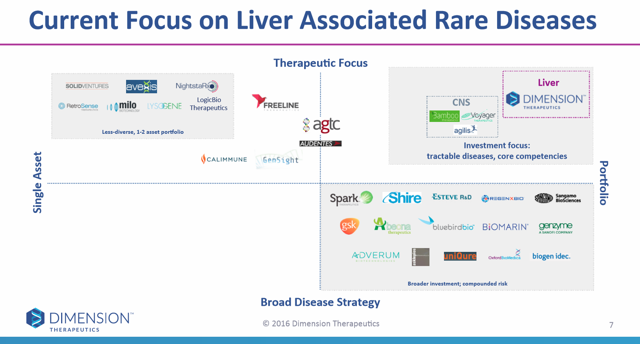 As is shown above, Dimension is the only company solely focused on the liver - and in most of the IMDs chosen for development, there are very few to no other therapies being developed.
Even after limiting itself to liver disease, there are over 100 described rare diseases associated with the liver. The process of deciding which diseases to tackle on is extremely complex, as there is a great deal of factors that need to be accounted for. Dimension's approach to this process is actually quite logical - the diseases chosen meet all of the following requirements:
a highly predictive preclinical animal model;
a well described biomarker;
the expectation that a 5% to 10% correction of the enzymatic process in the liver would be significant enough to have a clinically meaningful effect. This is due to the fact that you can only expect 5% to 10% of the hepatocytes (the most common type of liver cell) to effectively be transfected;
the potential for orphan drug designation.
In order to execute the Company's plan, a competent senior management team needs to be in place. In this instance, I'd say that's the case. Genzyme, Shire (NASDAQ:SHPG), Cubist (NASDAQ:CBSTZ), among others, are a few of the companies that employed Dimension's leadership. Furthermore, the CEO has an impressive track record, as is shown in the following excerpt, taken from the company's website (emphasis mine):
Prior to joining Dimension, Dr. Jenkins served as executive vice president, head of Global Research and Development for Merck Serono. (...) Previously, Dr. Jenkins pursued a nearly 15-year career at Bristol-Myers Squibb (NYSE:BMY) attaining the role of senior vice president and head of Global Medical Affairs. She began her career as a medical officer with the British Royal Navy during the Gulf conflict, rising to the rank of Surgeon Lieutenant Commander.
If this is not a testament to the CEO's versatility and competence, I don't know what is.
Science and Pipeline
Gene therapy is a therapeutic approach in which an isolated gene sequence or segment of DNA is peripherally infused into a patient, normally with the purpose of treating a genetic disease caused by a mutation. The protein shell in which the therapeutic gene is packaged is called the capsid. As previously stated, over the last 20 years, gene therapy has come a long way, and we're now starting to translate theory into practice.
Dimension has an AAV-based vector delivery system, in favor of other viral vectors such as adenovirus or lentivirus. AAV vectors are especially suited to treat liver disease due to a series of characteristics, notably:
tolerability, as they have been used in more than 120 clinical trials, with no serious adverse events traced back to the capsid;
durable expression, as AAV vectors are capable of inserting the therapeutic gene as an episome, which may support long-term production of the protein;
targeting to the liver, as AAV vectors derived from the capsid serotype named Clade E have enhanced liver affinity (16-110x greater liver targeting than other AAVs).
However, it's important point out that 25% of the population is thought to have pre-existing neutralizing antibodies to this family of capsids, and therefore, is not eligible for treatment with Dimension's therapies.
click to enlarge)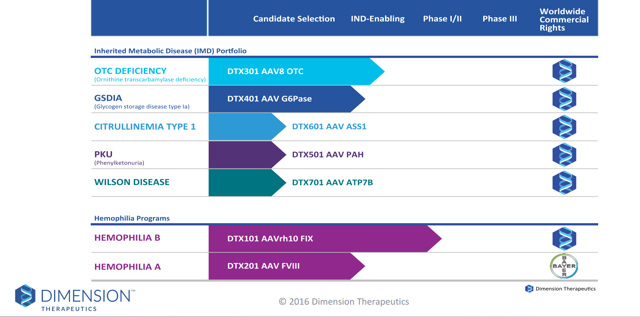 The above slide, sourced from the Company's corporate presentation, is a graphic rendering of Dimension's pipeline.
DTX101
Currently in a Phase 1/2 study, this orphan tagged (both in the US and EU) therapy is a Clade E rh10 capsid encoding a wild type Factor IX protein. The target product profile defined by the Company is targeting stable FIX activity higher than 10%, leading to a decrease in the dependency for on demand & prophylactic FIX therapies.
The ongoing phase 1/2 is an open-label, safety, dose finding study. Enrollment in the first cohort has been completed, and data on patients that have received at least eight weeks of follow up will be presented later this year.
This is a highly crowded market, with the likes of Spark Therapeutics (NASDAQ:ONCE) and uniQure (NASDAQ:QURE) in the race. In fact, both of these companies have already reported results for their respective efforts in Hemophilia B. Spark Therapeutics reported data on three patients in their Phase 1/2 study that, following gene therapy with SPK-9001, demonstrated Factor IX levels of 28%, 30% and 16% of normal. UniQure, on the other hand, reported data on two patients that showed Factor IX levels of 5.5% and 4.5%.
The number to beat varies from company to company. For Spark, 12%; for uniQure, 5%; and for Dimension, 10% - in order to have a clinically meaningful effect. Extremely high expression levels, such as those reported by Spark, are not necessarily better, since they might carry unnecessary risks (some type of immune response) coupled with little to no benefit (since the historical benchmark for a clinically meaningful outcome is much lower). On the other side of the table, you have the hypothesis that higher expression levels might lead to a more favorable outcome in terms of durability. It remains to be seen who's correct.
According to the Company's data, there are around 28,000 hemophilia B patients worldwide, with around 68% having moderate to severe disease.
DTX201
This is Dimension's hemophilia A candidate, which was partnered with Bayer (OTCPK:BAYZF) closely after the Company's foundation. The terms of the deal are as follows:
Under the terms of the agreement, Dimension will receive an upfront payment of $20 million and will be eligible for potential development and commercialization milestone payments of up to $232 million. Dimension will be responsible for all pre-clinical development activities and the Phase 1/2a clinical trial, with funding from Bayer. Depending on the results of the Phase 1/2a clinical trial, Bayer will conduct the confirmatory Phase 3 trial, make all regulatory submissions, and will have rights to commercialize the potential future product for the treatment of hemophilia A. Dimension is eligible to receive tiered royalties based on product sales.
These terms seem fair to both parties, especially considering the asset in question was and still is preclinical. More importantly, the interest from Bayer is encouraging and validates the potential of the technology platform.
Currently, the program is moving forward in IND enabling studies. Although management has not given guidance on the start of the Phase 1/2a, I dare speculate that it will happen in the second half of 2017.
Competition is also present in this market, more importantly in the form of BioMarin (NASDAQ:BMRN), which reported preliminary data from a Phase 1/2 trial that saw Factor VII activity levels range between 4% and 60% in eight patients. There were, however, some safety concerns, given that ALT liver enzymes increased across some patients. Competition will definitely be fierce. Nonetheless, Bayer is not in the business of losing money, and Dimension's science is sound and supported by prominent individuals in the gene therapy space.
According to the Company's data, there are around 140,000 hemophilia A patients worldwide, representing a huge opportunity in comparison with hemophilia B. Around 78% have moderate to severe disease.
DTX301
This is the most advanced program in the Company's IMD portfolio. Interestingly, its aimed at treating the same disease that Dr. Wilson was trying to solve in the aforementioned trial (1999), that saw a patient die due to an unfortunate immune response.
OTC, or Ornithine Transcarbamylase Deficiency is an inherited disorder (one of the most common urea cycle disorders) that causes ammonia to accumulate in the blood. This is a problem, because if ammonia levels get too high (for an extended period of time), one might suffer irreversible neurocognitive damage, seizures, coma, and even death. The standard of care treatments for patients are nitrogen scavenging drugs and severe limitations in dietary protein - both of which do not address the root cause of the disease.
OTC deficiency is a serious disease in desperate need of new treatment options.
That's where DTX301 comes in: a Clade E AAV8 capsid encoding the OTC gene, designed to express human OTC in the liver. It's targeting the treatment of patients with late-onset moderate to severe OTC deficiency (with the potential to later move further downstream, to early-onset OTC deficiency).
In a preclinical mouse model of moderate OTC deficiency, after a single intravenous infusion of DTX301, stable expression and activity of OTC was observed, coupled with the normalization of levels of urinary orotic acid (biomarker), which reflect ammonia production. The results can be seen in the following slide, taken from the Company's corporate presentation.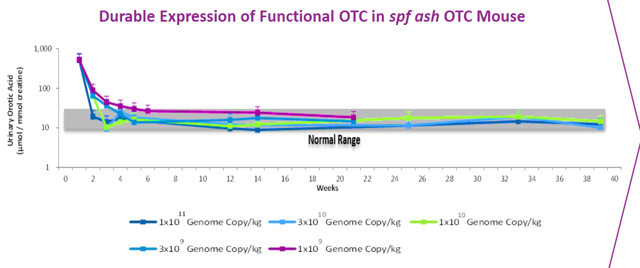 As far as I could find, there is no significant competition to Dimension in this indication - and this rings true in most of the diseases in the Company's IMD portfolio.
DTX301 has received the coveted Orphan Drug Designation both in the US and Europe, and is currently finishing IND enabling studies, with a Phase 1/2 trial planned to start before the end of 2016.
Again, according to the Company's estimates, there are approximately 10,000 patients worldwide, with around 80% having late-onset disease.
DTX401, DTX601, DTX501 & DTX701
DTX401 is aimed at treating GSDIa, a disease that currently has no approved drug therapies. It's currently going through IND enabling studies, with a Phase 1/2 planned for the first half of 2017.
DTX601, DTX501 and DTX701 are still in the candidate selection phase, and consequentially, management has not given a specific timeframe regarding their development process. The diseases being addressed by these programs are Citrullinemia Type 1, Phenylketonuria, and Wilson's disease, respectively.
Unfortunately, due to the current development stage of these therapies, it's not in this author's opinion that a deeper analysis of each specific candidate would yield much value. This is simply due to the fact that preclinical data is extremely unpredictable, and often, the data we see is not reflected in the clinic. Keep that in mind when reading the OTC candidate analysis, that I felt compelled to write since the Company is starting a Phase 1/2 in 2016.
However, it is worth mentioning that all of the diseases referenced above comply with the four conditions laid out earlier and therefore, one should not dismiss their potential as long-term value-drivers for Dimension.
Manufacturing
In gene therapy, manufacturing is an incredibly important part of the drug development process, more so than in other areas. This is because the manufacturing process of the AAV vector (and the transgene) is incredibly delicate and complex. Reliability, scalability, and quality need to be maximized in order to achieve the target activity and product viability.
Dimension has made significant investments in its proprietary process for manufacturing AAV product candidates.
The manufacturing itself is currently performed in two mammalian cell types, HEK293 cells and HeLa cells. Each one of these have specific advantages, and are used for different purposes.
HEK293 cells are used for early stage development, due to their flexibility, and speed at which AAV vectors can be produced for early stage trials. They carry, however, some limitations regarding the scalability potential required for Phase 2/3 studies.
The HeLa producer cell system uses a clonal cell platform, which enables it to select a clone with the ideal attributes for production (including high vector yield). Furthermore, it does not require any animal-derived products (often a strain on quality) and is compatible with the downstream purification process (after the vector is assembled) developed for HEK293. HeLa's characteristics allow for the scalability necessary for late-stage development and commercialization.
DTX101, 301 and 401 are all currently being produced through the HEK293 cell platform. Dimension plans on transitioning to the HeLa platform later in the development timeline, and expects that it will have no material impact on the products' development plan.
Leading the development of both of these manufacturing platforms is Reed Clark, a veteran with more than 30 years of experience in this space, and Alex Fotopoulos, who was previously at Momenta (NASDAQ:MNTA) and Biogen (NASDAQ:BIIB).
More recently, the European Society of Gene and Cell Therapy Congress (ESGCT) chose to highlight the Company's advances relating to both of the manufacturing platforms.
Promising Technology
The promising nature of REGENXBIO's NAV Technology Platform (licensed to Dimension in eight indications) was not only recognized by Dimension, but by several other companies. These include Voyager Therapeutics (NASDAQ:VYGR), Baxalta (SHPG), Adverum Biotechnologies (NASDAQ:ADVM), Lysogene, AveXis (NASDAQ:AVXS), and more recently, Biogen.
Biogen's collaborations with REGENXBIO and the University of Pennsylvania (more specifically Dr. Wilson's lab) are of particular note, simply due to the financial terms agreed to. This is an excerpt from the press release detailing both of the collaboration agreements: (emphasis mine)
Under the terms of the agreement, Penn may receive up to $2 billion in research funding, options, and milestone payments. Biogen will make an upfront payment of $20 million with an additional $62.5 million committed to fund R&D costs extending over the next three to five years in seven distinct preclinical research and development programs conducted by the Wilson and Bennett laboratories. (...) Separate from the agreement, Biogen is also entering into a license agreement with REGENXBIO for the exclusive rights to use adeno-associated virus serotype 8 (AAV8) or 9 (AAV9) technologies developed in Dr. Wilson's laboratory, for which REGENXBIO holds a worldwide license from Penn.
If Biogen is willing to shell out that kind of money for access to Dr. Wilson's research, I think it's fair to assume that the inherent technology licensed from REGENXBIO by Dimension has real potential.
In addition, for clinical validation of the technology, one only needs to look as far as AveXis.
Just a few days ago, the company released interim data from its Phase 1 study of AVXS-101 for the treatment of Spinal Muscular Atrophy Type 1, which showed that 2/3 of the patients in the second cohort had achieved the ability to sit unassisted; 11 (out of 12) had achieved head control; seven could roll over completely; 11 could sit with support; and two could walk independently. These increases in motor function are extremely encouraging, as they are completely inconsistent with the known disease course - a baby with untreated SMA Type 1 will never walk independently.
AVXS-101 is based on technology licensed to AveXis by REGENXBIO, which originated in Dr. Wilson's lab.
Financials and Risk
As of the end of the second quarter of 2016, Dimension had $104.7 million in cash. The net loss for the quarter was of $12.9 million. The Company expects this amount to be enough to fund its operations through the first quarter of 2018.
I don't see liquidity issues for Dimension in the near future, and therefore, I believe management will be able to execute on its vision.
It is important to underline that this is not a stock for the risk-averse investor. Small cap biotech concerns are very volatile, and can crash and burn just as fast as shoot up. Among the reasons that can cause the stock price to crash are trial failure, flawed execution by management, unforeseen expenditures, among others. These risks are better described in the Company's 10-Q under part II, item 1A "Risk Factors".
Investment Thesis and Final Remarks
Dimension Therapeutics currently has a market cap of around $155 million. In comparison, AveXis's is around $1 billion - and this is, as of now, a one trick pony. Voyager Therapeutics has a market cap of around $280 million.
Both of these companies are further along in the development process of their respective product candidates than Dimension is (clinical data has been reported), and that's the main driver behind the valuation difference. Reporting clinical data, especially for an untested company, is a catalyst with the potential to significantly impact its share price. If positive, the data-set confirms the technology behind the product candidate (and the rest of the pipeline), and solidifies trust in management's judgment and decisions.
The next three months will be key for Dimension. Initial Hemophilia B data will be reported, and the OTC Deficiency trial will be started.
If the Hemophilia B data is positive, I think we will finally see Dimension join AveXis's and Voyager's ranks, valuation-wise at least.
Given everything discussed above, including the promising technology that Dimension licensed from REGENXBIO; the experienced and capable senior management team in place; the careful approach adapted to disease and respective product candidate selection; the clinical validation of the inherent technology by AveXis; and finally, the widespread interest in the NAV Technology Platform, I gather a positive outcome is very likely.
Regarding the macro environment.
The biotech sector (NASDAQ:IBB) is way off the highs reached in mid 2015. In fact, it's near its 52-week lows, at around $266. Meanwhile, the S&P 500 is near all-time highs. This is not an ideal situation to start new positions, far from it. It's becoming increasingly difficult to find reasonably valued companies.
In my perspective, the exception to the rule is the biotechnology sector (with some caveats, as is to be expected), that I see as a possible safe haven to the conscious investor.
I see an investment in Dimension Therapeutics as an opportunity with a favorable risk/reward profile, and as such, have initiated a LONG position in the company.
The next three months will either prove me right or wrong.
Disclosure: I am/we are long DMTX.
I wrote this article myself, and it expresses my own opinions. I am not receiving compensation for it (other than from Seeking Alpha). I have no business relationship with any company whose stock is mentioned in this article.
Editor's Note: This article discusses one or more securities that do not trade on a major U.S. exchange. Please be aware of the risks associated with these stocks.