Canadian intermediate oil producer Penn West Petroleum (NYSE:PWE) shocked the market and industry insiders when it closed a groundbreaking deal to divest itself of its Saskatchewan assets, giving it sufficient funds to erase a considerable slab of its company destroying debt. Even after completing this surprising deal, the market remains highly pessimistic about the outlook for Penn West and its share price has only lifted by 28% over the last three months.
There are a range of reasons for this with the new look Penn West experiencing a considerable reduction in oil reserves, which, in conjunction with lower crude, will see a sharp fall in the net-present value of its reserves. It will also experience a marked reduction in oil production which will see cash flows fall. These factors indicate that the new look Penn West is fairly valued by the market, and that there may be some limited upside available if the oil's rally persists.
Let's take a closer look at the new Penn West and try to identify whether it is a worthwhile investment.
A healthy balance sheet has emerged
Key to Penn West's survival has been its asset divestment program, where the proceeds were used to reduce that massive pile of debt which appeared ready to bring the company undone.
Since the start of 2016 Penn West has completed C$1.3 billion of asset sales including the surprising sale of its prized Saskatchewan light oil assets for C$975 million. This along with earlier 2015 asset sales totaling C$800 million allowed Penn West to its debt, ensuring that it remains compliant with its financial covenants and pull the company back from the brink of failure.
Among the most important of the deals was the surprising divestment of its Saskatchewan acreage with it realizing a sale price of C$975 million. This was well above the expectations of many analysts in what is a difficult market to complete deals and make sales.
As a result of the divest program, Penn West has reduced its long-term debt to manageable levels with it now totaling C$801 million and after allowing for remaining cash flow being directed to debt payments will fall to a very manageable C$491 million.
This now sees Penn West in compliance with its financial covenants as the chart illustrates.

Click to enlarge
Source: company filings.
In fact, Penn West's long-term financial obligations including debt payments are now quite manageable as the chart highlights and will fall within projected cash flows.

Click to enlarge
Source: company filings.
Even after making considerable progress with its asset divestment program and repaying a large portion of its debt, Penn West remains committed to further asset sales during the second half of 2016.
The company expects to divest a further 20,000 BOEPD and secure C$100 million to $200 million in proceeds for those, which will be used to pay-down additional debt and support operations in its core acreage. This will see Penn West's net-debt fall to C$291 million to $391 million.
These factors along with improved cash flow from higher oil prices, reduced debt payments and lower financing costs will ensure that Penn West complies with its financial covenants for the foreseeable future.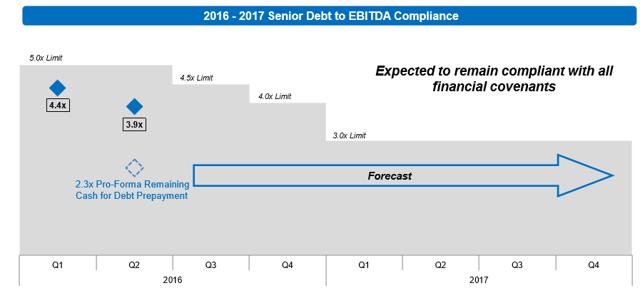 Click to enlarge
Source: company filings.
This virtually has ensured Penn West's survival, but it has had a sharp impact on its production.
Oil output has fallen sharply in recent years because of asset sales and a lack of investment in exploration and development.
Oil reserves and production have fallen substantially
The substantial decline in Penn West's oil production is a key factor that has weighed heavily on its share price and the outlook. It was only two years ago for the second quarter 2014 when Penn West was producing over 100,000 BOEPD, and now production has declined to 63,568 BOEPD for the second quarter 2016.
Such a marked decline in oil production in combination with the sharp decline in crude since mid- to late 2014 has had a considerable impact on Penn West's cash flows, further magnifying fears that it couldn't survive as a going concern.
As mentioned earlier, a large amount of this decline can be attributed to asset sales.
However, after the latest asset sales Penn West has forecast 2016 production of 57,000 to 59,000 BOEPD, of which 22,000 to 24,000 can be attributed to Penn West's core operations. It is these core operations located in the Peace River, Cardium and Alberta Viking formations which will form the basis of Penn West's future.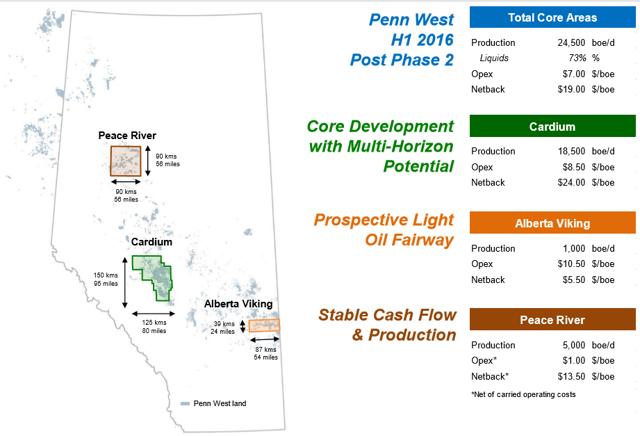 Click to enlarge
Source: company filings.
According to company filings these assets give it 1P reserves of 79 million barrels and 2P reserves of 136 million barrels of oil equivalent, which is 73% weighted to liquids. This represents less than half of the reserves held at the end of 2015 and a quarter of Penn West's reserves at the end of 2014.
Clearly, this sharp decline in reserves will have a considerable impact on Penn West's value.
These assets are expected to produce 24,000 BOEPD for 2016 and with Penn West recently increasing capex by C$40 million it expects to add 3,000 BOEPD of exit production, boosting that number to 27,000 BOEPD.
With Penn West projecting a C$60 million increase in 2017 capex to C$150 million, core production should grow by 10% over the course of 2017 as stated. This makes it logical to assume that 2017 production should average somewhere between 27,000 to 30,000 BOEPD.
These production figures represent a third to a quarter of oil production during 2014 and 2015. Such a significant decline in oil output will have a marked impact on revenues and cash flows.
According to Penn West, these core areas have very impressive operating expenses of C$7 per barrel produced but this appears to be somewhat optimistic.
You see, second quarter opex was C$12.70 per barrel, while forecast 2016 opex is C$13.50 to C$14.50 per barrel, with in both cases some discretionary expenses being deferred or carried over. For these reasons, it appears imprudent to assume that opex going forward will only be C$7 per barrel for Penn West's core operations.
If anything, it appears reasonable to assume that they will only fall marginally from 2016 projections to C$12.50 per barrel, particularly given that there is a planned uptick in operational tempo including drilling activity for the second half of 2016 and into 2017.
How does Penn West's value compare to its peers?
Clearly, there are signs that Penn West's valuation is far less than what the company is really worth, with fears over its debt, assets and ability to sustain production weighing heavily on its price.
In order to get a feel as too what Penn West's fair-value is in the current market environment I have compared it to three peers:
The table below sets out key industry metrics and compared to the new look Penn West.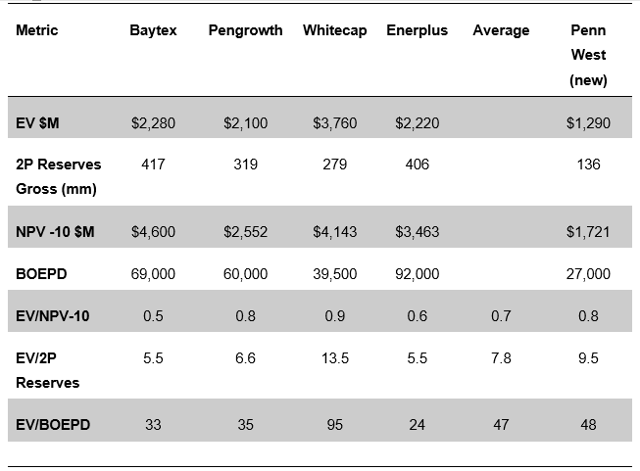 Click to enlarge
Source: Company filings and author's own calculations.
*All data is as at 18 October 2016.
** Penn West calculations for core assets are assumptions based on existing data and how this impacts the company's outlook.
Penn West at this time is trading at a third of its price two years ago and on the basis of the numbers that reflect how the company will look after all asset sales and payments are finalized it appears fairly valued. This is because both its oil production and reserves have taken a big hit and after accounting for this it appears expensive in comparison to its peers. Nonetheless, I have used these numbers as a starting point to calculate Penn West's indicative fair value that reflects the company's future outlook based upon its core asset position.
This includes making a best case assumption that further asset sales will shave another C$200 million of its net-debt. This will leave it with C$197 million or $150 million in net-debt using an exchange rate of CAD/USD $0.76.
To do this, I have firstly multiplied the average EV/NPV-10 for its peer group by its EV.
This is: 0.7 x $1,290 million = $903 million.
After deducting net debt of $150 million this gives it a market-cap of $753 million.
When divided by 502 million shares outstanding, Penn West's fair-value on a comparative basis is $1.50 per share.
When using the average EV/2P reserves of 7.8, Penn West has an EV of $1,061 million.
After deducting net debt it has a market-cap of $911 million, giving it an indicative fair value of $1.81 per share.
When using its production figures I have assumed that production for 2016 through to the end of 2017 will average 27,000 BOEPD.
When multiplying this by the average EV/BOEPD of 47, Penn West has an EV of $1,269 million, which after deducting net-debt of $150 million gives it a market cap of $1,119 million or an indicative value of $2.23 per share.
Based on this range of $1.50 to $2.23 per share Penn West has a valuation range of -15% to 26% based on its current price of $1.77 per share.
This indicates that despite the massive improvements made in Penn West's balance sheet and the fact that it will more than likely survive as a going concern, the market has correctly valued the company.
In a best-case scenario where oil prices, most importantly WTI, continue to rise and it is capable of growing production as promised, Penn West offers 26% upside for investors.
Key takeaways
It appears that the chickens have come home to roost for Penn West. After years of excesses including an accounting scandal and over-leveraging the balance sheet by borrowing excessively to fund a massive buying spree that saw it acquire a range of poor quality oil assets, reality has finally hit.
On completion of asset divestments and factoring in the impact these will have on oil reserves and production, the company's intrinsic value has fallen sharply. It appears that, for once, the market has acted rationally, valuing Penn West in accordance with its oil assets and production in the current harsh operating environment.
For these reasons, I expect Penn West's share price to remain in the range between $1.50 and $2.23 per share, unless there is a massive concerted rally in oil. Even with crude moving higher in recent weeks, any significant surge in oil prices still appears to be some way off.
Disclosure: I/we have no positions in any stocks mentioned, and no plans to initiate any positions within the next 72 hours.
I wrote this article myself, and it expresses my own opinions. I am not receiving compensation for it (other than from Seeking Alpha). I have no business relationship with any company whose stock is mentioned in this article.