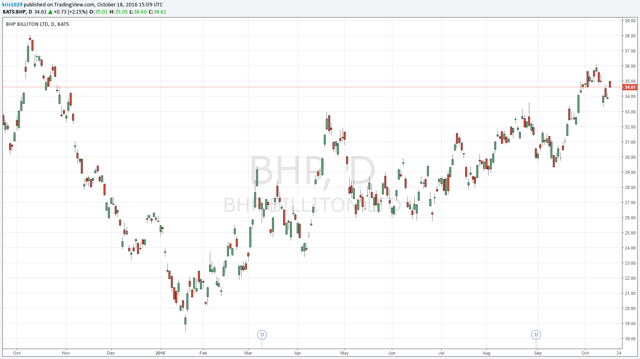 Click to enlarge
A number of factors on both the supply and demand sides of things are expected to provide pressure to the price of iron as we continue to move further into the back half of 2016. BHP Billiton (NYSE:BHP), for one, anticipates economic uncertainty, political instability and well supplied markets to continue weighing on iron ore prices, among other commodities.
Seasonal factors will weigh on Chinese demand -- the nation is the world's largest purchaser of seaborne iron -- in the winter months when construction typically slows as a result of more inclement weather. The rally in iron prices in 2016 has been partially attributed to a credit-driven surge in the Chinese property market, which may not be based on a firm foundation. On the supply side, increased production is expected to come from Vale (NYSE:VALE) beginning production in its S11D project before the end of the year, and output from the Roy Hill project in Australia's Pilbara region is growing in 2016. The Roy Hill project is owned by a consortium that includes POSCO (NYSE:PKX), China Steel Corporation, and others. More recent news, however, has suggested Rio Tinto (NYSE:RIO) and BHP could be in danger of missing their respective full-year production guidance ranges.
BHP reported its worst annual loss ever of $6.4 billion in the second quarter of calendar 2016 largely due to one-time charges related to its US onshore energy assets and a major dam disaster at a joint venture with Vale in Brazil. However, even after excluding the $7.7 billion in writedowns and charges in the year, the firm reported an underlying profit drop of 81% from the year-ago period due to weak iron, copper, coal, and oil prices. Such material weakness came despite the firm setting a Western Australia Iron Ore production record; BHP's production levels will continue to weigh on the global supply/demand dynamics in the iron ore market. The mining giant's potash developments may provide a similarly disappointing feeling in the coming periods, as it is reportedly considering "mothballing" the shafts of its massive Jansen potash project, on which the company plans to spend $200 million in fiscal 2017. Timing its entry to the potash market will take precedent over simply getting the mine to production.
While many are expecting the most recently ended fiscal year to mark the bottom of the trough in BHP's business cycle, CEO Andrew Mackenzie's recent comments provided a bit of contradictory tone. Commodity prices are expected to remain low and volatile in the short to medium term, and though the firm is confident in the long-term outlook for the commodities it produces, oil and copper were singled out as the most attractive long-term opportunities, leaving the door open for questioning the firm's iron ore operations. The company also failed to deliver on its promise of reducing debt in a meaningful way as net debt remained relatively flat at ~$26 billion.
Investors may have been given a sense of false hope from BHP management in its quarterly conference call as it suggested that it will generate over $7 billion in free cash flow in fiscal 2017. However, such guidance assumes current spot prices and foreign exchange rates hold steady throughout the fiscal year, something that is unlikely to happen, given the aforementioned expectations for supply and demand pressures on iron ore, as well as the rebound in prices in early 2016. Such guidance seems to counter the notion of low and volatile commodity prices in the near and medium term.
While BHP may be able to put the worst of the worst behind it after its abysmal fiscal 2016 results, we certainly haven't seen the end of the pain for metal producers. A reversion to prices seen in late 2015 could be the most likely scenario for iron ore as a result of material supply and demand pressures coming towards the tail end of 2016. The wave of dividend cuts we saw in early 2016 was a prime display of the difficulty even the best management teams have in navigating the cyclical nature of global commodity markets, and a perfect example of why we prefer to avoid relying on commodity producers for income.
BHP Billiton's Investment Considerations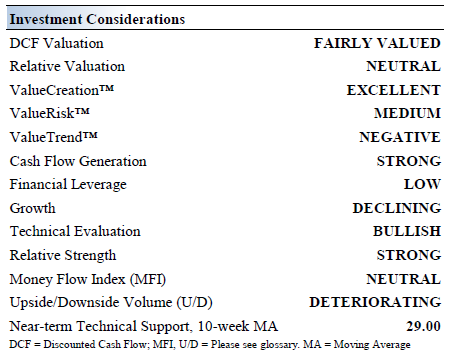 Image source: Valuentum
Investment Highlights
• BHP is a leading global resources company operating in the following groups: Petroleum, Aluminium, Base Metals (including uranium), Diamonds and Specialty Products, Stainless Steel Materials, Iron Ore, Manganese, Metallurgical Coal, and Energy Coal. The company was founded in 1851 and is headquartered in Melbourne, Australia.
• BHP Billiton's success is tied to growth in China, which has become a significant source of global demand for commodities. Sales to China represent roughly one third of its business. China GDP growth is robust but it is slowing, and the country's housing market is worth watching closely.
• Falling iron ore prices have been a thorn in BHP's side. Iron ore prices tumbled nearly 50% in 2014, and the supply/demand make-up in 2016 has not spelled relief. We may never see $100/ton iron ore prices again. Profits have remained under pressure, and the company was forced to cut its dividend by 75% in February 2016 in order to protect its balance sheet and credit ratings.
• BHP's operations are characterized by very high operating margins, and its production execution continues to be excellent. The firm boasts a diversified portfolio, but BHP's performance still remains tied to commodity price swings, which are often unpredictable.
• BHP breaks the variance in its EBIT performance into controllable and uncontrollable factors, and the firm attributes more than $10.7 billion of the decline in EBIT in fiscal 2016 to net price impact. Change in controllable cash costs of $1.4 billion was not nearly enough to offset this.
Business Quality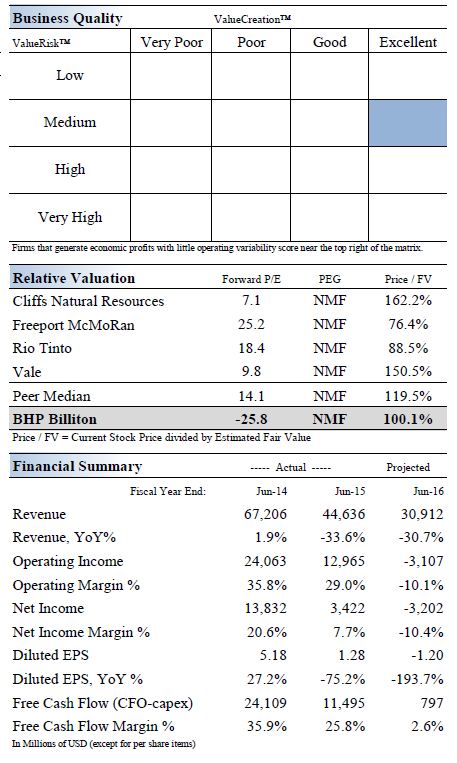 Image source: Valuentum
Economic Profit Analysis
In our opinion, the best measure of a firm's ability to create value for shareholders is expressed by comparing its return on invested capital with its weighted average cost of capital. The gap or difference between ROIC and WACC is called the firm's economic profit spread. BHP Billiton's 3-year historical return on invested capital (without goodwill) is 22.8%, which is above the estimate of its cost of capital of 8.9%. As such, we assign the firm a ValueCreation™ rating of EXCELLENT.
In the chart below, we show the probable path of ROIC in the years ahead based on the estimated volatility of key drivers behind the measure. The solid grey line reflects the most likely outcome, in our opinion, and represents the scenario that results in our fair value estimate.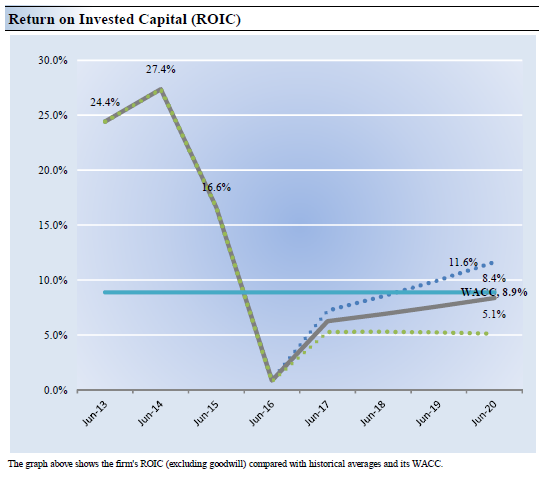 Image source: Valuentum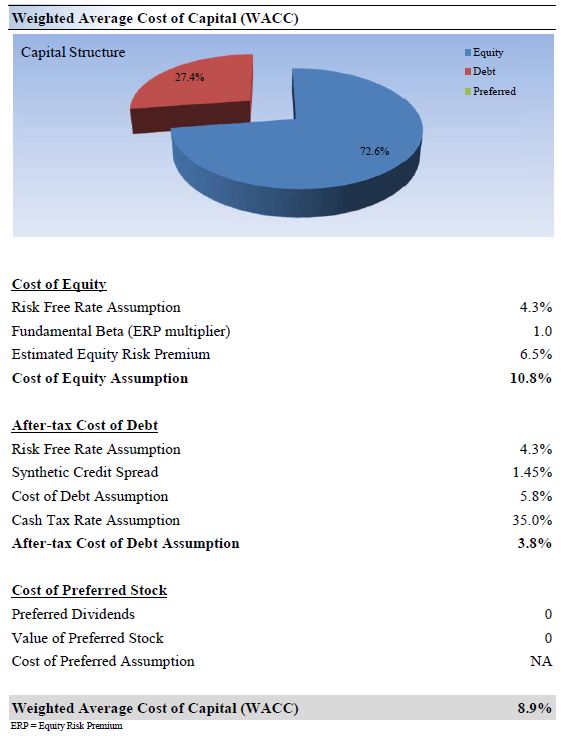 Image source: Valuentum
Cash Flow Analysis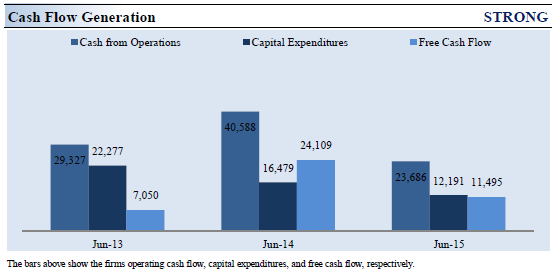 Image source: Valuentum
Firms that generate a free cash flow margin (free cash flow divided by total revenue) above 5% are usually considered cash cows. BHP Billiton's free cash flow margin has averaged about 24.1% during the past 3 years. As such, we think the firm's cash flow generation is relatively STRONG.
The free cash flow measure shown above is derived by taking cash flow from operations less capital expenditures and differs from enterprise free cash flow (FCFF), which we use in deriving our fair value estimate for the company. At BHP Billiton, cash flow from operations decreased about 19% from levels registered two years ago, while capital expenditures fell about 45% over the same time period.
Valuation Analysis
We think BHP Billiton is worth $31 per share with a fair value range of $23-$39.
The margin of safety around our fair value estimate is derived from an evaluation of the historical volatility of key valuation drivers and a future assessment of them. Our near-term operating forecasts, including revenue and earnings, do not differ much from consensus estimates or management guidance. Our model reflects a compound annual revenue growth rate of -4.9% during the next five years, a pace that is higher than the firm's 3-year historical compound annual growth rate of -14.8%.
Our model reflects a 5-year projected average operating margin of 13.2%, which is below BHP Billiton's trailing 3- year average. Beyond year 5, we assume free cash flow will grow at an annual rate of 2% for the next 15 years and 3% in perpetuity. For BHP Billiton, we use a 8.9% weighted average cost of capital to discount future free cash flows.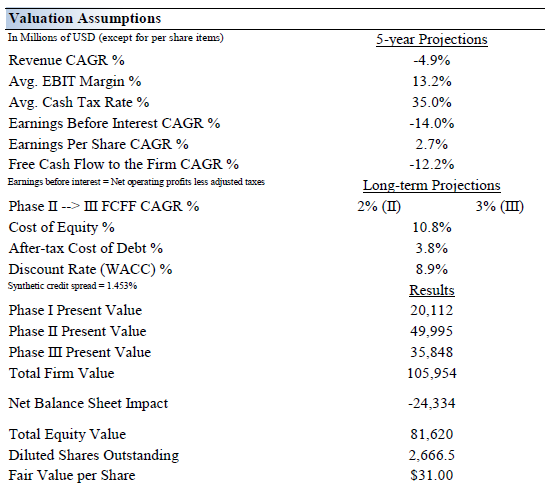 Image source: Valuentum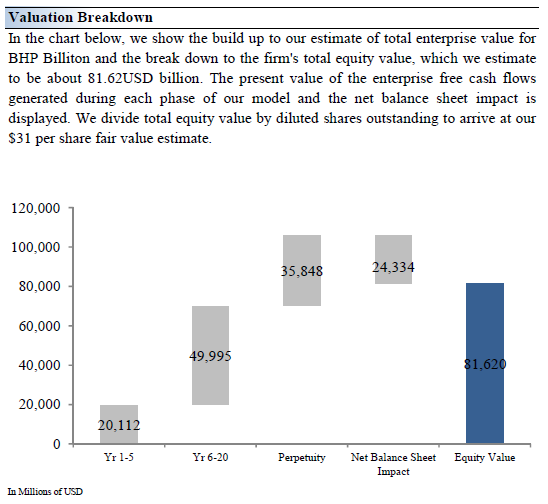 Image source: Valuentum

Click to enlarge
Image source: Valuentum
Margin of Safety Analysis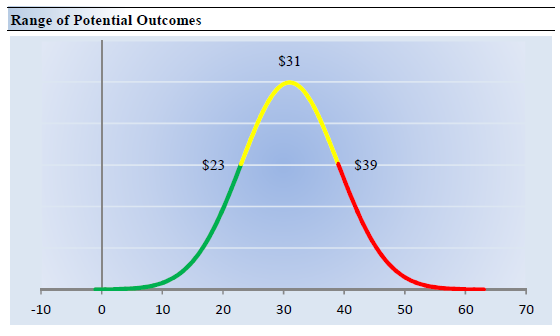 Image source: Valuentum
Our discounted cash flow process values each firm on the basis of the present value of all future free cash flows. Although we estimate the firm's fair value at about $31 per share, every company has a range of probable fair values that's created by the uncertainty of key valuation drivers (like future revenue or earnings, for example). After all, if the future were known with certainty, we wouldn't see much volatility in the markets as stocks would trade precisely at their known fair values.
Our ValueRisk™ rating sets the margin of safety or the fair value range we assign to each stock. In the graph above, we show this probable range of fair values for BHP Billiton. We think the firm is attractive below $23 per share (the green line), but quite expensive above $39 per share (the red line). The prices that fall along the yellow line, which includes our fair value estimate, represent a reasonable valuation for the firm, in our opinion.
Future Path of Fair Value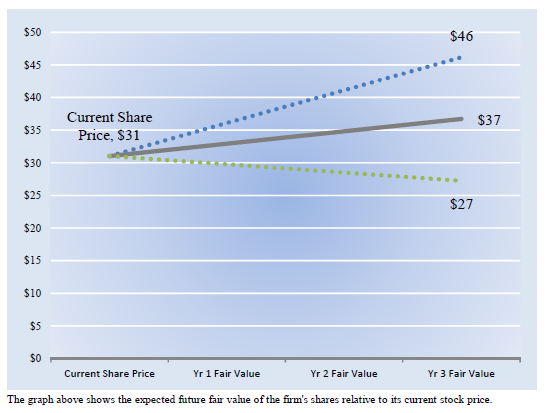 Image source: Valuentum
We estimate BHP Billiton's fair value at this point in time to be about $31 per share. As time passes, however, companies generate cash flow and pay out cash to shareholders in the form of dividends. The chart above compares the firm's current share price with the path of BHP Billiton's expected equity value per share over the next three years, assuming our long-term projections prove accurate.
The range between the resulting downside fair value and upside fair value in Year 3 represents our best estimate of the value of the firm's shares three years hence. This range of potential outcomes is also subject to change over time, should our views on the firm's future cash flow potential change.
The expected fair value of $37 per share in Year 3 represents our existing fair value per share of $31 increased at an annual rate of the firm's cost of equity less its dividend yield. The upside and downside ranges are derived in the same way, but from the upper and lower bounds of our fair value estimate range.
Disclaimer: This article or report and any links within are for information purposes only and should not be considered a solicitation to buy or sell any security. Valuentum is not responsible for any errors or omissions or for results obtained from the use of this article and accepts no liability for how readers may choose to utilize the content. Assumptions, opinions, and estimates are based on our judgment as of the date of the article and are subject to change without notice.
Disclosure: I/we have no positions in any stocks mentioned, and no plans to initiate any positions within the next 72 hours.
I wrote this article myself, and it expresses my own opinions. I am not receiving compensation for it (other than from Seeking Alpha). I have no business relationship with any company whose stock is mentioned in this article.