One point we have continuously repeated over the last several months was that Saudi Arabia will see its oil production drop over the coming months. In an article titled "Saudi Pushes For Production Freeze," we said:

Click to enlarge
Today, Reuters reported that Saudi Arabia's crude exports fell in August to 7.305 million b/d from 7.622 million b/d. Oil production also dropped from 10.673 million b/d to 10.63 million b/d. This goes directly against what Saudi Arabia said in August.
The sharp drop in crude exports also goes to show the inflated export figures the country has been supporting over the last year. Since October of last year, Saudi Arabia's own oil storage has been in a steep decline, and traders we talk to say OPEC storage is at lows not seen since 2013.
Analysts, however, are being fooled as high imports continue to inflate U.S. onshore storage, leading many to believe that the oil market supply and demand is still in oversupply territory. In actuality, our data points continue to show a deficit in the market. If it wasn't for imports averaging over 7.5 million b/d, U.S. storage would have seen consecutive weeks of draws, and the sentiment would've completely shifted. But fear not, for as floating storage normalizes over the coming weeks, the effect will start to show up in onshore storage data.
Afterhours, API reported a large draw in crude storage during the midst of refinery maintenance season. This is in stark contrast to what the consensus believed.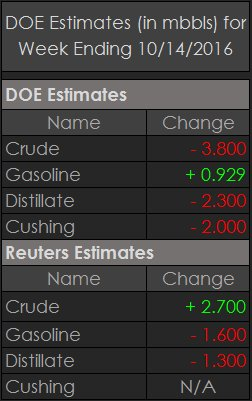 Source: EnergyBasis
If the API forecast is right, we could expect to see sentiment shift toward our view that the market is already in balance. We think the current consensus remains overly bearish on where the oil market stands today, and as the herd mentality shifts gradually, we expect to see oil prices respond accordingly.
In our latest Weekly Oil Markets Outlook to subscribers, we detailed our thoughts on where the oil markets are headed. If you are interested in reading our report, please consider signing up here. Thank you for reading the Oil Markets Daily.
Disclosure: I/we have no positions in any stocks mentioned, and no plans to initiate any positions within the next 72 hours.
I wrote this article myself, and it expresses my own opinions. I am not receiving compensation for it (other than from Seeking Alpha). I have no business relationship with any company whose stock is mentioned in this article.