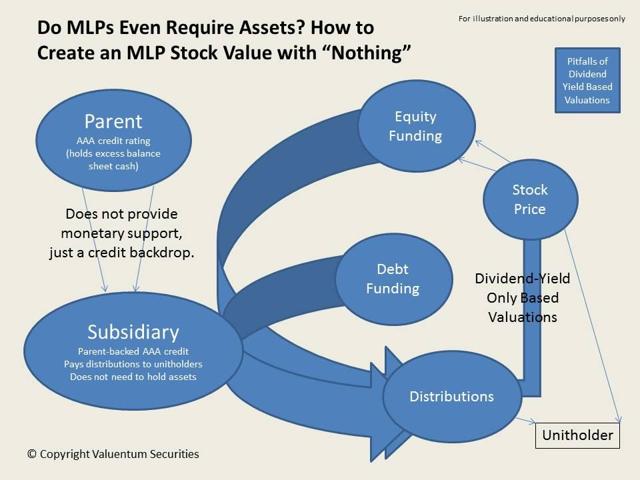 Click to enlarge
"What the parent has done in this example is financially engineer the future distribution stream and capital structure of a brand new distribution-paying entity with effectively no new capital or assets at all. The parent is just standing behind the subsidiary reinforcing its investment-grade borrowing capacity, which supports the distribution that supports the equity price, which provides incremental equity capital that can also be used to support the distribution and so on." -- Brian Nelson, CFA
By Brian Nelson
Using a hypothetical example of an MLP (NYSEARCA:AMLP) and its parent, let's explain how MLP stock value can essentially be created from "nothing." The following example is purely hypothetical and for educational purposes only.
Let's say the parent holds a pristine AAA credit rating backed by its own strong, recurring free cash flow generation and asset base. In order to put its excess cash to use, the parent decides to create a new MLP subsidiary and pledges to provide financial support to the entity.
The parent also pledges that it will provide a growing stream of cash flows through the subsidiary that can be used as distributions from the subsidiary to the subsidiary's unitholders. This is only a pledge though. No money will actually be transferred from the parent to the subsidiary.
The parent also guarantees the subsidiary's distribution stream and any and all of the subsidiary's debts, thereby giving the subsidiary an investment-grade credit rating. With its investment-grade credit rating, the subsidiary borrows heavily against the "pledged" future cash flow stream (collateral) that is implicitly backed by the parent (sourced from the parent).
The subsidiary then uses the newly-raised debt to backstop its very own future distribution payments to its very own future unitholders. With the newly-raised debt alone, the subsidiary, for example, could be able to cover growing distributions to its future unitholders for years depending on the growth rate, with the pledged capital from the parent no longer required.
The parent now takes the subsidiary public.
The subsidiary now raises equity on the open market such that, when combined with its newly-raised debt, it is now able to fund its entire growing dividend stream on a go-forward basis via external capital-raising efforts, maybe on a 50%/50% equity/debt split if it wants to. In other words, the subsidiary can fund its entire future and growing dividend stream purely from financing activities with nothing from the parent at all (or even no assets!).
Since there is no minimum distributable-cash-flow-to-distributions-paid mandate (as in the case of most MLP arrangements), the parent would only have to stand as a backdrop and guarantee the newly-created entity's future distributions and debt load. The external financing markets are sustaining the subsidiary's dividend, and yield-based valuation approaches prop up the subsidiary's stock price.
What the parent has done in this example is financially engineer the future distribution stream and capital structure of a brand new distribution-paying entity with effectively no new capital or assets at all. The parent is just standing behind the subsidiary reinforcing its investment-grade borrowing capacity, which supports the distribution that supports the equity price, which provides incremental equity capital that can also be used to support the distribution and so on.
One may even say that there's nothing to stop the parent from conducting more arrangements like this many times over. It's possible that a parent can create trillions of equity market capitalization by just creating these new dividend-paying subsidiaries over and over again. The parent's balance sheet and cash flow generation are assets much like the pipelines in the ground are assets - so there is tangible backing.
Obviously, there is a very good reason, in our view, why dividends should be paid out of traditional free cash flow (cash from operations less all capital spending) or earnings, as anything else is textbook financial engineering (and holds no value). The moral of this story: We're sticking with companies that have organically-derived dividends, ones that are actually paid out of traditional measures of free cash flow, not the MLP industry's measure of distributable cash flow, which we believe is in part funded through equity and debt issuance.
Image Sources: Simon Cunningham, Images Money, Trading View. No alteration has been performed on the pictures.
--------------------------------------------------
This article or report and any links within are for information purposes only and should not be considered a solicitation to buy or sell any security. Valuentum is not responsible for any errors or omissions or for results obtained from the use of this article and accepts no liability for how readers may choose to utilize the content. Assumptions, opinions, and estimates are based on our judgment as of the date of the article and are subject to change without notice. For more information about Valuentum and the products and services it offers, please contact us at info@valuentum.com.
Disclosure: I/we have no positions in any stocks mentioned, and no plans to initiate any positions within the next 72 hours.
I wrote this article myself, and it expresses my own opinions. I am not receiving compensation for it (other than from Seeking Alpha). I have no business relationship with any company whose stock is mentioned in this article.