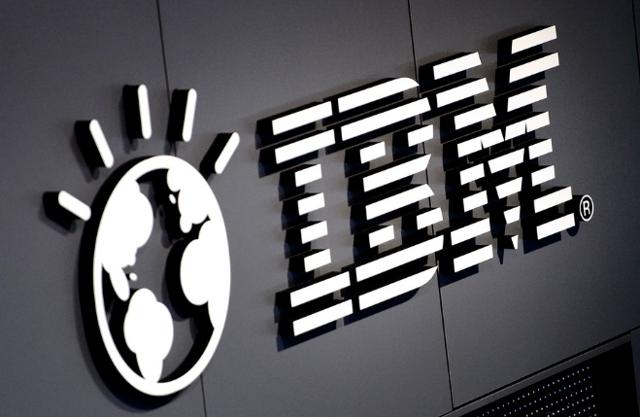 Click to enlarge
IBM (NYSE:IBM) is a stock I've been steadfastly bearish on for a long time. I find this company to be a slow-moving dinosaur of a bygone tech era that is too arrogant to change and has suffered mightily for it. The stock is way off of its highs but has managed a very impressive rally off of the bottom set in February but after Q3 earnings this week, shares are down again. This has become a very common them for IBM in the last several quarters as it disappoints investors again and again but with the stock at relative highs, what are people buying?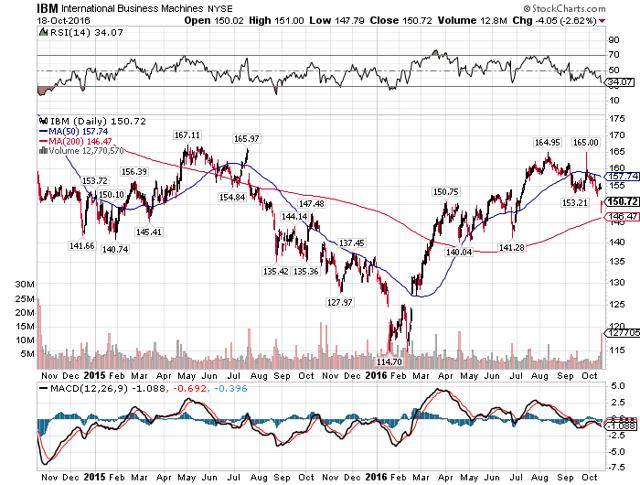 Click to enlarge
My biggest problem with IBM has always been revenue growth and it continues to be a problem today. IBM has taken a very long time to adapt from its old world revenue model and now that it finally has, we are seeing promising signs of growth in its strategic imperatives. The problem is that the part of the business that isn't in the strategic imperatives is still huge and shrinking for the most part. That creates a situation where the company is focused on what is working but seems to ignore what isn't.
Total revenue was down fractionally Y/Y in Q3 because of this but to be fair, its strategic imperatives revenue grew 16%, an impressive rate by anyone's standards. And that revenue made up over 40% of the total for IBM during the quarter, meaning that imperatives revenue continues to become more and more relevant as time goes on. The problem is that the ~60% of IBM that apparently isn't imperative is extremely weak and getting weaker. You have a tale of two companies here and while I won't try to deny that the imperatives are working, no one can deny that the rest of the company isn't. And we aren't buying or selling IBM's imperatives, we're buying or selling the whole thing and right now, the whole thing is still weak.
Margins are all over the place depending upon what business unit you look at for IBM but one thing that was very clear across the board in Q3 is that margins are significantly lower. Every single segment posted lower gross margins and the consolidated number was lower by 200bps in Q3. That's a sizable loss of margins despite the fact that IBM's margins are so strong and it led pre-tax operating margins down by 180bps. That represents almost 10% of the company's operating margin rate from last year's Q3, meaning that it is almost 10% less profitable than it was despite all the growth in imperatives that has been touted over and over again. This company has a profitability problem and it all comes back to what I've been saying all along; IBM's imperatives have promise but they aren't good enough to make up for the dead weight they are trying to carry around.
IBM's EPS was within 1% of what it was last Q3 despite the much weaker operating margins because its share count is lower by over 2% and because its tax rate was only 12% this year against 18% last year. That represents $250M of savings over last year's Q3 in taxes alone and that savings allowed IBM to make its earnings look much better than they really were. The fact that IBM is only paying 12% in income tax is a discussion for another day but even if we assume it will get back to the ~20% area, that's a sizable reduction in EPS that will almost undoubtedly occur in the future. After all, how long can IBM get away with 12% income taxes? That's low even by its own standards. And while I'm not here to decide who should pay what, there are very few companies that can sustainably pay only 12% in income taxes so this certainly looks like a transitory benefit to me.
IBM reiterated its guidance for the rest of the year which has been cut too many times for me to remember. Recall that IBM originally thought it would do $16 or $17 this year and just reiterated only $13.50 during Q3 earnings. This company has lots of problems and while its imperatives are working, it still has the majority of its business stuck in the tech stone age and it is continuing to slowly die off. Margins are falling due to intense competition - even in the beloved imperatives space - but it seems like no one cares.
If you're still holding onto hope that IBM can change and actually grow at some point, the good news is that the stock is still reasonably priced. It is going for 11.2 times this year's $13.50 estimate and 10.7 times next year's estimate of $14.11. Analysts have finally given up on IBM's growth - something that took them far too long - but now that they have, we have realistic EPS targets IBM may actually be able to hit. That's good for the stock because when IBM goes to report over the next few quarters, it won't just miss wildly. I'm not saying IBM is going to return to some semblance of meaningful growth but the fact that it isn't chasing $16 or $17 in EPS it can't possibly hit is a relative positive. So there's that.
I know I'm going to get lambasted in the comment section from steadfast bulls and that's fine; that's why we have markets. But at $150+ I just don't see it for IBM. We are back in the area where I've shorted with terrific success in the past and it is time to do it again. There is a price at which IBM is a buy but it is a lot lower than where we are today. The yield is fine but there is so much risk to the price here that no yield is worth it at current levels. After all, if we go back to $130 or $120, the 4% yield isn't going to make you feel any better. IBM is seeing some progress but it isn't enough and the stock is ahead of the fundamentals, meaning IBM is once again a short.
Disclosure: I am/we are short IBM.
I wrote this article myself, and it expresses my own opinions. I am not receiving compensation for it (other than from Seeking Alpha). I have no business relationship with any company whose stock is mentioned in this article.