MedEquities Realty Trust, Inc. (NYSE:MRT) is a self-managed and self-administered company that invests in a diversified mix of healthcare facilities and healthcare-related real estate debt investments. The initial public offering was for 19,000,000 shares of common stock; the company closed its initial public offering on October 4th at a public offering price of $12.00 per share. The stock has traded at around $11.50 since the IPO: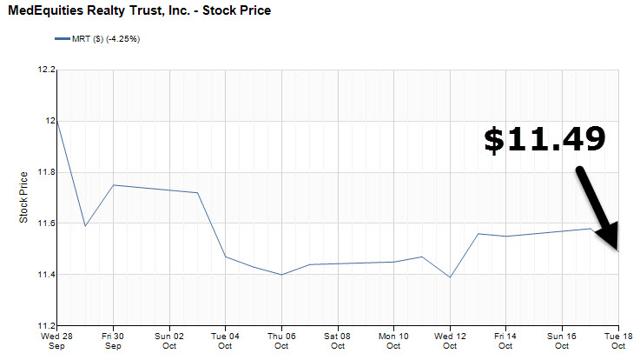 Click to enlarge
Source: S&P Global Market Intelligence
A Deeper Dive
As of the date of the prospectus, MRT's portfolio was comprised of 24 healthcare facilities that contain a total of 2,345 licensed beds and, as of September 1, 2016, provided aggregate annualized base rent of approximately $46.7 million and had a weighted-average remaining lease term of 13.3 years.
MRT's properties were acquired for an aggregate gross purchase price of $498.9 million and are located in Texas, California, Nevada and South Carolina and include 17 skilled nursing facilities, two acute care hospitals, two long-term acute care hospitals, one assisted living facility, one inpatient rehabilitation facility and one medical office building.
In addition, MRT has a $10.0 million healthcare-related debt investment that provides annual interest payments of approximately $0.9 million.
MRT owns 100% of all properties, other than Lakeway Regional Medical Center, or Lakeway Hospital, in which MRT owns a 51% interest through a consolidated partnership, or the Lakeway Partnership, with a physicians group and a non-physician investor.
MRT's single-tenant properties are leased to five operators with experienced management teams, with no single tenant/guarantor representing more than 27% of annualized base rent.
Overall payor mix for the single-tenant operating properties in the portfolio, excluding Lakeway Hospital, was composed of approximately 39% Medicare, 27% Medicaid, 24% commercial payors and 10% other payors for the year ended December 31, 2015 and approximately 35% Medicare, 25% Medicaid, 33% commercial payors and 7% other payors for the six months ended June 30, 2016.

Click to enlarge
The following table contains information regarding the individual healthcare facilities in our portfolio as of the date of this prospectus (dollars in thousands).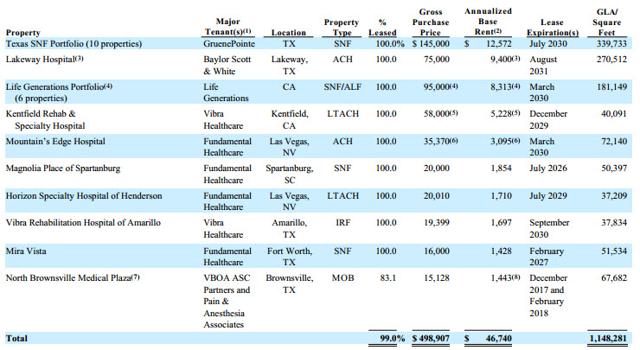 Click to enlarge
One of the properties is less than 10 miles from my office so I decided that I would drive out to inspect the property. Magnolia Place is located at 8020 White Avenue in Spartanburg, SC, and MRT acquired the 50,397 square foot property in August 2014 for $20 million (120 beds).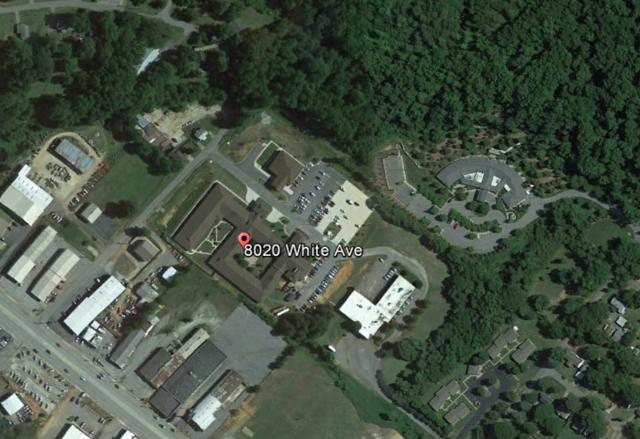 Click to enlarge
I drove over to the site and I was not impressed. I know the area well and it is located in a commercialized area where I would not want my mother staying. The demographics (income levels) are poor and I suspect that most residents are government pay. I looked up the star rating for this property and determined that it was rated 2 out of 5.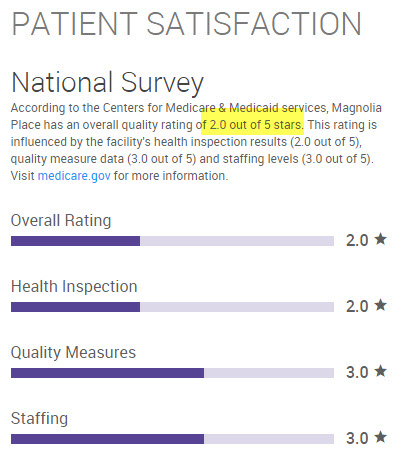 The following table contains information regarding the tenants and guarantors in our portfolio as of the date of this prospectus (dollars in thousands).

Click to enlarge
As you can see (above), GruenePointe is MRT's largest tenant.
Approximately 96.9% of the annualized base rent in MRT's portfolio is generated by GruenePointe (26.9%), Baylor Scott & White (20.1%), Life Generations (17.8%), Fundamental Healthcare (17.3%) and Vibra Healthcare (14.8%). Lease payment defaults by GruenePointe, Baylor Scott & White, Fundamental Healthcare, Life Generations, Vibra Healthcare or other significant tenants/operators or declines in their operating performance could materially and adversely affect MRT's business, financial condition and results of operations and the ability to make distributions to stockholders.
LRMC, MRT's prior tenant at Lakeway Hospital, was not generating sufficient cash flow to pay the stabilized monthly rent under its lease at the time that Baylor acquired its operations on September 1, 2016. The new tenant at Lakeway Hospital, which is part of the Baylor Scott & White Health system, will rely in part on cash flow from its other hospital (Baylor Scott & White Medical Center-Round Rock) or support from BUMC, the guarantor of the lease, to pay the monthly rent under its lease with until the operating results at Lakeway Hospital improve.
If the operating results of the Lakeway Hospital do not improve on the schedule or to the extent that MRT anticipates, the Baylor Lessee or BUMC may default on the lease payments or other obligations to MRT, which could materially and adversely affect the business, financial condition and results of operations and the ability to make distributions to shareholders.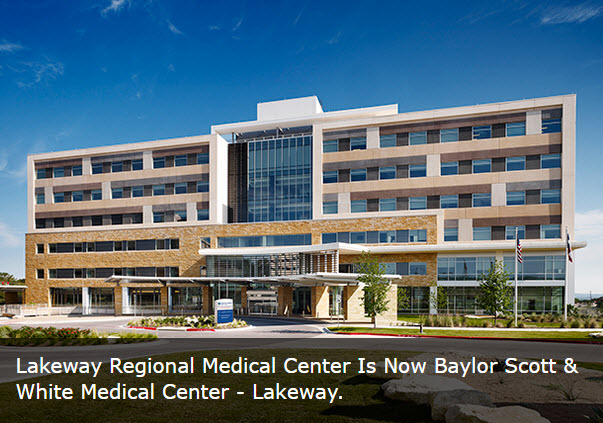 Also, the lease for Lakeway Hospital contains an option for the Baylor Lessee to purchase Lakeway Hospital commencing after the completion of the third year of the lease term for a purchase price of not less than approximately $203.6 million.
Based on the interest received under the Lakeway Intercompany Mortgage Loan and MRT's proportionate share of the annual rent for Lakeway Hospital, the Lakeway Partnership, through which MRT owns Lakeway Hospital, is expected to contribute approximately $9.4 million of AFFO attributable to common stockholders annually beginning with the year ending December 31, 2016.
If the purchase option is exercised, MRT may not be able to reinvest the net proceeds from the sale on as favorable terms in a timely manner, or at all, and operating results will be negatively impacted while MRT seeks to reinvest the proceeds from the sale.
In addition, the Baylor Lessee has a right of first refusal and a right of first offer in the event that MRT intends to sell or otherwise transfer Lakeway Hospital, which could limit third-party offers for the property, inhibit MRT's ability to sell the property or adversely affect the timing of any sale of the property and the ability to obtain the highest price possible in the event that the company decides to market or sell the property.
MRT's capital structure consists of a $300 million credit facility ($244 million drawn) and $347 million in equity. The company's secured debt to total assets is 50%.

Click to enlarge
Valuation: It's rare that we recommend a REIT IPO and we aren't with MRT. There are many questions pertaining to the newbie and our initial sample of properties leaves us with a sad face.
The biggest concern is the diversified focus. In healthcare, we believe that it's important to be either a "pure play" REIT or a power horse diversified REIT like Ventas, Inc. (NYSE:VTR) or Welltower (NYSE:HCN). There is simply no way that a small cap diversified healthcare REIT can compete with the VTR's cost of capital and, in our opinion, the risks are not worth the return.
MRT's initial dividend is $.21 per share, that translates into a yield of 7.3%. The company is set to release Q3-16 earnings on November 9th so we will tune into the conference call.
Executive Compensation Chart and Director Compensation: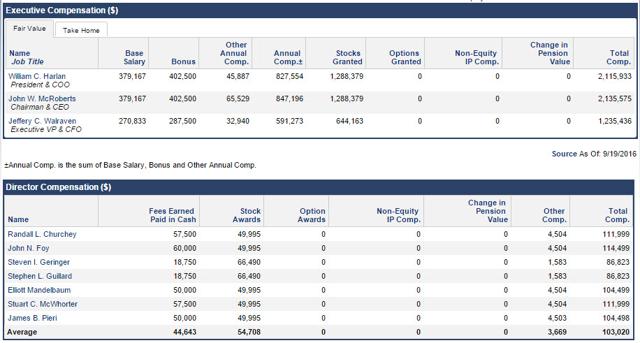 Click to enlarge
Source: S&P Global Market Intelligence
Author Note: Brad Thomas is a Wall Street writer and that means that he is not always right with his predictions or recommendations. That also applies to his grammar. Please excuse any typos and be assured that he will do his best to correct any errors if they are overlooked.
Finally, this article is free, and the sole purpose for writing it is to assist with research (Thomas is the editor of a newsletter, Forbes Real Estate Investor) while also providing a forum for second-level thinking. If you have not followed him, please take five seconds and click his name above (top of the page).
Source: S&P Global Market Intelligence
Disclaimer: This article is intended to provide information to interested parties. As I have no knowledge of individual investor circumstances, goals, and/or portfolio concentration or diversification, readers are expected to complete their own due diligence before purchasing any stocks mentioned or recommended.
Disclosure: I am/we are long O, DLR, VTR, HTA , STAG, GPT, ROIC, HCN, OHI, LXP, KIM, WPC, DOC, EXR, MYCC, TCO, SKT, UBA, STWD, CONE, BRX, CLDT, HST, APTS, FPI, CORR, NHI, CCP, CTRE, WPG, KRG, SNR, LADR, PEB, BXMT, IRM, CIO, LTC, DEA, NSA, HASI, LTC.
I wrote this article myself, and it expresses my own opinions. I am not receiving compensation for it (other than from Seeking Alpha). I have no business relationship with any company whose stock is mentioned in this article.