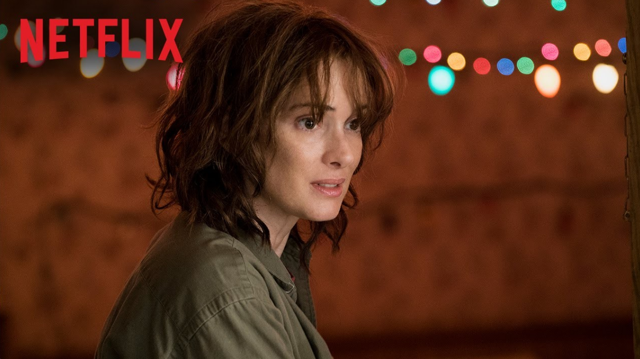 Hunkering Down With Netflix And Pizza
Anyone notice a pattern here? Americans shying away from Starbucks (NASDAQ:SBUX) and other chains due to concerns about racial unrest and terrorism, per CEO Howard Schultz; Papa John's (NASDAQ:PZZA) and Domino's Pizza (NYSE:DPZ) up on Tuesday as Domino's beats on earnings; and Netflix (NASDAQ:NFLX) up huge after "blasting past subscriber growth estimates". We're hunkering down.
Maybe it's part of a longer term trend. Fifteen years ago, Harvard University sociologist Robert Putnam found that increasing diversity led to more hunkering down:
In his findings, Putnam writes that those in more diverse communities tend to "distrust their neighbors, regardless of the color of their skin, to withdraw even from close friends, to expect the worst from their community and its leaders, to volunteer less, give less to charity and work on community projects les often, to register to vote less, to agitate for social reform more but have less faith they can actually make a difference, and to huddle unhappily in front of the television."

"People living in ethnically diverse settings appear to 'hunker down' -- that is, to pull in like a turtle," Putnam writes.
One wonders if Dr. Putnam has been long Netflix since he discovered those effects. If so, he's made a fortune from it.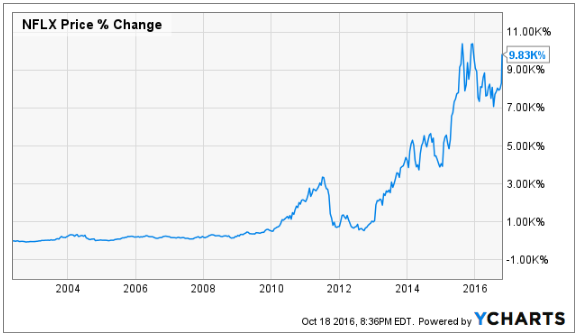 What about being long Netflix now? Portfolio Armor is modestly bullish on it, estimating a potential return of 5.8% for the stock over the next 6 months. Wall Street's 12-month consensus price target (via Nasdaq), is pretty close to that, implying a potential return of about 5% over the next 6 months.

Warnings From Seeking Alpha
Some Seeking Alpha are less sanguine about Netflix's prospects. David White says fade the stock after its pop, and David Trainer suggests looking past the "membership beat" to Netflix's underlying economics and valuation, calling it "one of the most overvalued stocks in the market". For Netflix longs concerned by these warnings, we'll present a way of limiting your risk by hedging below.
Limiting Your Risk In NFLX Shares
Remember, if you're bearish on NFLX, you shouldn't be long the stock. Hedging is for investors who are bullish but want to limit their risk in the event the end up being wrong. We'll use the Portfolio Armor iOS app to find an optimal collar for NFLX here, but you can also find them manually, using the method we outlined in this article if you're willing to do the math (for a refresher on hedging terms, see the section titled "Refresher On Hedging Terms" in this article).
For the example below, we'll assume you have 500 shares of Netflix and are unwilling to risk a decline of more than 14% over the next several months. You could, of course, use different parameters, but the lower your decline threshold (the less of a drawdown you're willing to risk), the more expensive it will be to hedge, all else equal.
Hedging NFLX With An Optimal Collar
Since you're limiting your possible upside with a collar, you'll probably want to take into account the stock's potential return over the time frame of the hedge when setting that cap. We mentioned above that out site estimated a potential return of 5.8% for Netflix over 6 months, so we started with 5.8%, but we raised the cap to 9% when we found we could do so without raising the hedging cost.
As of Tuesday's close, this was the optimal collar to hedge 500 shares of NFLX against a greater-than-14% drop by mid-March, while not capping an investor's upside at less than 9% by then.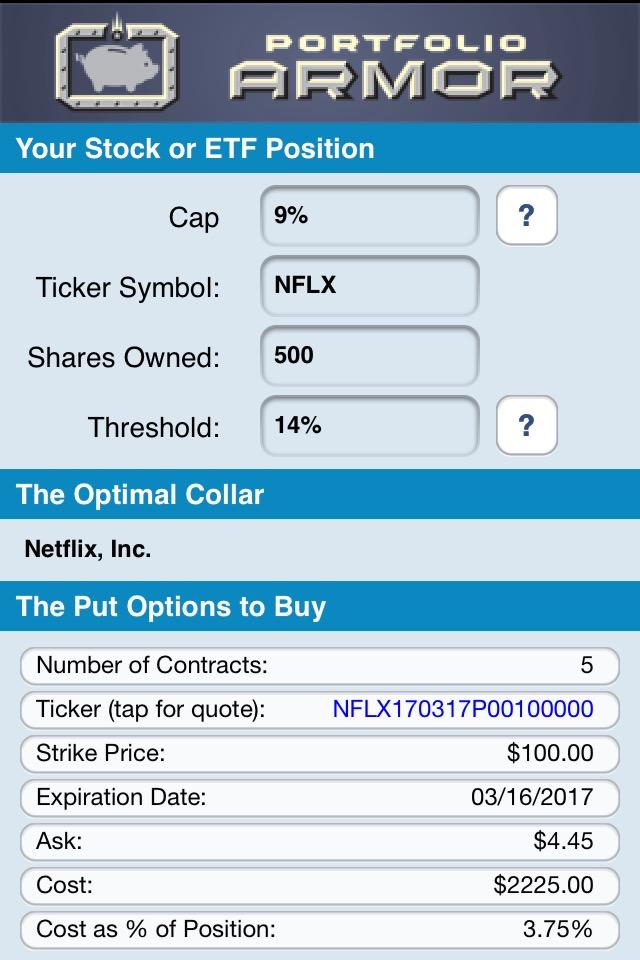 As you can see above, the cost of the put leg was $2,225 or 3.75% of position value. But as you can see below, the income generated by selling the call leg was $3,600, or 6.06% of position value.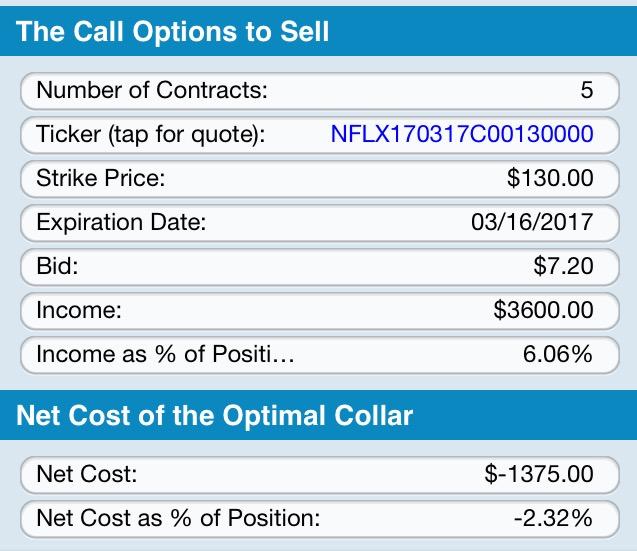 So the net cost of this hedge was negative, meaning an investor would have collected an amount equal to $1,375, or 2.32% of position value. Note that this cost was calculated conservatively, using the ask price of the puts and the bid price of the calls, so an investor opening this hedge on Tuesday would likely have collected more than $1,375 when doing so.
Disclosure: I/we have no positions in any stocks mentioned, and no plans to initiate any positions within the next 72 hours.
I wrote this article myself, and it expresses my own opinions. I am not receiving compensation for it (other than from Seeking Alpha). I have no business relationship with any company whose stock is mentioned in this article.